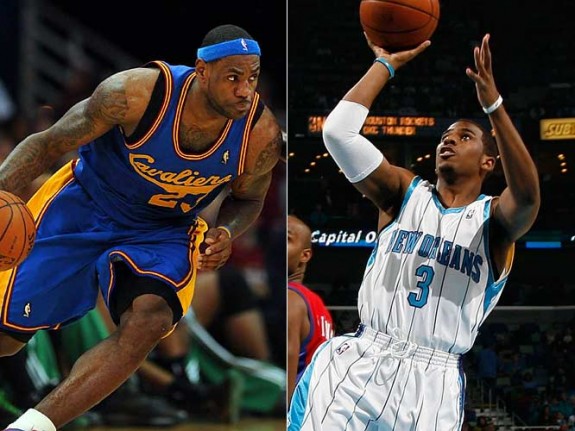 The one-man mock draft has been fun, but as "one man" writing, I would be lucky to get deep into the fourth round before the season opens. Thus, the focus will shift on topics such as analyzing average draft position (or ADP), which will hopefully benefit those still yet to draft.
Fantasy basketball writing, in general, is still dominated by emphasis on roto leagues. Let us take a look at typical first round selections, but from a head-to-head standpoint. Comments will be geared towards a H2H league that employs the standard nine categories (FG%, FT%, 3PTM, Pts, Rebs, Ast, Stl, Blk and TO).
Click to continue reading Fantasy NBA: Analysis of First Round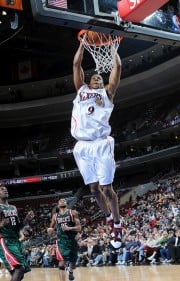 Round 2, Pick 9: Andre Iguodala, SG/SF, Philadelphia 76ers
Andre Iguodala has not taken that next step up the NBA ladder. Possessing freakish athleticism and a complete toolbox of skill, "Iggy" has the chops to be a perennial All-Star. A steady performer in the fantasy game, he lacks the big-game potential to garner a higher draft pick. However, with Kobe Bryant picked to lead this squad in round one, a do-everything stat-stuffer in the second round will fit in just fine.
Click to continue reading One Man Mock Draft, Fantasy NBA 2009: Round 2, Pick 9
This is where you will find links to all the picks made in the mock draft thus far. Remember that this mock draft considers players for a head-to-head league using the standard nine categories (FG%, FT%, three-pointers made, points, rebounds, assists, steals, blocks and turnovers).
1.1 LeBron James, SF, Cleveland Cavaliers
1.2 Chris Paul, PG, New Orleans Hornets
1.3 Dwyane Wade, PG/SG, Miami Heat
1.4 Kobe Bryant, SG, Los Angeles Lakers
1.5 Kevin Durant, SG/SF, Oklahoma City Thunder
1.6 Dwight Howard, C, Orlando Magic
1.7 Danny Granger, SG/SF, Indiana Pacers
1.8 Dirk Nowitzki, PF, Dallas Mavericks
1.9 Amar'e Stoudemire, PF/C, Phoenix Suns
1.10 Brandon Roy, PG/SG, Portland Trail Blazers
1.11 Chris Bosh, PF/C, Toronto Raptors
1.12 Deron Williams, PG, Utah Jazz
2.1 Al Jefferson, PF/C, Minnesota Timberwolves
2.2 Pau Gasol, PF/C, Los Angeles Lakers
2.3 Gilbert Arenas, PG, Washington Wizards
2.4 Kevin Garnett, PF, Boston Celtics
2.5 Chauncey Billups, PG, Denver Nuggets
2.6 Steve Nash, PG, Phoenix Suns
2.7 Tim Duncan, PF/C, San Antonio Spurs
2.8 Jose Calderon, PG, Toronto Raptors
2.9 Andre Iguodala, SG/SF, Philadelphia 76ers
2.10 Joe Johnson, PG/SG, Atlanta Hawks
2.11 Devin Harris, PG, New Jersey Nets
2.12 Caron Butler, SF, Washington Wizards
3.1 Jason Kidd, PG, Dallas Mavericks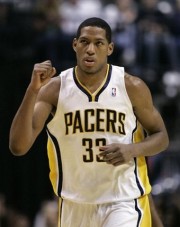 LeBron James and Chris Paul represent the top tier in fantasy basketball this season. Both deserve to own top dog status, and arguing vehemently for one over the other is like splitting hairs. Dwyane Wade, Kobe Bryant, Kevin Durant and Dwight Howard were penciled in as the heart of the lineup in the first round and represent the second tier. Wade currently leads the pack for the third pick overall, and perhaps Dwight has the least chance of going so high since his negative roto buzz sometimes crosses over into other league formats. I believe he deserves to be a high draft pick in a head-to-head league. That means the third tier starts here.
Round 1, Pick 7: Danny Granger, SG/SF, Indiana Pacers
Click to continue reading One Man Mock Draft, Fantasy NBA 2009: Round 1, Pick 7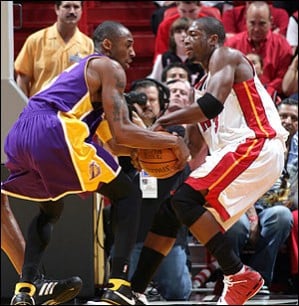 LeBron James, Chris Paul, and Dwyane Wade have been taken in this mock draft. To review, this mock draft involves consideration of a standard nine-category head-to-head league.
The player these guys looked up to during the 2008 Beijing Olympics is being taken now. LBJ and CP3 will likely inherit the top two picks in drafts this year, but there is room to debate starting with the third pick overall. Let us look at the argument from the Kobe side of the coin.
Round 1, Pick 4: Kobe Bryant, SG, Los Angeles Lakers
Click to continue reading One Man Mock Draft: Fantasy NBA 2009: Round 1, Pick 4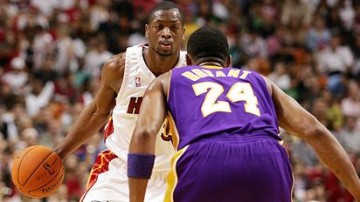 Yesterday the PGA Championship proved that nothing is a sure thing in sports. Tiger Woods had been money in the bank winning 14 out of 14 majors when heading into Sunday with the lead. He did not play his best. Congrats to Y.E. Yang for stepping up. As the saying goes, that is why they play the games.
I am turning the third and fourth pick of this mock draft into a head-to-head battle. It comes down to what kind of risk you want to take, and how much of a "sure thing" you need. For these purposes, let us roll the dice, relatively speaking.
Round 1, Pick 3: Dwyane Wade, PG/SG, Miami Heat
Click to continue reading One Man Mock Draft, Fantasy NBA 2009: Round 1, Pick 3

Posted by Dennis Velasco Categories: Championship, Editorial, Kudos, NBA, Playoffs,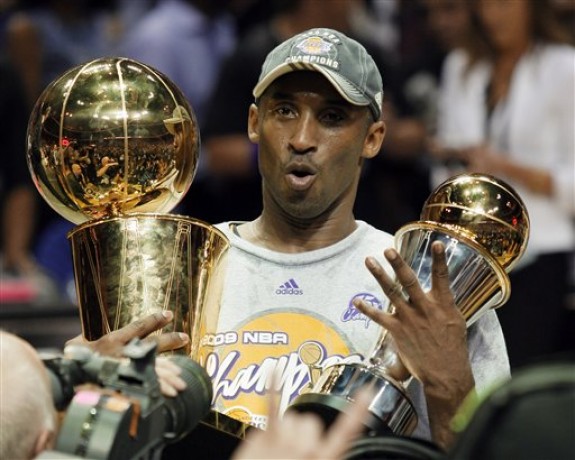 The Los Angeles Lakers beat the Orlando Magic four games to one in the NBA Finals, earning the team's 15th NBA title. Put in a historical perspective, they are now 15-15 in NBA Finals match-ups and are second only to the Boston Celtics and their 17 NBA titles for most championships by a franchise. Phil Jackson also moved ahead of Red Auerbach for the most titles by a head coach, winning his 10th NBA title, the fourth with the Lakers. His other six came with the Michael Jordan-led Chicago Bulls. Perhaps, most importantly, Kobe Bryant won a title with Shaquille O'Neal… okay, it's only important to all those that hated on Kobe and said he couldn't win a title without Shaq (this group includes Shaq himself), well, in your face!
Bryant was a symbol of will and determination and getting the job done. In fact, such ferocity and competitiveness hadn't been seen since Jordan took the court. And now, the monkey is off his back and if the Lakers can somehow sign both Trevor Ariza and Lamar Odom, the Lakers could win a few more championships. Pau Gasol and Andrew Bynum are locked in and provide great interior presences, Derek Fisher looks as if he can still play for a few years and it looks like Jordan Farmar will be ready to take up the PG mantle. Contractually, Jackson only has one more season left, but if the core group of players can stay intact, don't be surprised if he signs another extension. This season, Jackson seemed less stressed because of team chemsitry and the lack of two alpha males (Kobe and Shaq) going at it.
Congratulations to the Lakers and their fans. And to all the Kobe haters, bite it!
Posted by Brendon Lindsey Categories: Athletes, Front Office, NBA, Trades,
Kobe Bryant met with Lakers owner Jerry Buss in Barcelona, and guess what? He wants to be traded again. Within the past month Kobe has demanded to be traded, changed his mind and claimed he would never leave L.A., and then demanded to be traded again. Can we officially change Kobe's name to Sybil yet?
Click to continue reading Kobe wants to be traded…again
Read More

| ESPN

Posted by Milo Taibi Categories: Athletes, NBA, Playoffs, Rumors,

Los Angeles Lakers star player Kobe Bryant has requested a trade from the team. Then he back-peddled from the request.
"I would like to be traded, yeah. Tough as it is to come to that conclusion, there's no other alternative. It's rough, man, but I don't see how you can rebuild that trust. I just don't know how you can move forward in that type of situation."
He said this on an interview with ESPN radio. However, just three hours later in an interview with Lakers flagship station KLAC radio he made completely contradictory comments.
Click to continue reading Kobe Bryant Asks for Trade, Takes Back Words
Read More

| Yahoo! Sports

Posted by Milo Taibi Categories: Athletes, Editorial, NBA, Playoffs,

Kobe Bryant's 39 point performance in game one of the Los Angeles Lakers-Phoenix Suns series was misleading, as he scored just once in the fourth quarter. However he's again in good graces with Laker fans, scoring 45 points Thursday. He had the clutch factor as well, as at one point the Lakers were down by 17 points. He stepped into his own in the fourth quarter scoring 15 points.
Click to continue reading Bryant Redeems Himself, Scores 45
Read More

|
© Gear Live Media, LLC. 2007 – User-posted content, unless source is quoted, is licensed under a Creative Commons Public Domain License. Gear Live graphics, logos, designs, page headers, button icons, videos, articles, blogs, forums, scripts and other service names are the trademarks of Gear Live Inc.