You know more this week than you did last week. It may not seem that way, but you do. The key is to keep learning and to use the new information to refine the existing information. Ah, but what do you know and what do you think you know?! Don't think so much, it will all come together. Just keep paying attention!
Click to continue reading Dean Browski's NFL Week 2 Picks
I picked 9 of 16 winners in NFL Week 1. Not a great weekend, but also not a bad start. My Early Week Games proved reliable with the exception of the Jaguars and the Texans. The Carolina Panthers were my highlight of the weekend, and again this week they make the Early Week Board.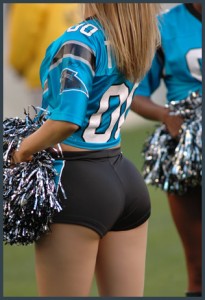 I expected the Panthers to be a 7-point favorite at home against the Chicago Bears. The Opening Line is Panthers -3. I put a lot more value in the Panthers win over the Chargers than I do the Bears win over the Colts . . . I say that with all due respect to the Bears. To further raise my curiosity, the fine users of ESPN.com have the Bears as 1-point favorites?!?! Huh? I will be taking the Panthers -3, a great value. The Washington Redskins went from -1 to +1 at home against the New Orleans Saints. This game intrigues me, and I think I like the Redskins at first blush. This line is worth keeping an eye on. The Houston Texans are 4.5-point favorites at home against the Baltimore Ravens, and there is a chance the line may come down. I like the Texans at -4.5, if any more points come off that line there is value with the Texans.
Those are just some thoughts from early in the week. All of Dean Browski's NFL Week 2 Picks will be posted on Friday.



It has been a great first weekend of NFL action and it continues tonight when the Minnesota Vikings visit Green Bay to play the Packers without Brett Favre. Let me get right into it, the Green Bay Packers are going to be fine. This was a good team last year WITH Brett Favre, but not BECAUSE of Brett Favre. They are still a good team, and whatever trait of Favre's that Aaron Rodgers doesn't have, Rodgers more than makes up for with all of his other skills.
I know, I know, you aren't sure what Aaron Rodger's skills are. We only saw him play once last year, and he came in and nearly won the game for the Packers in Dallas going 18/26, 201 yards and 1 touchdown; he then had 17 yards passing the rest of the year. What we do know about Aaron Rodgers is that he was excellent in college at Cal and his skills have not diminished. He is healthy, and he has had 3 full seasons to learn about his team and to train under Brett Favre. Don't worry about the Packers this year, they will be fine. Green Bay won both games last year, winning 23-16 in Minneapolis, and 34-0 at home. These teams haven't changed that much, and remember it was the Vikings that were dying for a Quarterback in the off-season. Did they ever get one? I am taking the Packers -2 for 3-stars and the Over 37 for 1-star.



All week long I just believed I would take the Broncos tonight. Betting against the Raiders has been such a staple in the lives of so many people that it really does feel unnatural to instinctively take the Raiders. But then I sat down and did a little homework. Last year these two teams split their regular season games, each winning at home. Denver need an Overtime Field Goal to win 23-20; while the Raiders almost gave away a big lead before finally winning 34-20. In both games, the running of the Raiders was the most consistent. Add to that Darren McFadden, JeMarcus Russel, and Dominic Rhodes and there is no reason to think the Raiders running game won't still control the game. Yes Denver did make some upgrades to their defense but I am more comfortable with the more proven, in this case its the Raiders and their ground game. I am taking the Raiders +3 for 2-stars and the Under 40.5 for 1-star.
Who the hell is Dean Browski?!

Posted by Dennis Velasco Categories: Injuries, NFL,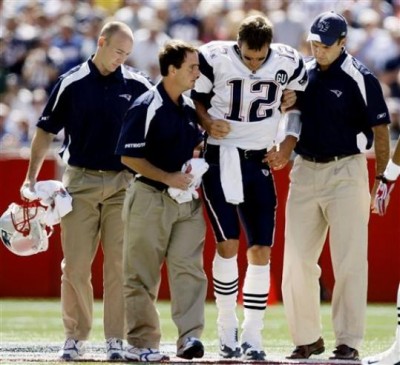 New England Patriots QB Tom Brady succumbed to an injury yesterday during the Pats' victory over the Kansas City Chiefs in the first quarter of the game when Chiefs S Bernard Pollard fell on Brady's knee after a pass attempt. Reports have Brady tearing his ACL (anterior cruciate ligament) and could possibly be out for the season. What to do?
Click to continue reading Fantasy Football Impact: Tom Brady Injury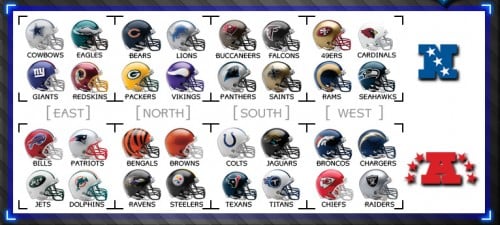 The NFL is back! The 2008 season is ready to get into full-swing and if you need to know what time it is and what to expect, check out this preview primer for all you need to know about every team in the NFL!
AMERICAN FOOTBALL CONFERENCE
AFC EAST: Buffalo Bills, Miami Dolphins, New England Patriots, New York Jets / Division Predictions
AFC NORTH: Baltimore Ravens, Cincinnati Bengals, Cleveland Browns, Pittsburgh Steelers / Division Predictions
AFC SOUTH: Houston Texans, Indianapolis Colts, Jacksonville Jaguars, Tennessee Titans / Division Predictions
AFC WEST: Denver Broncos, Kansas City Chiefs, Oakland Raiders, San Diego Chargers / Division Predictions
NATIONAL FOOTBALL CONFERENCE
NFC EAST: Dallas Cowboys, New York Giants, Philadelphia Eagles, Washington Redskins / Division Predictions
NFC NORTH: Chicago Bears, Detroit Lions, Green Bay Packers, Minnesota Vikings / Division Predictions
NFC SOUTH: Atlanta Falcons, Carolina Panthers, New Orleans Saints, Tampa Bay Buccaneers / Division Predictions
NFC WEST: Arizona Cardinals, San Francisco 49ers, Seattle Seahawks, St. Louis Rams / Division Predictions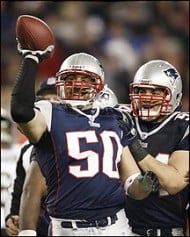 AFC EAST
Predicted Order Of Finish:
1. New England Patriots
2. New York Jets
3. Buffalo Bills
4. Miami Dolphins
Top Offensive Player: Tom Brady, QB, New England Patriots
Top Defensive Player: Mike Vrabel, LB, New England Patriots
Top Rookie: Vernon Gholston, LB, New York Jets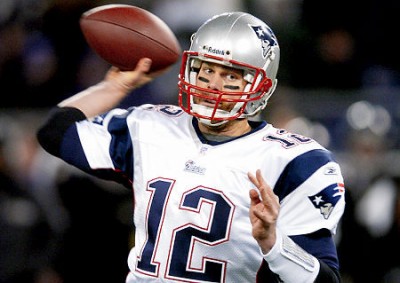 NEW ENGLAND PATRIOTS
2007 RECORD: 16-0
Overview: As you can see above, the New England Patriots went undefeated during the regular season and they just missed out on another Super Bowl win thanks to Eli Manning playing like his brother Peyton, and David Tyree making one of the most amazing catches you'll ever see. So, what should we expect from the Patriots after they came thisclose to a perfect complete season? Nothing less than more of the same in recent years - winning.
Click to continue reading NFL Preview: New England Patriots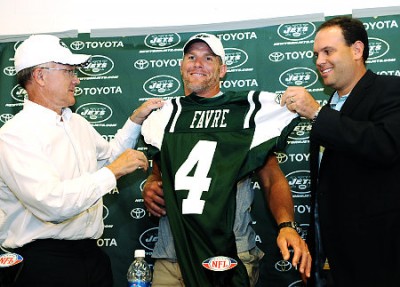 NEW YORK JETS
2007 RECORD: 4-12
Overview: Brett Favre is a Hall of Fame quarterback thanks to his topping the charts in the most important quarterback statistics. Unfortunately for the New York Jets, those numbers and a Super Bowl ring came when Favre was wearing a different green for the Green Bay Packers. Can the soon-to-be 39-year-old overcome his age as he has the past few seasons and elevate, not only his own play, but that of his teammates this season in New York? Obviously, he won't be able to do it on his own, but all of New York is anticipating some big things from Brett the Jet.
Click to continue reading NFL Preview: New York Jets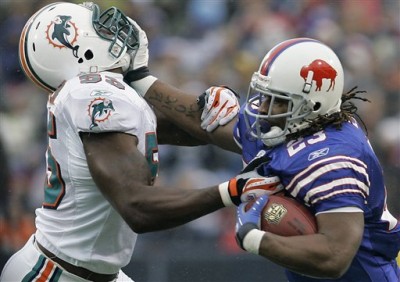 BUFFALO BILLS
2007 RECORD: 7-9
Overview: Last season, the Buffalo Bills were the exact opposite of a healthy team, having 17 players ending the season on the injured reserve list. However, despite the rash of hurt players, head coach Dick Jauron was able to coach his team to a 7-9 record and for a moment actually had some playoff hopes. Well, this coming season, the Bills hope to have their durability, or lack of, fortunes turn for the better. With a revamped defense thanks to the regular offseason transactions - a trade, free agency, and the draft - look for the Bills to defend more effectively, which will suit the offensive philosophy where the focus is on running the ball.
Click to continue reading NFL Preview: Buffalo Bills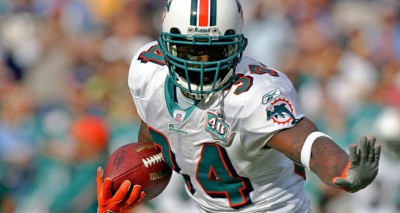 MIAMI DOLPHINS
2007 RECORD: 1-15
Overview: The Dolphins were the epitome of bad last season as they only had a one-win campaign… the Baltimore Ravens should be embarrassed. But, in any case, VP of football operations Bill Parcells hopes to turn things around for the Fins, but let's be honest - it's not that hard to improve a team that went 1-15, right? Along with a new person in charge (Parcells), the Dolphins also have a new head coach in Tony Sparano and new general manager in Jeff Ireland. And gone is the face of the defense, the tackling and sacking (don't forget dancing) machine, Jason Taylor, who left via trade to the Washington Redskins.
Click to continue reading NFL Preview: Miami Dolphins
© Gear Live Media, LLC. 2007 – User-posted content, unless source is quoted, is licensed under a Creative Commons Public Domain License. Gear Live graphics, logos, designs, page headers, button icons, videos, articles, blogs, forums, scripts and other service names are the trademarks of Gear Live Inc.