Posted by Dennis Velasco Categories: Athletes, Editorial, NFL,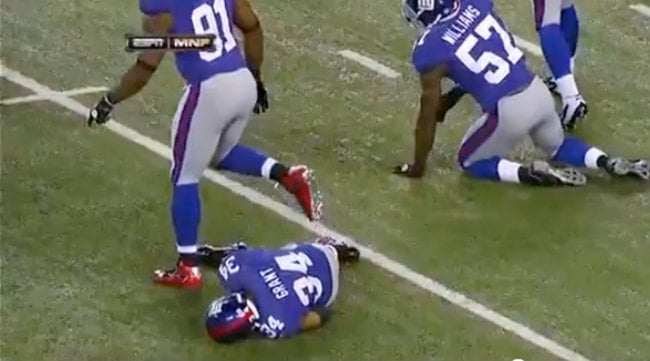 In this week's edition of "In Your Face," we call out the New York Giants' Deon Grant and Jacquian Williams and the Washington Redskins DeAngelo Hall. It seems there's a lot going on in the NFC East recently and most of it has to do with being an idiot. Give this one a LISTEN and thanks for all of your support of the EndScore Report!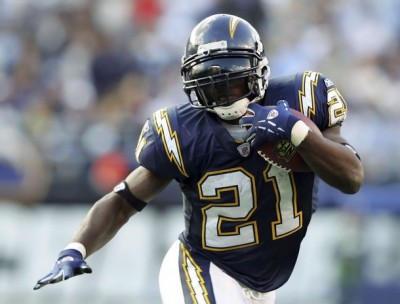 Many thanks to Bill Belichick whose much-discussed fourth quarter decision against the Indianapolis Colts put the clincher on another 3-2 weekend for me. My season record now runs to 27-19. Belichick has earned the right to make the call he did, but he obviously liked his offense's chances of getting two yards a lot better than thinking that Indy could be held back. The Cincinnati Bengals pulled the minor upset over the Pittsburgh Steelers. Maurice Jones-Drew went all-universe in the Jacksonville Jaguars' win over the New York Jets. The Arizona Cardinals and San Diego Chargers took expected victories.
Click to continue reading True Predictions: the Belichick Decision, the Turner Factor, and the Colts Going 10-0

Posted by Dennis Velasco Categories: Athletes, NFL,

Michael Strahan is many things - Super Bowl champion with the New York Giants, sack master extraordinaire, future NFL Hall of Famer, and smooth skin aficionado. Yes, you read correctly. One of the hardest working defensive linemen to ever play the game in the trenches, Strahan has found a softer side after his retirement from football and it has a lot to do with his skin. Strahan took time out to talk to us about the current NFL season and his latest promotion with Vaseline. Add another title to Strahan - comedic actor - as he is one of the main characters in Brothers, which appears on FOX on Sunday nights at 7PM ET. Watch the video and you'll see that comedy comes naturally to Strahan.
A big thank you to our friend Nick Koof from The Filler Show for helping us with the interview.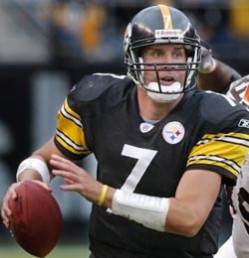 My record runs to 15–11 after going 3–2 last weekend. Why I ever back a Norv Turner team is a mystery to me. The Denver Broncos are out of the barn! Can they be placed back in? Their defense smothered the San Diego Chargers on Monday night. Their toughest upcoming games will be home games against the Pittsburgh Steelers and the New York Giants, plus a road game against the Indianapolis Colts. The Arizona Cardinals showed some grit and beat the Seattle Seahawks up in the Northwest. The New Orleans Saints, Atlanta Falcons, and Minnesota Vikings came away with predicted victories.
Click to continue reading True Predictions: Steelers, Vikings, Bengals and the Los Angeles Jaguars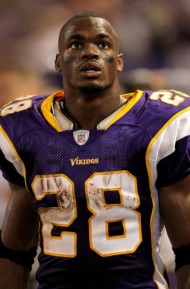 The new season has begun and it's time to look at how things will shape up in Week Two. Remember, it's a long season, so get comfy and let's take a look at the big news coming out of the NFL.
Carolina Panthers' QB Jake Delhomme's confidence is shot and his ace receiver, Steve Smith, doesn't believe in him either. Bill Cowher, meet your new team.
Super Bowl 2009 participants, the Arizona Cardinals, lose Game One to the San Francisco 49ers. Ouch, what's the percentage of teams losing the first game of the season and winning the Super Bowl? Not good. What's the percentage of losing Super Bowl teams tanking the next season? Sometimes history is a cruel thing.
Click to continue reading True Predictions: New England Patriots, Brett Favre, Dallas Cowboys, Jay Leno
Season: 15-15-1
Last Week: 6-8-1
A rough week last week, but valuable lessons were learned. I hope you were paying attention and came out a little wiser. There are some very intriguing games this weekend, and a few teams in must-win situations. My favorite picks for this weekend are the Browns, Jaguars, Panthers, and Bills.
Click to continue reading Dean Browski's NFL Week 3 Picks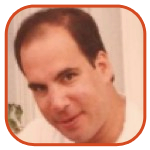 Posted by Charles Mitri Categories: NFL,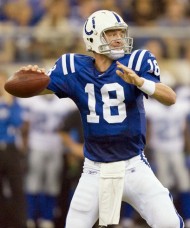 In what will go down as one of the greatest second half comebacks of the 2008 season, future Hall of Famer Peyton Manning rallied the Colts to a last minute, 18-15 win over the Minnesota Vikings.
Indy trailed by as much as 15-0 late in the third quarter, before Manning and Co, kicked the offense into overdrive, chalking up two touchdowns and one field goal in a little under 18 minutes.
Kicker Ryan Longwell accounted for all the Vikes points, posting field goals of 45 and 27 yards in the first quarter, a 53 yarder to close out the half, and boots of 46 and 28 yards in the third stanza. All eyes were on soph running sensation Adrian Peterson who rushed for 160 yards on 29 carries. The Vikes front four shut down the Colts running game, ceding a meager 25 yards for the entire game. QB Tarvaris Jackson logged solid stats of 130 yards on 14 of 24 passing.
Click to continue reading Peyton Manning, Indianapolis Colts Nip Minnesota Vikings 18-15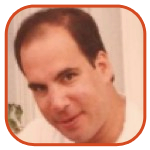 Posted by Charles Mitri Categories: NFL,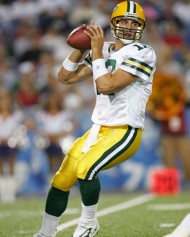 Better get the wagons in a circle. Looks like its gonna be a long year in Lion Land.
Aaron Rodgers riddled the Detroit secondary for 328 yards on 24 of 38 passing and three TDs as the Packers walloped the Lions 48-25. In a game that resembled a scrimmage more than a gridiron contest, Green Bay jumped out to an early 21-0 lead before the Lions knew what hit them. James Jones took a 9 yard lob from Rodgers capping a 15 play 86 yard drive and a 7-0 lead. Donald Driver then padded the lead to 14-0 when he took a 2 yard Rodgers chippie, polishing off a 5 play 82.
Jordy Nelson did the finishing honors when he scorched the Lions secondary with a 29 yard bullet capping a 4 play 63 yard march. Lions booter Jason Hanson put the home team on the board with a 38 yarder to close out first half scoring 21-3 Packers. Third stanza scoring was nothing special. Hanson added impressive three pointers of 49 and 53 yards, cutting the Packer lead to 21-9. Pack kicker Mason Crosby answered with a 25 yard chip shot boosting the margin to 24-9.
Click to continue reading Green Bay Packers Demolish Detroit Lions 48-25
I personally believe that NFC East battles are the best in the NFL and anyone out there will be hard pressed to convince me otherwise. The Cowboy cheerleaders are still hot and these two teams tonight still hate each other. I made the preseason prediction that the Eagles were going to win the NFC East and they did nothing last week to make me want to turn back from that prediction.
Click to continue reading Dean Browski Picks for Monday Night Football
Time to get your action in for Week 2 if you haven't already. I hope that you have been paying attention all week, and not just this morning as you nurse a hangover. Today I am not playing nothing but Straight bets. Every game I picked on Friday will be played as a 1-star, while the following games are being played at a higher star-level.
Click to continue reading Free NFL Picks by Dean Browski
© Gear Live Media, LLC. 2007 – User-posted content, unless source is quoted, is licensed under a Creative Commons Public Domain License. Gear Live graphics, logos, designs, page headers, button icons, videos, articles, blogs, forums, scripts and other service names are the trademarks of Gear Live Inc.