Posted by Dennis Velasco Categories: Editorial, NBA, Playoffs,
In this edition of the EndScore Report, DV and Chris look at all of the match-ups in the Eastern Conference NBA playoffs with the Chicago Bulls versus the Indiana Pacers, Miami Heat versus Philadelphia 76ers, Boston Celtics versus New York Knicks, and the Orlando Magic versus the Atlanta Hawks. Who will step up in the east? Derrick Rose and the Bulls look primed to take the conference, but the Heat and its Big Three of LeBron James, Dwyane Wade, and Chris Bosh won't go down easy. Neither will the "old" Big Three of the Celtics - Kevin Garnett, Ray Allen, and Paul Pierce - however, how will the trade of Kendrick Perkins affect the team. And, finally, how about the Magic and its big man, Dwight Howard. Are there implications to how the team's postseason results will affect his staying or leaving the team? Listen to what DV and Chris have to say!
Check out the Western Conference NBA Playoffs Preview and LIKE our Facebook page! Thanks for all of the listens and undying support... now tell your friends and family to listen!

Posted by Dennis Velasco Categories: Athletes, Editorial, NBA, Trades,
DV and Chris take a look at the Carmelo Anthony trade to the New York Knicks and how it's panned out thus far. The Knicks are now 7-6 since the trade (NOTE: this podcast was recorded before the Knicks win versus the Memphis Grizzlies), while the Denver Nuggets are 9-2. DV argues that the Knicks gave up too much in Raymond Felton, Danilo Gallinari, Wilson Chandler, and the prospect of Timofey Mozgov and while Chris agrees, to get a "superstar" like Anthony was or will be worth the price in order to possibly (hopefully) get another big name star and form the trendy Big Three of star NBA players ala the Miami Heat with LeBron James, Dwyane Wade, and Chris Bosh. Either way, the one thing both DV and Chris can agree on is that the Knicks won't go far without playing defense. Download and listen here!
Chris and DV talk about all of the hulabaloo and alleged tears being shed down in South Beach with the Miam Heat. Was head coach Erik Spoelstra in the right to talk to the media about certain members of the team crying? Chris and DV also talk about the Heat's chances to go far in the playoffs and whom they may have trouble with (see: Boston Celtics and Chicago Bulls). Aside from LeBron James, Dwyane Wade, and Chris Bosh, who else can step up for the Heat? Chris and DV also touch on who will come out of the Western Conference. In any case, it's been a while since the podcasting duo did a show for you all, but the boys are back and should be so on the regular moving forward! Check the latest edition to The EndScore Report by downloading the MP3!

Posted by Dennis Velasco Categories: Athletes, Editorial, NBA, News,
There was much ballyhoo before the NBA season began regarding the joining of Dwyane Wade, LeBron James, and Chris Bosh forming a "super team" with the Miami Heat. In fact, speculation abounded on whether or not they could surpass the 1995-1996 Chicago Bulls' NBA-record 72 wins. At 43-19 as of this writing, obviously, it's a dead issue like the team's seeming spirit. They have lost four of their last five, all to playoff teams - Chicago Bulls, New York Knicks, Orlando Magic, San Antonio Spurs - and the Pat Riley taking over for Erik Spoelstra whispers have reared their ugly head yet again.
Click to continue reading How about those Miami Heat?
The 'Melo Drama is now over as Carmelo Anthony was traded to the New York Knicks in a blockbuster deal that sees him joining forces with Amar'e Stoudemire to hopefully change the landscape of the Eastern Conference. But, will it? The full deal has Anthony, who was scheduled to be a free agent in the offseason, Chauncey Billups, Renaldo Balkman, Anthony Carter, and Shelden Williams going to the Knicks and Raymond Felton, Danilo Gallinari, Wilson Chandler, Timofey Mozgov, a 2014 first round picks, additional picks (second rounders), and cash going to the Nuggets. In addition, the Knicks will send Eddy Curry, Anthony Randolph, and cash to the Minnesota Timberwolves for Corey Brewer, who was reported earlier to go to the Nuggets, so this still needs to be substantiated.
Click to continue reading Carmelo Anthony traded to the New York Knicks, but will it matter?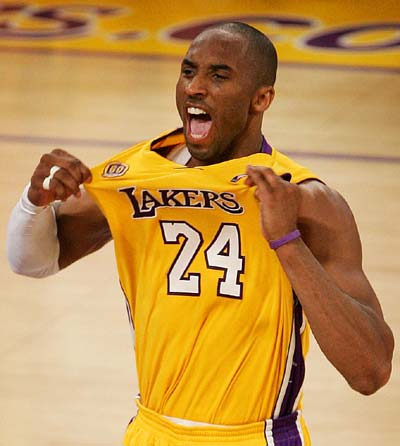 Kobe Bryant of the Los Angles Lakers is leading the overall voting for the 2011 NBA All-Star game, which is appropriate considering that the game will be played at the Staples Center in Los Angeles. Others leading the way for the Western Conference are Chris Paul at the one-guard, Kevin Durant and Carmelo Anthony at the forwards, and oddly, Yao Ming at center. Yao has been out for a bit now due to another injury issue and won't play in the game at all. When the coaches make their reserve selections, one of them will start in Yao's place. In the East, the leading guards in voting are Rajon Rondo and Dwyane Wade with LeBron James and Kevin Garnett in the lead in voting for forwards, and Dwight Howard at the five spot. The official starters will be named on January 27.
Read More

| ESPN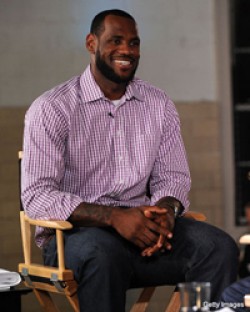 LeBron James has decided to join his Team USA and fellow 2003 NBA draftees, Dwyane Wade and Chris Bosh, down in South Beach to play with the Miami Heat. The trio of perennial NBA All-Stars will look to win what only Wade has, an NBA title ring, for the next five years at the very least. James, after much speculation that had him going to the Chicago Bulls, New York Knicks, New Jersey Nets, and staying with the Cleveland Cavaliers, made his choice known on ESPN Thursday night in a program called, The Decision. It's generally thought that the execution of LeBron's selection was poor in taste as it just fed more into the hype that most people were already sick of anyway. However, there is no questioning LeBron's appeal and general curiosity about where he would play. Rest easy, it's the Heat.
Read More

| Yahoo! Sports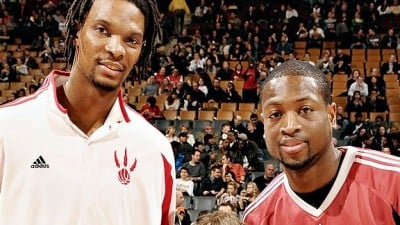 Unrestricted free agents, and two of the Big Three that includes LeBron James, Chris Bosh and Dwyane Wade have decided which team they will be playing for starting next season - the Miami Heat - and most importantly, they'll be doing it together. Bosh will be joining a new team with his friend and Team USA teammate, Wade, who will be re-joining the team that drafted him in 2003 as the fifth overall pick, while Bosh was drafted fourth overall by the Toronto Raptors. The aforementioned James was selected first overall in the same draft. The possibility still exists for LeBron to join Bosh and Wade in Miami, an answer that will be made known on July 8th at 9PM ET on ESPN.
Read More

| Yahoo! Sports

Posted by Dennis Velasco Categories: Athletes, Front Office, NBA, News, Rumors,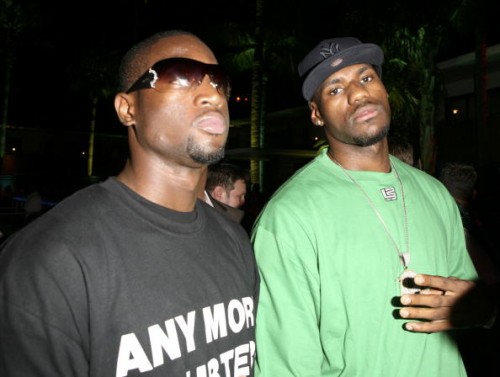 Okay, first of all, don't call this gathering of 2010 NBA free agents - Dwyane Wade, LeBron James, Joe Johnson, Chris Bosh, and allegedly Amar'e Stoudemire - a "summit." Let's be clear, they'll just be talking about one subject, possibly in one location, and discuss their futures. Yes, this does not sound like a summit at all. Well, maybe a little. In any case, it's amazing that these aforementioned NBA free agents will basically dictate who the next NBA powerhouse will be, particularly if any combination of two players go to one team. As previously posted here on Endscore, the Cleveland Cavaliers have the edge to re-sign LeBron, so maybe someone like Bosh signs with the Cavs after a sign-and-trade deal is struck. Maybe Amar'e heads from one warm weather climate in Phoenix to another one in Miami. Who knows what happens, but it's clear that the players are in control in the NBA.
Read More

| ESPN

Posted by Dennis Velasco Categories: Athletes, Front Office, NBA, Rumors,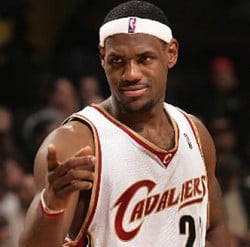 Well, take heart Cleveland Cavaliers fans, LeBron James has finally spoken about his upcoming NBA free agency and the incumbent team has the edge to re-sign The King. James spoke with CNN's Larry King on Tuesday for an interview to appear on Friday, saying, "... you know, this city, these fans, I mean, have given me a lot in these seven years. And, you know, for me, it's comfortable. So I've got a lot of memories here. And—and so it does have an edge." This may dampen the spirits of the New York Knicks who have laid it all on the line, suffering through two bad and almost wasted seasons under the current regime of Donnie Walsh and Mike D'Antoni. The Knicks have purposely traded assets to get under the NBA salary cap in order to sign LeBron and one of the other big NBA free agents - Dwyane Wade, Chris Bosh, Joe Johnson amongst others. If James does in fact sign with Cleveland, many teams such as the Chicago Bulls and New Jersey Nets, teams with legitimate shots to sign LeBron will need to move on. For the Knicks, however, how would they?
Read More

| ESPN
© Gear Live Media, LLC. 2007 – User-posted content, unless source is quoted, is licensed under a Creative Commons Public Domain License. Gear Live graphics, logos, designs, page headers, button icons, videos, articles, blogs, forums, scripts and other service names are the trademarks of Gear Live Inc.