If you're a Boston Red Sox fan, ever been to Boston, or heck, even know what Yawkey Way is, you know what a frenzy the city is in right now over the team's worst start to a season since 1945. Having been swept in straight series by the Cleveland Indians and the Texas Rangers looks bad, though. The Red Sox return to Fenway Park tomorrow to welcome the rival and hated New York Yankees. The way things have gone so far for the Red Sox, the fans may end up booing both teams.
Click to continue reading Winless Red Sox return to Fenway Park

Posted by Dennis Velasco Categories: Athletes, MLB, Playoffs,
DV and Chris make their bold predictions for the American League, choosing the eventual winners of the A.L. East, A.L. Central, A.L. West, and the A.L. Wild Card. They also make their choices for the A.L. Most Valuable Player and A.L. Cy Young. Will the offensively charged Boston Red Sox with the acquisitions of Carl Crawford and Adrian Gonzalez overcome the New York Yankees? Will the wild card once again come from the second place team in the A.L. East? Can Joe Nathan and Justin Morneau get back to being healthy in order for the Minnesota Twins to defend their A.L. Central crown? Will the Texas Rangers make another run for the World Series by first winning the A.L. West? All this and more are talked about in the latest EndScore Report, which you can listen to here!
Don't forget to LIKE our FaceBook page!

Posted by Dennis Velasco Categories: Front Office, MLB, News,
DV and Chris discuss the motives, background, and validity of Baltimore Orioles manager Buck Showalter's statements about Derek Jeter and Theo Epstein. Naturally, Showalter would say something about AL East rival teams, the New York Yankees and Boston Red Sox. When you consider that he's lost two jobs (Yankees and Arizona Diamondbacks) because he would alienate his players and management, going after someone outside of the organization is a breath of fresh air. Does Showalter make good arguments? Hear what we have to say.
Also, LIKE our Facebook page, please! Validate us!

Posted by Dennis Velasco Categories: Athletes, Front Office, MLB, News,
Albert Pujols, arguably the best overall player in baseball today, did not come to a contract agreement with the St. Louis Cardinals by the self-imposed deadline of Wednesday, February 16th. The reason Pujols designated a deadline was to not cause any distraction during the season for the team. However, considering all the things that Pujols can do and what he's done for the organization, how can his pending free agency after the 2011 not cause any degree of distraction? The usual big money teams, New York Yankees and Boston Red Sox, already have first baseman, but will undoubtedly have some interest should Pujols hit the market. Other interested teams include the Los Angeles Angels, Texas Rangers, and N.L. Central rivals, the Chicago Cubs.
Read More

| ESPN

Posted by Dennis Velasco Categories: Athletes, Front Office, MLB, News,
St. Louis Cardinals manager, Tony LaRussa, is accusing the Major League Baseball Players Association of putting pressure on free agent-to-be Albert Pujols to sign for the richest contract in baseball history. Pujols is arguably the best player in baseball and it's imperative for the MLBPA that he is paid that way in order to establish and keep a precedent - the best players get the most money. If Pujols should settle for anything less than Alex Rodriguez's benchmark contract of $27.5 per for 10 years, it could set the stage for owners to pay below-market value for players. This all said, it's ultimately up to Pujols as to where he plays. He's in the proverbial driver's seat and despite the usual group of high revenue teams (New York Yankees, Boston Red Sox) already having first basemen, Pujols commands a lot of attention.
Read More

| ESPN

Posted by Dennis Velasco Categories: Athletes, MLB, News,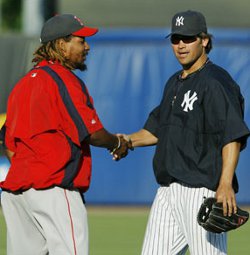 Former Boston Red Sox teammates, Manny Ramirez and Johnny Damon, could be reunited with the Tampa Bay Rays for the 2011 MLB season. They've been signed as free agents and are pending passing physicals before the deals are official. Since their run as part of the Red Sox World Series runs, both have moved on from Beantown, experiencing certain degrees of success, but can they help lead a young team in the Rays to any sort of success? The Rays lost key contributors during the offseason, such as Carl Crawford, Carlos Pena, and Rafael Soriano. Hopefully, a reunion between Manny and Johnny works some sort of magic.
Read More

| ESPN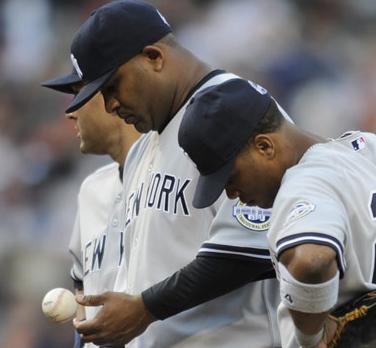 What does Cliff Lee signing with a National League team mean for the American League East? A lot, actually. The New York Yankees didn't land this year's greatest free agent, and that changes the whole landscape for the 2011 season. No longer are they the juggernaut that would win the East title year after year; now they spend twice as much money as anybody else to simply contend for wild cards, if they even get those.
Click to continue reading Cliff Lee signing helps shape AL East

Posted by Dennis Velasco Categories: Athletes, MLB, News,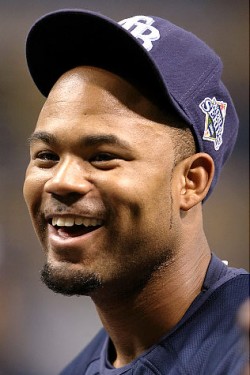 The Boston Red Sox have signed Carl Crawford, arguably the top position player free agent this offseason. The addition of Crawford, to go along with the recent trade for Adrian Gonzalez will be a major boost to the Red Sox's offense that has a legitimate top of the line-up hitter and a big-time middle of the order hitter and run producer. Crawford reportedly signed with the Red Sox for seven years and $142 million.
Read More

| ESPN Boston

Posted by Dennis Velasco Categories: Athletes, MLB, News, Trades,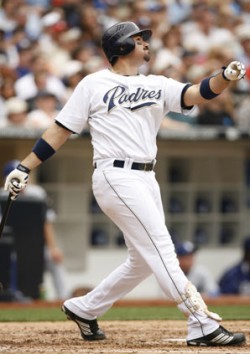 Reportedly, San Diego Padres first baseman Adrian Gonzalez will be going to the Boston Red Sox in a trade that would bring back minor league prospects to the Padres. Gonzalez, an All-Star and Gold Glove winner, has long been coveted by Red Sox GM Theo Epstein, who has attempted to trade for Gonzalez previously. Gonzalez will instantly move to the middle of the line-up and should be a big-time run producer because of his ability to go yard, draw walks and get on base, and hit for a hgh batting average. Removing himself from the cavernous depths of Petco Park to the cozy confines of Fenway should increase his statistics to some significant degree.
Read More

| ESPN Boston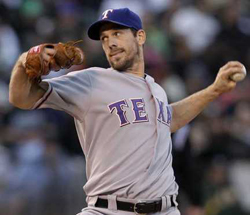 When you have a player like Cliff Lee on the market, only two kinds of teams will make a real run to get him: those in contention and those willing to overpay. Teams rebuilding will rarely offer anything beyond a phone call to an agent before bowing out, which is why you won't see Lee wind up in a city like Oakland or Toronto, who both have excellent young pitching staffs, but neither think they are only one or two moves away from seriously contending.
Click to continue reading The art of luring free agents such as Cliff Lee
© Gear Live Media, LLC. 2007 – User-posted content, unless source is quoted, is licensed under a Creative Commons Public Domain License. Gear Live graphics, logos, designs, page headers, button icons, videos, articles, blogs, forums, scripts and other service names are the trademarks of Gear Live Inc.