Posted by Dennis Velasco Categories: Athletes, Editorial, NBA, News, NFL,
For this week's "In Your Face," DV and Chris call out Los Angeles Lakers forward and enigma, Ron Artest, for getting suspended a game during a time where everybody is needed to overcome a daunting 0-2 (now 0-3) deficit. Also, we shake our heads at Pittsburgh Steelers running back and notorious tweeter, Rashard Mendenhall, for a questionable use of Twitter. Really, Rashard? Think it's time to delete the account! Give this week's "In Your Face" a LISTEN!!! Just click play!
Thanks for supporting EndScore Report and remember to LIKE our Facebook page, good people of earth!

Posted by Dennis Velasco Categories: Athletes, Drafts, Editorial, MLB, News, NFL, Trades,
This week's "In Your Face" has DV and Chris putting on blast, former New York Mets star and current Atlanta Braves pitching coach, Roger McDowell. McDowell engaged in tomfoolery and straight-up stupidity at the ballpark and deserves the "in your face" treatment!
The other recipient has to go to the Atlanta Falcons for trading five picks (two first-rounders, one second, and two fourth-round picks) to the Cleveland Browns to move up 21 spots to select Julio Jones with the sixth overall pick, a wide-receiver to match up with Roddy White. I guess Jones is some sort of savior, which means that A.J. Green, the first wide receiver selected is a god then. Too many picks given up for one pick, no matter where it is. In your face, ATL... it's not a good week for you sports-wise. Thank goodness for the Atlanta Hawks! Listen to this week's "In Your Face"!
Thanks for supporting EndScore Report and remember to LIKE our Facebook page, fine readers!

Posted by Dennis Velasco Categories: Athletes, Front Office, News, NFL,
In this edition of EndScore Report, DV and Chris speak on the madness that is the NFL lockout, which was lifted by a court decision on Monday, April 25th, which theoretically would have allowed players to report to their respective teams and begin workouts for next season. However some NFL teams did not comply to whatever degree and the NFL owners asked for a stay on the decision to keep the lockout going. When will this all end? How will this affect the currently copious amount of popularity surrounding the sport. How will the fans react? We also talk about the NFL Draft and the potential number one pick. GIVE IT A LISTEN!
Thanks for the support and don't forget to LIKE our Facebook page!

Posted by Dennis Velasco Categories: Athletes, Drafts, Editorial, News, NFL,
It's being reported that the top NFL prospects for the 2011 NFL Draft are being told by the NFLPA (yeah, sure, they're decertified and not working as a group anymore) to not show up at next month's draft at Radio City Music Hall in New York. The union is suggesting that the draft prospects partake in another activity that it seems would be run by the union and would give a similar experience that being at the NFL Draft would give. Understand that in the battle between the owners and players, I consider the owners more in the wrong, but is the NFLPA serious?
Click to continue reading Top NFL prospects not to show at the NFL Draft?

Posted by Dennis Velasco Categories: Athletes, Editorial, Front Office, News, NFL,
There was only a small bit of hope that came in the form of two deadline extensions to continue to negotiate, but it wasn't enough as the National Football League Players Association (NFLPA) led by DeMaurice Smith chose to decertify their union, allowing individual players to join together, not as a union, to sue the NFL owners. In turn, the NFL owners locked out their players from team facilities. No communication is allowed between players and the organization and its employees, such as coaches. Needless to say, the 2011 NFL season is now in jeopardy unless litigation can be settled quickly or somehow the two opposing sides can come to an agreement outside of court.
Click to continue reading NFLPA decertifies, NFL owners lock out players

Posted by Dennis Velasco Categories: Athletes, Championship, Super Bowl, Editorial, NFL,
Chris and DV talk about the merits of a Tiki Barber comeback - the history with his former team, the New York Giants, as well as what he can bring to a team and to what degree his impact would be. Considering the title, we don't think much about Barber. Especially when you consider the straight hating Barber has spewed towards Tom Coughlin and Eli Manning. Don't be mad because you quit a year before the Giants won the Super Bowl, Tiki. Anyway you can DL the ESR here!

Posted by Dennis Velasco Categories: Athletes, News, NFL,
Former New York Giants running back Tiki Barber has gotten the itch to play again and has filed papers to come out of retirement after not putting on the pads since 2006. He'll be 36-years-old in April, but does appear to still be in shape, not "game shape," though. Barber finished his 10-year NFL career (all with the Giants) with 10,449 rushing yards that include finishing five straight seasons with at least 1200 yards on the ground and a 4.7 yards per carry average. However, Barber's strength was his ability to also catch the ball out of the backfield (586 receptions for 5183 receiving yards) and could be a versatile weapon for whichever team decides to sign him. Could he return to the Giants? Well, they do own his rights, but Barber has spoken badly enough about the team that they'll probably be only too happy to let him go. With a rested body free of injury, as well as having proven great ability, Barber could do significant things.
Read More

| ESPN New York


Posted by Dennis Velasco Categories: Athletes, Front Office, News, NFL,
Michael Vick was given the franchise tag by the Philadelphia Eagles, showing the team's committment to the previously maligned quarterback. Vick has done a lot to overcome his dogfighting scandal and his play on the field and ability to stay out of trouble since being reinstated into the NFL has re-worked his image. In fact, Vick is set to appear on Oprah, a substantial way to change perception to mainstream America for Vick. Oprah Winfrey's opinion goes a long way. However, the Eagles didn't need her validation in understanding Vick's value.
Read More

| ESPN


Posted by Dennis Velasco Categories: News, NFL, Playoffs,
NFL fans, particularly what I would think are Pittsburgh Steelers and Green Bay Packers fans that were jilted out of their seats at Super Bowl XLV are now suing the NFL, Dallas Cowboys, and Cowboys owner Jerry Jones. The beef is because about 400 seats were not installed, inspected, and approved before the big game despite knowing well in advance that this was the case. The NFL has offered paying $2400 and offering tickets to next year's Super Bowl. However, what if their team doesn't make it back? Another option has been offered, but what it comes down to are fans not being able to be in the moment supporting their team at the pinnacle of NFL status. I don't blame these people one bit.
Read More

| ESPN


Posted by Dennis Velasco Categories: Athletes, Championship, Super Bowl, Kudos, News, NFL, Playoffs,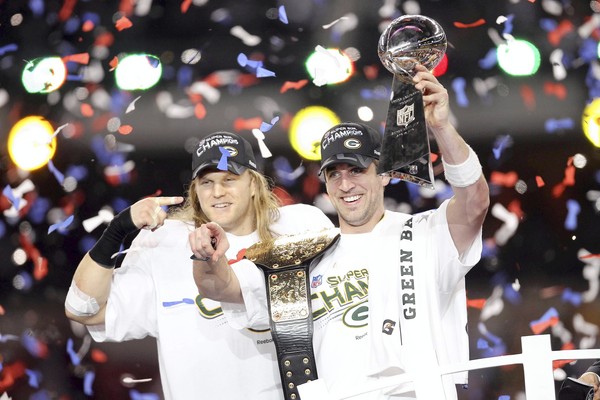 The Green Bay Packers defeated the Pittsburgh Steelers 31-25 to win Super Bowl XLV. The Packers went into halftime with a 21-10 lead after the Steelers scored a touchdown just before the end of the second quarter. It looked like the Steelers had all of the momentum heading into the second half. However, despite outscoring the Packers after the half, the Steelers couldn't make enough of a comeback to win. If they had, they would have owned the record to come back from the biggest deficit (18 points) in the Super Bowl. Packers QB Aaron Rodgers was the Super Bowl MVP after throwing for 304 yards and three touchdowns without any interceptions, but was also great all postseason, leading the sixth-seeded Packers through three rounds before taking the team to the promised land. Rodgers now has as many Super Bowl victories as former Packers QB Brett Favre, but in addition has something Favre doesn't - Rodgers has the Super Bowl MVP.
Read More

| ESPN

© Gear Live Media, LLC. 2007 – User-posted content, unless source is quoted, is licensed under a Creative Commons Public Domain License. Gear Live graphics, logos, designs, page headers, button icons, videos, articles, blogs, forums, scripts and other service names are the trademarks of Gear Live Inc.