Posted by Dennis Velasco Categories: NCAA, College Football, News,
Former USC Trojans head football coach and current Seattle Seahawks head coach, Pete Carroll, reacted to the NCAA's sanctions on the USC program - loss of 30 football scholarships over three years, two-year bowl ban, four years of probation, loss of 14 victories over 2004 and 2005, as well as possibly losing their 2004-05 national championship. All this because of the Reggie Bush infractions. Check the "Read More" link and learn more, but after watching the video, you will definitely have a WTF reaction. Carroll honestly believes that there was no wrong-doing? Well, of course he doesn't, but he makes it sound as if USC was given the short end of the stick. At least that's what it sounds like to me. Let me know what you think in the Comments section, but seriously, this is almost laughable, but it's really just pathetic.
Read More

| ESPN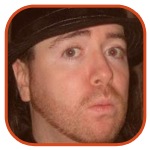 Posted by Adrien Griffin Categories: Athletes, NCAA, Olympics,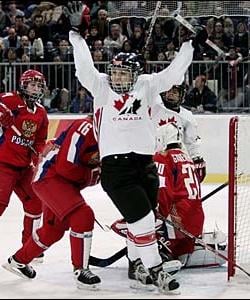 Another record has been broken in Vancouver. Meghan Agosta, forward for Team Canada's women's ice hockey unit, has scored nine goals in four games for her country, breaking the record at the Olympics. Agosta scored a hat trick in Canada's 18-0 win over Slovakia, two more in the 10-1 win over Switzerland, and another hat trick over Sweden 13-1. In the 5-0 semi-final win against Finland on Monday night, Agosta netted another goal to bring her running total to nine.
Click to continue reading Agosta breaks Olympic records

Posted by Phil Partington Categories: Fantasy, NBA, NCAA, College Basketball,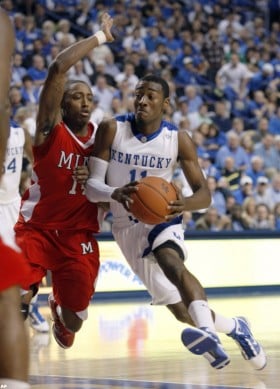 June is the month for the NBA Draft, when fans and experts alike chart players and teams to determine which future prospect will be taken by which team. The process is both exciting and captivating, as it hints at the future of many NBA ball clubs. Yet, NBA Draft buzz doesn't start in June. Even though the college basketball season is just underway, murmurings of where players might go in the 2010 NBA Draft have already surfaced. Here's an early look at how the draft might shape up.
1. New Jersey Nets select PG John Wall, Kentucky, 6-4, 195lbs
Wall is the consensus top pick at this point. Wall has great size and athleticism for a point guard. After six games, he's averaging 18.5 ppg, 7.8 apg, 4.0 rpg, 2.5 spg, while shooting 56% from the field and 80% from the line. He somewhat resembles Derrick Rose. Though the Nets have Devin Harris, it's hard to imagine them passing on a potential superstar like Wall.
Click to continue reading 2010 NBA Mock Draft December Version

Posted by Milo Taibi Categories: Athletes, NBA, NCAA, College Baseball, News,
Much to the chagrin of Kansas head coach Bill Self, forward Julian Wright made the decision Monday to enter the NBA draft, and skip his last two college basketball years. Julian Wright insists that money was not a factor in his decision.
""Money has never been my motivation, It's not my family's (motivation). Mostly, just playing and feeling like I'm able to advance my game to the next level. It's not about the money. I'm just happy and grateful to have the opportunity."
The former McDonalds all American did not hire an agent, so he would be eligible to return to Kansas before the draft. He's known for having superior athleticism for a player of his size (6'8 inches tall, 225 pounds). He's played numerous positions for Kansas, including point guard, small forward, and power forward. Wright's announcement of entering the NBA draft was fairly unexpected, as he stated numerous times that he wouldn't enter the NBA draft no matter his performance during his sophomore season.
Click to continue reading Julian Wright To Enter NBA Draft
Posted by Jeff Chan Categories: Athletes, Drafts, Editorial, NCAA, College Football, NFL,
I have the task of convincing you that the Houston Texans don't need to rack their brains over the decision, the choice is clear; go with your first instinct - Reggie Bush. All this talk about Reggie Bush not being an every-down back, he's not durable…baloney. In this day and age of the NFL, it's a copy cat league in which successful teams now employ multiple back sets. Sure the Texans already have Domanick Davis, but they're going to need another weapon. Look at the New England Patriots, a backfield by committee, the Denver Broncos using multiple backs, the Pittsburgh Steelers surely needed both Jerome Bettis and Willie Parker. If they pass on Bush, the Texans will surely regret their decision. Bush is the most promising running back prospect since Gale Sayers and Barry Sanders. Don't get me started on being a "smaller" back, did that effect Barry Sanders? Tiki Barber? Warrick Dunn? I didn't think so.
If your team is going to invest in a number one draft pick, he should be a franchise player. Bush not only is an exceptional player, but he has absolutely none of the off-field issues you are going to worry about with every other prospect in this draft. Mario Williams, his weakness is that he has a questionable work ethic and needs to be motivated. Do you want ride your #1 draft choice to play hard? Come on, this is the pros; teams should demand more of the #1 pick. Matt Leinert, maybe he's not focused entirely on football and more on becoming a celebrity. Vince Young? This guy could end up being a bust altogether and he might not be able to even grasp the simplest of NFL offenses. Reggie Bush he already has the maturity as you can see from the way he has handled himself throughout the so-called "Agent for house scandal". All the interviews Bush has been apart of the last few days, on MTV TRL, on Conan O'Brien, this guy is ready for the big stage and will not disappoint.
Posted by Jeff Chan Categories: NCAA, College Football,
Whoa nellie! The 77 year old broadcaster has called it quits from play by play duties for college football. As it turns out Keith Jackson's last game was the 2006 Rose bowl between USC and Texas. Jackson was the most famous voice of college football, and will be missed. Jackson is also the voice of the famous Gatorade commercials in which scientist at the University of Florida developed a special formula to help the football team overcome dehydration.

Read More

| Pepsico
Posted by Jeff Chan Categories: Athletes, NBA, NCAA, College Basketball,
The Jordan All-American Classic took place this past Saturday in Madison Square Garden, the yearly event features the top high school basketball players in the nation. In years past, the event has included future and current stars such as Amare Stoudemire, Lebron James, Carmelo Anthony and others. I was able to attend both this years event as well as last year's. Last year, I had a sneak peak at Pittsburgh's Levance Fields, and 2005 draft picks Martell Webster, Andrew Bynum, Monta Ellis, Louis Williams and Andray Blatche. This year I didn't pay as much attention after knowing it was just going to be an exhibition game with no defense. On the positive side, I was able to get into the VIP room and get an up-close look at Michael Jordan himself, Vince Carter, Danny Granger, Al Harrington and football DT Warren Sapp. I got to tell Al Harrington to avoid the aggravation and not to bother signing with the New York Knicks as he heads to free agency this summer.
Currently at Duke University's bookstore, Lacrosse apparel is still being sold. Duke spokesman, Keith Lawrence realizes whether the merchandise is pulled from the shelves or continued to be displayed, they would be criticized either way. One retailer who caved into the pressure was Dick's Sporting Good store, who pulled it's merchandise after receiving complaints from customers. There are some who will continue to support the team and others that still have a vested interest in the #1 ranked women's team. Hopefully there aren't too many idiots on campus, wearing Lacrosse gear just to grab attention to themselves.

Read More

| Darren Rovell
Posted by Jeff Chan Categories: Athletes, NBA, NCAA, College Football,
After watching the Detroit Pistons versus Miami Heat match-up last night, I learned an interesting fact about PG Chauncey Billups. He is actually related to potential first round draft pick running back Lendale White from USC. That is some scary talent in their family's gene pool. The most potent family duo has to be Vince Carter and Tracy McGrady; they must have just destroyed their friends and kids in the park when they were youngsters. After watching the NCAA tournament and seeing a number of impact players being second generation stars, such as Joakim Noah be the best player in the tournament, his dad is ex-tennis star Yannick Noah. Joakim's Florida teammate, Taurean Green is also a second generation basketball player, his dad is ex-NBA player Sidney Green. For all you aspiring ball players, if you find yourself falling short on the playground, I feel for you - maybe you just weren't born with it.
Posted by Jeff Chan Categories: Front Office, NCAA, College Basketball,
Two former Rick Pitino assistants have made headlines the last couple of days. Billy Donovan led Florida to it's first NCAA basketball title, and Herb Sendek took the head coaching job at Arizona State University. Both Donovan and Sendek were Pitino assistant's at Kentucky. Tubby Smith was also under Pitino's staff, and has put his own mark on the Kentucky program.
Donovan led a strong sophomore recruiting class to the promise land yesterday by defeating UCLA, to the dismay of Bill Walton. With two NCAA championship games under Donovan's belt, he may now be propelled into an elite class of head coaches. Sendek who has had success as the head coach of the N.C. State Wolfpack in recent years, but has come up short in head to head against the elite of the ACC with a 17-54 record against rivals Duke, North Carolina and Wake Forest. With Sendek on board, the Pac-10 Conference just got tougher by one more team.

Read More

| ESPN
© Gear Live Media, LLC. 2007 – User-posted content, unless source is quoted, is licensed under a Creative Commons Public Domain License. Gear Live graphics, logos, designs, page headers, button icons, videos, articles, blogs, forums, scripts and other service names are the trademarks of Gear Live Inc.