Posted by Dennis Velasco Categories: Athletes, Drafts, NCAA, College Football, News, NFL,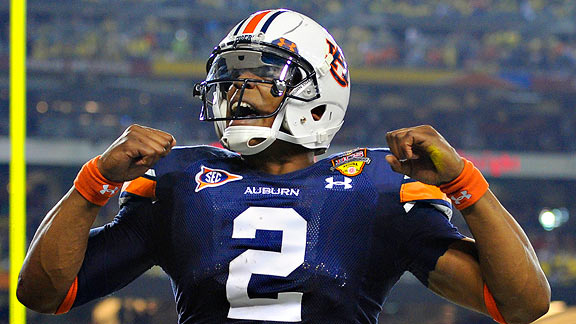 Cam Newton, quarterback of the Auburn Tigers, has decided to forego his senior season and declare for the 2011 NFL Draft. Newton had a big junior season at Auburn, leading the Tigers to a national championship, as well as college football's top individual prize, the Heisman Trophy. Newton is a versatile quarterback that could both throw and run the bell at a high level. However, production in college doesn't always translate to the NFL, but Newton has a good shot because he also has the physical tools to succeed right away. However, will the pay for play controversy that hit him this past season be a detriment to his draft spot? Time will tell.
Read More

| ESPN


Posted by Dennis Velasco Categories: Championship, NCAA, College Football, News,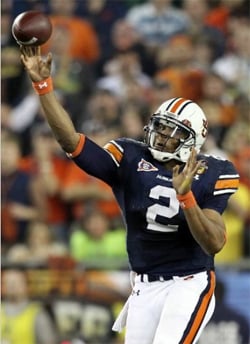 The Auburn Tigers defeated the Oregon Ducks 22-19 to claim college football's championship at the Tostitos BCS National Championship Game. Heisman Trophy winner, Cam Newton, while performing well (20-for-34, 265 yards, two touchdowns, one interception), was upstaged by kicker Wes Byrum and freshman running back Michael Dyer. A pair of Dyer runs set-up Byrum to hit a game-winning field goal as time ran out on the clock. The Tigers finish 14-0 for the season and win their first national championship since 1957.
Read More

| ESPN


Posted by Dennis Velasco Categories: Athletes, Drafts, NCAA, College Football, NFL,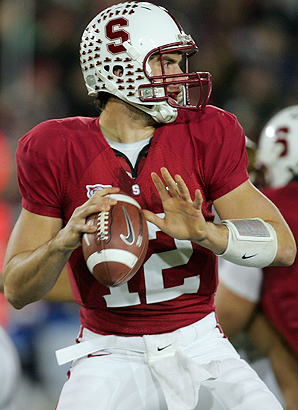 Stanford quarterback and projected first overall pick in the 2011 NFL Draft has decided to return to school at Stanford. This news is especially bad for the Carolina Panthers who own the number one pick in the draft and mentioned that they would take Luck should he come out. Luckily, they already have a young quarterback in rookie Jimmy Clausen who probably just needs more reps before filling his promise. In the end, this might work out well for the team, although the fanbase had to be expecting Luck to take snaps under center in 2011.
Read More

| ESPN


Posted by Dennis Velasco Categories: NCAA, College Football, News,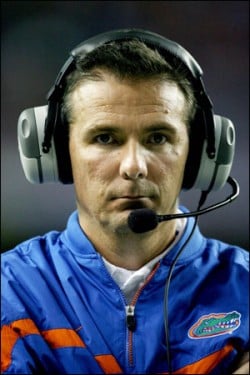 Urban Meyer has decided to call it quits, officially leaving the University of Florida Gators without a head football coach. Meyer was a successful coach that helped the Gators win a BCS National Championship, but had a relatively bad season in 2010, finishing 7-5 and performing as in previous seasons. Meyer has health issues that previously threatened his availablity to coach the team and led to a Brett Favre-like back and forth on whether or not he was coming back to coach the team or leaving entirely. Should people consider this latest announcement to be the final one or will the back and forth ensue? For now, Meyer is out of the Gators picture.
Read More

| ESPN


Posted by Dennis Velasco Categories: NCAA, College Football, News,
Former USC Trojans head football coach and current Seattle Seahawks head coach, Pete Carroll, reacted to the NCAA's sanctions on the USC program - loss of 30 football scholarships over three years, two-year bowl ban, four years of probation, loss of 14 victories over 2004 and 2005, as well as possibly losing their 2004-05 national championship. All this because of the Reggie Bush infractions. Check the "Read More" link and learn more, but after watching the video, you will definitely have a WTF reaction. Carroll honestly believes that there was no wrong-doing? Well, of course he doesn't, but he makes it sound as if USC was given the short end of the stick. At least that's what it sounds like to me. Let me know what you think in the Comments section, but seriously, this is almost laughable, but it's really just pathetic.
Read More

| ESPN

Posted by Brendon Lindsey Categories: Front Office, Kudos, News, College Football,
Normally I'll make jokes and poke fun at what's going on, but a few stories deserve to be handled with respect and dignity, and this is one of those.
Earlier today, Indiana football coach Terry Hoeppner died due to complications from a brain tumor. He was 59. Coach Hoeppner didn't have a stellar career at Indiana (9-14), and since he was hired in 2004 as the new coach for the Hoosiers after a successful six years as the head coach at Miami (Ohio) (57-39), many fans were upset at what appeared to be a true lack of progress for the program. Over the past 18 months, however, Coach Hoeppner had begun treatment to battle a tumor found in his brain.
Click to continue reading Hoosiers coach Terry Hoeppner dies due to tumor
Read More

| ESPN

Posted by Jeff Chan Categories: Athletes, Drafts, Editorial, NCAA, College Football, NFL,
I have the task of convincing you that the Houston Texans don't need to rack their brains over the decision, the choice is clear; go with your first instinct - Reggie Bush. All this talk about Reggie Bush not being an every-down back, he's not durable…baloney. In this day and age of the NFL, it's a copy cat league in which successful teams now employ multiple back sets. Sure the Texans already have Domanick Davis, but they're going to need another weapon. Look at the New England Patriots, a backfield by committee, the Denver Broncos using multiple backs, the Pittsburgh Steelers surely needed both Jerome Bettis and Willie Parker. If they pass on Bush, the Texans will surely regret their decision. Bush is the most promising running back prospect since Gale Sayers and Barry Sanders. Don't get me started on being a "smaller" back, did that effect Barry Sanders? Tiki Barber? Warrick Dunn? I didn't think so.
If your team is going to invest in a number one draft pick, he should be a franchise player. Bush not only is an exceptional player, but he has absolutely none of the off-field issues you are going to worry about with every other prospect in this draft. Mario Williams, his weakness is that he has a questionable work ethic and needs to be motivated. Do you want ride your #1 draft choice to play hard? Come on, this is the pros; teams should demand more of the #1 pick. Matt Leinert, maybe he's not focused entirely on football and more on becoming a celebrity. Vince Young? This guy could end up being a bust altogether and he might not be able to even grasp the simplest of NFL offenses. Reggie Bush he already has the maturity as you can see from the way he has handled himself throughout the so-called "Agent for house scandal". All the interviews Bush has been apart of the last few days, on MTV TRL, on Conan O'Brien, this guy is ready for the big stage and will not disappoint.
Posted by Jeff Chan Categories: NCAA, College Football,
Whoa nellie! The 77 year old broadcaster has called it quits from play by play duties for college football. As it turns out Keith Jackson's last game was the 2006 Rose bowl between USC and Texas. Jackson was the most famous voice of college football, and will be missed. Jackson is also the voice of the famous Gatorade commercials in which scientist at the University of Florida developed a special formula to help the football team overcome dehydration.

Read More

| Pepsico
Posted by Jeff Chan Categories: Athletes, NBA, NCAA, College Football,
After watching the Detroit Pistons versus Miami Heat match-up last night, I learned an interesting fact about PG Chauncey Billups. He is actually related to potential first round draft pick running back Lendale White from USC. That is some scary talent in their family's gene pool. The most potent family duo has to be Vince Carter and Tracy McGrady; they must have just destroyed their friends and kids in the park when they were youngsters. After watching the NCAA tournament and seeing a number of impact players being second generation stars, such as Joakim Noah be the best player in the tournament, his dad is ex-tennis star Yannick Noah. Joakim's Florida teammate, Taurean Green is also a second generation basketball player, his dad is ex-NBA player Sidney Green. For all you aspiring ball players, if you find yourself falling short on the playground, I feel for you - maybe you just weren't born with it.
Posted by Jeff Chan Categories: Drafts, NCAA, College Football, NFL,
After reading the newest edition of the Sporting News, they published a mock-draft article. They mentioned Young's poor decision to participate in a college QB all-star challenge, where he was not very impressive. My personal opinion is that Young's showing should not diminish his stock; sometimes teams put too much emphasis on combines, 40 yard dash times, and silly obstacle course tests, but not of actual game footage. Let's not forgot how impressive he has been throughout his career at Texas as a whole.
Sporting News had Young falling all the way down to the 10th spot, in the Arizona Cardinals lap. This would definitely make Coach Dennis Green happy. This mock draft didn't even have Young as the first Texas Longhorn picked; they had S Michael Huff going ninth to the Detroit Lions. Well that throws the logic of some people's thinking right out the door. Conversely, the Sporting News likes to publish some of e-mails fans send, and one Vince Young fan points out "If you want to win games, pick Reggie Bush in the NFL draft. If you want to win championships, pick Vince Young. Use your own judgment and common sense on draft day, and hope your team's GM makes the right decision.
© Gear Live Media, LLC. 2007 – User-posted content, unless source is quoted, is licensed under a Creative Commons Public Domain License. Gear Live graphics, logos, designs, page headers, button icons, videos, articles, blogs, forums, scripts and other service names are the trademarks of Gear Live Inc.