Posted by Edwin Soto Categories: Championship, Super Bowl, NFL,
After having a D. Jackson touchdown being taken back because of a questionable penalty, the Seahawks take only 3 points away after a 47 yard field goal. Either way, I still didn't make any money on the office pool. Crap.
Posted by Edwin Soto Categories: Championship, Super Bowl, NFL,
Both teams came up empty as Seattle takes it up the field for 2 first downs. A 4th down punt put the Steelers in their first possession. A quick 3 and out put them in a position to punt. Let's hope for some fireworks on offense this time around.
Posted by Edwin Soto Categories: Championship, Super Bowl, NFL,
There's nothing more exciting than the coin toss of the Super Bowl. You start to hope that the following game will be a good one and begin to put the electricity into perspective. So why would you ever have New England Patriots' Quarterback, Tom Brady, toss the ceremonial coin? Shouldn't he be home licking his wounds like the other playoff losers? Was there not a more qualified retired football player in the stadium? I would've taken a drunken "Broadway" Joe Namath before Brady.
Posted by Edwin Soto Categories: Championship, Super Bowl, NFL,
With 20 minutes left until kickoff, Stevie Wonder took the stage on the 50 yard line with India Arie, Joss Stone, and John Legend. They sang some of Wonder's most memorable songs as well as some Motown standards - very appropriate for Detroit. As usual, the awful sound engineers of these live events had to screw it up by accidentally muting microphones when they weren't supposed to. At least there was no lip-syncing involved in the affair.
Posted by Edwin Soto Categories: Championship, Super Bowl, NFL,
In an attempt to tug on America's heart strings, ABC and Disney put on a feature about disabled children playing football. I am trying really hard not to call it a "puff piece" and seem unsympathetic to the disabled. It's possible that they put this "story" on to get people to think that ABC's coverage of Super Bowl appeals to the average American lifestyle. I'm sure this is just a ploy to assure parents that there won't be any wardrobe malfunctions this year. The question on my mind the entire time was "Who's the audience for this?" Surely all the beer drinking bar men don't want to see this. Leave the tear jerking for Barbara Walters and 20/20.
Posted by Edwin Soto Categories: Championship, Super Bowl, NFL,
Reminisce the championship game with us, as we live blog the Super Bowl. We'll be here to talk about everything from the pregame, lineups, the great commercials, Halftime show, and oh yeah, the game too. Check out our forum thread to discuss, argue, moan and groan about everything Super Bowl XL. Tell us what team you're rooting for, what food your eating, what type of set you're watching it on, and who you're with. Is grandpa waiving his Terrible Towel at you in Seattle? Are the Seahawks - the #1 seed in the NFC - the underdog in this game?
Posted by Jeff Chan Categories: Athletes, Championship, Super Bowl, NFL,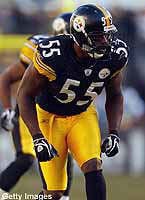 Oh no, the Seahawks woke up the sleeping dragon, conspiracy theorist, Joey Porter. Porter has kept quite so far, but now it looks like he's out for blood again - good luck to the Seattle offensive line trying to hold him back. What led to trigger Porter's anger now? Seattle's TE Jerramy Stevens made some comments he may end up regretting.
Stevens made some comments that will only pump Porter up. Bad move Stevens. Stevens doesn't think Bettis will leave Detroit with the Vince Lombardi trophy and was quote saying:
"It's a heartwarming story and all that, but it will be a sad day when he leaves without that trophy,"
Porter shot back by saying:
"has a lot of nerve" to say what he said about Bettis.
Regarding his thoughts of Stevens as a player:
"a first-round bust who barely made some plays this season."
Stevens shouldn't have made a "guarantee" like that, he's not Mark Messier. Now we feel bad for RB Shaun Alexander and FB Mack Strong who is going to have to pick up Porter on blitzes. We wouldn't be surprised if Alexander suffers another concussion.

Read More

| ESPN
Posted by Jeff Chan Categories: Championship, NCAA, College Football,
To the casual football fan, Saturday was a day to tune in to college football. The day ended with two huge blowouts, USC winning over UCLA 66-19, and Texas defeating Colorado 70-3. Both teams now end the regular season standing at a perfect 12-0. Fans yearning for the yearly debate of implementing a play-off system will have to wait another year. This year the BCS computer rankings will not cause any controversies, because the undisputed #1 USC Trojans will face off against the undisputed #2 Texas Longhorns for the National Championship.
This match up is going to interest even fans that are only into the NFL. Between the Texas and USC match up, you could possibly end up watching the top 3 players in the 2006 NFL draft. Texas are led by QB Vince Young, who remind some scouts of a young Dante Culpepper, and USC boasts last years Heisman trophy winner, QB Matt Leinert, and possibly this years Heisman winner, RB Reggie Bush.
© Gear Live Media, LLC. 2007 – User-posted content, unless source is quoted, is licensed under a Creative Commons Public Domain License. Gear Live graphics, logos, designs, page headers, button icons, videos, articles, blogs, forums, scripts and other service names are the trademarks of Gear Live Inc.