Posted by Dennis Velasco Categories: Championship, Editorial, Kudos, NBA, Playoffs,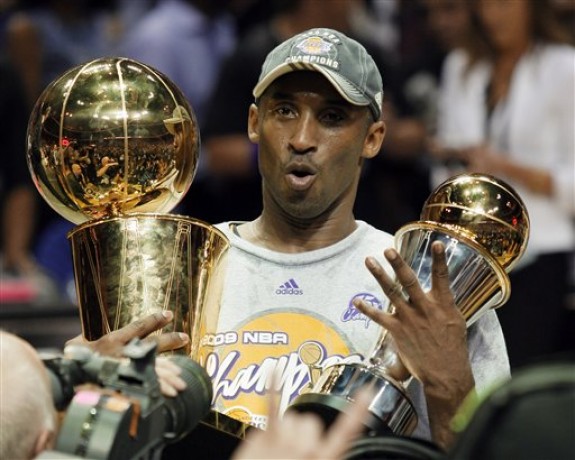 The Los Angeles Lakers beat the Orlando Magic four games to one in the NBA Finals, earning the team's 15th NBA title. Put in a historical perspective, they are now 15-15 in NBA Finals match-ups and are second only to the Boston Celtics and their 17 NBA titles for most championships by a franchise. Phil Jackson also moved ahead of Red Auerbach for the most titles by a head coach, winning his 10th NBA title, the fourth with the Lakers. His other six came with the Michael Jordan-led Chicago Bulls. Perhaps, most importantly, Kobe Bryant won a title with Shaquille O'Neal… okay, it's only important to all those that hated on Kobe and said he couldn't win a title without Shaq (this group includes Shaq himself), well, in your face!
Bryant was a symbol of will and determination and getting the job done. In fact, such ferocity and competitiveness hadn't been seen since Jordan took the court. And now, the monkey is off his back and if the Lakers can somehow sign both Trevor Ariza and Lamar Odom, the Lakers could win a few more championships. Pau Gasol and Andrew Bynum are locked in and provide great interior presences, Derek Fisher looks as if he can still play for a few years and it looks like Jordan Farmar will be ready to take up the PG mantle. Contractually, Jackson only has one more season left, but if the core group of players can stay intact, don't be surprised if he signs another extension. This season, Jackson seemed less stressed because of team chemsitry and the lack of two alpha males (Kobe and Shaq) going at it.
Congratulations to the Lakers and their fans. And to all the Kobe haters, bite it!

Posted by Milo Taibi Categories: Championship, News, NFL, Scoreboard,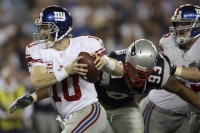 The New York giants won the Superbowl over the New England Patriots, by a score of 17-14. This victory for the Giants ends the Patriot's perfect season. Late in the 4th quarter the Patriots' Daunte Stallworth dropped a pass from Giants' Eli Manning, an interception which would have likely dashed the Giants' Superbowl hopes. Shortly thereafter Tom Brady found Plaxico Burress in the end zone to complete a touchdown making the game 16-14.
Click to continue reading Giants Win Superbowl 42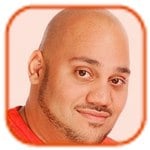 Posted by Andru Edwards Categories: Championship, Super Bowl,
So, the Super Bowl happens in just a couple of days. Have you ever needed to explain to a child (or clueless non-football fan) what football is, and why the Super Bowl is so important? Our friend Ze gives it a shot…check out the video above. You may want to use this as your template for explaining the issue in the future - if you can be sure not to blink like he does. Hit us back with your thoughts in the comments.

Posted by Milo Taibi Categories: Athletes, Championship, MLB,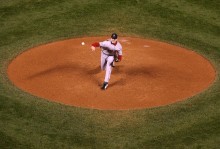 With a final score of 4-3, the Boston Red Sox ran onto the field in celebration, winning the 2007 World Series. The win went to Jon Lester, and Aaron Cook took the loss in his first start since August 10th in the regular season. The Colorado Rockies were swept 4 games to none, and lost this one despite a stellar 3 inning appearance from their bullpen. Home runs for the Red Sox came from Mike Lowell and Bobby Kielty. Lowell would wind up winning series MVP. Brad Hawpe and Garret Atkins hit home runs in the losing effort from the Rockies.
Click to continue reading Red Sox 2007 World Series Champions

Posted by Milo Taibi Categories: Athletes, Championship, MLB, Playoffs,

The 2007 Colorado Rockies will continue their hot streak later on in October. With the help of ten pitchers, the Rockies defeated the San Diego Padres in a one game tiebreaker. Home Runs for Colorado came from Todd Helton and Yorvit Torrealba. Josh Fogg got the start, but didn't fare too well. He lasted only 4 innings but gave up 8 hits and 5 earned runs. However the bullpen was up for the task, including a great performance from Matt Herges. Herges, who once saved 23 games for the 2004 San Francisco Giants, threw 3 scoreless innings in relief. The Rockies started their scoring in the very first inning, with 2 runs from a sacrifice fly off the bat of Todd Helton and a single from Garret Atkins. Trevor Hoffman wound up blowing a 2 run lead in the 13th inning.
"It's been an incredible run from game 1 to game 163," Rockies manager Clint Hurdle said. "This is just a snapshot of what we've been through."
Click to continue reading Rockies Advance To Playoffs

Posted by Milo Taibi Categories: Athletes, Championship, NBA, News,

Johan Santana was impeccable on Sunday. In a game where offense was few and far between, Johan Santana took the rubber against the Texas Rangers to throw 8 innings, allow just 2 hits yield no walks and strike out 17 befuddled Ranger batters. The only run scored in the game was a second inning blast from Minnesota Twin Michael Cuddyer. The Twins took this game 1-0. Brad Wilkerson, Marlon Byrd and Gerald Laird all had the hat trick, three strikeouts, for the Rangers. Strangely enough, accomplished hitter Michael Young was the only Ranger with the golden sombrero, four strikeouts. To put Santana's performance into perspective, 17 out of 24 outs came by the strikeout variety. Joe Nathan shut the door for Minnesota by notching his 27th save in the ninth innings.
Click to continue reading Johan Santana Strikes Out 17
Posted by Brendon Lindsey Categories: Championship, NBA,
Game 4 of the NBA Finals begins shortly, and it shouldn't surprise anyone that the San Antonio Spurs are on the cusp of eliminating the Cleveland Cavaliers. The Spurs winning 4-0 would be fitting, given the great lengths the NBA has gone through to try and tie in the new Fantastic Four movie. (We get it, Duncan, LeBron, Manu, and Parker are like the Fantastic Four, but without superpowers, without saving the world, and competing against one another.)
So far this series, Duncan and Parker have been absolutely trashing the Cavs, while Manu has been fairly sporadic in his playing, like normal. Can the Cavs manage to win one at home in their first Finals in the Age of LeBron? Will the Spurs continue to make basketball boring for the casual fan? How many times will we be reminded about Robert Horry's accomplishments, and will we be treated to several more on-screen appearances by Brent Barry? Most likely: no, yes, seventeen, and yes.
Stick around EndScore and refresh this page every now and then, as I'll be constantly blogging my thoughts while watching the game unfold—unless I fall asleep, that is.
Click to continue reading Blogging our way through Game 4 of the NBA Finals

Posted by Chris Pereira Categories: Championship, NBA, Playoffs, Video Games,
The NBA Finals begin Thursday night, but Electronic Arts already has the outcome of the series, thanks to a simulation using NBA Live 07. The Spurs will take in the series and the championship in six games, with Tim Duncan being named MVP. It's certainly a possibility, and actually one that matches my personal prediction. But then again, NBA Live 07 is a horrible basketball game, so I wouldn't put much stock into what it says.
Only one game where LeBron scores more than 30? Bruce Bowen or not, I can't see that happening – Tayshaun Prince may not be as good a defender as Bowen, but LeBron didn't have much trouble lighting him up. It'll be fun to see how the final scores stack up against the results from each of the simulated games, though.
The "highlights" from each game can be seen over at Playfeed.
Read More

| Playfeed


Posted by Milo Taibi Categories: Athletes, Championship, Editorial, NBA,

On Saturday night the Cleveland Cavaliers advanced to the NBA finals with a resounding victory over the Detroit Pistons, 98-82. Cleveland rookie Daniel Gibson lead the way, scoring 31 points. Lebron James scored only 20 points, but grabbed 14 rebounds and had nine assists. Gibson attributed some of his game six success to King James himself.
"He told me he was going to make me something special," Gibson said. "He told me to keep shooting, don't hesitate. When a guy like that tells you that, you step to it with a lot of confidence and knock it down for him."
Click to continue reading Cavaliers Advance To NBA Finals
Read More

| Yahoo! Sports


Posted by Milo Taibi Categories: Athletes, Championship, Editorial, MLB,

Whatever magic helped the St. Louis Cardinals win the World Series last year is long gone. In a World Series rematch on Friday the Cards lost 14-4 to the Detroit Tigers. The Cardinals best starter this year, Braden Looper, went just four innings, gave up nine hits and seven runs. With this defeat the Cardinals fall to 16-23. The Cardinals used six pitchers tonight, none, except Tyler Johnson, gave up less than a hit. Both Gary Sheffield and Magglio Ordonez went deep for the Tigers, and starting pitcher, former North Carolina standout, Andrew Miller went six innings giving up four hits and two strikeouts.
Click to continue reading Cardinals Embarrased In World Series Rematch
© Gear Live Media, LLC. 2007 – User-posted content, unless source is quoted, is licensed under a Creative Commons Public Domain License. Gear Live graphics, logos, designs, page headers, button icons, videos, articles, blogs, forums, scripts and other service names are the trademarks of Gear Live Inc.