Saturday January 9, 2010 7:50 am
Tracy McGrady and Allen Iverson are 2010 All-star starters?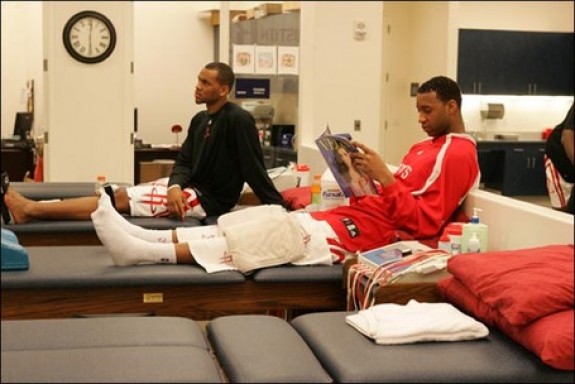 In the last update of NBA all-star balloting before the starters are announced on January 21, 2010, one can easily see two travesties within the voting leaders. I have checked my calendar a billion times since the new year to make sure it actually is 2010 and not 2000. Allen Iverson, after playing only 13 games this year, leads Vince Carter by more than 185,000 votes for the right to start in the Eastern Conference backcourt alongside Dwyane Wade. The Answer being the answer to so many fans' question of who should start in the all-star game this year is an equation that has all sorts of holes in it, but with an insurmountable lead, us sane NBA fans will just have to find a way to accept it.
However, there is still enough time to right the other wrong.
Tracy McGrady, with averages of 3.2 ppg, 0.8 rpg and 1.0 rpg in six (that's six) games played, ranks second in voting among guards in the Western Conference. Kobe Bryant deservedly has run away with the voting race. I have heard the "Blame China" argument. Yao Ming plays for the Houston Rockets, and he is not playing this year, so let us vote for another Rocket? Why not at least vote for someone who is actually playing, and having a decent season, like Aaron Brooks? Not that I think Brooks deserves to start in the all-star game, but he sure is a better choice than McGrady. Though the "China effect" might be why Brooks ranks ahead of Jason Kidd, Chauncey Billups, and Deron Williams in fan voting.
I know in this day and age of the internet and the blogosphere, the temptation to really mess with something like all-star voting can prove too hard to resist. It will certainly be an embarrassment to the league if both Iverson and McGrady are voted in as all-star starters this year, but it should be a bigger embarrassment for the true and knowledgeable NBA fan who lets this happen without trying to do something about it. Please pop over to nba.com, find the tab to vote for the all-star game and cast a meaningful vote today.
Steve Nash has played brilliantly this year and has the Suns in the thick of the playoff mix. He trails McGrady by 2375 votes. Chris Paul missed a month of action due to injury, and the Hornets are struggling, but he is still a more deserving choice for the all-star game than McGrady. He sits fourth in guard voting - 45,208 votes behind the guy sitting at home because his own team does not want him around any more.
I realize that being an all-star does not mean what it used to. The sham voting seen this year may eventually force the NBA to overhaul their all-star ballot, but I doubt they do what is needed. They keep track of things like the top vote-getter and the all-time high in votes, and doing something appropriate like limiting the players that appear on the ballot would affect their ability to compare present voting to that of years gone by.
Voting will continue through January 18th. I am sending out a request for about 240 people to vote daily over the next 10 days for Nash, to make up the distance between him and McGrady. Even though he is further behind, you might as well vote for CP3 as the other guard. Don't worry, Kobe fans, he has a ticket punched to Dallas already.
© Gear Live Media, LLC. 2007 – User-posted content, unless source is quoted, is licensed under a Creative Commons Public Domain License. Gear Live graphics, logos, designs, page headers, button icons, videos, articles, blogs, forums, scripts and other service names are the trademarks of Gear Live Inc.