Thursday November 19, 2009 7:03 pm
The Fall of Allen Iverson

Tweet
Posted by Phil Partington Categories: Athletes, Editorial, NBA,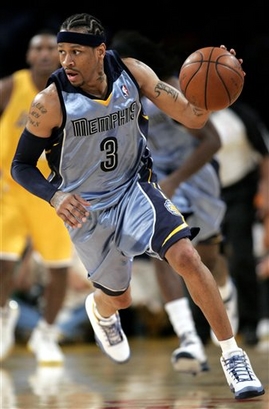 Allen Iverson may have had the biggest drop-off of any player in recent years. Just a season and a half ago, Iverson was having a superstar season by statistical standards, averaging 26.4 ppg, 7.2 apg, while shooting nearly 46% from the field and nabbing 2.0 spg. The following year, he looked more than human. The season after that nobody wanted him at all. The question on many fans' minds is what happened to Allen Iverson?
There are a couple of theories that might give indication to Iverson's recent struggles.
The Ball Hog Theory
Consider that Iverson is a volume shooter. This means that in order to be effective, AI needs to have the offense flow through him and he needs to be able to take a lot of shots. Some players are able to be effective even if they don't get a lot of touches by moving without the ball, setting up teammates, setting off screen picks, going for offensive rebounds. Allen Iverson is not one of these players. On the Denver Nuggets, he was paired with another player like this in Carmelo Anthony. While the two were able to boost their personal stats, this didn't really help the team win, as few other players got involved in the offense. When Iverson was traded to the Detroit Pistons, a team that was accustomed to playing "team" basketball, Iverson naturally didn't fit in with his style of dominating the ball. Therefore, he lost about five minutes of playing time per game and he was never able to adjust to a team that didn't want to rely solely on his quickness to get baskets. Consider that in Philadelphia, where Iverson had several years of success, the system was basically tailored to him. While the team was built to be a defensive team, the objective was to let him control the offense. That meant, surrounding Iverson with big men who could collect offensive rebounds and sharpshooting wing men who could hit the open shot when the defense collapsed on a penetrating AI. It may not be coincidence that the Denver Nuggets suddenly surged after trading Iverson for Chauncey Billups.
The Aging Theory
This is Iverson's 15th season. He's 34 years old. By NBA standards, he's ancient. On top of that, his game was always based on quickness. At 6' even, he's miniscule for a shooting guard, at least by NBA wisdom, but that weakness was always compensated by his extreme quickness and toughness. He's still tough—and proud—but if the quickness isn't there, AI is at a huge disadvantage. What's so unfortunate about the situation is that with his basketball skill, he should have no trouble adapting into a pure point guard, with the role of setting up teammates first rather than always looking for his own buckets. Sadly, his pride compels him to shoot, and shoot a lot.
A team that's not going to make the playoffs this season, like the Memphis Grizzlies, aren't going to waste its time with a player like Iverson. The wise thing for them to do would be to develop its younger talent, like O.J. Mayo, Rudy Gay and Mike Conley. It's likely that Iverson was signed to give those younger players a role model to help in their development. Unfortunately, a player like Iverson, unless he's happy, can only be a distraction. While he's always been known to work his tail off on the court, he's never seemed to grasp the role of team leader and role model to teammates.
If Iverson's going to succeed and fit with any team from here on out, he'll need to learn to become a set-up man. The players who've had success going into old age have been able to swallow their pride and take a backseat to younger players. Gary Payton did this and won a championship with the Miami Heat. Chauncey Billups has done this and has had recent playoff success with the Denver Nuggets. Karl Malone did this and was able to be effective even as he approached 40. Iverson's whining didn't work for him when he was younger, and it won't work for him now.
Iverson to the New York Knicks?
Rumor has it that AI may be picked up by New York. This might be the best thing that happens to him, as he could get more touches than he would if he signed with a team gunning for a championship. The Knicks are a circus right now with very little identity. The franchise's primary goal at the moment is to gain cap flexibility and may be interested in Iverson to gain more interest in the team. If Iverson decides to continue his NBA career, New York might be the best place for him to finish his career.
© Gear Live Media, LLC. 2007 – User-posted content, unless source is quoted, is licensed under a Creative Commons Public Domain License. Gear Live graphics, logos, designs, page headers, button icons, videos, articles, blogs, forums, scripts and other service names are the trademarks of Gear Live Inc.