Wednesday September 30, 2009 8:33 pm
One Man Mock Draft, Fantasy NBA 2009: Round 2, Pick 8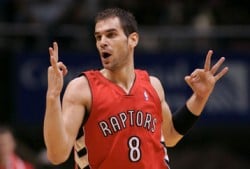 This player might best exemplify the difference between drafting for a roto league and a head-to-head league. Although picking players who shoot well ranks importantly across the board, shooting percentages will fluctuate week to week. Thus, a high percentage, but low volume shooter like this lead guard who plays north of the border may not be quite as valuable in a head-to-head league. Yet, in mock drafts that I have seen so far, he continues to be confidently targeted by prospective fantasy GMs. Let us put his game under the microscope as training camp opens this week.
Round 2, Pick 8: Jose Calderon, PG, Toronto Raptors
Here are the numbers and league ranks for Calderon from last season. Because he missed significant time due to injury, he did not qualify for ranking in some categories, and a double-asterisk is used to designate where his average output would have ranked among the league leaders.
Field Goal Percentage: 0.497 (25th)
Free Throw Percentage: 0.981 (1st)
Three-pointers made: 82 (86th)
Points: 12.8 (*72nd*)
Rebounds: 2.9 (did not significantly rank)
Assists: 8.9 (4th)
Steals: 1.1 (*37th*)
Blocks: 0.1 (did not significantly rank)
Turnovers: 2.1 (*41st*)
Outside of Calderon, Chris Bosh and Andrea Bargnani, the Raptors completely overhauled their roster for this season. It brings some excitement to the community as Toronto fans anticipate how the pieces will and will not fit together. Calderon was expected to make a big jump last season after T. J. Ford was traded, paving the way for Calderon to start. Injuries led to him being somewhat of a bust for those that picked him in the early second round last year; he was routinely selected before the likes of Chauncey Billups and Steve Nash, mostly on the basis on his high percentage and low turnover game. Hopefully, Calderon enters this season healthier than he ever was last year.
His league leading free-throw percentage is hard to criticize, but beware of believing in it too much. Unlike lead scorers, Calderon does not get to the line regularly. So although he is automatic whenver the Raptors get to shoot a technical free throw, he just is not the kind of player to draw fouls while driving to the hoop. It is also hard to draft a player this high who does not score more than 15 points a game, but since this team drafted Kevin Durant in the first round, a little leeway can be given. Calderon might cede a little of the ball distribution duties to newcomer, Hedo Turkoglu, but he remains a good bet to rank in the top five in dime drops.
Sometimes in fantasy circles, a player holds more value than his actual real life worth. In a "reality" draft, would an NBA GM seriously take Calderon ahead of the likes of Jason Kidd, Derrick Rose, Tony Parker, orDevin Harris? Of course not. However, the fantasy GM knows that Calderon's three-point shooting puts him ahead of Rose, Parker and Harris, not to mention he outpaces them in assists. Kidd is still an intriguing fantasy commodity, but his scoring average is even lower than Calderon's.
When taking a shooting guard or small forward in the first draft, keep in mind that your hand is almost forced to select a point guard and/or a center in the second and third rounds. The tier of centers drops off after the oldie, but goodie, Tim Duncan, taken with the previous pick. Although it may prove tough to pass on guys like Andre Iguodala and Caron Butler, taking Calderon here for a head-to-head league does make some sense, especially if you want to emphasize the assist category. If going for all-around production, I like Joe Johnson assuming he retains point guard eligibility, or Harris.
Three to four more free-throw attempts per game, and Calderon would have to belong on the short list for selection early in the second round. As it is, although he remains more valuable in a roto leagues, for this head-to-head mock draft, he looks like good value towards the end of the round.
The Master List can be used to find players previously picked in this mock draft.
© Gear Live Media, LLC. 2007 – User-posted content, unless source is quoted, is licensed under a Creative Commons Public Domain License. Gear Live graphics, logos, designs, page headers, button icons, videos, articles, blogs, forums, scripts and other service names are the trademarks of Gear Live Inc.