Wednesday September 30, 2009 8:13 pm
One Man Mock Draft, Fantasy NBA 2009: Round 2, Pick 7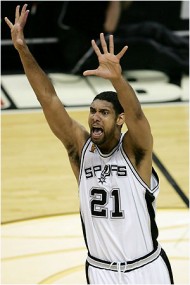 How much would an opinion change, in regards to a career, if you could review the complete production all at once? Take a band like U2. Will people born in the future enjoy their more recent albums more because they are not saddled with expectation from their prior albums? Or will songs like "Sunday Bloody Sunday" and albums like "War" and "The Joshua Tree" always still stand out?
This next player has been recording seasons to the tune of 21 points, 11 rebounds and 2 blocks for 12 years now. Future NBA enthusiasts may wonder why he was not appreciated more in the fantasy realm as they, unlike us, hold the advantage of not being saddled by expectation and the need to be entertained.
Round 2, Pick 7: Tim Duncan, PF/C, San Antonio Spurs
Here are the numbers and league ranks for Duncan from last season.
Field Goal Percentage: 0.504 (22nd)
Free Throw Percentage: 0.692 (did not significantly rank)
Three-pointers made: 0 (did not significantly rank)
Points: 19.3 (24th)
Rebounds: 10.7 (4th)
Assists: 3.5 (44th)
Steals: 0.51 (did not significantly rank)
Blocks: 1.68 (11th)
Turnovers: 2.2 (37th)
At the peak of his career in 2001-02, "The Big Fundamental" averaged better than 25 points, 12 rebounds and 2.5 blocks a game, and he also shot almost 80% from the line, as he suited up for every game of the regular season. Calls for his decline have been echoing for a few years now. The slight drop-off is there, but his game has held up well. His free-throw percentage has been the main source of criticism among fantasy gurus, but the fantastic four of big man categories (FG%, points, rebounds, and blocks) remain ultra-solid.
My brother-in-law is no fan of Duncan. The championship ways of the Spurs have caused some resentment. And let's face it, people want to be entertained, so while Duncan with his solid fundamentals and heady play mean lots of team success and personal accolades, but the typical NBA fan prefers the high flyers and the exciting dunkers. In my family and friends league, my brother-in-law's draft picks will be in the middle of the order, so of course, I had to put Duncan in this draft slot; do your own research, bro! No free advice here!
Running down the big men already taken in this draft, one can make the argument that Duncan still can hold his own against any of them. Dwight Howard? Duncan gives just about the same amount of points and blocks, while not hurting one's quest for wins in FT% and turnovers. Amar'e Stoudemire? What's going on with his eye as we head into the preseason? Chris Bosh? CB4 does not block shots like TD. Al Jefferson? Can he come back from ACL surgery? Pau Gasol? Can he produce the same numbers with a healthy Andrew Bynum playing all year? These guys all have more upside than Duncan heading into this season, but I do not subscribe to the theory that Duncan is headed for a big drop-off this year. Draft him confidently in the mid-to-late second round.
Will the Spurs give Duncan some rest as the season winds down? Of course they will. They are set for another deep playoff run with Manu Ginobili hopefully back to full strength and the addition of Richard Jefferson providing them more scoring punch and depth. However, do not let the threat of a couple of DNP-CDs at the end of the year sway you from not looking at this guy. Pairing him with Dwight Howard here makes for a tough one-two punch to defend against; I drafted them with my first two picks last year and made the finals in my main league. Will my brother-in-law take the same route? Of course not!
The Master List can be used to find players previously picked in this mock draft.
© Gear Live Media, LLC. 2007 – User-posted content, unless source is quoted, is licensed under a Creative Commons Public Domain License. Gear Live graphics, logos, designs, page headers, button icons, videos, articles, blogs, forums, scripts and other service names are the trademarks of Gear Live Inc.