Thursday September 10, 2009 1:25 pm
One Man Mock Draft, Fantasy NBA 2009: Round 2, Pick 4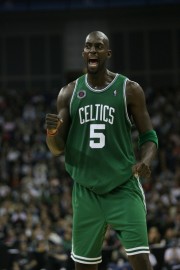 A sure sign you are starting to lose touch with the pulse of popular culture is when you discover new songs and/or new bands while watching a TV show or a movie. By the time you catch Natalie Portman mentioning that the band name was "The Shins," two years have passed, the movie has been out on DVD forever, and the band has not put out an album since.
Along the same vein, if the NBA has for whatever reason removed itself from your life for the last couple of years but now you return, it might come as a mild surprise that KG remains available here. After all, as recent as a couple of years ago, he was in the running for the first overall pick. Plus, if anything, his profile increased after the trade to Boston where the Celtics won a championship two seasons ago. Last year the ending was not so happy for the guys in green, as their captain missed the playoffs due to injuries. In mock drafts this summer, it seems folks are confidently calling his name in the early part of the second round. Let us put his fantasy game under the microscope.
Round 2, Pick 4: Kevin Garnett, PF, Boston Celtics
Here are his numbers and ranks from last season. Since he only played 57 games in 2008-09, he did not qualify in many of the categories, and in those cases, a double asterisk is used to designate where he would have ranked had he been healthy and maintained those averages.
Field Goal Percentage: 0.531 (11th)
Free Throw Percentage: 0.841 (*34th*)
Three-pointers Made: 2 (did not significantly rank)
Points: 15.8 (*49th*)
Rebounds: 8.5 (*14th*)
Assists: 2.5 (*69th*)
Steals: 1.1 (*37th*)
Blocks: 1.2 (*21st*)
Turnovers: 1.58 (*81st*)
The roto-heads could be pushing the value of this first-ballot hall-of-famer up for this season. The percentages sparkle and the lack of turnovers in a headliner talent like KG speak to folks who love rotisserie league play. And whatever league you play in, a player who can swipe one rock and swat away more than one shot a game at the power forward position deserves being held in high esteem. Yet this season may be the one to let someone else call his name, because the reputation now outpaces the current production.
Gone are the days KG would pump the scoresheet to the tune of 23, 12 and 5. On a successful team like the Celts, KG just does not have to do all of the heavy lifting all of the time. That and Father Time bringing injuries to his doorstep add up to the rather pedestrian averages in points, boards and assists from last season. Granted, the sample size was smaller than usual since the man missed 25 games, plus the playoffs; yet, chances are he would not have hit 20 points or 10 boards or 4-5 dimes for the second year in a row. In 2007-08, he averaged 18.8 ppg, 9,2 rpg and 3,4 apg, all of which fell below the high standards we expected from him, but since they were only slighly below those thresholds, and he was riding the championship wave, people still drafted him in the first round last year. This will be the first time since his second year in the league where he is not a surefire first-rounder; the landscape of fantasy sports was much different in the late 1990s.
In his fantasy heyday, KG was eligible at both forward positions. The boards and blocks from the small forward spot often overwhelmed the opposing fantasy team. Owning KG was like having an extra point guard on your roster. Rajon Rondo continues to improve and Paul Pierce also flashes point forward skills, so although KG remains an excellent passer, he will no longer rack up the dime drops. So why pick him here? This team drafted Amar'e Stoudemire and definitely picking up KG here gives the team a lot of risk after only two picks. As a fan, it just feels like KG has too much pride and works too hard to have a down season like last year. The Celtics pushed the Orlando Magic even without him available in the playoffs, and he certainly could have been the difference maker in that series. He had the chance to be the one that made Stephon Marbury a team player and a champion! Now he is essentially in charge of keeping Rasheed Wallace interested so that the team goes back to the promised land. To do that, he needs to lead by example and fantasy owners will be banking on that translating into more statistical production. A return to the numbers from two years ago would make him good value here. If he proves to be a bust, someone else in your league might get similar production from someone like Anthony Randolph or, *shudder* Andrei Kirilenko, at least when it comes to points, boards, steals and blocks.
There is always a team in every league that looks better if it was a few years ago. This duo of Amar'e and KG definitely fit that role so far. The other viable option here would have been to take one of the point guards that lag behind Chris Paul and Deron Williams in fantasy value. Write-ups on them are on the horizon, so check back for that.
The Master List can be used to find players previously picked in this mock draft.
© Gear Live Media, LLC. 2007 – User-posted content, unless source is quoted, is licensed under a Creative Commons Public Domain License. Gear Live graphics, logos, designs, page headers, button icons, videos, articles, blogs, forums, scripts and other service names are the trademarks of Gear Live Inc.