Tuesday October 6, 2009 9:14 pm
One Man Mock Draft, Fantasy NBA 2009: Round 2, Pick 11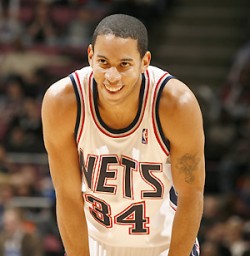 A great addition to Yahoo fantasy basketball has been the mock draft feature. At any time, you can join a mock draft with real live folks like yourself and prep for your real league together. Different size leagues and different types of leagues are available. In the chat section during a mock draft I participated in earlier this week, someone remarked that his or her first three picks last year were Elton Brand, Al Jefferson and Jose Calderon. Despite that injury-riddled trio, this person apparently still cruised to his league title. It is hard to tell how much kudos he/she deserves, as it seems quite probable that the league this person participated in was weak. A good fantasy GM dominating a bad league should find a better league.
On the other hand, fantasy hoopsters know there is absolutely nothing wrong with a good player suiting up for a bad team. A lot of fantasy goodness can be head with these types of situations, as this next player illustrates.
Round 2, Pick 11: Devin Harris, PG, New Jersey Nets
Here are the numbers and league ranks for Devin Harris from last season. Harris missed 13 games last year, which prevented him from ranking in a couple of categories, but his steals average would have been high enough to rank among the league leaders, so his presumed rank is marked with a double-asterisk.
Field Goal Percentage: 0.438 (93rd)
Free Throw Percentage: 0.820 (51st)
Three-pointers Made: 64 (0.9 per game) (111th)
Points: 21.3 (14th)
Rebounds: 3.3 (did not rank)
Assists: 6.9 (11th)
Steals: 1.6 (*10th*)
Blocks: 0.2 (did not significantly rank)
Turnovers: 3.07 (7th)
Compared to the other point guards previously taken in the second round, Harris does not shine through with his percentages. Solid enough from the line, Harris visits the charity stripe often, so his FT% can make a strong impact on your team. He also takes a lot of shots from the floor, and some weeks his FG% will hurt you. Below average in three-point shooting reduces his value when compared to guys like Steve Nash and Chauncey Billups, even though Harris outpaces them in scoring. The point and assist production are his bread and butter, and with Vince Carter now a member of the Orlando Magic, look for Harris to shoulder even more of the scoring in New Jersey.
This team drafted Chris Paul in the first round. Paul and Harris make up a potent one-two combo at the point guard spot. If you choose to employ this type of strategy, definitely punt the turnovers category, and continue to add solid free-throw shooters who can score. Because Paul and Harris are not lights out shooters from beyond the arc, the rest of your guards will have to bring the long ball to the table.
Jason Kidd is the other point guard left in this tier of players at that position. Because Paul is a sure bet for 20 ppg, but not likely to top 25 ppg, I felt it was wiser to couple him with a scoring point guard. Despite Kidd's strong numbers in boards, assists, three-balls, and steals, it remains hard for me to pull the trigger on a guy who scores less than 10 ppg at this stage in the draft. To make up the difference, you need to have someone who can crack the 28-30 ppg mark, guys like LeBron James and Dwyane Wade. Kidd fits in with LeBron better than he does with Paul, because both Kidd and LeBron hit the boards strong at positions outside the 4 and 5 spots, and they both rack up totals in assists and steals. Granted, Harris would work with LeBron too. It all depends on which categories you aim to dominate in.
© Gear Live Media, LLC. 2007 – User-posted content, unless source is quoted, is licensed under a Creative Commons Public Domain License. Gear Live graphics, logos, designs, page headers, button icons, videos, articles, blogs, forums, scripts and other service names are the trademarks of Gear Live Inc.