Friday August 21, 2009 12:57 pm
One Man Mock Draft: Fantasy NBA 2009: Round 1, Pick 6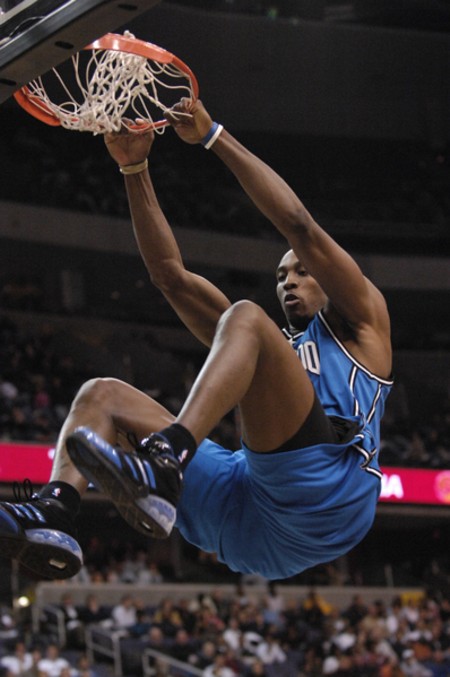 I might have to mention this at least ten times during this article. This mock draft is for a head-to-head league. "Superman" can dominate a head-to-head league. Everyone knows about his poor free-throw percentage. Heck, the three little pigs did not do as much bricklaying in making their third house compared to what Howard shoots from the line some nights. Label him a roto killer because he deserves it. Draft all the Ray Allen or Steve Nash-types you want, you will not be able to compensate for the deficit in a roto league. All this negativity and I have not even mentioned his high turnover rate. However, this mock draft is for a head-to-head league (despite the first sentence, I will try to make this the second and last time I write that). In this type of league play, he can lead the league in two of the nine categories and be top ten material in two others. That gives you a great chance to win four of the nine categories every week, and you have a free down to win one of the remaining five categories to seal the win. In head-to-head play, a 5-4 win every week will bring home the title.
Round 1, Pick 6: Dwight Howard, C, Orlando Magic
Here are the numbers and league ranks for Dwight Howard last season.
Field Goal Percentage: 0.572 (4th)
Free Throw Percentage: 0.592 (did not significantly rank, obviously)
Three-pointers make: 0 (did not significantly rank, and again, obviously)
Points: 20.6 (18th)
Rebounds: 13.8 (1st)
Assists: 1.4 (115th)
Steals: 0.98 (59th)
Blocks: 2.92 (1st)
Turnovers: 3.04 (8th)
I looked at the game logs for every game Dwight played last year, both in the regular season and during the playoffs. I then counted the number of games where he shot 70% or better from the line. He did it 30 times in 102 games played or roughly rounded up to one-third of the time. He shot better than 80% from the line in 13 games. In other words, he is very, very streaky. He plays better in leagues with daily roster moves. Provided your team has a significant advantage, you might have the opportunity to sit Howard on the weekend, and steal a few wins in free throw percentage and turnovers. Maybe you get lucky, early in the week he shoots 8-for-9 and 3-for-3 in two games, but you do not tempt fate because to end up shooting less than 60% he is due for a one-for-eight night. So you sit him. And since no one else in the league can clear more than 12 boards a night, or average close to three blocks a game, there will be weeks where you can manipulate your roster and come out with a huge win. Granted, most weeks, you lose FT%. Provided you draft a strong fantasy back-court, your team can still win by challenging in the small ball categories. Howard can swipe the ball, and can aid in small ball tactics that way.
I drafted Dwight fifth overall in my friends and family league last year, which surprised and disappointed those hoping to get him in the 9th-11th slots. I was in playoff position for most of the year, finished second in the regular season and made the finals. Dwight and my other major contributors stuttered at the end and it cost me the title, but I cannot ask for more than putting myself in a position to take it home. In drafting Dwight, you will need to make sure you draft at least two other good-to-great big men who can provide statistical back-up in FG%, points, rebounds and blocks. Also, all of your guards have to possess a three-point shot. If you have not tried a head-to-head league, please look to do so this season.
Some people might opt for Danny Granger or Dirk Nowitzki here. Those two guys represent the start of the third tier for me. Granger and Kevin Durant seem like similar fantasy players, but Granger gets hurt more and it looks like Mike Dunleavy will start the season on a healthy note. Dirk is the steak and potatoes of the first-round menu; everyone knows what he can do and not do. Dirk rebounds decently, but Dwight dominates in rebounds. Dirk is a non-factor in blocks, while Dwight dominates blocks. Yes, both Granger and Dirk give you three-point shooting, but three-point shooters are easier to find than shot-blockers or rebounders who can contribute in other areas. Still, I would not quibble too much if you bypassed Dwight for Granger or Dirk.
© Gear Live Media, LLC. 2007 – User-posted content, unless source is quoted, is licensed under a Creative Commons Public Domain License. Gear Live graphics, logos, designs, page headers, button icons, videos, articles, blogs, forums, scripts and other service names are the trademarks of Gear Live Inc.