Thursday March 25, 2010 9:35 pm
March 2010 NBA Mock Draft

Tweet
Posted by Phil Partington Categories: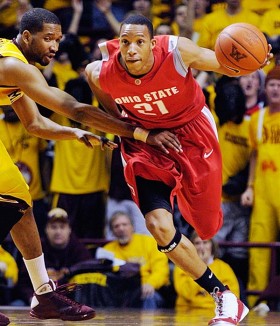 With the 2010 NCAA Men's Basketball Tournament near completion and the NBA Playoffs just over the horizon, it's becoming easier and easier to speculate on players' stocks for the upcoming NBA Draft. While this draft doesn't have the talent of some other years, there are plenty of names to be familiar with.
Without knowing the order of the top of the draft (the draft lottery drawing doesn't take place until the playoffs), here's how the lottery might look if it were held today.
1st pick. New Jersey Nets selects PG John Wall, Kentucky.
The top pick is between Wall and Evan Turner, and the question to ask is, while Turner is a very good, well-rounded player, which player has the potential to be something great? Wall has all the tools: quickness, athleticism, size for a point guard, basketball smarts. Turner's ceiling isn't nearly as high, though he also has many tools. The Nets do already have a very good point guard in Devin Harris, but with his proneness to injuries and the fact that the Nets are horrible with him at the helm, he's not untouchable. Moreover, he'd be a solid trading chip this off season if it came to that. The other alternative is to play Harris and Wall together, with Harris as a two guard. Both have pretty good size (Harris is 6-3 and Wall is 6-4) and both are athletic enough to be dangerous against larger guards.
2nd pick. Minnesota Timberwolves selects G Evan Turner, Ohio State.
Turner has frequently been compared to Brandon Roy, and that's just fine with Minnesota. The Wolves still have to figure out how to make Al Jefferson and Kevin Love coexist, and the answer may be trading one of its big men. They also have an exciting young point guard in Jonny Flynn, and may at some point be able to bring Ricky Rubio over from Spain. With those players at its core, Turner's versatility and size (6-7) at the shooting guard spot would be an ideal fit.
3rd pick. Golden State Warriors selects GF Wesley Johnson, Syracuse.
Johnson's length and perimeter shooting make him a good fit under Don Nelson's system. Golden State could use a big man, but isn't likely to take bruiser DeMarcus Cousins. Donatas Motiejunas is a possibility here, too.
4th pick. Washington Wizards selects C DeMarcus Cousins, Kentucky
The Wizards have a lot of young talent, including big men talent in Andray Blatche, who's really played well since Washington traded Antawn Jamison and Caron Butler, and JaVale McGee, but it would be difficult to pass on a player of Cousin's size and upside.
5th pick. Detroit Pistons selects F Derrick Favors, Georgia Tech
If there were a bust in this draft, Favors would be the likeliest candidate. His upside is tremendous and he already has NBA size and athleticism, but he's so raw and unpolished. The Pistons need size, though, and would love for Cousins to fall. Ben Wallace isn't the starting center he used to be.
6th pick. Philadelphia 76ers selects C Hassan Whiteside, Marshall
Whiteside is still a bit raw, but he has amazing potential as a freshman and a tremendous wingspan. With Samuel Dalembert's future in Philadelphia questionable, Whiteside would be a nice addition. They have a young team for the most part, so bringing him along slowly wouldn't be an issue. He's currently averaging 5.4 blocks per game.
7th pick. Sacramento Kings selects C Cole Aldrich, Kansas
A team can never have too much size, and though the Kings already have a promising pair of young prospects in the paint in Spencer Hawes and Jason Thompson, there is always room to add competition, especially since neither of those players are consistent yet. Shooting guard is also an area the Kings could use help in, but Aldrich is probably the best fit for them.
8th pick. Indiana Pacers selects F Al-Farouq Aminu, Wake Forest
How does Aminu fit in with the Pacers? Does it really matter? He probably won't slip further than this. Indiana could use a point guard, and while Eric Bledsoe is a possibility, this might be a bit high for him. Several bigs are available, but Indiana already has Roy Hibbert, Troy Murphy and Tyler Hansbrough.
9th pick. Utah Jazz (from New York) selects G James Anderson, Oklahoma State
The Jazz could use a shot blocker, a small forward and a shooting guard, but its greatest need might be at shooting guard after losing Ronnie Brewer. Xavier Henry is available, but Anderson may be more of what the Jazz are looking for. He's athletic and a great perimeter shooter, and has more experience than Henry.
10th pick. LA Clippers selects F Greg Monroe, Georgetown
The Clippers can't afford not to have depth, since everyone seems to get hurt all the time. They already have Blake Griffin and Chris Kaman in the middle, but neither can stay healthy. Monroe is a safe pick. He's athletic and versatile, and plays well within an offensive systems, thanks in part to his passing abilities. The biggest question will be his strength and toughness.
11th pick. Milwaukee Bucks selects F Patrick Patterson, Kentucky
Patterson is a tweener and may not have the upside as some other players available, but he's mature and may contribute right away, and most importantly, he brings a toughness the Bucks need, with an intensity to match Andrew Bogut's.
12th pick. New Orleans Hornets selects F Jan Vesely, Europe
Vesely reminds folks of Yi Jianlian and is all upside at this point. Still, there isn't anyone available who can help them win right away (which would make Chris Paul happy), so drafting a prospect or trading down in the draft might be the team's best option.
13th pick. Houston Rockets selects F Ekpe Udoh, Baylow
Udoh is a solid shot blocker who could add depth in the front court for the Rockets.
14th pick. Memphis Grizzlies selects PG Eric Bledsoe, Kentucky
This would make four Kentucky Wildcats in the lottery. Bledsoe is a freak of an athlete and extremely tough, making his upside incredible. However, his decision-making is questionable. He would fit well with the uptempo style of the Grizzlies and could fight for minutes with Mike Conley.
© Gear Live Media, LLC. 2007 – User-posted content, unless source is quoted, is licensed under a Creative Commons Public Domain License. Gear Live graphics, logos, designs, page headers, button icons, videos, articles, blogs, forums, scripts and other service names are the trademarks of Gear Live Inc.