Wednesday October 28, 2009 8:57 pm
First hand review of Toronto Raptors Season Opener 2009-2010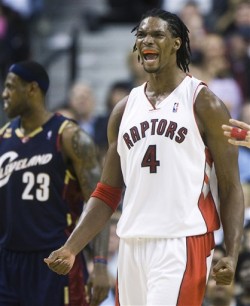 Most of the sports world focus rests in New York tonight, as the Yankees and Phillies kick off the World Series. I joined a packed house as the Toronto Raptors kicked off their season against the Cleveland Cavaliers. Some observations need to be made directly, and what follows are some overall impressions of the game, the teams, and the players, as well as some fantasy impact thrown in.
1. Heading into the game, I was fearing the worst after the Cavs lost a tough opener the day before to the Boston Celtics. Jamario Moon received a warm reception with his return to T-dot. Anthony Parker received a standing ovation; that guy comes off as a consummate professional and should be on the receiving end of a lot of kick-out passes from the main man, LeBron James. The biggest ovation for a non-Raptor player went to Alvin Williams, the former Raptor point guard who returned to the organization to join its coaching staff.
2. Jose Calderon received an award before the game for setting a single-season record for free-throw percentage. He hit 151 of 154 free-throws last year, which translates to an astounding 98.1%. Props to Jose. Unfortunately, he missed his first two free throw attempts of the season and currently sits at 60% after one game (3 for 5). Drop him immediately! (Just kidding, of course)
3. All NBA fans love the intrigue each incoming rookie class brings. That is why it is a downer Blake Griffin is out for six weeks. DeMar DeRozan started for the Raptors at the two spot tonight, and showed some poise and hustle early in the game. His jump shot certainly is not textbook, but he hit a few key buckets tonight.
4. For the Cavs, Shaq looks a bit extra doughy this year. The Raps had no answer for him early, and Shaq took advantage with some second chance points. However, later in the game the Raps were able to take advantage of their speedier big guys in Chris Bosh and Andrea Bargnani, sending Shaq to the bench for a lot of the second half.
5. Speaking of Bargnani, what a huge game he had! Ron Chow, my ex-compatriot at Dropping Dimes shocked the room in our family and friends league by taking Il Mago with the 25th pick overall in our fantasy draft last week. For tonight, he proved worthy of this draft position, finishing with 28 points, 5 rebounds, two treys, one steal and one block. The refs still did not give him much respect at times, and he finished with five fouls. The refs did their best to bring the Cavs back into the game; I know the officials work hard and they have a tough gig, but some of the calls tonight were just wicketty wack.
6. CB4 had a very workmanlike 21 points and 16 rebounds. Yes, he is a free-agent next year. The jury is still out whether Bosh can be the number one guy on a top ten team in the league, but he tried to prove that today. It looks like he still needs practice time with all of his teammates as on several occasions he took on triple (and one quadruple) teams rather than dishing it out to the open guy behind the arc.
7. Marco Belinelli became the front-runner for favorite bench player after this game. He has some jump! If he ends up sharing the main backup minutes with Jarrett Jack in the backcourt, Belinelli might merit a bench spot on fantasy teams.
8. Anderson Varejao lands on some fantasy teams as a late round pick. Owners hope for rebounds and hustle stats. He was quiet tonight and spent the evening in foul trouble.
9. In fantasyland, I made my first add/drop of the season, picking up Danilo Gallinari and dropping Julian Wright. Wright is starting and did okay tonight (8 points, 2 blocks), but anytime a player takes 14 shots, and 13 of them are from downtown, you have to roll the dice. Gallinari drained seven moneyballs and finished with 22 points and 6 rebounds.
10. LeBron James spent the first half probing, feeling things out, dishing the rock. I kept waiting for him to single-handedly flip the script after the Raps went into the half up by 20 points. The refs were definitely on his side. He was not super dominant tonight, which is an amazing statement considering he finished with a triple-double (23 pts, 11 rebs, 12 ast).
Outside after the game, the crowd was still buzzing. Nothing beats opening night. My sister and I always pick opening night each year when we divide up the tickets amongst our friends. We just cannot wait to crack open the season. Sometimes the Air Canada Centre can get pretty quiet if the Raps are not playing well, but tonight the place was jumping. You know how sometimes the feel of the crowd is just extra nice and cool somehow? You see people and subconsciously think that in another lifetime you could be good friends. This feeling is rare, but tonight I felt this way with like 2000 people… it must be the euphoria following an exciting win. Some random guy came up to me at the end of the game, singing shouts of "We just beat the King! We just beat the King!" Then he paused. "You gotta still respect the King though."
I replied, "He got his triple dub."
"That's right, he did! I got him in fantasy. It's ALL ABOUT the fantasy!"
I understand completely.
Related Tags:
anderson varejao, andrea bargnani, anthony parker, chris bosh, cleveland cavaliers, danilo gallinari, demar derozan, fantasy basketball, jamario moon, jose calderon, julian wright, lebron james, shaquille o'neal, shaquille o'neal, shaquille o'neal, shaquille o'neal, shaquille o'neal, shaquille o'neal, sidefeatured, toronto raptors
© Gear Live Media, LLC. 2007 – User-posted content, unless source is quoted, is licensed under a Creative Commons Public Domain License. Gear Live graphics, logos, designs, page headers, button icons, videos, articles, blogs, forums, scripts and other service names are the trademarks of Gear Live Inc.