Sunday October 18, 2009 11:27 pm
Fantasy NBA: Analysis of Third Round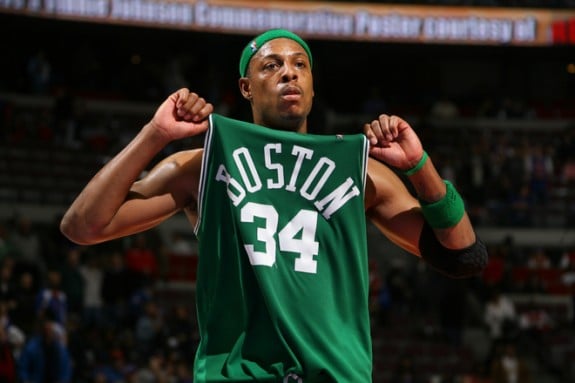 The third round seems shallow this year, especially towards the tail-end. Thus, the third name you call on draft night stands to be the make-or-break selection. A lot of good prospects seem available in the middle rounds, and the list of attractive players to take a flier on in the last couple of rounds looks extra-long heading into this season. The challenge ahead will be how to pass the baton around the track from your top two picks to the targeted sleepers.
As before, let us look at the average draft position (ADP) rankings from Yahoo, with some specific consideration towards head-to-head leagues.
25. Devin Harris, PG, New Jersey Nets (25.3)
Harris is not exactly inspiring confidence during the preseason, as he already seems pretty banged up. He lives at the free-throw line and can really boost a team's FT%, and he should inherit at least a few points a game from the departed Vince Carter. I picked him in the second round of the mock draft here at Endscore, and stand by that, but the way things are going, he will end up as an early third-round selection.
26. Paul Pierce, SG/SF, Boston Celtics (27.5)
27. Carmelo Anthony, SF, Denver Nugets (28.2)
28. Vince Carter, SG/SF, Orlando Magic (29.0)
I like the notion of building a team with Dwyane Wade, Joe Johnson and either Pierce or Carter. This team looks great in points and FT%, very good in three-pointers and steals, and decent in assists. These guys turn the ball over a lot because they handle the rock so much, but most of the players drafted to this point will be two-plus turnovers a game players. I rank 'Melo below these guys because of his lack of three-point shooting, lower assist numbers, and he does not provide big numbers in the hustle categories. However, points are points, and if you have drafted a less-than 15 ppg guy in the first two rounds (Jose Calderon, Jason Kidd), you might have to reach for a guys like 'Melo, someone who can potentially average 25+ points a game. Then, you figure out how to fill out the other categories over the rest of your picks.
29. Gerald Wallace, SF/PF, Charlotte Bobcats (29.2)
Coach Larry Brown has curbed the three-point shooting of "Crash." If only he could stay on the floor… still, you almost have to take him if he drops to you in the middle of the third round.
30. Brook Lopez, PF/C, New Jersey Nets (31.0)
Based on his ADP, a lot of folks are gung-ho on Lopez, and I can see their point, but only to a point. Drafting him here is a declaration that you think he can be a 18-10-2 kind of guy in points, boards and blocks.
31. Gilbert Arenas, PG, Washington Wizards (31.5)
Fantasy hoops is like everything and everywhere else. We have our share of snobs and me-first types who feel they are entitled to have all of their sleepers drop into their lap at specific rounds. They want Arenas in the fourth round, after drafting three solid players ahead of him. Well, guess what, Mr. Arenas is the only player left at this point in the draft who could return first-round value. And now in unison we insert those horrible six words…"if only he could stay healthy." He has ruined fantasy teams for three years running, staring in 2006-07 when he succumbed to injury during the fantasy playoffs. If you look back at my second round entry, I commented that KG would be one of the landmarks to use to orient yourself to how your draft was shaping up. Well, Arenas is similar in that way. As a gimmick, I took him early in the second round in the mock draft here on Endscore. You have to take a pass if you have already taken on some risk with say, Amar'e Stoudemire or Tim Duncan. But on a solid team with for example, Dirk Nowitzki and Andre Iguodala? Wow. I bet he is either being taken with one of the first picks in the third round, or dropping till the end of the third or even the fourth round and thus it averages out to #31 overall. Everyone looks good with LeBron and CP3, but those guys might do enough on their own that you can afford to not have Arenas for 15 games this year. The easy thing to do would be to let someone else take him; it remains difficult to go "all in" with him.
32. Kevin Martin, SG, Sacramento Kings (33.6)
Not as high profile as Arenas, but Kevin Martin is another injury-related question mark. He scores in bunches and I read that he plans to curb his drives to the net to try to keep his body from all the extra abuse. His high volume free-throw attempts are part of his appeal, but I will take 3-4 less attempts a game from him if it means 10-15 more games played this year. He rains in a lot of moneyballs, and remains underrated in the steals department.
33. David West, PF, New Orleans Hornets (34.2)
An understated 20-10 big man, he lands here because of his relatively pedestrian presence in blocks. He makes for a nice play as a third big man if you already have two center-eligible forwards, like Amar'e and Al Jeff, for example.
34. Rashard Lewis, SF/PF, Orlando Magic (36.7)
I will be staying away from 'Shard this year because of his suspension to start the season. Still, all those three-balls at the power forward spot means someone will inevitably try to stash him away around the fourth round.
35. Shawn Marion, SF/PF, Dallas Mavericks (36.9)
Yahoo still as The Matrix ranked quite high. Danny Granger has surpassed Marion as the supreme threes-steals-blocks guy with good percentages, and Granger is a better scorer than Marion ever was. Optimists who draft him around here foresee something like 15 and 9 with the usual solid percentages and a surge upwards in the threes-steals-blocks categories. Perhaps with Jason Kidd dishing him the ball again and Josh Howard injured, it could happen. It was hard for me to believe that it was only last year my brother-in-law drafted Allen Iverson and Marion with his first two picks; needless to say, his team did not do well last year.
36. Troy Murphy, PF/C, Indiana Pacers (36.9)
Murphy helped many fantasy teams win the title last year. A double-double guy who shoots a lot of threes is very unique; even Dirk does not earn entry into that club. Murphy is more of a fantasy star than a real life star and that carries some risk for you on draft day. He fits in pretty well with a big-small combination from the first two rounds like Amar'e and Brandon Roy. I suspect last season was the pinnacle of his fantasy hooping prowess.
Hmm. A lot of injury risks and veterans who return slowly declining numbers. See what I mean about the third round being a make-or-break area in fantasy basketball this year?
MORE ANALYSIS
First Round Analysis
Second Round Analysis
Third Round Analysis
Fourth Round Analysis
Fifth Round Analysis
© Gear Live Media, LLC. 2007 – User-posted content, unless source is quoted, is licensed under a Creative Commons Public Domain License. Gear Live graphics, logos, designs, page headers, button icons, videos, articles, blogs, forums, scripts and other service names are the trademarks of Gear Live Inc.