Saturday October 17, 2009 3:22 pm
Fantasy NBA: Analysis of Second Round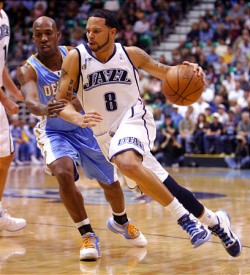 The first two picks usually define the direction your fantasy team builds towards. For example, matching Dwight Howard with Jose Calderon would not be the best play for a head-to-head league; although this pairing begins to cover all the various categories, the strengths of these players do not overlap. Punting categories gets too much attention in head-to-head articles; however the art of building up strength in certain categories is a requirement for success. And so, let us now look at the second round based on Yahoo average draft position (ADP) rankings, with some specific attention to how these players might complement certain players taken in the first round.
13. Kevin Garnett, PF, Boston Celtics (13.1)
KG coming off the board will rank as one of the benchmarks to look for early in your draft. Yahoo has him ranked very high, and in the one-man mock draft, I "drafted" him early to focus on some of the considerations involved. I briefly joined a live chat with Dr. A from Rotoworld on Wednesday, October 14th, and he remarked that he plans to ignore KG until the fifth round (by which he will obviously be gone). I prefer the next two players on the list, and perhaps the tier of point guards coming off the board in this round as well, but eventually someone has to take him. If he can match his numbers from last year, but play in more games, he remains a good all-around fantasy contributor and would fit in with anyone taken in the first round.
14. Deron Williams, PG, Utah Jazz (14.3)
Unlike KG, Williams will garner attention towards the end of the first round. Williams is the current version of the prototypical 20-10 point guard i.e. averages of 20 ppg and 10 apg. Going small ball with Williams and Brandon Roy would bring lots of fun, but this pairing leaves much work to be done in three-pointers and steals, two key categories to nab with a small ball team. Pairing him up with one of the PF/C guys like Amar'e Stoudemire or Chris Bosh would cover most of the bases, and leaves the door open to flesh out the direction of your team in the next couple of rounds. I read reports that his ankle will bother him moving forward, but he plays tough and barring a new injury, he should be quite reliable.
15. Al Jefferson, PF/C, Minnesota Timberwolves (14.7)
The coin toss between Al Jeff and CB4 might favor the big man in Minny if we fantasy owners did not have to worry about his knee. Al Jeff hits all the benchmarks that fantasy owners look for in a big man. If he can stand up to the grind of the long season, look for him to easily out-score Pau Gasol, out-block CB4, and out-rebound all the big men drafted in front of him with the exception of Dwight Howard. I like Al Jeff as the wing man to any of those big guys; drafting at the end of the first round might not be so bad this year.
16. Chauncey Billups, PG, Denver Nuggets (16.6)
"Mr. Big Shot" outproduces Deron Williams in three-point shooting and the art of stealing the rock, but his averages in points and assists will fall short of those by Deron (Does Deron Williams have a nickname yet? Strange none comes to mind given his high profile in the league). Given his current ADP, he has often been coupled with one of the first round big men mentioned above. Despite his automatic free-throw shot, it is not enough to help dig out from the crater caused by Dwight Howard's bricklaying. Yet if you plan to steal FT% a few weeks here and there with "Superman" on your roster, stock up on guys like Billups.
17. Steve Nash, PG, Phoenix Suns (18.1)
I expect a return to the run-and-gun "7 seconds of less" style the Suns used to employ. Nash is part of the old guard, but there is nothing wrong with grabbing him here. He fits in well with Dirk Nowitzki, or the do-everything guys like Kobe Bryant and Danny Granger. Remember to target a couple of steals specialists later on, and any big man you draft should shoot decently from the line and/or has the ability to shoot threes.
18. Tim Duncan, PF/C, San Antonio Spurs (18.1)
19. Caron Butler, SG/SF, Washington Wizards (19.3)
20. Antawn Jamison, SF/PF, Washington Wizards (21.7)
Many will pass on TD this year based on their minds being made up about his age, boring play or this notion of surprise DNPs that will come out of nowhere and bite you when you need him most. Look at the facts, these concerns were there last year too, and he suited up 75 times. I love him as a #2 to Dwight on a big ball team. Jamison will miss the rest of the pre-season but has always been a solid pick in the late second or early third round. Caron has an injury-riddled past, but I like him joining a team with LeBron James if you can get him. As I mentioned in my one man mock draft entry on Caron, the combination of boards, assists and steals LeBron and Caron bring together could inflict a lot of damage on your opponents this year.
21. Andre Iguodala, SG/SF, Philadelphia 76ers (23.2)
22. Jose Calderon, PG, Toronto Raptors (23.3)
23. Joe Johnson, PG/SG, Atlanta Hawks (23.5)
24. Jason Kidd, PG, Dallas Mavericks (25.2)
Wow, look at all the superb guards that can be picked up at the end of the second round. Any of them look good beside the likes of Chris Paul or Dwyane Wade. Good luck winning assists against a team with CP3 and Calderon. Be careful with Kidd and his low scoring output, but on the right team, he remains a good pick. Iggy and Joe are faves of any fantasy owner who loves the do-everything types.
The second round looks to be dominated by the point guards! Does that mean you grab a big man in the first round, knowing there are lots of guards to pick from in the second and third rounds? Or do you go for two all-around stat stuffers, even if they both play a guard position? These types of fun choices are what playing fantasy basketball is all about.
MORE ANALYSIS
First Round Analysis
Second Round Analysis
Third Round Analysis
Fourth Round Analysis
Fifth Round Analysis
© Gear Live Media, LLC. 2007 – User-posted content, unless source is quoted, is licensed under a Creative Commons Public Domain License. Gear Live graphics, logos, designs, page headers, button icons, videos, articles, blogs, forums, scripts and other service names are the trademarks of Gear Live Inc.