Wednesday March 12, 2008 8:37 pm
Book Review: The 33-Year-Old Rookie

Tweet
Posted by Milo Taibi Categories: Athletes, Editorial, MLB, Site Announcements,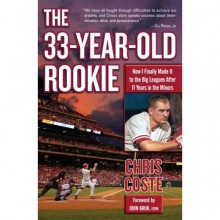 With the 2008 baseball season beginning, many fans would see the name, "Chris Coste," on the depth chart of the Philadelphia Phillies and think that he was just a warm body to back up starting catcher Carlos Ruiz. What they wouldn't see is that Coste endured an 11 year minor league career to get where he is today. That's why Chris Coste released this self-written book, to share his experiences in professional baseball before reaching the big leagues.
First and foremost, the story of Coste career is absolutely inspirational and a testament to the type of person he is. After winning All-American honors 3 consecutive years in college, Coste wasn't taken in the 1995 Amateur Draft, out of 1,664 picks. This was a traumatic experience in Chris' career; "I could almost visualize the baseball career I'd longed for my whole life crashing to the ground in flames like the Hindenburg," he said of the draft. From college, Coste went to the short lived Independent, "Prairie," league. After the league closed, he played in the Independent Northern League, for the Fargo-Moorhead RedHawks. Coste would play for the Redhawks for 5 seasons, settling into Fargo. Coste hosted his own radio show in Fargo, and got a job in the Promotions department for the Redhawks in the off-season. Upon receiving a Spring Training invite from the Pittsburgh Pirates, Coste embarked on a 5 year Minor League journey en route to his Major League debut with the Philadelphia Phillies.
Coste general writing style is very straightforward. He tells his story as it happened, just a sequence of events from his point of view. The setting of the first chapter is in 2006, when Chris was invited to Spring Training from the Phillies. From that point forward Coste recalls every step of his baseball career up until the final pitch of 2007. To his credit, Coste released one of the better written books from an athlete of late. His memory of his career is thorough, and he does a good job of letting the reader know how he felt during his voyage through the Minor Leagues.
One glaring flaw from this book is that its overly cliche. Even praise located on the back flap of the book tries to make it sound like other stories told time and time again: " The 33-Year-Old Rookie is the best of Rocky, Rudy, and The Rookie..." Coste wrote the book with the consistent philosophy of, "I was good enough to play in the big leagues, but I was never given a chance." This perspective is made so known to the reader that it seems at times that Coste is trying to convince us of it. Coste descriptions of the pitchers who threw to him almost sound like customer testimonies in infomercials. "I was amazed! With the way you hit, how are you not in the big league somewhere-at least as a back-up catcher…you can catch me anytime!" Coste described Cory Lidle as saying after a Spring Training game. On the previous page Jon Lieber is quoted as saying, "Hey, bro, I was hoping you were going to catch me today. Let's have a good day. It feels like I can't help but throw it to the middle of your mitt." The entire book has quotes similar to these, from various teammates. Also with positive descriptions of his hitting and defensive game through each Minor League level, the reader almost has to look at Chris' career statistics to know that he struggled at any point in his career.
I think Coste story is a special one, and it should be made known to the masses. However I feel like this book isn't really the underdog Rudy type of story that it promised to be. Much of the book is told from a very confident point of view. Perhaps a movie version of Coste career would better illustrate his journey to the major leagues. This book would especially be interesting if you're a
Phillies fan or a Chris Coste fan in particular, but otherwise its not exactly a must read.
© Gear Live Media, LLC. 2007 – User-posted content, unless source is quoted, is licensed under a Creative Commons Public Domain License. Gear Live graphics, logos, designs, page headers, button icons, videos, articles, blogs, forums, scripts and other service names are the trademarks of Gear Live Inc.