Wednesday December 2, 2009 11:27 pm
2010 NBA Mock Draft December Version

Tweet
Posted by Phil Partington Categories: Fantasy, NBA, NCAA, College Basketball,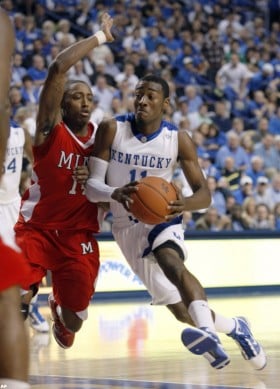 June is the month for the NBA Draft, when fans and experts alike chart players and teams to determine which future prospect will be taken by which team. The process is both exciting and captivating, as it hints at the future of many NBA ball clubs. Yet, NBA Draft buzz doesn't start in June. Even though the college basketball season is just underway, murmurings of where players might go in the 2010 NBA Draft have already surfaced. Here's an early look at how the draft might shape up.
1. New Jersey Nets select PG John Wall, Kentucky, 6-4, 195lbs
Wall is the consensus top pick at this point. Wall has great size and athleticism for a point guard. After six games, he's averaging 18.5 ppg, 7.8 apg, 4.0 rpg, 2.5 spg, while shooting 56% from the field and 80% from the line. He somewhat resembles Derrick Rose. Though the Nets have Devin Harris, it's hard to imagine them passing on a potential superstar like Wall.
2. Minnesota Timberwolves select PF Donatas Motiejunas, International, 7-0, 225lbs
Minnesota gets this pick from the Charlotte Bobcats, and while they don't necessarily need a power forward with Al Jefferson and Kevin Love, Motiejunas' talent might be too much to pass on. He resembles Andrea Bargnani, and his perimeter shooting could actually complement the power games of Jefferson and Love. Moreover, Motiejunas will need developing and could be brought along at a steady pace with those two bigs already in place.
3. Utah Jazz select GF Wesley Johnson, Syracuse, 6-7, 205lbs
Utah gets this pick from the New York Knicks. With a healthy front line of Carlos Boozer, Mehmet Okur, and Paul Millsap, the Jazz may look to strengthen its perimeter scoring. Johnson has an excellent jump shot with a quick release. He also works well in isolation and should be a good fit alongside Deron Williams.
4. Philadelphia 76ers select C Cole Aldrich, Kansas, 6-11, 245lbs
With the success of Brook Lopez, another smooth, fundamentally sound big man, Aldrich could end up going pretty high in this draft. The Sixers have depth in the frontcourt, provided Elton Brand gets healthy, but has been looking to trade its center, Samuel Dalembert, for some time.
5. Washington Wizards select PF Derrick Favors, Georgia Tech, 6-9, 245lbs
Though there's potential there, Washington needs interior strength. A future of JaVale McGee, Andray Blatche, and Favors looks promising. Moreover, with the perimeter depth of the Wizards, along with Favors' versatility and ability to play both forward positions, he could be a nice fit.
6. Golden State Warriors select SF Al-Farouq Aminu, Wake Forest, 6-8, 220lbs
If Don Nelson is still coach, don't be surprised if the Warriors draft a guard or another lanky big man he doesn't intend to use. Aminu makes some sense, though. He scores well off the dribble, is an excellent shot blocker and rebounder, and is extremely athletic. He needs to add muscle, but with all the athletes in Golden State, he would fit in well.
7. Memphis Grizzlies select PF Ed Davis, North Carolina, 6-10, 225lbs
Memphis has a lot of young talent, but like many young teams, not a lot of chemistry. Davis would be a nice fit with Rudy Gay and O.J. Mayo, and could grow with them. He has excellent potential and reminds some of Chris Bosh.
8. Detroit Pistons select SG Xavier Henry, Kansas, 6-6, 220lbs
While the Pistons have a slew of guards in Ben Gordon, Richard Hamilton, Rodney Stuckey, and Will Bynum, Henry's upside is worth the gamble. Besides, Richard Hamilton will likely be shopped at some point.
9. Toronto Raptors select SF Devin Ebanks, West Virginia, 6-7, 205lbs
With the Raptors' run-and-gun style of play, Ebanks shooting would really come in handy. Of course, he needs to improve his ball handling and defense.
10. Indiana Pacers select G Willie Warren, Oklahoma, 6-4, 210lbs
Warren is an athletic combo guard who could be a fit with the versatile players in Indiana, like Danny Granger, Mike Dunleavy and Dahntay Jones. He is kind of a tweener, but can fill a lot of holes when injury prone players, like Dunleavy and T.J. Ford, hit the pine.
11. New Orleans Hornets select F Craig Brackins, Iowa State, 6-10, 230lbs
New Orleans needs to get Chris Paul some help. Brackins is a great scorer, but is of the Shareef Abdul-Rahim mold where he doesn't really have a true position, but is capable of playing both the small forward and power forward positions.
12. LA Clippers select G Evan Turner, Ohio State, 6-6, 205 lbs
The Clippers' biggest problem is injury, but with a deep frontcourt of Chris Kaman, Marcus Camby, Blake Griffin, and Brian Skinner, beefing up the backcourt seems like the wise thing to do. Turner would be a nice complimentary player to a lot of the talent LA already has. His size contrasts with Eric Gordon's smallness, so that the two might be a good fit together at times.
13. Sacramento Kings select PF Patrick Patterson, 6-8, 235lbs
A willing banger, and would be a backup to Spencer Hawes and Jason Thompson. If Jon Brockman pans out, Patterson might be redundant here.
14. Oklahoma City Thunder select PF Greg Monroe, Georgetown, 6-10, 235lbs
Unselfish player who might compliment the other young scorers with solid passing from the high post. Monroe probably won't ever be a superstar, but he could help the Thunder in the paint.
Related Tags:
al-farouq aminu, chris bosh, chris paul, cole aldrich, craig brackins, derrick favors, derrick rose, detroit pistons, devin ebanks, donatas motiejunas, ed davis, evan turner, golden state warriors, greg monroe, indiana pacers, john wall, los angeles clippers, memphis grizzlies, minnesota timberwolves, nba, new jersey nets, new orleans hornets, oklahoma city thunder, patrick patterson, philadelphia 76ers, sacramento kings, sidefeatured, toronto raptors, utah jazz, washington wizards, wesley johnson, willie warren, xavier henry
© Gear Live Media, LLC. 2007 – User-posted content, unless source is quoted, is licensed under a Creative Commons Public Domain License. Gear Live graphics, logos, designs, page headers, button icons, videos, articles, blogs, forums, scripts and other service names are the trademarks of Gear Live Inc.