Saturday October 24, 2009 9:00 pm
2009-2010 NBA Pacific Division Preview

Tweet
Posted by Phil Partington Categories: Editorial, NBA,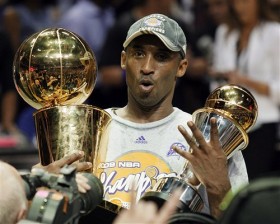 The Los Angeles Lakers are looking like a fantasy basketball team this year. Coach Phil Jackson has the ideal challenge of which star to play at what times. Beyond that, the NBA's Pacific Division should be competitive in 2009-2010. Steve Nash and Amar'e Stoudemire hope to lead the Phoenix Suns back to the playoffs after a disappointing season in 2008-2009; the Los Angeles Clippers look like a playoff team on paper if they can stay healthy; the Golden State Warriors have plenty of talent, but no chemistry, defense or size; and the Sacramento Kings also hope its stars can stay healthy and the younger talent can continue to improve. Ring the bell, the fight for the Pacific Division is about to start.
Predicted Order of Finish:
1. Los Angeles Lakers
The defending champions lost no one of importance and added ill-tempered Ron Artest. While many (including Mark Cuban, owner of the Dallas Mavericks) believe Artest will be detrimental to the team's success, don't forget that Coach Phil Jackson is a wizard at managing egos. In fact, he may be the best in the league at it, especially after "taming" Dennis Rodman with the Chicago Bulls run in the 90s, and babysitting the Lakers during the Shaquille O'Neal/Kobe Bryant feud. With such a stacked lineup, LA might not meet a true adversary in the playoffs until the NBA Finals. The biggest weakness for the Lakers is at the point guard position, but even the Greek hero Achilles had to worry about a vulnerable heel.
2. Phoenix Suns
After several failed playoff runs, the Suns decided to bail on Coach Mike D'Antoni's up-tempo style offense in favor of a slowed down system that emphasized half-court defense. While this might not have been a bad idea, the personnel wasn't in place to make such a change successful. Stoudemire and Nash thrive in the open court. Needless to say, the players never bought into the system and it didn't work. The Suns missed the playoffs altogether. It's important to note that in most seasons, Phoenix would have made the playoffs. They weren't all that bad. Afterall, they did win 46 games. The Western Conference was simply that good last year. Needless to say, the team plans to revert back to the run-and-gun offense, led by veteran point guard, Steve Nash. This could mean a few more wins in the regular season, if its stars stay healthy. Also keep an eye on Jason Richardson and Leandro Barbosa. Both should greatly benefit from more open looks.
3. Los Angeles Clippers
The other LA team is much better on paper than last season's record suggests. Injuries have plagued this team for years, and it hasn't helped that they have the league's worst owner in Donald Sterling. Blake Griffin, the top overall pick in the 2009 NBA Draft, should provide plenty of excitement, but he may be starting out of position at small forward, with big men Chris Kaman and Marcus Camby starting at center and power forward. The key to this team's success will be health. If Baron Davis (and the team's bigs) can stay healthy, this team could surprise critics by making a push for a playoff spot. The continued development of Eric Gordon and Al Thornton will also be important. The Clippers are a deeper team than last season, with Rasual Butler, Sebastian Telfair, and Brian Skinner rounding out the bench. The sky is the limit for this team.
4. Golden State Warriors
The Warriors are a mess. Stephen Jackson is disgruntled; Don Nelson will have to figure out how to play Monta Ellis and Stephen Curry, two undersized shooting guards, at the same time; and the team still plays little defense. Anthony Randolph hopes to have a breakout season, after finishing last season strong and dominating in the summer leagues, but that won't be enough to help Andris Biedrins fill the paint. Golden State has a lot of talent, but no direction.
5. Sacramento Kings
Here's another team that needs to pray to the health gods. Star guard Kevin Martin is the biggest question mark. If he can play in most games, the Kings have a chance to make some noise. Prospect twin towers, Spencer Hawes and Jason Thompson, have Kings fans excited, but Hawes needs to add muscle to be able to bang around with the other top centers of the league. Rookie Tyreke Evans has amazing potential, but it's uncertain whether or not he can be a point guard. If he can't, the Kings have Beno Udrih in queue. Rookie Omri Casspi could provide a nice spark. Andres Nocioni brings energy off the bench, but gets antsy on defense, and frequently is out of position. The addition of Sean May could add depth to the front court, if he's able to stay healthy for a change.
The Pacific Division consists of the Lakers and a whole lot of teams hoping to make improvements upon disappointing seasons last year.
Related Tags:
al thornton, amar'e stoudemire, amar'e stoudemire, amar'e stoudemire, amar'e stoudemire, amar'e stoudemire, amar'e stoudemire, amar'e stoudemire, andres nocioni, andrew bynum, andris biedrins, anthony randolph, baron davis, beno udrih, blake griffin, brian skinner, chris kaman, derek fisher, eric gordon, golden state warriors, jason richardson, jason thompson, jordan farmar, kevin martin, kobe bryant, la clippers, la lakers, lamar odom, los angeles clippers, los angeles lakers, marcus camby, monta ellis, omri casspi, pacific division, pau gasol, phoenix suns, rasual butler, ron artest, sacramento kings, sean may, sebastian telfair, sidefeatured, spencer hawes, stephen curry, stephen jackson, steve nash, tyreke evans
© Gear Live Media, LLC. 2007 – User-posted content, unless source is quoted, is licensed under a Creative Commons Public Domain License. Gear Live graphics, logos, designs, page headers, button icons, videos, articles, blogs, forums, scripts and other service names are the trademarks of Gear Live Inc.