Thursday October 22, 2009 10:01 pm
2009-2010 NBA Midwest Division Preview

Tweet
Posted by Phil Partington Categories: Editorial, NBA,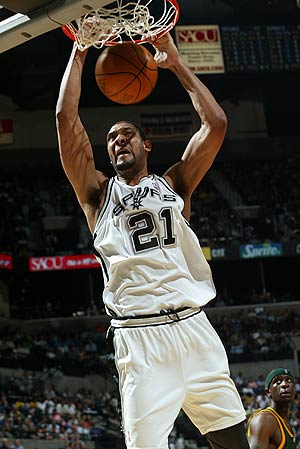 If it weren't enough that the NBA's Midwest Division looks much different than last season, a few teams, notably, the San Antonio Spurs and the Dallas Mavericks made key additions, and Rockets' star big man, Yao Ming, just had to injure himself for the duration of the season. That curveball may open things up for younger teams to move into the playoffs. Meanwhile, the Spurs are seeing its NBA championship window close every year. In response, the team added several key free agents to make a push to compete with the Los Angeles Lakers in the West.
Predicted Order Of Finish
1. San Antonio Spurs
Sure, the Spurs are old. They have five players older than 30 (and Manu Ginobili - 32 - has a 40-year-old body), and another five players who are 28-29 years old. Yet, as long as Tim Duncan, Tony Parker, and Ginobili can stay healthy, this team will always have a shot. Adding Richard Jefferson and Antonio McDyess certainly didn't hurt their chances either, and rookie DeJuan Blair has posted excellent numbers during preseason. This team may not be as good as the Lakers on paper, but they're the next best thing in the Western Conference if they can remain healthy.
2. Dallas Mavericks
Mark Cuban insists this is the best Dallas Mavericks team he's ever put together. While that may be a stretch, the Mavs have definitely improved from last season. The addition of Shawn Marion should be a good match, as Jason Kidd will be able to give him a lot of easy buckets. Moreover, Marion's ability to play both forward positions will give Dallas flexibility, with Dirk Nowitzki playing both power forward and center at times. Kidd is getting older each year. Once one of the top perimeter defenders in the league, Kidd is almost a liability when guarding quicker, younger point guards. That being said, he's still a master play-maker and can change the course of a game with his versatility and toughness. One big question mark will be how Josh Howard fares at the two guard spot. With Marion starting at small forward, Howard will be bumped to shooting guard. In the past, he's had mixed success at that position. Jason Terry may be an important commodity off the bench to provide scoring and three-point shooting. Look for this team to make more noise than it did last season.
3. New Orleans Hornets
The Hornets traded oft-injured center, Tyson Chandler for forward/center, Emeka Okafor. The deal was a salary dump for the Charlotte Bobcats, and while Okafor will have to continue to play out of position in New Orleans, with David West occupying the starting job at power forward, Okafor will provide a little bit more offense than Chandler ever did. Okafor's not known for his offensive prowess, but having a stud point guard in Chris Paul should help give him plenty of open looks. In addition, keep an eye out for the young talent on this team. Hilton Armstrong, Ike Diogu, and Julian Wright will have some opportunity to emerge this season.
4. Houston Rockets
Once a team thought to be on the verge of NBA championships, the Rockets have been laden with injuries the past few years. This year is no different. From now until he retires, Tracy McGrady can be counted on to miss at least half the season. When he does play, he's a mere shadow of his former self. If that weren't enough, Yao Ming will likely miss the entire season. While these injuries should give opportunities to players like Luis Scola, Aaron Brooks, and Trevor Ariza, it could also mean the team misses the playoffs. Don't count them out entirely, Coach Rick Adelmain has been known to perform miracles. He'll need some magic this season.
5. Memphis Grizzlies
Memphis was awful last season, and probably won't be much better this season. Its top draft pick, center Hasheem Thabeet, selected second overall in the 2009 NBA Draft, is an unproven project who probably won't be consistently effective for a couple of years. The Grizzlies have plenty of talent, but are still too young to make any kind of playoff push. Of course, if Allen Iverson can become the player he was a couple seasons ago, they may surprise people. Iverson's whole game was based on quickness, and that has fizzled with age. Look for O.J. Mayo to continue to improve, along with Rudy Gay, Mike Conley, and Marc Gasol.
It's probably a reach to call the Mavericks a title contender, which means the Spurs may be the only team in the Western Conference to really challenge the Lakers.
Related Tags:
aaron brooks, antonio mcdyess, chris paul, dallas mavericks, david west, dirk nowitzki, emeka okafor, hasheem thabeet, houston rockets, jason kidd, jason terry, josh howard, luis scola, manu ginobili, memphis grizzlies, mike conley, nba midwest division, new orleans hornets, o.j. mayo, oj mayo, richard jefferson, rudy gay, shawn marion, sidefeatured, tim duncan, tony parker, tracy mcgrady, trevor ariza, yao ming
© Gear Live Media, LLC. 2007 – User-posted content, unless source is quoted, is licensed under a Creative Commons Public Domain License. Gear Live graphics, logos, designs, page headers, button icons, videos, articles, blogs, forums, scripts and other service names are the trademarks of Gear Live Inc.