Tuesday October 20, 2009 6:10 pm
2009-2010 NBA Central Division Preview

Tweet
Posted by Phil Partington Categories: Editorial, NBA,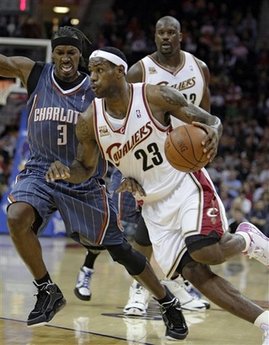 The pairing of LeBron James and Shaquille O'Neal for the Cleveland Cavaliers is grabbing the headlines for the NBA's Central Division. Two of the biggest personalities in professional sports should create a Hollywood stir in Cleveland next season. Meanwhile, 2009 Rookie of the Year winner, Derrick Rose, strives to build on an exceptional first year with the Chicago Bulls.
Predicted Order of Finish:
1. Cleveland Cavaliers
There are a lot of question marks with the Cavs this year, but it should not be a question of whether Shaq and LeBron can co-exist. After all, Shaq is one of the league's best passing big men, LeBron is one of the league's best passing wing men, and Shaq has had success co-existing with Kobe Bryant and Dwayne Wade in the past. The biggest question mark is whether or not Coach Mike Brown can manage these egos. In Los Angeles, Shaq had Phil Jackson, one of the all-time greatest at managing difficult personalities. In Miami, there was Pat Riley. While Brown has been involved in coaching egos before, he doesn't carry the same respect as Jackson and Riley, and dealing with Shaq and LeBron on a nightly basis is no small task. Ideally, the Cavs would play Shaq an equal amount of minutes with backup center Zydrunas Ilgauskas. Despite his age, "Big Z" is still a viable option in the paint, and reducing O'Neal's minutes would help him save energy for the playoffs. Will Shaq allow that much of a reduction in minutes without making a fuss? History shows that Shaq is capable of throwing large tantrums. Talent-wise, the Cavs have improved and are better equipped to make a run at the title than last season. However, with the Boston Celtics healthy again and the Orlando Magic much improved, the challenge won't be an easy one.
2. Chicago Bulls
The Chicago Bulls finished .500 last season behind the leadership of 2009 Rookie of the Year, Derrick Rose. This is an important year for Rose, as it's typically a player's second season in the league when he sees the biggest jump in statistics. Rose needs to improve his jump shot, but looks poised to have a big season. It's also an important season for Tyrus Thomas, who has shown many flashes of brilliance in the past, but has had a problem with consistency. With Ben Gordon gone to Detroit, Chicago hopes John Salmons and Kirk Hinrich can pick up the slack on the perimeter. Meanwhile, nabbing James Johnson with the 16th pick of the 2009 Draft will give the team needed depth at forward, especially with Luol Deng's constant injury concerns. Johnson has the versatility and size to play both forward positions. While the Eastern Conference has greatly improved, the Bulls should be good enough to jockey for one of the bottom playoff seeds.
3. Detroit Pistons
This is not the same Bad Boys Pistons team as a few years ago. Chauncey Billups, Rasheed Wallace, Ben Wallace, and Antonio McDyess are all gone. Richard Hamilton and Tayshaun Prince may still be stuck there, but the lineup is now overwrought with young prospects. The additions of Ben Gordon and Charlie Villanueva fill out the roster nicely, and it will be interesting to see how the dynamics of this team play out. Will Ben Gordon play big minutes at the point guard position with Hamilton at the two guard? Will Rodney Stuckey edge Gordon and Will Bynum out at point? Is Austin Daye too skinny to compete at this level? Though there are still a lot of unknowns with this team, it has enough talent on its roster to make some noise this season.
4. Indiana Pacers
Danny Granger is healthy, and that's good news for Pacers fans. Granger emerged as an All Star caliber player last season, and they'll need that without any other star power on the team. Troy Murphy and Mike Dunleavy staying healthy is a must for this team to be successful. Moreover, keep a close eye on the emergence of Roy Hibbert, whose put in some hard work this offseason. Don't expect miracles, but the Pacers should be able to improve upon its 36-46 record last year.
5. Milwaukee Bucks
So much of the Bucks' problems the last few seasons have revolved around injuries. Still, though dumping Richard Jefferson and his ridiculous contract was a smart move, it doesn't help improve the team this season. Bucks fans want to hold onto a false notion that this team, if healthy, is a playoff team. Unfortunately, that's just not the case. Michael Redd is getting old, and Andrew Bogut, while talented, has never really shown that he can be a top notch center in this league, worthy of the number one overall pick the Bucks used to get him in 2005. Brandon Jennings has the skill set to be a great point guard in the NBA, but he's just one year out of high school and hasn't shown he can hit a consistent jump shot. To review, the Bucks didn't get any better from last season, though they might have gotten a little healthier. The rest of the East got a whole lot better, which leaves the Bucks out of a playoff spot. If this team is healthy, they may not be the worst team in this division. Then again, they just might.
Nobody expects the Cavs to finish anywhere but at the top of the division. The bigger story will be how they fare in the playoffs against the likes of a healthy Boston Celtics and an improved Orlando Magic team.
Related Tags:
2009 rookie of the year, andrew bogut, ben gordon, brandon jennings, central division, charlie villanueva, chicago bulls, cleveland cavaliers, danny granger, derrick rose, detroit pistons, indiana pacers, james johnson, john salmons, kirk hinrich, lebron james, luol deng, michael redd, mike brown, milwaukee bucks, nba, nba central division preview, nba season preview, richard hamilton, rodney stuckey, roy hibbert, shaquille o'neal, shaquille o'neal, shaquille o'neal, troy murphy, tyrus thomas, will bynum
© Gear Live Media, LLC. 2007 – User-posted content, unless source is quoted, is licensed under a Creative Commons Public Domain License. Gear Live graphics, logos, designs, page headers, button icons, videos, articles, blogs, forums, scripts and other service names are the trademarks of Gear Live Inc.