Saturday October 17, 2009 2:57 pm
2009-2010 NBA Atlantic Division Preview

Tweet
Posted by Phil Partington Categories: Athletes, Editorial, NBA,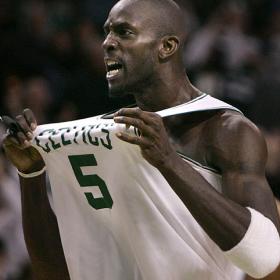 Atlantic Division Preview
The casual NBA fan may not recognize the new look of the league with so many players packing their bags and moving to different cities. It's almost as if the basketball gods took the names of every NBA player, placed them in a box and shook the box wildly before reassigning those names to new rosters. Who would have thought Shaquille O'Neal and LeBron James would pair up; that Rasheed Wallace would don a Celtics uniform; that Hedo Turkoglu would leave the Eastern Conference defending champion Orlando Magic for the Toronto Raptors? Many big-named players have gravitated to veteran teams with better chances of winning an NBA title, which creates opportunities for many young, up-and-comers to have breakout seasons. While it's too early to tell which teams will surprise and which will disappoint, it's apparent that NBA fans are in for a roller coaster season, filled with intriguing stories and exciting twists.
Predicted Order of Finish
1. Boston Celtics
If the Celtics can stay healthy, they are the team to beat in the East. Don't be surprised by 60-plus wins, though 55-60 is probably more realistic. Even without Kevin Garnett, the Celtics nearly eliminated the Orlando Magic, who eventually made it all the way to the NBA championship series. The addition of Wallace should help complement Garnett's game. The two are exceptional defenders and together they should be able to anchor one of the league's best defenses.
2. Toronto Raptors
Unless Elton Brand can pull a magic act in Philadelphia, the Raptors are the next best team in the division on paper. That being said, there's quite a drop-off here from the Celtics. General Manager Bryan Colangelo is trying to mimic the Phoenix Suns of a few years ago by creating an up-tempo offense laden with shooters and versatile big men. While the Raptors probably overpaid Turkoglu, his versatility should fit well with the Raptors. Add to that the additions of rookie DeMar DeRozan, three-point gunner Marco Bellineli, and point guard Jarrett Jack and Toronto fans can expect a deeper lineup than last year. That's a very good thing, considering how shallow the lineup was. Toronto will have to fight for a playoff spot, but should be fun to watch in the process. Keep an eye out for the continued development of Andrea Bargnani. If Toronto can break the .500 barrier this season, it should be considered a successful year.
3. Philadelphia 76ers
A healthy Brand will help this team immensely, but don't overestimate what losing Andre Miller means. Miller is an underrated leader and pushed this team to more wins last year than it probably would have earned without him. That being said, the Sixers still have a lot of young talent around the star forward. Andre Iguodala can frustrate Sixers fans with his inconsistency and decision-making, but there's no denying his athleticism and versatility. Don't be surprised to see him playing some point guard this year. Louis Williams has shown promise in the past, and Thaddeus Young found a groove late last season. Marreese Speights and a healthier Jason Smith should help anchor the team's interior bench. Plus, the addition of Jason Kapono should help the team's weak perimeter shooting a bit. The Sixers could end up nipping at the Raptors' heels in the standings.
4. New Jersey Nets
While the Nets can boast of a talented, young roster, it looks to be a long season with a high learning curve. Brook Lopez was a pleasant surprise last year, finishing the season as one of the top rookies. While losing Vince Carter will hurt, Lopez's development is something the team can hang its hat on. That, and the rise to stardom of Devin Harris. Expect a higher scoring average from Harris than the 21.3 ppg he had last season. However, with more responsibility, turnovers may become a concern. Harris averaged 3.1 per game last season, but without Carter taking a significant load anymore, Harris will be asked to have the ball even more. While rookie Terrence Williams, and newly acquired Courtney Lee (previously on the Magic) should round out a solid perimeter, it's unclear if the Nets will finally figure out that highly touted Yi Jianlian doesn't play a lick of defense, nor does he score enough to really justify giving him more minutes.
5. New York Knicks
Mike D'Antoni never coached much half-court defense in Phoenix, so why start in New York? He says that he wants the team to emphasize defense this season, but the jury is still out as to what kind of schemes he'll implement to help his players accomplish that. The Knicks have loads of young talent, but it's overwrought with forwards. David Lee is playing out of position at center, and it's flabbergasting why he couldn't get a contract extension after contributing about 16 ppg and 11 rpg last season, while working his tail off every night. Other forwards, including Wilson Chandler, Danilo Gallinari, Al Harrington, Jared Jeffries, and Jordan Hill, will also have to play out of position if they want to see any kind of consistent minutes. That leaves Eddy Curry, who has a history of weight issues, as well as work ethic issues; Darko Milicic, who has disappointed his entire career; and an undersized Lee and Harrington at center. If that weren't enough, the team is also pretty thin at both guard positions. While D'Antoni has received much criticism in the past for not being a defensive coach (at least in terms of half-court defense, which is prevalent in the playoffs), he did a solid job with this cast of youth. The Knicks need to figure out an identity and make some moves to fill certain gaps in the lineup. Another concern is the six expiring contracts the team will have to deal with next summer. Hopefully, that won't be a distraction from the development of this inexperienced team.
In all, the Atlantic Division is one of the weaker divisions in the NBA. However, that doesn't mean it won't be a fun one to watch with several young prospects given opportunities to shine.
© Gear Live Media, LLC. 2007 – User-posted content, unless source is quoted, is licensed under a Creative Commons Public Domain License. Gear Live graphics, logos, designs, page headers, button icons, videos, articles, blogs, forums, scripts and other service names are the trademarks of Gear Live Inc.