Posted by Sal Traina Categories: Editorials, Elections, Media,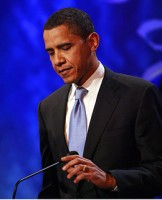 According to an ABC News Political Correspondent, Democratic Presidential Candidate, Barack Obama's debate talking points were, "accidentally sent to the press this morning."
Tonight's Presidential Debate between Obama and Republican Candidate John McCain is set for 9PM EST at Hofstra University in New York. It will be moderated by Bob Schieffer, CBS News chief Washington correspondent and host of "Face the Nation." The debate will be ninety minutes, divided into eight 10-minute segments. Candidates will be seated at a table with the moderator, who will introduce a new issue to start a segment. Candidates will be able to respond to the moderator, and then directly to each other.
Click to continue reading Obama's Debate Talking Points
Posted by Sal Traina Categories: Editorials, Elections, Foreign Policy, Media,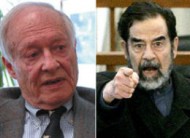 It looks like Democratic Presidential Nominee Barack Obama isn't the only one with shady associations. A new article in the Huffington Post states, "William Timmons, the Washington lobbyist who John McCain has named to head his presidential transition team, aided an influence effort on behalf of Iraqi dictator Saddam Hussein to ease international sanctions against his regime."
Click to continue reading McCain Team Member Tried To Stop Sanctions Against Saddam Hussein
Posted by Sal Traina Categories: Editorials, Elections, Media,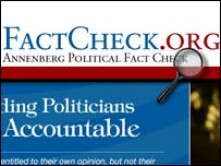 On their website, it says the Annenberg Foundation strives to advance public well-being through improved communications. It's basically a big, non-profit, community organization foundation. Is anyone aware that factcheck.org is run by The Annenberg Foundation? Why should you be concerned about this?
In 1995, current Democratic Presidential Nominee Barack Obama was appointed Board Chairman and President of the Annenberg Chicago Challenge, a branch of the Annenberg Foundation. Unrepentant Weather Underground terrorist, William Ayers co-chaired the Chicago Annenberg Collaborative, which set education policy for the Challenge. Obama was authorized to delegate to the Collaborative the development of collaborative projects and programs. Obama had to obtain assistance of the Collaborative in the development of requests for proposals. Obama had to seek advice from the Collaborative regarding the programmatic aspects of grant proposals. Obama and Ayers, sat together on the board's Governance Committee, and were part of a group of four instructed to draft the bylaws that would govern Chicago Annenberg Collaborative.
Click to continue reading Factcheck.org and Barack Obama
Posted by Sal Traina Categories: Editorials, Elections, Media,
Republican Vice Presidential nominee Sarah Palin has been found in an inquiry that she abused her power as governor to have her former brother-in-law fired as a state trooper. This is going to hurt the already struggling McCain/Palin ticket. The story is growing as I type, and I'm noticing the major media networks are in a frenzy to give you the good news. I think it's interesting that's it's already huge news. Why did it take the media nearly a year to finally start talking about Democratic presidential nominee Barack Obama's past work with ACORN, and his radical ties?
Click to continue reading Sarah Palin Abused Power As Governor
Posted by Sal Traina Categories: Elections, Humor, Media, Videos,
I found this video pretty funny. I'm a regular listener to talk radio, and I heard this song on The Glenn Beck Program. It's nationally syndicated, and the show is the third most listened to in the country. He's a lot different than other talk show hosts because he's more personable, and adds humor unlike others. He also has a television program every evening at 7PM and 9PM on CNN Headline News. You can get more information about him here.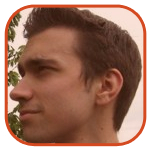 Posted by Steve Woodhead Categories: Elections, Media,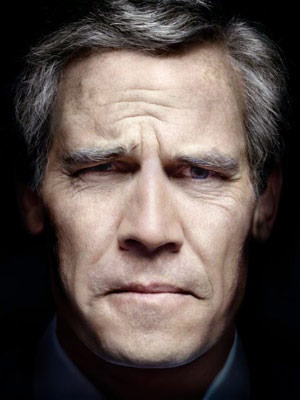 If you've been tooling around The Drudge Report at all the last couple of days, you may have noticed near the top, a handful of links to advance previews of Oliver Stone's latest W., his third effort at biopic-ing an American president, and the only one to have received Mr. Stone's esteemed treatment while its subject is still in office (the first two in his triptych were JFK (1991) and Nixon (1995). The first review came from Variety's Todd McCarthy; the next day, The Hollywood Reporter was added to the list.
Click to continue reading How to Review Oliver Stone's W.
Posted by Sal Traina Categories: Elections, Media,
No matter who you're voting for in this year's election, you should be able to trust journalists, and the news they're reporting to you. Almost 70 percent of people polled think the media is trying to help Barack Obama win. Here's another example of media bias.
An AP report on AOL wrote Sarah Palin Says Obama Pals With Terrorist. The article goes on to say, Republican Vice Presidential candidate Sarah Palin on Saturday accused Presidential candidate Barack Obama of "palling around with terrorists" because of an old association with a former '60s radical, stepping up an effort to portray Barack Obama as unacceptable to American voters.
Click to continue reading Mainstream Media Circles Wagons Around Obama
© Gear Live Media, LLC. 2007 – User-posted content, unless source is quoted, is licensed under a Creative Commons Public Domain License. Gear Live graphics, logos, designs, page headers, button icons, videos, articles, blogs, forums, scripts and other service names are the trademarks of Gear Live Inc.