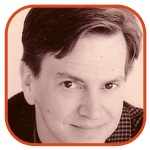 Posted by Tom Mason Categories: Reviews, Television, Image Comics, Marvel Comics,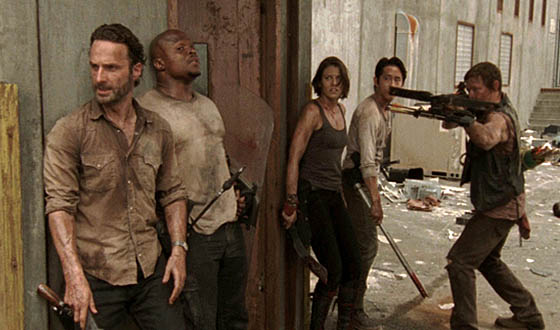 Of all the great horror icons - Frankenstein's monster, vampires, mummies and Black Lagoon creatures - my favorites are zombies.
I was a kid when I discovered that comics were forbidden to use the word "zombie" if they wanted the Comics Code Authority's Seal of Approval (so Marvel revived an old Robert E. Howard word "Zuvembie" as a workaround). So it should be no surprise that I've loved me some Walking Dead ever since the first comic appeared on the stands. I'm a sucker for horror comics and it hit me at just the right time. Also, Kirkman was telling his horrific story in a very intriguing way - bad stuff was happening, characters you liked were going to die, and it was hard to peg just where it was all going.
(Spoilers after the jump!)
Click to continue reading The Walking Dead: Season 3 So Far!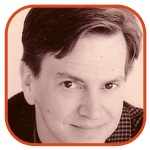 Posted by Tom Mason Categories: Editorials, Reviews,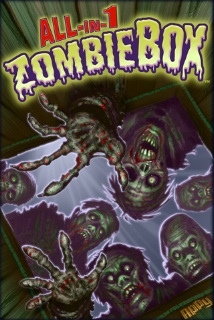 Do you still love the Zombies? I do.
I get a kick out of them when they're done well, like when my pal Max Brooks writes about them (World War Z totally scared me) or when I'm reading The Walking Dead, while waiting for the new TV show.
Now it's October, the month of Halloween, and a great time for Zombies. Especially when their blood, guts and goopy brains are on sale.
My buds at Appy Entertainment, Paul O'Connor and Chris Ulm, are putting Zombies on sale this month. It's an iPhone app of theirs called "All-In-1 ZombieBox," a 10-zombie-app for less than one sweet dollar.
Appy's ZombieBox has 10 apps from 10 different indie developers: Zombie Invasion (Conniption Entertainment); Defcon Z (Monkey Armada); Draw Slasher - Dark Ninja vs. Pirate Monkey Zombies (Mass Creation); Zombie Saw (L*U*K*E); Zombie Pizza (Appy Entertainment); Zombie Nombie (Smudgy Games) Apocalypse Zombie Fish (The Binary Mill); Zombie Karts (Cascadia Games); Zombie Apocalypse Manual (PALIANTech); and my favorite name of all time: Zombie Whale Hole (Cervo e.U.)
Click to continue reading Appy Entertainment: Zombies In A Box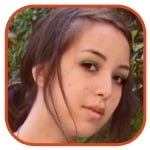 Posted by Robin Paulson Categories: Television, Image Comics,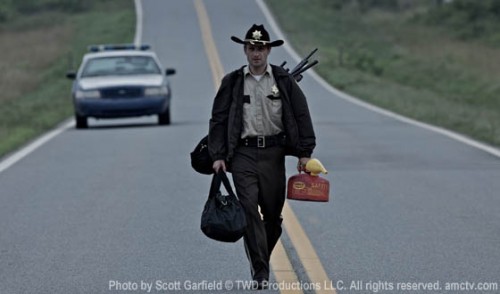 As if we've let The Walking Dead television series slip out of our thoughts, AMC has consistently
reminded us about
reported on the crew's production.
Earlier today, the network posted its first image of Andrew Lincoln as the comic book's troubled hero, Rick Grimes. Although I was really hoping that they'd cast someone who looked a little more like Rick, I must quell such lame fangirl thoughts and put my faith in Frank Darabont and crew (I'm guessing that Lincoln's acting chops must have compensated for it, though).
Do you think that he's a believable Rick? Oh and seriously—check out the zombie school video after the jump.
Click to continue reading PHOTO: The Walking Dead's Rick Grimes Comes to Life
Read More

| AMC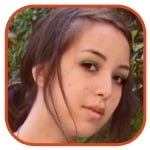 Posted by Robin Paulson Categories: Interviews, Television, Image Comics,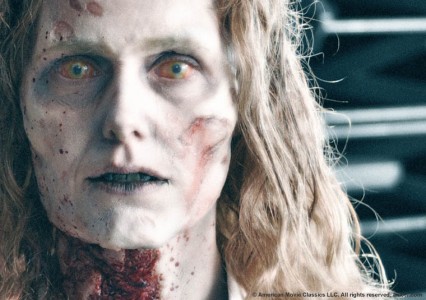 Nearly a year after Robert Kirkman sealed the deal with Frank Darabont, production has finally begun on The Walking Dead television series. As filming commenced in Atlanta, AMC released photos of the zombies ready to walk on set.
AMC also posted a video of director/writer/producer Frank Darabont talking about his interest in the undead story (in case you were wondering how one goes from directing The Green Mile to researching George Romero films). His best line? "We hope to do for zombies what Mad Men has done for advertising."
Check out more zombie photos and the complete video after the jump!
Click to continue reading First Look: The Walking Dead Production Begins
Read More

| AMC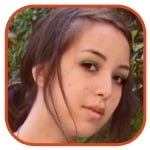 Posted by Robin Paulson Categories: Movies, Image Comics,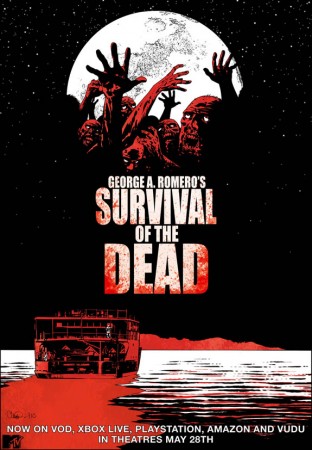 The Walking Dead writer Robert Kirkman may be lending his concentration to filming the television version of the hit comic book series, but artist Charlie Adlard is lending his talents to a great source of their inspiration: George Romero.
In a promotional poster for Romero's latest film, Survival of the Dead, fans of the Image series should be quick to notice Adlard's familiar artwork. That's a whole lotta zombie goodness right there.
Check out the film when it hits theaters on May 28!
Read More

| MTV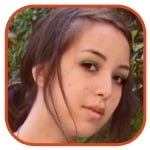 Posted by Robin Paulson Categories: Reviews, Independent,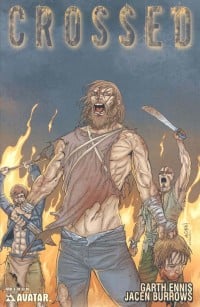 I'm sure many, like myself, were disappointed with last month's Crossed, issue #5. Not a single sadistic zombie was to be found! Little did I realize that, until I read Crossed #6, it was merely a calm before the storm. Trust me—it's a huge, effing tempest.
Garth Ennis and Jacen Burrows open the issue with our characters face to face (literally) with an undead eliminated by his own kind. Barely two pages after that, we discover just why Kitrick is as depressed as a Prozac-popping Elizabeth Wurtzel (aside from the usual post-apocalyptic depression, that is). I've got to say: Ennis and Burrows deliver with this flashback.
Just when you think that they're going to feed into your Ichi the Killer-like sadism (yes, you who reads these twisted comics) some more, they throw the cutest, most adorable puppy dog at you! Yes, a puppy dog!
Unfortunately, you don't have much time to fawn over the dog as another revealing past from the bunch comes to the forefront. I'm not sure whose past is worse, to be honest. But I do have some comments about one of them (spoilers after the jump)...
Click to continue reading Ennis and Burrows Save Up for Crossed #6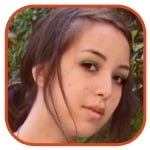 Posted by Robin Paulson Categories: Reviews, Image Comics,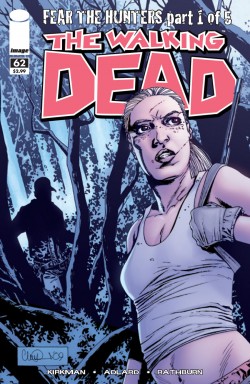 I know, I know: how can I label anything that Robert Kirkman touches as "weak"? Trust me, I was just as disappointed as you were with this month's issue of his never ending zombie saga, The Walking Dead #62. Even more upsetting is the fact that this issue marks the first of five issues in his "Fear the Hunters" arc!
We start off post-Billy and Ben murders, where Dale has plunged deeper into his anti-social abyss (clearly depicted in the second panel where he is outright facing the opposite of the party). Kirkman then spotlights the very intriguing progression of Carl's character, which I foolishly assumed in the last issue was his mirroring Rick. Judging from what Kirkman showed us this month, I cannot even imagine what he has in store for Carl, but it does make me giggly and excited.
Then… ZOMBIES! Oh how I missed you guys last month!
Enough of a recap—on to what I have to say about this letdown (so as to halt you from throwing stones at my head).
Click to continue reading Walking Dead #62 Weakly Introduces Hunter Arc

Posted by Lolita Beckwith Categories: Toys,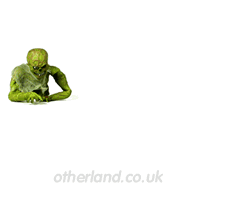 We love, love, love zombie movies, so with Halloween approaching, here's our little homage. It's the creepy, Crawling Zombie, a legless chap that's sound activated; just clap your hands (or tap its hand), and your new friend will actually race across any flat surface! Plus, the creature's eyes light up, can growl, and even mutter a few phrases, such as "I can't feel my legs" (awwwwww). Great for terrorizing friends, co-workers, and unwanted trick-or-treaters. Available for $39 USD.
Read More

| Otherland Toys

© Gear Live Inc. – User-posted content, unless source is quoted, is licensed under a Creative Commons Public Domain License. Gear Live graphics, logos, designs, page headers, button icons, videos, articles, blogs, forums, scripts and other service names are the trademarks of Gear Live Inc.