The image you see above isn't some generic image we grabbed off the net - it's my personal Xbox 360. I know what you might be thinking - another one? Yeah, another one - but there is a bit more to this story. This Xbox 360 you see above has been used for all of 20 minutes. You see, about three weeks ago my old box 360 crashed and was giving me the three Red Lights of Doom. I sent it in for repair, and today I finally got a replacement. This actually is a replacement - they didn't fix the one I sent in, they just sent me a new one. This one happened to have been manufactured on 8/15/2007. Anyway, I got it in the mail, hooked everything up, went through the Dashboard configuration, and started playing a demo. Fatal Intertia. We got tired of that after about ten minutes, and decided to boot up the demo of Stranglehold. We got through the opening sequence when everything froze. Fair enough. I had to manually turn the Xbox 360 off because it wouldn't even respond to the guide button. I turned it back on, and was presented with yes another Three Red Ring Circus.
Now, if that isn't enough, this flies right in the face of something that Peter Moore told Engadget and Joystiq back at E3 - in mid-July:
I think that there is a lot of confusion with the consumer in exactly how this issue has been remedied. Not just with the extension of the warranty but with the hardware. Exactly what has had to go on to fix the problems that people have been having?

I'm not sure that the consumer needs to understand the complex technical fixes that we need to do for the multiple different problems that come together to create the three flashing red lights. I think the ability for us, all the consumer cares about is my console going to be ok? And if it isn'tm are they going to fix it and take care of it immediately? And if I [already] paid them to fix it, will I get my money back? And the answer is yes to those questions.

But are you guaranteeing or insuring that the systems that are rolling off the assembly lines now and the systems that will be returned to consumers will be fixed properly this time. It won't be a situation where there are multiple replacements.

Yeah. I mean, nothing is perfect, guys. And the other two hardware companies have their problems as well. I can't guarantee everyone in the world that we go fix one thing and then something else [won't] happen. No I'd be stupid to make that guarantee. But I feel very, very good about the quality of hardware now. You guys know this, every day in the factories where we are building these and where we are learning more about it. Sony's very good at it, Nintendo is very good at it, and we're very good at it. You're constantly tweaking, moving parts around, you're renegotiating with suppliers because your goal is to continuously raise the quality of the box, and bring the price down. Because you have to get your costs down to be able to move your pricing to the level you want. If your costs never came down, then price would never change.
So yes, you can't guarantee that something won't go wrong - we get that. But at the very least, Microsoft, you should be able to guarantee that if something like this does happen, that you have some sort of expedited method for dealing with it so that your consumers who spend hundreds of dollars on your hardware aren't sitting without it for 8-12 weeks because of your hardware problems. Also, I think it is a fair expectation that if you said everything would change in mid-July, that a console manufactured a month later would be clear of these issues.
UPDATE: As always, there are trolls who are claiming that this story must be made up, because a console manufactured over two weeks ago could in no way make the 8 hour plane trip from where it was made all the way over to here in Seattle in that timeframe. I must be some sort of Sony or Nintendo fanboy, just making up the story - they want images to prove I'm not lying. I grabbed a couple of shots of the back of the console, which you can check out after the break.
Click to continue reading Apparently That Xbox 360 Red Light of Doom Problem Hasn't Been Fixed

Posted by Steve Van Neil Categories: Action, Adventure, Corporate News, Microsoft, Release Dates, Role Playing Games, Xbox 360,
The long wait for Mass Effect is about to come to an end. Microsoft has announced that Bioware's highly anticipated sci-fi RPG will release on November 20th in North America, exclusively for the Xbox 360. The game, which incorporates GRAW-style action with role-playing elements familiar to anyone who played Knights of the Old Republic, has been one of the 360's most-wanted games since the day it was unveiled. Until now, it had been pegged with the precarious and open-to-delay release time frame of "November." So the news that the game will officially be here in just a few short months is definite cause for celebration.
Read More

| Microsoft's Gamerscore blog


Posted by Steve Van Neil Categories: Action, Bungie, First Person Shooters, Microsoft, Trailers, Xbox 360, Xbox Live,
Any gamer with even an inkling of interest in Halo 3 should head over to Gamersyde right away and check out some of that site's stunning off-screen campaign footage, a sample of which we have posted above. This video shows off the game's unique replay feature, which allows you to record and play back entire levels of the single player campaign, as well as multiplayer matches, at your leisure. Players can then use the footage to analyze their enemy's defenses, exploit weaknesses, and polish their own skills to a Legendary sheen. Note how the Bungie representative in the video uses the feature to check up on the exploits of a group of Marines on the other side of the battlefield! This is awe-inspiring stuff.
Halo 3 hits the Xbox 360 on September 25th, but of course you already knew that.
Read More

| Gamersyde


Posted by Paul Hamilton Categories: Features, First Person Shooters, PC, Reviews, Xbox 360,
The reviews have been coming in for a week now, and they have been phenomenal. Consider that according to GameRankings.com, BioShock is the 4th best game of all time. On Metacritic, BioShock has received more perfect 100 scores than even The Legend of Zelda: Ocarina of Time, usually the game cited as the best of all time. Clearly, 2K's Mature-rated, failed utopia FPS is a critical smash hit.
Perhaps then there is little need for another glowing review of the game. Except this is not a glowing review in the strictest sense, because BioShock is not exactly the masterpiece of perfection indicated by these scores. Instead, BioShock is a wonderful game that happens to draw to light the inadequacies of the way games are typically reviewed and the inherent inconsistencies of how games are judged.
Click to continue reading Is BioShock a Perfect Game?

Posted by Paul Hamilton Categories: CAPCOM, Downloadable Content, Platformers, Puzzle, Role Playing Games, SEGA, Virtual Console, Wii, Xbox Live Arcade,
This week on XBox Live Arcade comes the anticipated and graphically enhanced arcade cult classic Super Street Fighter Puzzle HD Remix. In addition to upping the graphical fidelity on the game, Capcom has also rebalanced the game with the new X' mode, although the original version will also be available. The game will cost 800 Microsoft Points.
On Wii's Virtual Console this week seems to be sequel week, with the Contra sequel Super C (previously available on XBox Live Arcade) for 500 Wii Points, the SNES role-playing classic Breath of Fire II for 800 Wii Points and the Sega Genesis version of Ghouls n' Ghosts, the follow-up to Ghosts n' Goblins for another 800 Wii Points.

Posted by Steve Van Neil Categories: Corporate News, Microsoft, Nintendo, Nintendo DS, PlayStation 2, PlayStation 3, Portable/Mobile, PSP, Sony, Wii,
According to the latest NPD report, the video game industry generated almost a billion dollars of sales in the month of July. Nintendo's Wii led the charge with an absolutely astounding 425,000 units sold. The Wii was followed by the PS2, which sold 220,000 units. The Xbox 360 sold 170,000 units, once again beating the PS3, which sold 159,000 units. On the portable side of things, the Nintendo DS sold a whopping 405,000 units, while the PSP moved 214,000 units. Overall console sales are up almost 43% from this period last year.
All of this begs the question: Where are people finding the Wii in such great numbers? I haven't seen one in a store since the beginning of the year, but somehow Nintendo keeps selling hundreds of thousands of them every month.
Read More

| Next Generation


Posted by Paul Hamilton Categories: PlayStation 3, Sony,
Sony has examined the most recent NPD numbers and, happy with what they saw, are attributing their 61% jump from the previous month's numbers to the PlayStation 3 price drop they announced just prior to E3. They are quick to point out that anticipation for some actual exclusive titles like Heavenly Sword and Warhawk may have helped drive interest in their slow-out-of-the-gate console.
Despite the predictably upbeat tone of Sony's blog post, some have had a less than enthusiastic response to July's NPD numbers since many analysts predicted that Sony was going to beat the Xbox 360's sales in July largely because of the price drop. That the PS3 was still unable to overtake the 360 in sales in spite of a comparatively more affordable price has some worrying that Sony just doesn't have enough market draw to convince consumers to take the plunge. What is plainly obvious now is that Sony drastically overestimated the price the market would bear: It's wallet-busting PS3 has lagged in sales from the beginning while Nintendo's $250 Wii has flown off store shelves consistently for almost a year and as soon as the price went down on the PlayStation, it saw an improvement in units moved.
Read More

| PlayStation Blog


Posted by Steve Van Neil Categories: Action, Adventure, First Person Shooters, PC, Puzzle, Take2, Xbox 360,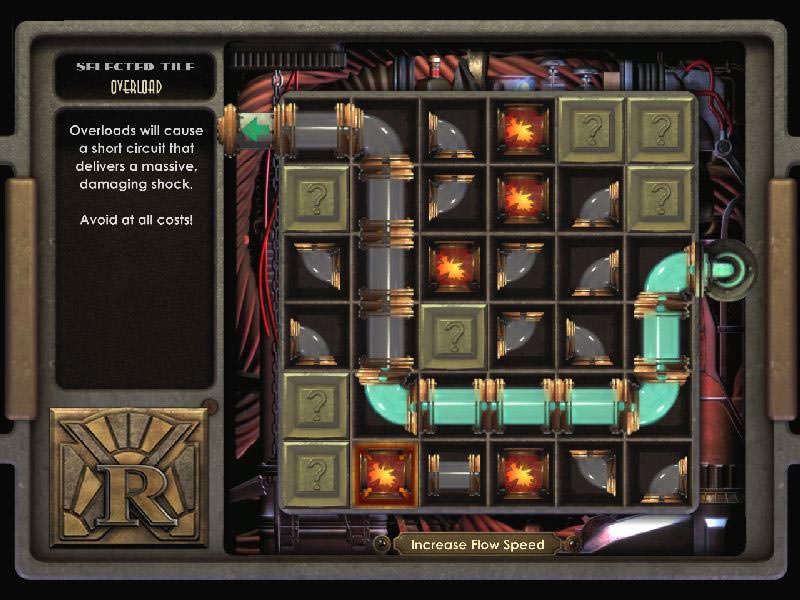 Everybody loves BioShock. From the whale-like moans of the Big Daddy to the thrill of smashing a frozen Splicer into little bits, the game is quality. However, one aspect of the game that isn't thrilling everyone is its hacking mechanism; if you want to break into a safe or turn enemy turrets into your own mechanized defense force, you first must succeed at a hacking minigame that plays a lot like the Lucasfilm Games classic, Pipe Dream. Well, as it turns out, BioShock's own big daddy, Ken Levine, is also not in love with the mechanic. Shacknews sat down with Levine for an interview and got his take on it.
It's a little out there. That's why it was important that you could bypass it in two ways; you can buy it out or you can use the hack tools—or you can just ignore it. There's only one hack you have to do in the game.

But I think if we could go back and do it again, we would have maybe rethought that a little bit. I think it was more a function of our limitations at the beginning of the project when we had a very limited budget, and then we zoomed in so many other areas that we sort of forgot to go back to that area.
The purely non-spoiler interview, linked below, goes on to cover all things BioShock and is well worth reading.
Read More

| Shacknews


Posted by Steve Van Neil Categories: Driving, Microsoft, Release Dates, Simulation, Xbox 360,
Bizarre Creations' Project Gotham Racing series has always masterfully toed the line between out-and-out arcade racing and actual driving simulations. And now, with the fourth installment in the series and second for the Xbox 360, Bizarre is adding motorcycles to the mix. Yes, the road isn't just for four-wheelers anymore, as the scruffier set can now take to the streets of St. Petersburg, Shanghai, and Macao (to name a few cities) and snatch up those elusive Kudos. Throw in dynamic weather effects and a revamped career mode, and you've got the 360 PGR that we should have gotten the first time around. Better late than never, I suppose.
PGR 4 speeds onto the Xbox 360 in North America on October 2nd, and in Europe on October 12th.
Read More

| Xbox.com


Posted by Steve Van Neil Categories: Action, CAPCOM, Fighting, PC, PlayStation 3, Trailers, Xbox 360,
Capcom has just released a new trailer for its highly anticipated action game sequel. The clip runs about two minutes and contains no actual gameplay footage. Strangely, it does show cinematic footage of our hero Dante getting thrown, punched, and kicked in the face over and over again in what appears to be a training exercise. Devil May Cry 4 hits next year, with this and lots of other bits of weirdness, on PS3, Xbox 360, and PC.
Read More

| Capcom

© Gear Live Inc. – User-posted content, unless source is quoted, is licensed under a Creative Commons Public Domain License. Gear Live graphics, logos, designs, page headers, button icons, videos, articles, blogs, forums, scripts and other service names are the trademarks of Gear Live Inc.