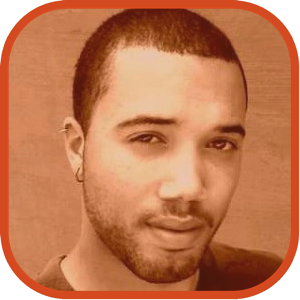 Posted by John Kilhefner Categories: Casual, Nintendo, Wii,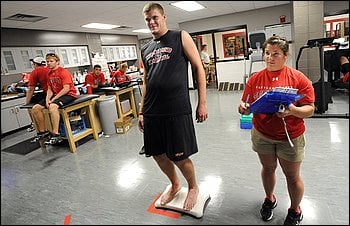 In an effort to change the negative stigma associated with rehabilitation, many universities are opting for a more playful approach in their physical therapy routines. To this end, the Wii Fit is employed as a "frame of reference" for college athletes. The athletes replicate a series of yoga positions, repeating each stance twice, once with their eyes closed. The next test involves shifting their weight to get on-screen marbles to fall into their respective holes. These balance scores are recorded, and in the event an athlete is injured they will serve as "base scores" for an athlete to replicate before being deemed fully recovered.
The director of research at the Ohio State Sports Concussion Program, Tamerah Hunt, had this to say:
"The athletes love it because what we've done is we've incorporated this fun game that they're playing at home into their rehab system. But they're also enjoying it at a time when they're injured or at a time when their spirits are down, and they have to come into the athletic training room every day and they have to get all this treatment ... and it's kind of a reaction of, 'Oh, this is fun.' "
And who ever said all video games did is hurt people?
Read More

| The Washington Post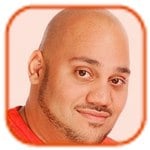 Posted by Andru Edwards Categories: Accessories, Hot Deals, Microsoft, Video Games,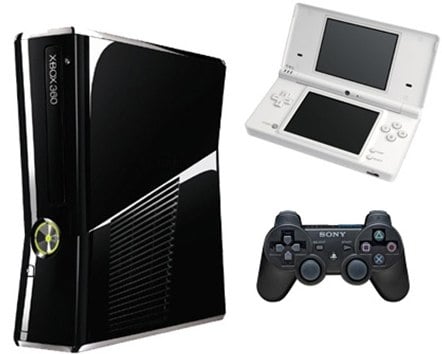 If you're a gamer looking to pick up a new console or some accessories, then today's Deal of the Day is for you. Whether you are looking for a 250GB Xbox 360 slim, the black or white Nintendo Wii summer 2010 bundles, or a Nintendo DSi, you can pick them all up at a nice discount. If the Xbox 360 or DSi are on your radar, you can grab them for $20 off their normal price. If you're more focused on the Wii side of things, you can get a new Wii bundle for $30 off the normal price. In addition, you can get Wii Fit Plus with the Balance Board for $25 off, and a Sony PS3 controller for $20 off as well! Hit the link for all the details.
Save up to 40% off XBox 360 slim, Wii, Nintendo DSi and gaming accessories!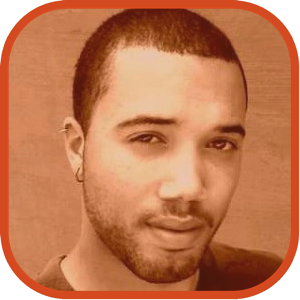 Posted by John Kilhefner Categories: Corporate News, Hardware, Nintendo, Wii,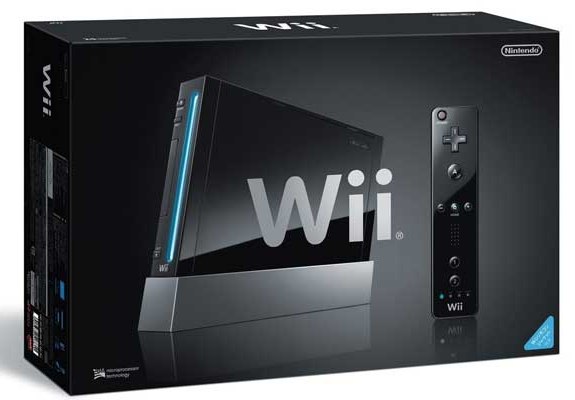 Nintendo proudly announced yesterday that their Wii console has earned its place in history as the fastest selling home console ever to grace the market with an amazing 30 million units sold. This should come as no surprise as the Wii has dominated both the immensely popular Xbox 360 and PS3 almost every single month since its release. Thanks are primarily due to the casual aura surrounding the Wii, promising accessibility to both children and adults.
The Nintendo Wii's influence can even be seen in the recent motion technology developments that both Sony and Microsoft are unleashing on retail later this year. With Wii's innovation, there would be no Kinect or Playstation Move. It seems that Sony and Microsoft want to ride this cash cow all the way to the bank in similar fashion to the way filmmakers are riding the 3D wave.
Also, the top ten best selling Wii games were announced, and the list comes with a bit of a surprise. Topping out at the tenth best selling game is the beloved Legend of Zelda hero, Link, in the form of Link's Crossbow Training, instead of his own full length game, Twilight Princess. Either way, congratulations are in order for Nintendo. Perhaps a round of Mario Party? Full game list after the break.
Click to continue reading Nintendo Wii is the Fastest Selling Console of All Time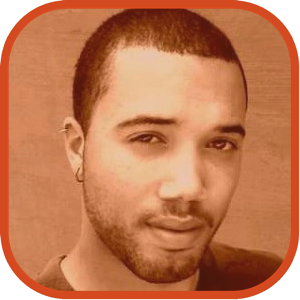 Posted by John Kilhefner Categories: Nintendo, Platformers, SEGA, Trailers, Wii,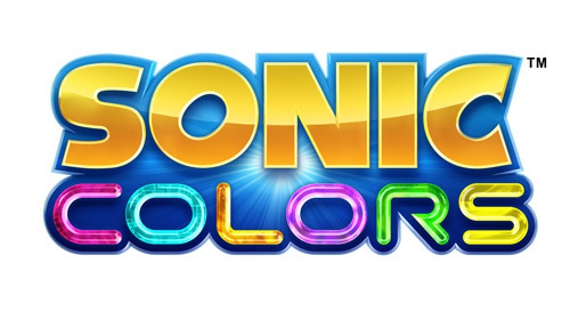 The last 3D Sonic game, entitled Sonic Unleashed was a fairly experimental romp in the blue hedgehog's universe. While the Sonic levels moved at blistering speeds with perspective transitioning from full 3D to side scrolling, the were-hog sections screeched the pace of the game to an alarming halt. Levels could take as long as 20 minutes when using the were-hog, and its slow pace just didn't seem fitting for a Sonic game. However, between releasing a new 2D Sonic this fall, and now 'Colors', it seems SEGA is finally listening to its loyal fans.
With Sonic Colors, SEGA chooses to ditch the bogged down were-hog levels, while beefing up the Sonic-only single player run through. The lightning fast speed and switch to 2D perspectives are back again in this new chapter, as are a few new moves for our spiky haired protagonist to dispose enemies with. These new abilities are acquired by freeing 'Wisps'. Wisps are creatures that look similar to the Chaos from the Adventure series. Different color Wisps lend various abilities to Sonic. For instance, the yellow Wisps provide Sonic with an all new drill ability that allows Sonic to tunnel through sand finding hidden items and new areas to explore. Another cool ability shown in the new trailer is the cyan laser skill, obtained from the cyan Wisp, of course. This allows Sonic to move at an uncontrollable laser speed, wreaking havoc on Eggman's robotic creations.
The new trailer depicts these new abilities, and shows Sonic in rare form for a 3D adventure. Let's hope that the blue blur is back, and won't fall prey to annoying gimmicks or crappy level design. Look for Sonic Colors to hit stores November 12, 2010. Oh, lets try to do something about that theme song, SEGA! Catch the trailer after the break.
Click to continue reading Sonic Colors Trailer Shows Off Sonic's New Moves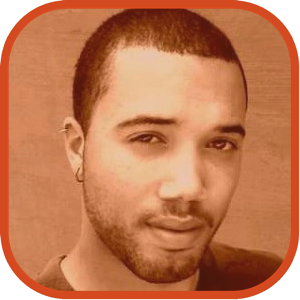 Posted by John Kilhefner Categories: Action, Activision, Nintendo DS, PlayStation 3, Wii, Xbox 360,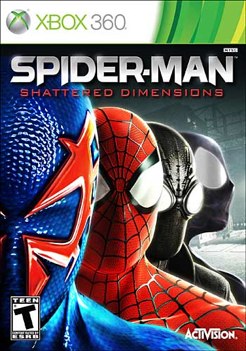 Spider-Man: Shattered Dimensions is Activision's way of trying to please fans of Spidey all across the spectrum. This game is more like four games in one, as you fight through different universes each with their own take on the Spider-Man character. Noir Spider-Man, for example, is a 1930s version of the webbed head crusader. When you play in this universe you will notice the lighting is very dark à la film noir, and the game play is centered around stealth rather than action. The Amazing Spider-Man universe flips this on its ear and chooses full frontal action as its main source of game play. As amazing Spidey you will encounter waves of baddies looking to get their skulls crushed by the non-stop assault of fists and webs you will throw at them. No creeping around in the shadows here. Ultimate Spider Man finds Peter Parker donning a black suit in a cell shaded visual style. Here your suit is your main means of offence against the waves of baddies. With the black suit you will smack, slap, and spike your way to victory. While 2099 Spider-Man takes the universe to the future, where Spidey aerially duels with robotics and other variety of baddies in amazing futuristic cities.
Whether Activision can pull off this four narrative adventure to please the hardcore and mainstream fans of Spidey while making a great game is yet to be seen. Look for this to hit stores September 7, 2010. If you pre-order it on Amazon you'll get a concept art book and unlock the Iron Spider-Man costume as a bonus.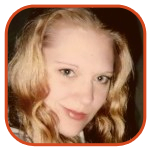 Posted by K.C. Morgan Categories: Comedy, Music, Prime Time, FOX, News,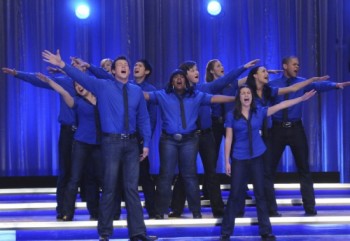 Want to sing a duet with Rachel Berry, or take her starring spot in New Directions? Thanks to a new Nintendo Wii game, you too can become part of the Glee club.
Karaoke Revolution Glee! will feature 35 songs as seen on the series. You and your friends will croon duets and group numbers, along with plenty of power ballads for solo singers. The game will be released this fall.
That gives you a few weeks to practice, so set up your video camera and start belting tunes from Les Miserables.
Read More

| E! Online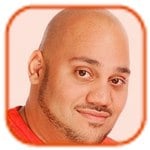 Posted by Andru Edwards Categories: Activision, E3, Music, PlayStation 3, Wii, Xbox 360,
We were big fans of the original DJ Hero, so you can bet that we're really excited about DJ Hero 2 and all the enhancements that come with the title. Launching this fall, DJ Hero 2 aims to be more social than the original by focusing on multiplayer aspects. Obviously, in the trailer, you've got three people playing together—two of them using turntable controllers, and the third singing into the mic. As far as artists features in the game, you can expect names like Dr. Dre, The Chemical Brothers, Kanye West, Metallica, Lady Gaga, Rihanna and over 85 others.
Another complaint about the original DJ Hero was that you kind of had to stick to the script. A big part of DJing is freestyling your way to creating your own sound. In DJ Hero 2, that's fixed as well, with over 70 tracks available for you to do your will with. We will hear more about the title at E3 next week, and seriously, fall can't come soon enough.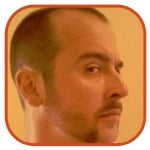 Posted by Finnian Durkan Categories: Accessories, Nintendo, Wii,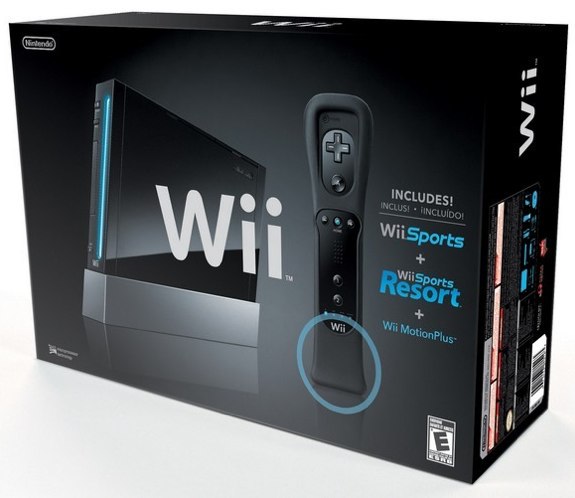 Getting tired of your standard-issue white Wii console? Well then fret no more, your prayers have been answered. Today, Nintendo announced the release of its new Black Wii, a console that will come packaged with Wii Sports, Wii Sports Resort, and the control-enhancing Wii MotionPlus accessory. Both the new black edition, available stateside May 9th, and all subsequent white consoles will still sell for $199, and both models will come with the aforementioned games and accessories included. If I were you, I would go for the black one—white Wii consoles just scream "I'm stuck in 2007! Want to spend $4 a gallon on gas with me?"
You can order the Black Wii on Amazon now.
Read More

| Black Wii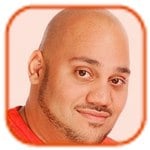 Posted by Andru Edwards Categories: Accessories, Nintendo, Wii,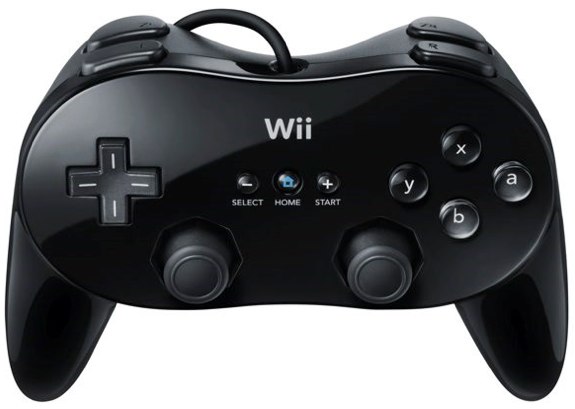 If the original Wii Classic Controller was a bit too small for your meaty hands, you'll be pleased to know that Nintendo has stayed true to their promise to ship the new, larger Classic Controller Pro by April. You can get in on the action now, as Amazon has both the black and white models in stock and ready to ship at a cost of $19.99 each.
Read More

| Wii Classic Controller Pro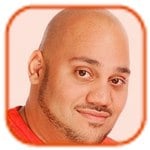 Posted by Andru Edwards Categories: Home Entertainment, Movies, Video Games,

Our inbox has been blowing up with a bunch of readers letting us know that the Netflix Instant Streaming discs for Wii have finally started shipping. Netflix has been sending emails to members who signed up to receive the disc, letting them know to expect it to arrive in the mail tomorrow. Exciting for Wii owners who don't own any other Netflix-enabled device, since the Wii is pretty much the only modern Netflix streaming device that doesn't support high definition playback.
© Gear Live Inc. – User-posted content, unless source is quoted, is licensed under a Creative Commons Public Domain License. Gear Live graphics, logos, designs, page headers, button icons, videos, articles, blogs, forums, scripts and other service names are the trademarks of Gear Live Inc.