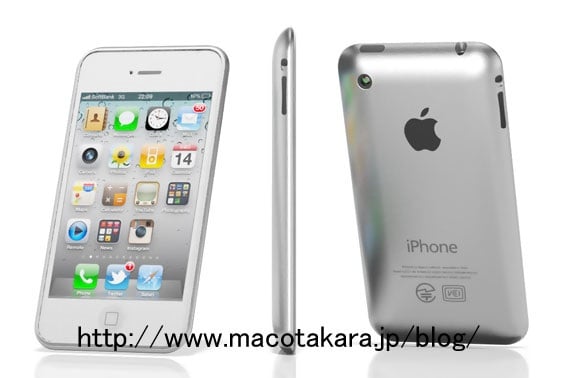 The iPhone 5 might not make its debut until October or later, according to a Monday report.
Citing a translated story on Macotakara.jp, AppleInsider said today that Apple has not yet ordered components for the next-generation iPhone. As a result, the iPhone 5 might be planned for Apple's 2012 fiscal year, which begins on September 25.
The Macotakara report predicted an iPhone 5 launch in the first half of fiscal 2012, but as AppleInsider notes, Apple probably won't miss the opportunity for holiday season sales, making an October or November launch most likely.
The iPhone 4 was released at last year's Worldwide Developer Conference in June, but this year, the focus will be on software, according to Apple.
Click to continue reading Rumor: No iPhone 5 this summer, fall debut instead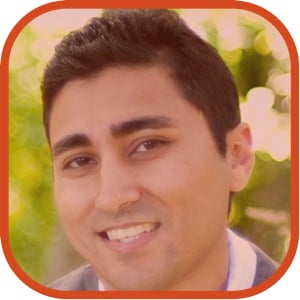 Posted by Reza Malayeri Categories: Apple, Cell Phones, Corporate News,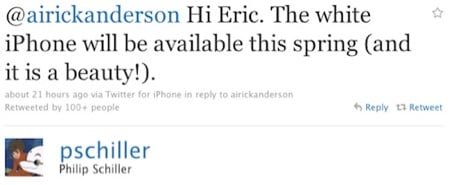 It looks like Apple executive Phil Schiller let the cat out of the bag on the white iPhone release date over the weekend. He promised a spring release date for the white iPhone. Apple has delayed the launch of the white iPhone 4 several times for various reasons. The problem with the device was "light leakage" from around the edges of the glass. The white paint on the iPhone was causing light to leak, and Apple developed a special manufacturing process to combat the problem. There were also rumors that Apple was not happy with the original shade of white that was being produced at the manufacturing plant.
Click to continue reading Phil Schiller confirms white iPhone 4 set for Spring launch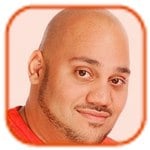 Posted by Andru Edwards Categories: Apple, Design, Handhelds, Rumors,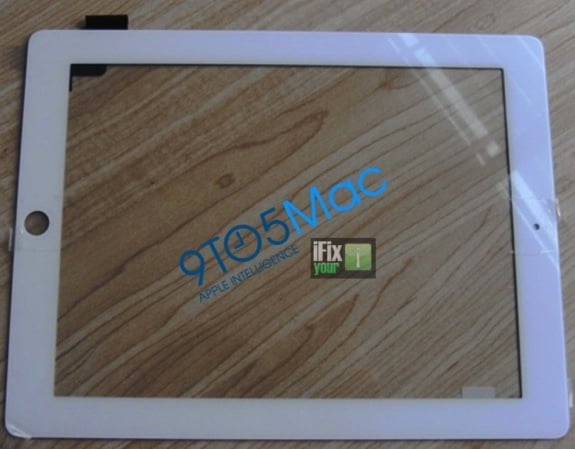 We're days away from Apple's March 2 press event, where Cupertino is widely expected to unveil its next-generation iPad. Not surprisingly, the rumor mill is still churning out stories, and today's tidbit is that Apple will unveil a white iPad.
Blog 9to5Mac got its hands on photos of what it says could be second-generation iPad parts - and the frame is white.
Of course, Apple has thus far failed to deliver on its promise of a white iPhone 4; the latest prediction is sometime this spring. Would it really unveil and start selling a white iPad before delivering the white iPhone 4? Or will both devices hit the market at the same time?
All our questions should be answered by Wednesday. For now, all we have is the wild speculation that happens before every big Apple event.
Click to continue reading Will we see a white iPad this Wednesday?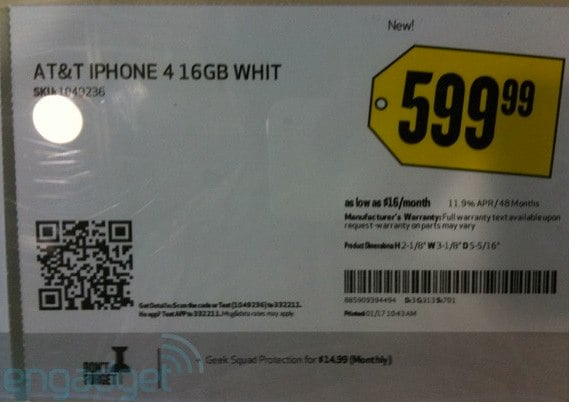 We know that the white iPhone 4 has pretty much been like a unicorn by now, originally promised by Apple almost 8 months ago, and still nowhere to be found. However, it looks like that's about to change, as big box retailers like Best Buy and Canada's The Source have actually started making space on store shelves for the elusive smartphone. When they delayed the white iPhone 4 for the third time, Apple said it would appear this Spring. It started showing in Best Buy and AT&T inventory a couple of weeks ago, and the fact that stores are making room give some credence to the rumors that we might be seeing the white model finally available to anyone who decided to wait this long--but seriously, if that's you, you may wanna just wait for the next iPhone to drop in a few months.
Read More

| Engadget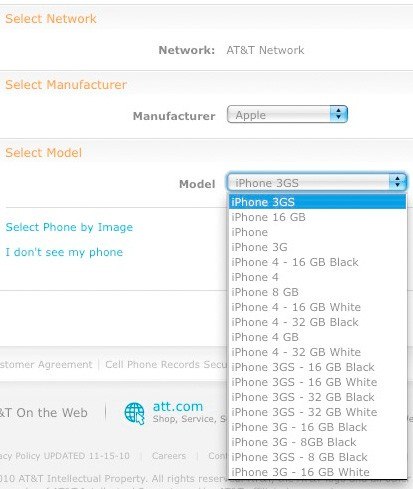 Last we heard from Apple on the white iPhone 4, it had been delayed for a third time, set to debut this Spring. However, the mythical phone has finally started appearing in the inventory management systems of places like Best Buy, Vodafone Germany, and AT&T. With AT&T, customers can even log in right now and see the white models listed in the model picker in the account management area. This is likely a sign that Apple is finally ready to unleash the white model upon us, but really, who wants to buy a white iPhone 4 now when iPhone 5 is right around the corner? Anyone?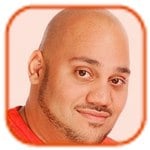 Posted by Andru Edwards Categories: Accessories, Apple, Cell Phones, Features, Handhelds, Home Entertainment, Microsoft, Video Games, Videos,
2010 will come to an end in just a few short hours, and we are just in time with our annual top 10 list of the most-watched Gear Live video episodes. Over the past year, as expected, there was a bunch of Apple gear that made the list, but Microsoft gets the top two spots with our Xbox 360 dashboard tour, and the an unboxing of the new Xbox 360 slim. Also getting an honorable mention is the Samsung Galaxy Tab and the Popcorn Hour Popbox, among others.
Oh, and if you wanna be sure to get our new video episodes as they come out in 2010, be sure to subscribe to us in iTunes, on YouTube, or in your RSS reader!
Also, you can check out the top ten videos from 2009, 2008, and 2007!
Click to continue reading Top 10 Gear Live Videos of 2010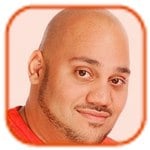 Posted by Andru Edwards Categories: Accessories, Apple, Cell Phones, Editorial, Features, Software,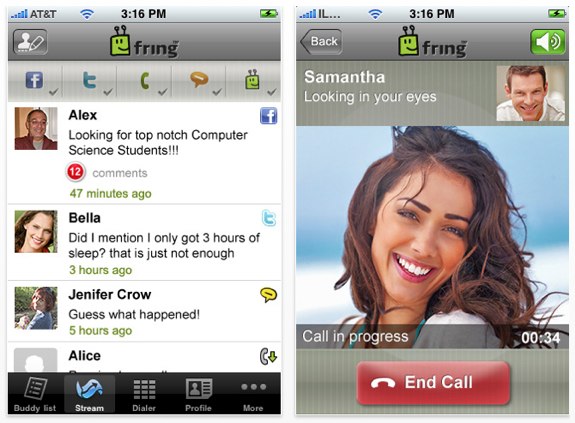 We've come to the end of another year, and as we wave goodbye to 2010, we figured it was only fitting that we share the most popular stories published on Gear Live in 2010, as determined by our readers (we've also got the top ten most read stories regardless of publish date!) These are the ten stories that were read the most, and when you consider that fact, it's pretty surprising to see what made the list. Let's kick it off with our most read story of the year:
Fring App Brings Skype Video Calling to iPhone 4 over Wi-Fi and 3G:
Sure, Skype just formally announced video calling in the Skype 3.0 iOS app, but Fring brought us Skype video calls months ago! The thing is, Skype pulled that feature from Fring with the quickness, but that didn't stop this from being the most read story we published in 2010!
Click to continue reading Top 10 Gear Live stories of 2010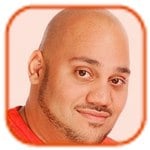 Posted by Andru Edwards Categories: Apple, Cell Phones, Corporate News, Handhelds, Rumors,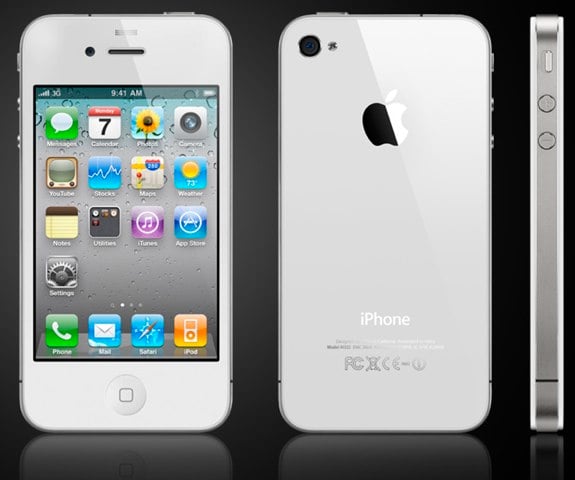 Last night, Apple put out a statement saying that the white iPhone 4 would be delayed again, this time until Spring 2011. This would mark the third time that the white device would be delayed by the company due to manufacturing issues. Apparently, the culprit behind this is that the white glass lets a little too much light through to the inside of the phone, which leaks into the camera sensor and results in washed-out images. The odd thing here is that we all expect that the next iPhone, iPhone 5 or whatever it may be, will be launching around June. Will Apple really release the iPhone 4 in a new color so close to the end of its cycle?
In the meantime though, we've had our white iPhone 4 for a while now, and we've seen no image quality differences between the our white model and black model. In fact, if you wanted one, you could get a white one yourself. Have a look at our white iPhone 4 video coverage for details.
Click to continue reading Apple delays white iPhone 4 release for the third time
Read More

| Reuters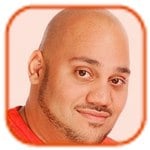 Posted by Andru Edwards Categories: Gizmatic, Apple, Cell Phones, Design, Features, Podcasts, Videocasts, Videos,
We've got our hands on a white iPhone 4, and we give you a look at the device in this episode. Apple delayed the white iPhone 4 at launch, and then delayed it a second time due to manufacturing issues. We go over some of those issues in this video. We also tell you how you can get your black iPhone 4 converted to white, or how you can just get a white one outright. If you're interested in getting your black iPhone 4 converted, or buying a white iPhone 4, here are the details:
Contact Joshua Drenter at whiteiphoneconversion@yahoo.com The base conversion is $300. The full conversion, which includes the white dock port and headphone jack (so the phone is identical in every way to the white iPhone) is an additional $120. Anyone who mentions Gear Live gets 10% off!
Big thank you to JackThreads for sponsoring the show - be sure to check them out, we've got exclusive invite codes that give you $5 to use towards anything you'd like.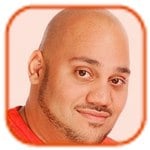 Posted by Andru Edwards Categories: Apple, Design, Features, Handhelds,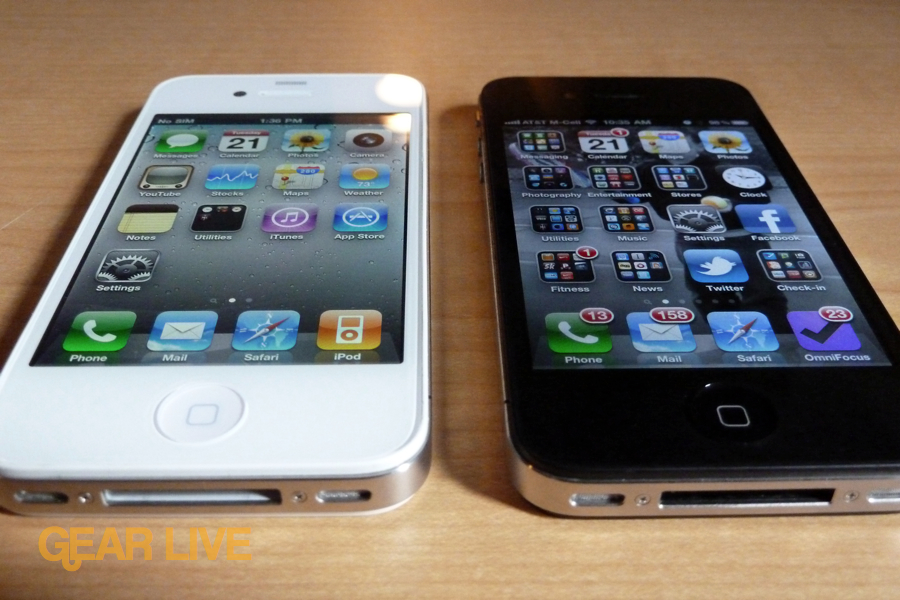 A few days ago we hit you with our white iPhone 4 hands-on gallery, giving you an up-close look at the device as it stands on its own. Today we've put together a gallery showing the yet-to-be-released white iPhone 4 next to the currently available black model. Go ahead and look through the images to see not just the obvious differences (you know…the white front and back of the device,) but also the more subtle ones. Things like the dock connector and headphone jack are also white, unlike what you'd find on the black model.
If you want to get your hands on a white iPhone 4, we'll be sharing details soon on how you can get your hands on one, or get your black model converted with white parts. If you're interested, let us know in the comments!
Gallery:
© Gear Live Inc. – User-posted content, unless source is quoted, is licensed under a Creative Commons Public Domain License. Gear Live graphics, logos, designs, page headers, button icons, videos, articles, blogs, forums, scripts and other service names are the trademarks of Gear Live Inc.