As the final three celebrities waited to hear the results, the finale of I'm a Celebrity, Get Me Out Here proceeded…with a ton of clips.
Out of thirteen who came to Costa Rica, only John Salley, Lou Diamond Phillips and Torrie Wilson remain. This outcome was determined at Tuesday's elimination, which saw the end of Sanjaya Malakar and Patti Blagojevich in the competition. At intervals during the finale, live cameras showed this group of three sitting around the fire, silently waiting for whatever would come next.
For this season ender, the competitors of the season - minus Frangela - returned or remained in Costa Rica to gather for the cameras. "I been callin' every day, trying to get back in," Spencer Pratt told the hosts.
Click to continue reading Finale: I'm A Celebrity Gets Out of Here
Thirteen celebrities were deposited in Costa Rica. By the end of Tuesday's episode of I'm a Celebrity, Get Me Out Here, only three would go on to compete to win the show - and a slew of money for their charities. With five remaining and two slated for departure, emotions were running high among the campers.
"It's been a great time," Lou Diamond Phillips told the camera, though spirits were low with the end in sight - and elimination still looming in the future.
Celebs shared favorite moments around the campfire as clips played for our amusement, reminding us of the funny, tense and surprising events that have happened during this season. Some have made friends, some have made enemies, some have learned just how far they can push themselves, and others learned they can't push themselves at all. But only one of them will win.
Click to continue reading I'm A Celebrity Narrows Down a Final Three
With two less divas in the jungle, Costa Rica is a little quieter on I'm a Celebrity, Get Me Out Here. More would go missing before the end of the Monday episode - but that wasn't the only surprise NBC was waiting to spring on viewers.
Janice Dickinson and Holly Montag were taken out of the contest at the end of last week's episodes, which eliminated at least one problematic contestant. The celebs were sorry to see Holly go, though in a way it's only fair as she joined the competition at least one week after everyone else arrived. Sanjaya Malakar, who'd developed a close friendship with the Montag sis, was especially sad when she left. Malakar, close to Dickinson as well, was drained by the experience.
"Janice Dickinson has been like a thorn in my paw," John Salley admitted in the confessional. For most, there was something of a joyous atmosphere in the air after Dickinson trekked down the elimination bridge.
Click to continue reading I'm A Celebrity: Surprising Switch Ups in the Jungle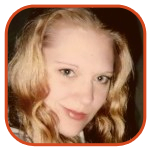 Posted by K.C. Morgan Categories: Prime Time, Reality, NBC, Gossip,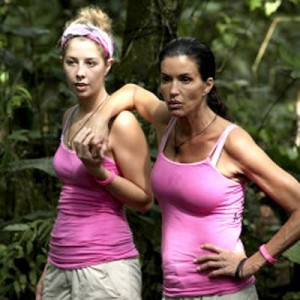 At the beginning of Thursday's I'm a Celebrity, Get Me Out Here, the celebs were all abuzz with the partially-revealed elimination results. Janice Dickinson is not in the top two; Patti Blagojevich is not in the bottom two. Or so it stood Wednesday night. At the end of the episode, two would leave the competition.
The hosts returned the next morning to reveal another twist: the teams have been merged into one group. This means challenges will be conducted individually. Janice Dickinson was in a very bad mood after it was discovered that she was not in the top two. Holly Montag confronted Dickinson about her grumpy attitude and the two were easily able to bury the hatchet, though Janice poked fun at Holly's reaction during her confession a little later.
The first individual food trial was Mud Pit Mania. Each celeb was asked to dress in wrestling clothes for the event, and all seemed to have fun getting themselves ready. The food prize for this challenge was pizza - quite the treat for several half-starved celebs.
Click to continue reading Two Celebrities Eliminated from Costa Rica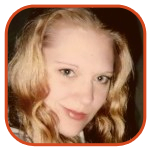 Posted by K.C. Morgan Categories: Prime Time, Reality, NBC, Gossip,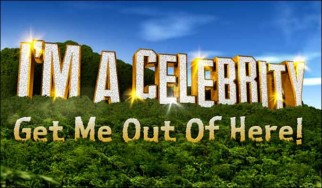 John Sally's decision to give himself immunity was the first big topic of discussion on Wednesday's I'm a Celebrity, Get Me Out Here. The phone lines and Web site are now open to accept votes. Just like on American Idol, viewers are asked to support the celebs they want to keep on the show - not the ones they'd like to eliminate.
Janice Dickinson suffered a bad dream the next morning, and shared a conversation about Jesus with Stephen Baldwin as a result. "I don't want to be who I am," she sobbed at one point.
"God can change all that, dude. For real," he told her.
The celebs were given charcoal and paper with which to do sketches of themselves in the jungle. Janice drew herself lying down and staring at the camera, while John saw himself in the river. Stephen drew a stick figure of himself with the Bible. Sanjaya also drew the river, which he finds very"serene." Holly, too, drew Sanjaya in the river, both of them with their arms up in the air. Patti drew herself sitting in the river with John Salley. After spending so much time in the jungle, the celebs are starting to feel like a family - albeit, dysfunctional.
Click to continue reading Which Celebrities Will Survive Elimination?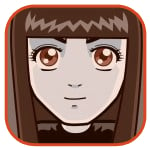 Posted by Sheila Franklin Categories: Sales, Site Announcements,

The 2008 Best App Ever Awards is the first for iPhone OS Applications. The goal of the competition is supposed to be to draw attention to the best available from the App Store, but it certainly won't hurt sales. Although the nominations are over, you can still vote in 34 categories with 10 apps in each this week.The winners of the achievement awards will be announced January 7 at the 2009 MacWorld Expo.
Read More

| Best App Ever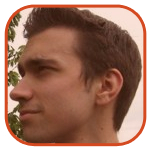 Posted by Steve Woodhead Categories: Elections, History,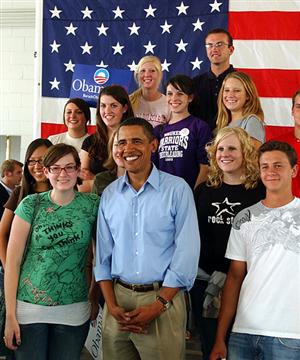 Despite all the talk about having a candidate that inspired the youth vote, brought out the black vote out in droves, and was one-half (or four-fifths, or the whole enchilada, depending on who you're reading) of the most fevered and costly campaign in US history, America watched the election with bated breath, and voting day finally yawned, scratched itself, and rolled over. In other words, it mustered only the energy to increase the voter turnout by a fraction of a percent.
Ouch.
Read More

| CNN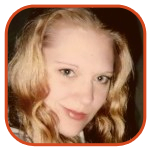 Posted by K.C. Morgan Categories: Photos, Breaking News,
Limited edition Star Wars action figures. The Princess Diana beanie baby. Every so often, there comes along a must-have toy that's made for those who remain kids at heart. But they're not called toys - they're called collector's items, and that makes obsession okay. For those who love the idea of the ungettable, Christmas just came early. Believe it or not, the minds behind Cabbage Patch Kids actually found a way to make John McCain look cuddly.
Four new dolls have recently been unveiled by the famous toy line, one-of-a-kind creations that some collectors would stoop to almost any means just to own. Your favorite candidate may not win the upcoming election…but they could score a spot in your curio cabinet.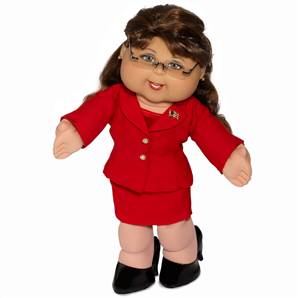 That's right: there's a Sarah Palin Cabbage Patch Kid doll. She's wearing a red power suit, fashionable glasses and a big smile. Her arms seem spread open, almost as if to offer a hug. It's every bit as adorable as buyers might want it to be.
Click to continue reading Cuddle the '08 Candidates - Cabbage Patch Style
Read More

| Popeater


Posted by Dennis Velasco Categories: Elections, Humor, Videos,
Okay, I get the message… I need to vote. Considering that I already plan to vote as I have every single time when I've HAD TO (yes, I say it like my life depends on it because it sort of does), I can totally ignore the depth behind the surface of this video and totally just focus on the facade. And that facade is HOT! Seriously, you have Jessica Alba and a bubbly Hayden Panettiere (she's legal now, right?) promoting A MUZZLE! I'm not saying I'm into S&M or anything like that (but check out the website for this - TheMuzzler.com), nor do I approve of the symbolic "a girl should just look pretty and not speak" (remember, I'm not about depth in this post), but these two can make anything look HOT!
Have I emphasized the hotness of this yet?
In all seriousness, I can appreciate it when people, whoever they are, can go against the grain and make fun of themselves to whatever degree. And while Alba and Panettiere do it well, in the end, it really is a funny video with a very strong message for people, especially the youth, to go out there and vote. SO young people, please register and vote. Damn, I guess I lied about not looking for the depth in this video.
I just figured that your life depended on voting as well.

Posted by Dennis Velasco Categories: Elections, Videos,
What better way to start a politics blog other than to urge all of you to vote. And who better to do it than the "gods" of our society - celebrities. Usually, the more outspoken celebs lean towards the left, but this video is a non-partisan pitch for the youth to register and use their power to elect the next President of the United States of America. In the video you will see (in alphabetical order): Amy Adams, will.i.am, Jennifer Aniston, Kevin Bacon, Halle Berry, Kate Bosworth, Kevin Connolly, Courteney Cox, Ellen DeGeneres, Leonardo DiCaprio, Jamie Foxx, Jonah Hill, Dustin Hoffman, Anthony Kiedis, Ashton Kutcher, Adam Levine, Laura Linney, Eva Longoria, Tobey Maguire, Demi Moore, Natalie Portman, Giovanni Ribisi, Ethan Suplee, Kyra Sedgwick, Michelle Trachtenberg, Usher, and Forest Whitaker. Check it out and get off your butts! Registration deadlines for some states are only a day or two away! Let's make a difference.
© Gear Live Inc. – User-posted content, unless source is quoted, is licensed under a Creative Commons Public Domain License. Gear Live graphics, logos, designs, page headers, button icons, videos, articles, blogs, forums, scripts and other service names are the trademarks of Gear Live Inc.