Posted by Chris Cardinal Categories: CES, CES 2007, Home Entertainment,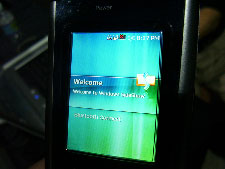 Interlink Electronics showed off their prototype Windows Vista SideShow remote, which allows you to browse your playlist, check your email, change songs or view your Media Center TV guide from the remote itself, without disturbing the regular TV playback of the host box itself. The remote had a very nice, full-color screen and a lithium-ion battery that could charge over USB. It wasn't as ergonomic as, say, a TiVo peanut, but it wasn't terrible. It connects over Bluetooth, and they managed to drain its battery through 3.5 solid hours of use, which we'd think defies a normal usage profile for a remote. It's coming Q2 2007 and should retail for under $200.

Posted by Chris Cardinal Categories: CES, CES 2007, Features, Microsoft,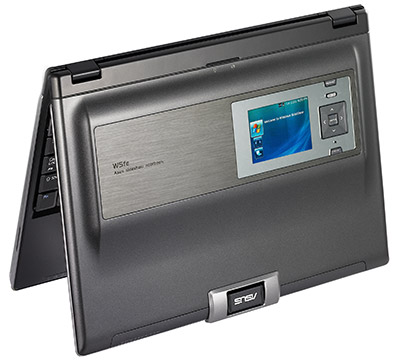 One of Vista's new features, in addition to superior power and boot management for notebooks, is the SideShow add-on. Asus' W5Fe is the first to include the technology: An externally visible, cover-mounted display that sits quietly, looking forlorn while displaying information to you "at a glance" and asking you why you don't just open it up and use the computer proper. ("Battery and convenience," you say, trying to comfort it.) "I feel like you're taking me for granted; toiling all day to provide you with occasional weather and email updates, on a tiny screen that should make you smile, but only makes you wax quizzical, curious and questioning how you ever let the salesman talk you into this upgrade."
"We've had this discussion before, SideShow. I appreciate that I can play simple games and check RSS feeds and emails from you. I just wish that you would do something truly useful, like send this data to my cell phone."
Fortunately, the SideShow platform allows for such possibilities, but until someone makes use of it, having an external display for something like this just seems silly, and the Asus W5Fe probably knows it.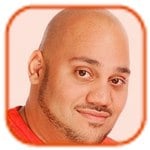 Posted by Andru Edwards Categories: Announcements, Apple, Features, Microsoft, Misc. Tech, Product Reviews,
A few people have asked for it, so we figured we would deliver. We put out a lot of posts in 2006 here at Gear Live, and we want to shine a light on those that rose to the top of the pack. These are the most read stories on Gear Live in 2006, figuring in our entire back catalogue of posts:
Now don't think we would stop there. We have also created another Top 10 list, this one consisting only of articles that we published within the 2006 calendar year. For the full list, hit the jump.
Click to continue reading A Look Back At 2006's Most Popular Gear Live Stories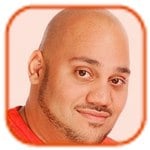 Posted by Andru Edwards Categories: Announcements, Microsoft, Software, Videos,
Click To Play
Here you go guys, the full, entire video that was sent to us by "Loki" - the Enigma Director - as part of Microsoft's Vanishing Point game. Give it a watch, and see if you can pick out any clues that we may be missing. So far, we have shown you what Loki sent us - the Vista Media Center computer, and laid out all the Vanishing Point clues that we have so far in video. All that's left for you to do is continue brainstorming, and continue watching for clues. Who knows, maybe you'll win.
If you enjoyed this video, please Digg it.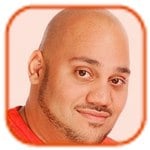 Posted by Andru Edwards Categories: Announcements, Features, Home Entertainment, Microsoft, PC / Laptop, Software,
Okay guys, something is definitely up at Microsoft as far as it pertains to the launch of Windows Vista. It looks like they are putting quite a bit of their marketing budget behind a very "outside the box" way of spreading the buzz - and we aren't talking about full-page spreads in PC Magazine. Earlier today, DHL dropped off a ridiculously large box at the Gear Live headquarters in Seattle, WA. We opened it up, and found a brand new, Windows Vista-based Media Center PC. This particular one is made by Velocity Micro, and it's loaded to the max.
Now, normally, this is nothing out of the ordinary, as we tend to get a multitude of deliveries each and every week that we review, unbox, and give our overall impressions on - but this was different, as a fairly cryptic note was included in the box that read:
Click to continue reading Microsoft Goes Viral With The Vanishing Point, And We Are In It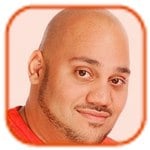 Posted by Andru Edwards Categories: Features, Home Entertainment, Microsoft, PC / Laptop, Software, Videocasts, Videos,
Read More

| The Bleeding Edge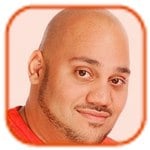 Posted by Andru Edwards Categories: Full Episodes, Gizmatic, Features, Microsoft, PC / Laptop, Software, Videocasts,
So this Vanishing Point thing that Microsoft has going on is in full swing. Some think it's silly, others are intrigued. Us? We think it's an extremely ingenious way for them to get the buzz out there about Windows Vista, and we think that whoever wins is going to get a nice, big prize. We mean, like, really big. Nonetheless, Microsoft sent us a Windows Media Center PC loaded with Windows Vista Ultimate and Office 2007. This thing is the real deal with an AMD Athlon FX 5000+ dual core processor, 2 GB DDR-800 RAM, two 400 GB hard drives in a RAID 1 configuration, and a bunch of other extras. It seems most everyone else we know got a Ferrari laptop.
For all the info on what we know so far, check out this episode of the show. So see everything laid out, you can check the post we made specifically regarding the Vanishing Point clues.
Sponsor: Online Meetings Made Easy with GoToMeeting Try it Free for 45 days - just use Promo Code: Podcast.
Posted by Rob Stevens Categories: Microsoft, PC / Laptop, Software,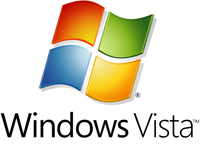 I've had the RTM version of Windows Vista on my Toshiba Tecra M4 for about a week now. Strangely, I'm having issues with the machine that didn't happen in RC2. I think it's all traceable to the nVidia video driver, which was updated through Windows Update right after the install completed. I'm getting massive video corruption coming out of sleep mode (making the machine unusable), to the point where I now have to hibernate the machine instead of sleep.
I can't exactly fault Microsoft for this, except that the driver came through Windows Update, so it should have been checked for issues like this before it was released. Hopefully this can be sorted out before the widespread release in January.
Posted by Christopher Sasaki Categories: Culture, PC,
One wouldn't expect a huge controversy over the built-in games in Microsoft Windows; most of the time, problems in the US arise from people spending too much time playing Solitaire. But there is an included game in Windows that has caused problems internationally, Minesweeper. David Vronay, Research Manager at Microsoft discusses on his blog the issues that Microsoft went through trying to make Minesweeper more palatable for countries where landmines are an ongoing issue. Part of the solution investigated involved turning the mines into flowers; this would turn out to require a long, cascading set of changes to support this. The attention to detail paid to a simple included game that has been a part of Windows for so long gives a little insight into the complexity of decisions that had to go into every part of Windows Vista.
Read More

| Shell Blog

Posted by Christopher Sasaki Categories: Action, Corporate News, First Person Shooters, Hardware, MMORPG, PC, Role Playing Games, Xbox 360, Xbox Live, Xbox Live Arcade,
Microsoft is making a download of their opening announcements for the start of X06 in Barcelona available at Xbox.com. Microsoft announced a new game in the Banjo & Kazooie franchise coming from Microsoft Game Studios. For Xbox Live Arcade, Microsoft announced that Doom would be available starting tonight on Xbox Live Arcade. Other Live Arcade games announced include:
Sensible Soccer
Contra
Ultimate Mortal Kombat
Small Arms
Gyrus
TotemBall
Defender
Assault Heroes
Heavy Weapon
Settlers of Catan
In terms of upcoming games, the Japanese RPG Blue Dragon will be available in the US and Europe in 2007. Bungie will have an announcement about Halo 3 by the end of the year. Project Gotham Racing 4 was officially unveiled. Rockstar announced that Grand Theft Auto IV will have two exclusive episodes available for download on Xbox Live. Ubisoft demonstrated Assassin's Creed interactive gameplay for the first time ever. Bioshock was announced as an Xbox 360 and Windows exclusive. Lost Odyssey was confirmed for the US and Europe, with a trailer showing some of the battle gameplay. More than 500,000 gamers downloaded the Lost Planet demo, and both multiplayer and single player gameplay will be available on the show floor. Splinter Cell: Double Agent footage was shown, and the sequel will be exclusive to the Xbox 360 and on Windows.
The Xbox 360 HD DVD was confirmed to be available in Mid-November 2006 in Europe and the United States for $199.00 US, 199.99 Euros, and 129.99 British Pounds. The package will also include remote, and for a limited time King Kong on HD DVD. Moore also discusses Microsoft's Games for Windows initiative, and indicates that Windows Vista is still on track for a January 2007 release. Moore also revealed the first preview of Marvel Universe: Online for the Xbox 360 and Windows.
Peter Jackson spoke at the presentation and announced that he has formed a partnership with Microsoft Game Studios. His first project will be an interactive entertainment title set in the Halo universe, apart from Halo 3 and the upcoming film, and Jackson will also be creating a new interactive game series based on original IP. Finally, the presentation wraps with a trailer from a Halo real-time strategy game from Ensemble Studios, called Halo Wars.
The video should be available online soon on Xbox.com at the link below, and should be available as a download via Xbox Live.
Read More

| Keynote Summary at Xbox.com
Read More

| Xbox.com

© Gear Live Inc. – User-posted content, unless source is quoted, is licensed under a Creative Commons Public Domain License. Gear Live graphics, logos, designs, page headers, button icons, videos, articles, blogs, forums, scripts and other service names are the trademarks of Gear Live Inc.