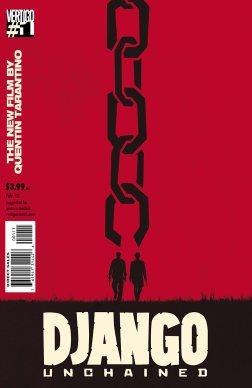 You've seen the movie, and you've heard all the chatter, but did you know there's also a comic book adaptation of Quentin Tarantino's Django Unchained?
It's a five-part Vertigo series out from DC Comics. It's written by Django producer Reginald Hudlin and illustrated by R.M. Guera. The first issue boasted a cover by Jim Lee.
The whole thing is edited by my pal Jim Chadwick out of DC's west coast office. He knows how to put together a snappy comic book.
Here's Wired talking about it.
Here's a nice review of the first issue.
And here's how you can get your own copy.
Remember, the "D" is silent.
[Artwork: Django Unchained]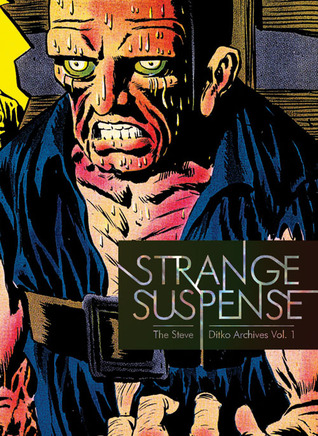 "Strip Vertigo of its haunting, Wagnerian eternal-return score by Bernard Herrmann and you've got a muddled Orphic saga that looks like a not-great Steve Ditko comic with a performance by Kim Novak that exerts all the erotic mystery and allure of a burlap bag."

James Wolcott @ Vanity Fair

Be sure to check out our other notable quotes!
[Artwork: Strange Suspense: The Steve Ditko Archives Vol. 1]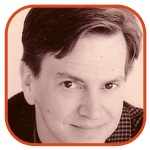 Posted by Tom Mason Categories: Editorials, Interviews, Movies, Independent, Marvel Comics,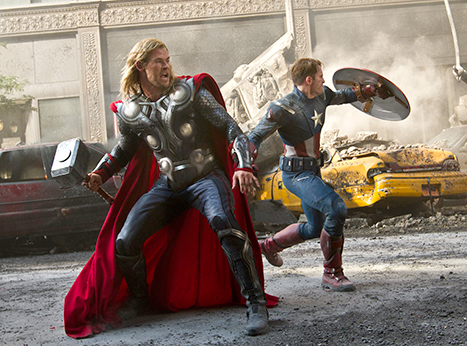 Now, how many times have you already seen The Avengers? Doesn't it just kick movie butt? And what movie do you think we'll be talking about all summer? Avengers or The Dark Knight Rises?
Avengers Assemble...in line! Former Malibu Comics publisher and co-founder Dave Olbrich (now a manager at Space Goat Productions) and for Malibu Comics Editor-In-Chief Chris Ulm (now the head guy at Appy Entertainment), show up at the :20 mark in this report from AMC theaters in southern California.
Longbox Graveyard goes Marathoning and Assembling for Avengers and other Marvel-based movies. "Five of my favorite superhero movies, in a day-long sitting, followed by a midnight debut of The Avengers! Seventeen hours in a movie theater, ninety minutes in the car each way getting there, a day off work to do it and another day off to recover. Great for a twelve-year-old, not-so-great if you're half a century old. So I found a couple twelve-year-olds and went anyway."
Click to continue reading Weekend Reading: The Avengers, Stan Lee, Jack Kirby and Dave Berg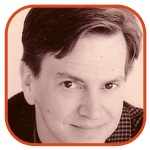 Posted by Tom Mason Categories: Editorials, Interviews, Movies, Independent, Marvel Comics,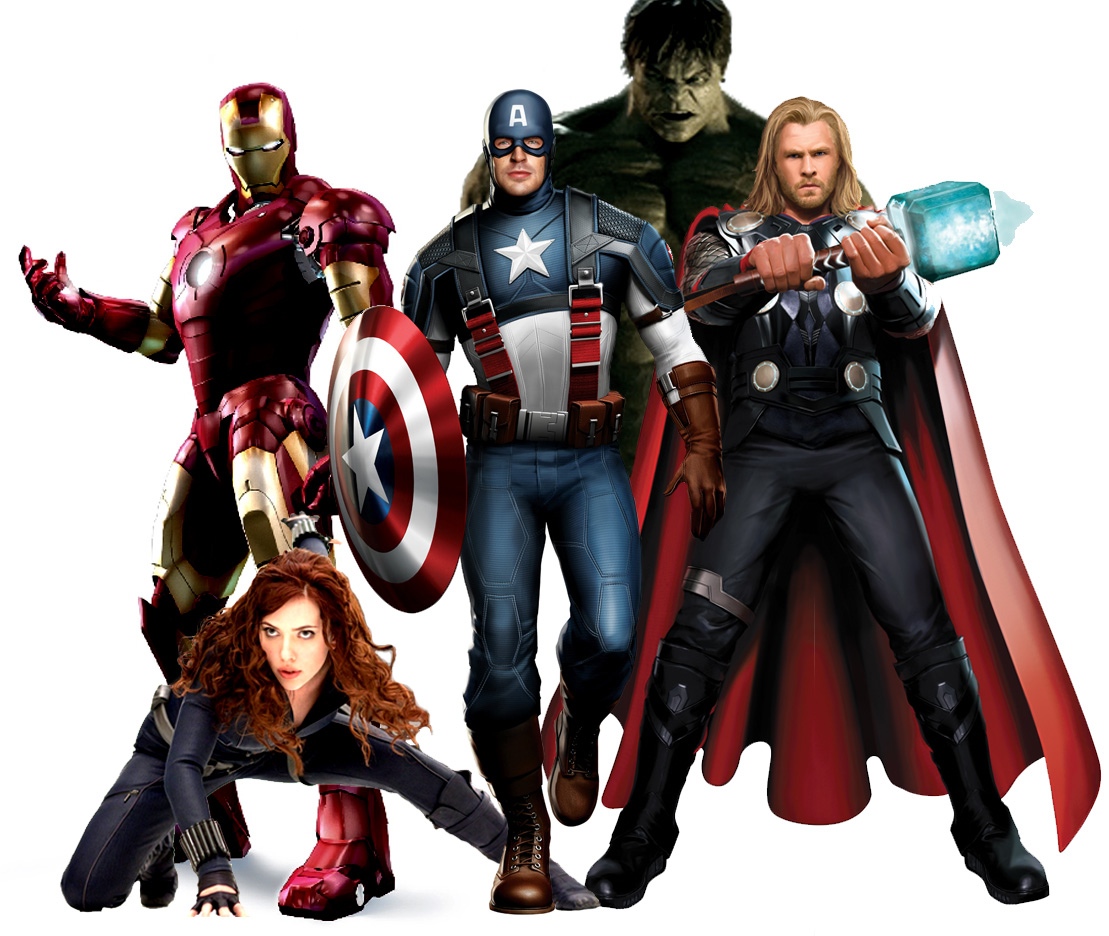 So how many times are we all seeing The Avengers this weekend? And in how many ways is it the movie of the summer?
In honor of the new Avengers movie, Longbox Graveyard looks at the Kree/Skrull War, from Avengers #89-97. "Nearing the end of his iconic six-year stint on Avengers, Roy Thomas — along with artists Neal Adams and Sal & John Buscema — delivered what was up to then arguably the longest and most complex continuing story in superhero comics, as Earth became a battleground between the warring Skrull and Kree star empires."
Click to continue reading Weekend Reading: Avengers, Overload, Don Bluth and John Cleese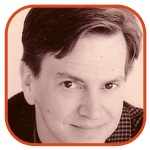 Posted by Tom Mason Categories: Editorials, DC Comics,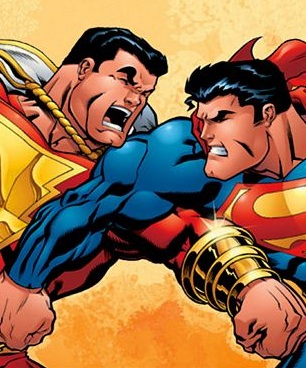 Do you want to work in the hallowed halls of
DC Comics
in New York City?
This could be your lucky day. It's rare for a job in Editorial to pop up on the radar, but DC is looking for an
Editorial Scheduling Coordinator
for their Editorial Administration department.
It is what it sounds like: shipping out artwork, reference docs and checks, tracking packages to and from their various locations, handling comp copies, and a couple of my favorite things: "works with department to review all incoming editorial materials for DCU and Vertigo" so you get to see what's coming up and coordinating the "Editorial Assignment List" so you can track who's doing what.
This is a young person's gig - and the money probably reflects that - because you only need one year of experience in a business environment. You'll also need the usual assortment of multitasking abilities, communication skills and computer knowledge.
But it's a foot in the door and many folks before you have advanced from positions just like this.
Good luck, job seekers!
[Artwork: Captain Marvel and Superman fight over the last bagel in the break room, © DC Comics]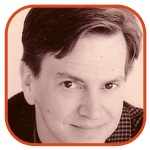 Posted by Tom Mason Categories: Editorials, Television, DC Comics, Independent,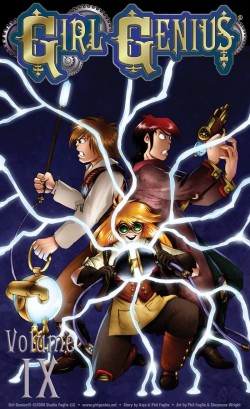 Congratulations to all the Hugo Award winners for 2010 (just announced at this year's Aussiecon 4 in Melbourne, Australia).
The complete list of winners is at the Hugo site, but let's pick and choose and look only at what really matters to us: the comics. That's right, a couple of winners with comic book connections have walked off with their own statue, named after sci-fi pioneer and legendary cheapskate Hugo Gernsback.
In the category of Best Graphic Story the winner was Girl Genius, Volume 9: Agatha Heterodyne and the Heirs of the Storm. It's written by Kaja and Phil Foglio, illustrated by Phil and published by Airship Entertainment. (Volume 8 won last year which should tell you that if you're not reading GG, you really should.)
Doctor Who, because all comic book fans love the Doctor, picked up the Hugo for Best Dramatic Presentation, Short Form for "The Waters of Mars," written by Russell T. Davies & Phil Ford.
The Hugo for Best Professional Artist went to Shaun Tan (and anyone who's read his books like The Arrival or Tales From Outer Suburbia knows why).
Click to continue reading 2010 Hugo Awards: Phil Foglio, Doctor Who, Shaun Tan!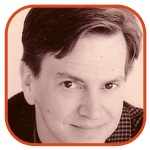 Posted by Tom Mason Categories: Editorials, Movies, Reviews, DC Comics, Marvel Comics,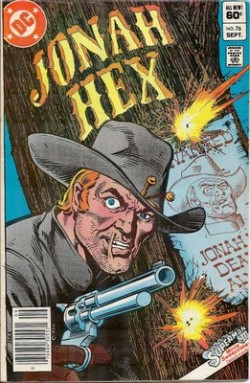 Well, I reckon it was bound t'happen, pardners. Jonah Hex has opened to just a $5 million weekend, meaning that it's officially been labeled a bomb. Too bad. Jonah was – and is – an iconic comic book property, the creation of John Albano and Tony DeZuniga. Maybe the filmmakers should've gone with a more traditional western approach like The Outlaw Josey Wales or 3:10 From Yuma instead of the steampunkian world of The Wild Wild West movie? Who's to say what would've worked, but the new one sure doesn't.
The problem now is that because Jonah Hex is based on a comic book (not a graphic novel as some lazy reporters simply retype) – but one that none of the general public has heard of before – it'll get tagged as a comic book movie, and worse, a failed comic book movie. And finger wagging along the lines of "is the comic book movie fad finally over" will start appearing as breathless know-it-all headlines in newspapers no one reads anymore.
Click to continue reading Jonah Hex And The Lost Weekend
Read More

| Deadline Hollywood Daily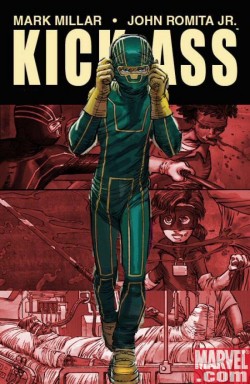 Last week it was Kick Ass, now it's The Losers, and coming up it's Scott Pilgrim. Is this not the year of the nerd who loves popcorn? Let's see what else there is to do while ordering our tickets…
Batman, Robin and Kick-Ass: Over at Something Old, Nothing New, Jaime Weinman longs for the return of a viable Robin character to the Batman movie franchise. Here's a little taste of the longer and worthwhile read: "The thing about the concept of Kick-Ass is that it deals with an aspect of the Robin character that has been batted around in the comics from The Dark Knight Returns on, and even in the animated shows, but has never been dealt with in the movies: superheroes inspire kid copycats. In a weird way Robin is more 'realistic' than a man who, based on no apparent model except a bat, decides to fight crime in his underwear."
The Losers: "This movie isn't too violent because…hey look over there: a puppy!" Movie studio publicists work overtime for stories like this.
Click to continue reading Weekend Reading: Kick-Ass, iPads, Vertigo Crime and Richie Rich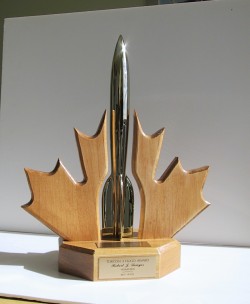 I love awards, although it's just an honor to be nominated, right? The Hugo Awards are named for Hugo Gernsback, the founder of Amazing Stories. They are science fiction's most celebrated award and are sponsored by the World Science Fiction Society, who hands them out at each year's Worldcon. They've been around since 1955, and the new 2010 nominees have just been announced.
The good news for funnybook fanatics is that the Hugos have a comic book category and this year's nominees (under the heading of "Best Graphic Story") offer a pretty wide-ranging bunch.
In alphabetical order, they are:
Batman: Whatever Happened to the Caped Crusader? Written by Neil Gaiman; Pencilled by Andy Kubert; Inked by Scott Williams (DC Comics)
Click to continue reading Hugo Awards: Neil Gaiman, Phil Foglio, Howard Tayler and Captain Britain
Read More

| John Scalzi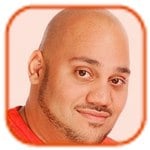 Posted by Andru Edwards Categories: Paramount, Adaptation, Drama, Thrillers, Filmmaking,
Martin Scorsese showed classic films to the Shutter Island cast and crew to teach them what he wanted his movie to be like. The 67-year-old director screened the old movies so they could get a feel of what they had to create.
"We saw Laura, Out of the Past and, of course, Vertigo - all these movies about obsessed detectives coming to terms with themselves through their investigations," Leonardo DiCaprio, who plays lead character US Marshal Teddy Daniels in the movie, said. "He wanted a genre feel to the film, and wanted to be specific to this particular era. It's almost like he's accessing his dreams or something, the dreams being all those movies. They're the memories coming back to him."
Scorsese confirmed: "I love memory, I mean, I'm a preservationist."
Click to continue reading Classics Teacher Martin Scorsese
Read More

| The Scotsman

© Gear Live Inc. – User-posted content, unless source is quoted, is licensed under a Creative Commons Public Domain License. Gear Live graphics, logos, designs, page headers, button icons, videos, articles, blogs, forums, scripts and other service names are the trademarks of Gear Live Inc.