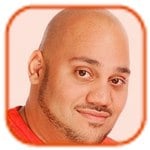 Posted by Andru Edwards Categories: Broadband, Corporate News, HDTV, Home Entertainment,
This morning we got word that Verizon was bolstering their FiOS packages, with the big news (from where we sit) being that the company is now offering a new symmetrical 35/35 Mbps Internet package as part of their "Best" bundle, which also brings an expansion of offerings in their FiOS TV HD package. For those who just want the blazing Internet goodness without the HD, they are also offering a 25/25 Mbps service, and they still offer the 50/20 Mbps service as well, which is a bit odd. They seem to have updated all of their Internet packages, and now the highest tier has the slowest upload speed out of them all. Hopefully that'll change fairly quickly, because things appear to be a bit off-balance there. Nevertheless, FiOS is now in a position where they don't have any competitor in the US that matches their upload speed, regardless of cost.
It's not all fun and games, though. There is also a higher early-termination fee that comes alongside the new services. Formerly, it would cost $179 to terminate the two-year contract, but now it's up to as much as $360. Again, that's only if you cancel, and we think that once you get a look at the uncompressed HD and feel for the speedy Internet, you'll decide that you're in for the long haul.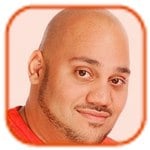 Posted by Andru Edwards Categories: Cell Phones, Corporate News, Wireless / WiFi,

My pal Matt Hickey from over at Crave has seemingly connected a few dots as it pertains to the battle between AT&T and Verizon, and this whole Fake Steve Jobs "Operation Chokehold" stunt aimed at taking down the AT&T Wireless data network this Friday afternoon. In case you are unfamiliar, Fake Steve proposed that AT&T customers load up bandwidth-intensive apps on Friday at noon, all at the same time, to saturate the AT&T network to a point of failure as a way of expressing they they are fed up with the horrible performance of the network. Thing is, one of my other pals, John Czwartacki, who just happens to be a contributor to the Verizon Policy Blog and a prolific Verizon personality on Twitter, linked to the movement via a tweet. Some are seeing this as a Verizon official condoning, or possibly even encouraging, the whole "Operation Chokehold" act.
Personally? We think that this is more of a finger pointing statement. It's John saying "Haha - look at AT&T - their users are so fed up that they want to crush the service that they pay for! Tee hee! Verizon customers wouldn't do that to us!" What do you think? Was John, and thusly Verizon, out of line here? Either way, we can stomach the rivalry that is happening in the television commercials…but let's keep the battle outside of our Twitter streams, okay guys?
Edit: John Czwartacki just hit me with an email, pointing out that he certainly doesn't condone this behavior at all, and even said as much in a few tweets that followed. He was simply linking to industry news, as he normally does. He thinks that if customers are fed up with AT&T, they should vote with their wallets. We agree.
Read More

| Crave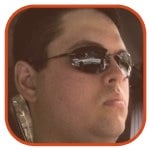 Posted by Dan Hughes Categories: Cell Phones, Google, Handhelds,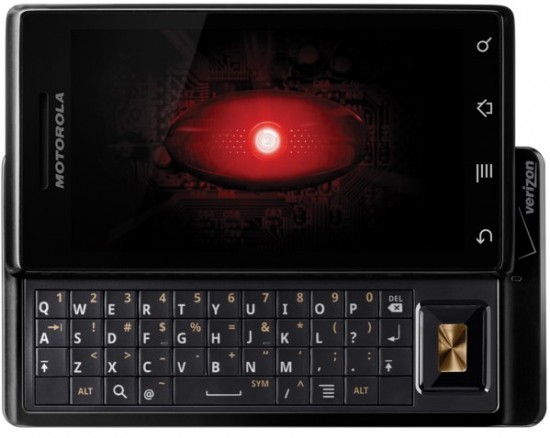 We recently reported an issue regarding the Motorola DROID and it's MMS problem, and it looks like we've tracked down the issue.
After some hefty research (read: lots of Googling and failed MMS messages,) we finally stumbled upon a post over on Howard Forums from a user who seemed to identify this issue. We have tested it successfully, both purposefully breaking and then fixing our ability to send MMS.
The culprit: parentheses around your contact's area code. If your contacts have parentheses around them when they are synced to the phone, the Droid faithfully preserves that. However, when the address is used for an MMS transmission (and ONLY MMS, for some reason), it glitches out and fails. [Ed. note: What an absolutely ridiculous bug!]
Here's how to fix the DROID MMS issue, if you are experiencing it:
Delete any open threads containing the user you want to MMS, including any text message threads. Otherwise, it will pull the address form the thread instead of using the new one.
Edit the contact, removing the phone number and retyping it in. Notice the Droid will type the hyphens in itself, but will not place parentheses. Make sure to do this on EACH form of data this may synchronize from (e.g. Corporate AND Google contacts, if this person is in both. Haven't figured out if parentheses coming from Facebook can cause a problem.)
Soft reset the phone.
Attempt the MMS.
This worked for us. Drop us a comment and let us know if it worked for you. There have been some reports of the problems reoccurring, and so we'd like to know your circumstances.
Personal note: Make sure you edit the information that syncs to your phone so it has no parentheses. I know I exported my contacts from Outlook, and imported them into Google, and Outlook puts parentheses by default, so that is why none of my contacts worked in the first place, but we COULD send to the guy at Verizon Wireless (because we typed in his number directly.) I'm wondering if somehow the parentheses data is somehow being synced back to the phone.
We've reported the situation to Verizon's Wireless Data Technical Support team, who thanked us for the information. (Direct quote: "Awesome."😉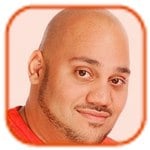 Posted by Andru Edwards Categories: Gizmatic, Short Bytes, Features, HDTV, Home Entertainment, Internet, Podcasts, Videocasts, Videos,
We've been fans of the Verizon FiOS Internet service for about two-and-a-half years now, and as soon as FiOS TV was available for Gear Live HQ, we were first in our area to subscribe to that service as well. Aside from the uncompressed signal that they send through, the service has some features that make it truly unique, like the integration of Facebook and Twitter right on the DVR. I had some of my friends over to show off FiOS TV, and we had the cameras going to capture it all. Hit play for a look at what went down. If you're curious about Verizon FiOS, be sure to hit up the Facts on FiOS site for details.
A big thank you to Verizon for helping make the party happen!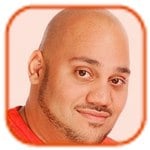 Posted by Andru Edwards Categories: Cell Phones, Corporate News, Videos,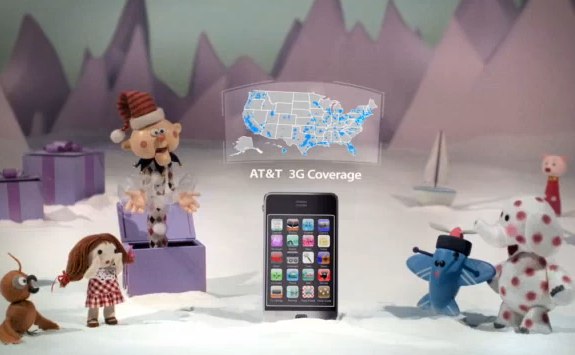 Oh man, you've got to love how Verizon Wireless has gotten so bold now that they've finally got a killer device in the Motorola DROID to brag about. You've also got to love how Apple is getting a taste of their own medicine, after running the "I'm a Mac" ads for years now. Verizon is aiming to highlight their phone offerings, as well as their huge 3G network, in their holiday commercials that dump on the iPhone and AT&T. There are three so far, and we must admit, they're pretty clever. You can watch all three commercials, one of which sees the iPhone banished to the Land of Misfit Toys, after the break.
Click to continue reading The gloves are off: Verizon iPhone attack commercials go full swing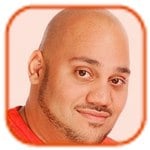 Posted by Andru Edwards Categories: Full Episodes, Gizmatic, Cell Phones, Features, GPS, Handhelds, Podcasts, Product Reviews, Software, Videocasts, Videos,
Yes, we definitely hit you with our full Motorola DROID review, but many wanted to see a bit more video of the device. That being the case, we recorded this episode of Bleeding Edge TV to show off the different features of the Motorola DROID smartphone. We give you a look at the hardware, some of the Android 2.0 features, Google Maps Navigation, and more. All in all, it's a twelve-minute walkthrough of the DROID, the smartphone that has grabbed the attention of the industry, giving Google, Motorola, and Verizon Wireless a lot of attention.
If you are at all curious, be sure to hit the video above.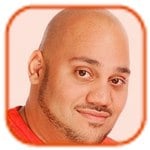 Posted by Andru Edwards Categories: Cell Phones, Features, Google, Handhelds, Product Reviews, Videos,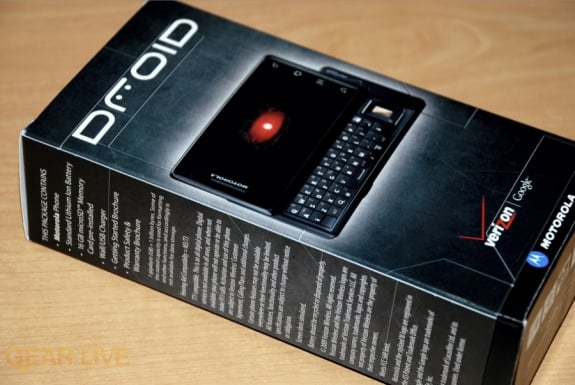 The Motorola DROID is a symbol of change, for a bunch of different reasons. The fact is, the DROID is a Motorola phone, exclusive to Verizon Wireless, and runs Android 2.0. There is major significance for each of those three bullet points, and that's not even getting into the actual device. In many ways, the DROID is something new for all three companies involved, which is likely why the three worked to closely together on getting the device just right. So the question is, did they succeed? We've had the device for about a week now, and we've been playing with it non-stop for the most part. We know what you're probably wondering—how does the DROID stand up to the iPhone? Is Android 2.0 actually better than what we've seen from the platform on other devices? Does the Verizon network really make a difference?
We've got all the answers for you in our Motorola DROID review, so sit back, and read on for our take.
Click to continue reading Motorola DROID review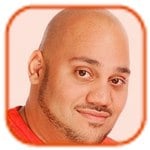 Posted by Andru Edwards Categories: Cell Phones, Features, Galleries, Handhelds,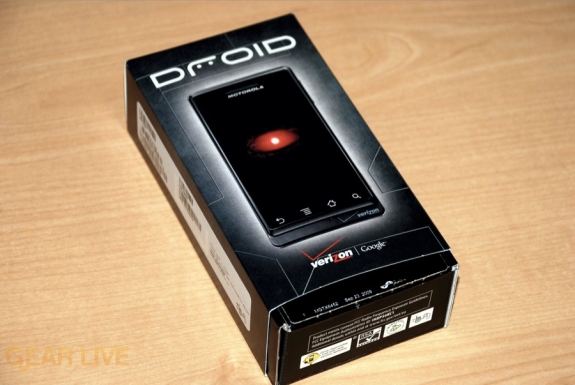 We were able to get our hands on the Motorola DROID a few days early, and we've got to say, this thing is a beauty. Android 2.0 is responsive and crisp, especially on the fantastic DROID display. We are going to be diving into the DROID a bit more in-depth in our full review, and we'll have a few videos up as well, but in the meantime, please enjoy our Motorola DROID unboxing gallery. We've got a bunch of pictures up that'll give you a nice look at the device.
Read More

| Motorola DROID unboxing
Gallery: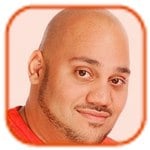 Posted by Andru Edwards Categories: Cell Phones, Software, Videos,
Google has released a video that shows off all the new Android 2.0 features. Of course, Android 2.0 is what powers the Motorola Droid. A few of the highlights:
Android 2.0 can pull in contacts from multiple sources, and supports two-way syncing. There is a new feature called Quick Contact, that shows you just about every way you can possibly contact someone when you tap their user icon.
Apps will now be able to turn on Bluetooth to set up connections with other devices
Android 2.0 supports multiple screen resolutions. In the video, we see an application running at 800x480 and 854x480, as an example
Definitely some good stuff here. Color us excited.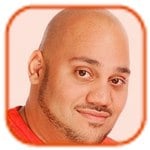 Posted by Andru Edwards Categories: Cell Phones, Handhelds,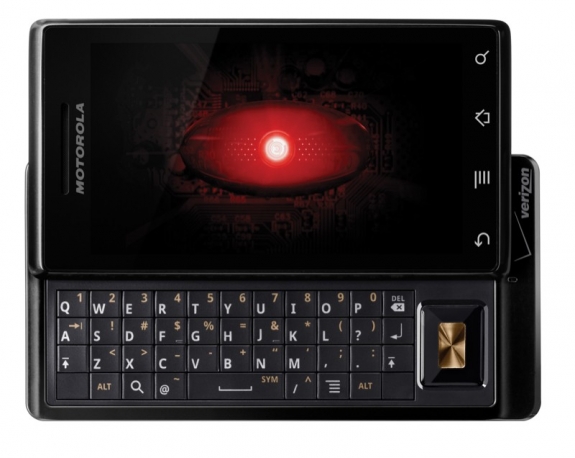 The wait for the Motorola Droid to go official is finally over, as Verizon has announced all the details on the drool-worthy handset, highlighted by the fact that the Droid launches exclusively on Verizon Wireless on November 6th (yes, just over a week from now,) and will sell for $200 after mail-in rebate with two-year contract.
We know what many of you are thinking - $200 will get you an iPhone 3GS, so this thing better bring the pain. Well, my friends, it certainly does. The Droid is a top-notch phone, boasting a 3.7-inch 480x854 display, Cortex A8 processor, Bluetooth, GPS, 5-megapixel camera (with dual-LED flash,) slide-out QWERTY keyboard with d-pad. 3G, Wi-Fi, over-the-air Amazon MP3 downloads, and voice-activated search are also present. Included in the box is a 16GB SD card, as well as a dock for the phone. That's just the hardware. Equally important is the software running on the device, and the Droid is the first handset to feature Android 2.0. That's a big deal, as no other phone on the horizon seems to be shipping with 2.0. This also means that Droid picks up the new Google Maps Navigation feature, which essentially turns the phone into a fully-functional GPS, using Google Maps, at no extra cost.
We'll obviously be bringing you more details as we get them, but expect to hear a lot, a lot about this phone over the coming weeks.
Read More

| Verizon Wireless
Gallery:
© Gear Live Inc. – User-posted content, unless source is quoted, is licensed under a Creative Commons Public Domain License. Gear Live graphics, logos, designs, page headers, button icons, videos, articles, blogs, forums, scripts and other service names are the trademarks of Gear Live Inc.