Posted by Sparky Categories: Google, Internet, Misc. Tech, Software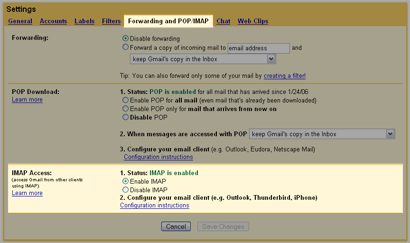 Gmail, Google's popular web based email solution is likely about to get IMAP features - a welcome addition for email power-users. It appears that some users are seeing options to IMAP-enable their account in the settings page. This will help Google's service compete with Yahoo Mail which has offered IMAP access for some time now.
We don't yet have the option on our accounts here at Gear Live, but we definitely look forward to trying it out. If your account has the new option, be a pal and leave a comment to let the world know what you think.
Read More

| Download Squad


Posted by Paul Hamilton Categories: Electronic Arts, PC, PlayStation 3, Release Dates, Xbox 360
EA's upcoming open-world game Mercenaries 2: World in Flames is being pushed back until 2008, further relaxing the pressure on a still crowded holiday season for games. Speaking to developer Pandemic Studios President Josh Resnick, IGN coaxed out a few more details:
We're adding nothing at this point. Our only goal is to make gamers proud that they own a copy of Mercenaries 2 by making the highest quality next-gen open-world experience the world has ever seen. If that sounds ambitious, then you should see how many cans of caffeine our programming guys have choked down during the past two years of development.
Resnick also complimented Rockstar and said that he wasn't concerned about competing with Grand Theft Auto IV because, as he puts it, "We know gamers are bloodhounds when it comes to sniffing out a quality gameplay experience, and we're hoping that scent leads them directly to Mercenaries 2." He said they were using the extra time to focus on fixing bugs, tuning the physics and working on the mission structures.
The delay was initial rumored because retail outlets adjusted their release dates from late '07 to 2008, forcing Pandemic and EA to confirm the delay. Commenting on the leak, Resnick said, "Those dang sneaky retailers! You just can't seem to keep a lid on something once they hear about it."
Read More

| IGN


Posted by Paul Hamilton Categories: Activision, First Person Shooters, PC, PlayStation 3, Release Dates, Xbox 360
Robert "402" Bowling from Infinity Ward has posted about some upcoming changes to the Call of Duty 4 beta on his blog. The most significant announcement is the closing of the beta on September 30th, but he also revealed that two days prior the level cap, which has been at 16 for a couple of weeks after being lifted from the initial cap of 11, will go up to 25. That gives beta testers only two days to jump from 16 to 25 before the beta closes down in anticipation of the game's release November 5th.
Part of the post hinted that CoD4 had gone gold, but Bowling refused to come right out and say it, saving the announcement for more official channels. He did say that Infinity Ward had received congratulations from the Sony of America and the Xbox 360 certification team, which leaves little room for doubt that the game is in the final stages before shipping.
The beta has been an excellent marketing tool for Infinity Ward since the strength of the game is quite evident from the limited, multiplayer-only test version. Even though the game is likely gold, the beta continues for developers to continue gathering data for the inevitable title upgrades and expansion packs. The raising of the level cap so close to the end of the beta is, speculatively, due to the launch of a certain multiplayer juggernaut a few days prior.
Read More

| Fourzerotwo's Blog


Posted by Paul Hamilton Categories: Accessories, Downloadable Content, Features, Hardware, Microsoft, Music, PlayStation 3, Wireless, Xbox 360
The Official Xbox Magazine's podcast has an interview this week with Harmonix co-founder and president Alex Rigopulos about their upcoming game Rock Band. In the interview he talks about the game bundles, although light on concrete details he does confirm a band-in-a-box bundle that will include a guitar, drum kit and microphone. However, he goes on to say that the PlayStation 3 version will include a wireless guitar controller while the Xbox 360 version will have to include a wired guitar because Microsoft's wireless technology is too expensive to make the bundle reasonably priced. Since the 360 also has only two USB ports, the 360 Rock Band bundle will also be packed with a USB hub.
Rigopulos goes on to discuss the game's career modes a little, saying there will be both solo career mode that progresses in a linear fashion similar to what Guitar Hero players are used to, but they are also including a less linear band career mode. In this mode you traverse to various venues trying to build up your fan base and in some cases return to previously played locations to maintain your fame there. Also it's worth noting that the solo career mode will not include a bass career track so your options are vocals, guitar and drums in solo career mode. But Rigopulos did reveal that the finale songs for each career path (and therefore likely the difficulty distinctions throughout) will be different for each instrument, and he even said that at this point the drum finale will be The Who's "Won't Get Fooled Again."
Click to continue reading Harmonix Co-Founder Answers Questions About Rock Band
Read More

| KOXM Podcast


Posted by Paul Hamilton Categories: PlayStation 3, Survival Horror, Trailers, Xbox 360
Check out the video featuring footage and interviews with developers of the upcoming spook-fest sequel, Silent Hill V. Development of the game has been handed off to The Collective, but they seem to be determined to return the game to territory more akin to Silent Hill 2 than the mixed reception of IV. They've got a pretty solid looking engine running that features a lot of the familiar effects now rendered in real-time plus they've worked to enhance the combat which was always kind of a series weak point.
Unfortunately the interview doesn't dive too deeply into how well The Collective can manage to retain the creeping psychological unease Silent Hill is famous for (versus rival series Resident Evil's shock and gore approach).
Silent Hill V is due sometime in 2008 for PS3 and Xbox 360.
Click to continue reading Silent Hill V Video and Developer Interviews

Posted by Paul Hamilton Categories: First Person Shooters, PC
Splash Damage, developer for the upcoming multiplayer shooter Enemy Territory: Quake Wars based on the Quake property, announced that it will be releasing a PC demo of the game on Monday, September 10th in anticipation of the game's October 2nd release in North America.
Quake Wars was originally slated to be released in 2006 but was pushed back to allow for more testing and polish. The game is a team-oriented multiplayer skirmish game that takes place prior to Quake II in the game's chronology and features objective-based missions, vehicles and full bot support for solo play.
Enemy Territory: Quake Wars is due in Europe and Australia September 28th.
Read More

| Gaming Today


Posted by Paul Hamilton Categories: Adventure, PlayStation 3, Sony
New videos for the upcoming PS3 game Folklore show some interesting footage of the game's combat including some idea of how the epic boss fights will unfold. The game has a remarkable style and art direction that is visible here especially in the brief pre-combat cinematics.
Folklore looks a little like Kameo crossed with Fable and Pokemon as players control one of two characters who use the game's "folks" as summoned creatures to do the grunt work of fighting foes. A follow-up to Genji, developers Game Republic are promising better Sixaxis controls and an online mode.
Folklore is scheduled for a North American release on October 12.
Click to continue reading New Folklore Videos Show Gameplay and Story Bits

Posted by Paul Hamilton Categories: First Person Shooters, PlayStation 3, Release Dates, Wii, Xbox 360
Game Informer has an interview up with Valve's Gabe Newell where he discusses the upcoming Orange Box which will include Half-Life 2 plus Episodes 1 and 2, Portal and Team Fortress 2. From the interview:
Episode Two was really helped by Episode One, believe it or not. I think that we'll continue to get the hang of it. It's a pretty big deal to throw a bunch of wrenches into your development process and say, "We're going to try to do this differently now." We've learned a lot. If we're right, the fans we'll let us know, and if we're wrong, they'll let us know. (laughs) I think they're going to be pretty happy. I think they're going to be really, really happy with the Orange Box in what we've been able to pull off, and a lot of it is based on their feedback from what we did with Episode One.
Newell also briefly weighs in on the Wii, casually dismissing the lesser hardware specs compared with the other next gen consoles saying, "I think it's more interesting than just graphics chip – CPU combination. It's the machine I have at home."
Click to continue reading Valve's Gabe Newell Speaks About the Orange Box and Wii
Read More

| Game Informer


Posted by Paul Hamilton Categories: Electronic Arts, PC, Simulation, Trailers
New trailers showing some of the refinements made to Spore, the upcoming game from Sim City creator Will Wright, over the last year shows some excellent progress. As ambitious as Wright's games tend to be, this one seems incredibly rich as you expand from a single-celled organism into a galaxy-spanning spacefarer. The developers ring up an interesting point that most games are about destroying things while this (and other Wright games) are more about building or creating. Of course you can fight with other tribes in Spore, once you get to that point, and take over other planets and the like, but perhaps it's different to attack if it's all in the name of progress. A second trailer is also available, showing more gameplay and the creature editing - check that one out by clicking through the jump.
Click to continue reading New Spore Videos From Leipzig

Posted by Paul Hamilton Categories: First Person Shooters, Games for Windows, Internet, PC, Release Dates, Strategy
Timed to sync with the start of PAX and Leipzig, Sierra will release a rather full-featured demo of their upcoming real-time "action" strategy game World in Conflict on Friday containing demos of both the single-player mode via a tutorial, plus one mission as well as multiplayer supporting 16 players. There will be one multiplayer map available to all demo-downloaders that can also be played in solo skirmish mode and a second map playable only by those who pre-order the game. World in Conflict is designed to incorporate first-person shooter elements like speed into the RTS genre and by design requires no resource management. The game is due out September 18th.
In other demo-related news, the PC version of the BioShock demo that Xbox Live users have been enjoying since last week is out in time for the full retail release of the game. Any PC users on the fence about this game can check out the first half hour or so of the game and most likely put it down only long enough to run to the store and buy the full copy.
Read More

| 1Up

© Gear Live Inc. – User-posted content, unless source is quoted, is licensed under a Creative Commons Public Domain License. Gear Live graphics, logos, designs, page headers, button icons, videos, articles, blogs, forums, scripts and other service names are the trademarks of Gear Live Inc.