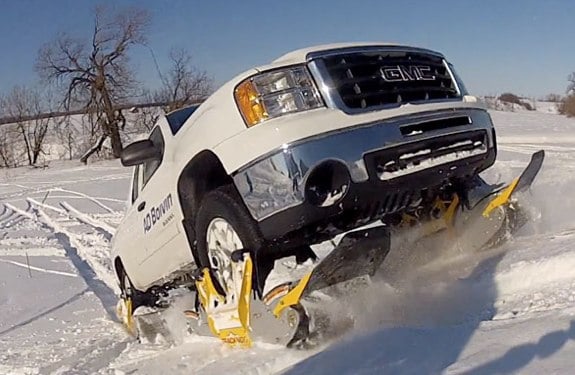 For those that live in areas plagued by long winters, icy roads, and the ever-accumulating snow fall, you know how obnoxious driving can get. Chains are great, but putting them on is a hassle. There's also the option of studded tires, but as soon as you hit deep snow, well, you're outta luck. So what other options are there? You could just wait out the snow, but that could take awhile. Or you could buy a pair of Track N Go treads.
The designers of the Track N Go system are AD Boivin. They're better known for marketing power-sport products for snowmobiles and motocross bikes, and now they're bringing that expertise over to automobiles. Track N Go is basically a treadmill system for your 4x4 pickup truck. You simply drive onto them, lock them, and get on your merry way. To us it looks like it's a universal application, as it's used by a Ford and GMC in the video below.
Though we're not sure when the Track N Go system will be available for purchase, it's something worth watching for. Pricing is still up in the air as well.
Click to continue reading Track N Go offers alternative to snow chains and studded tires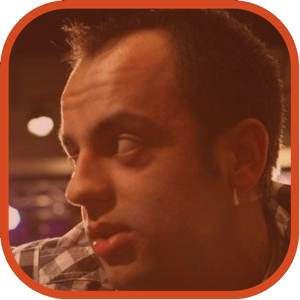 Posted by Andrey Malskiy Categories: Transportation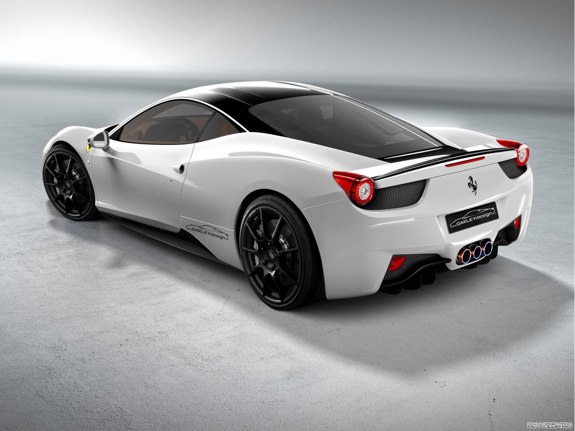 Here's a look at the top 10 vehicles with a high male ownership. We're not all too surprised with the list of cars, minus a couple of choices.
The Ferrari 458 Italia finds itself on the top of the list with 95.3% of its owners bring men.
After you're done thinking about who might own the other 4.7% of the 458, the list continues with the BMW 1 Series M taking second followed by Audi R8, Mercedes SLS AMG, and the Ferrari California. We're not surprised to see all these high-performance, lead-footed fun cars hitting the list. I know that most these cars are on my list of must drive cars before I die.
Number six goes to the Porsche 911, a classic, if you ask us, followed by the Nissan GT-R with 87.9% male ownership. Number eight is were the list take a turn for the worst, the all-ever, cookie-cutter-remixed-Chevy Silverado, GMC Sierra pickup trucks; following closely behind it the Ford F-Series. Number ten goes to the ever-classic, mid-life crisis Chevy Corvette.
What leaves us bogged are the number eight and nine slots, is there really nothing better out there other than pick-up trucks?
Read More

| InsideLine

The band Underoath once said, "It's dangerous business walking out your front door." It appears that statement definitely rings true if you happen to drive a semi truck with any regularity. Any semi driver will tell you that the job has its perks, but it also comes at a high cost of danger. At any level, driving a semi is risky business, but adding snow to the mix just takes it to the next level.
Don't believe us? Check out the dramatic video above, caught in Norway, as a semi and a tow truck go rolling off an icy overpass. Yeah, like we said, it's risky business.
From what we hear the driver is in stable condition, only suffering a few broken bones.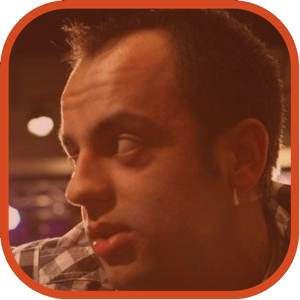 Posted by Andrey Malskiy Categories: Corporate News, Transportation
The world of trucking has been a familiar industry for me, as most of my family is involved with it in one way or another. I've even got a cousin who would fit well into the show "Shipping Wars," seen on A&E, and along with my father and many uncles who do long haul driving. Freightliner recently unveiled its newest concept truck, dubbed the Revolution Innovation, which they're aiming for production. It's the truck of this decade and the future, they claim. Though the design and said functionality of the truck is cool, there are many things I see becoming a nuisance and hindrance on the road.
For instance, the Revolution only features one entry point, throwing out the passenger-side door. They eliminated the passenger door, as their research shows it's rarely used. Though we're not trying to argue with Freightliner's research, passengers do ride along at times, and the passenger door is used for other things as well. Along with other major redesign changes from the conventional, there are a few good things they've changed, such as the user interface with the truck. In all, the design of the truck is cool, but in the long run we don't see some of its practicality. You be the judge by watching the video above.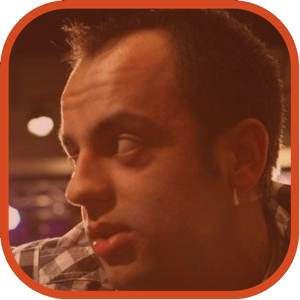 Posted by Andrey Malskiy Categories: Corporate News, Transportation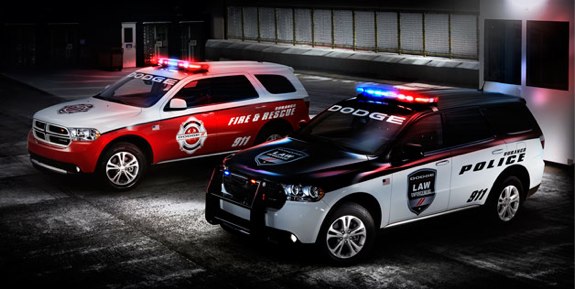 For years Ford has been the staple of law enforcement, so much so that instinctually my foot would hit the brake every time I saw a Crown Victoria in my rear view. But the Crown Vic is being sent to pasture, as a new era of police cruisers is upon us.
Chrysler has been on and off in producing a wanted cruiser. It's been over 40 years since the last great era of Chrysler vehicles being used regularly for law enforcement. Now Chrysler is back in the game. Departments nationwide have widely adapted the Dodge Charger as one of their own, alongside the Chevy Tahoe for those that need a larger cruiser. It seemed that the Tahoe was set to be the next Crown Vic, at least in the SUV-category of cruiser, but not if Chrysler has a say in it.
Click to continue reading Chrysler aims to deploy the Dodge Durango as the next SUV Police Cruiser
Read More

| Autoblog

Last week we showed you a few sneak peaks at Super Bowl ads focused on cars. Now that the Big Game is over, we wanted to hand it to Chevy GM for making a commercial worth viewing.
The spot takes place in a post-apocalyptic world. The Chevy rises from the ashes, unscathed, and drives away. The end of the commercial is what made us laugh. Chevy had the guts to take a blatant stab at Ford. Though that's a ballsy move on its behalf, I'd suggest they take a closer look at the competition before calling them out. I'd like to draw your attention to the Ford video below. You can watch a Chevy drive away from a CGI apocalyptic hell, or you can watch a Ford drive away after being tossed around in a hurricane. You be the judge.
Click to continue reading Chevy calls out Ford in Super Bowl ad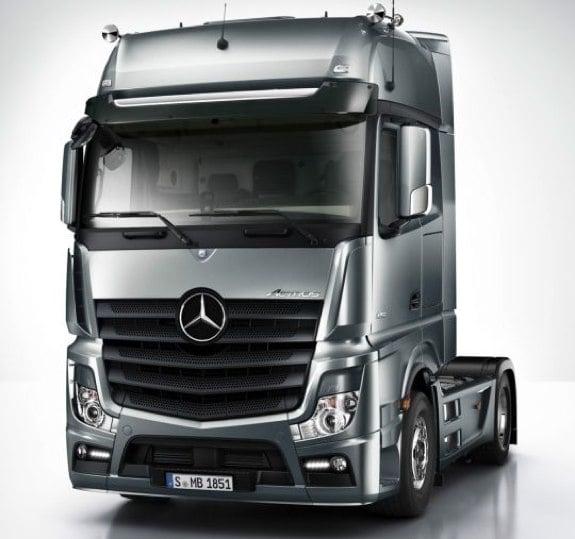 Here in the U.S., we're familiar with the semi-trucks we share the highways with during our commutes and rely on to deliver our goods...but seeing a semi as a taxicab, that's something unheard of. Europe's semi truck manufactures take pride in their products, and one brand in particular is out to prove they're the best. That brand is Mercedes-Benz. It's have won Truck of the Year for its newly redesigned Actros. However, that wasn't enough for the Mercedes. So someone got the bright idea of using an Actros as a taxicab. However, the Actros was set to pick up customers from competing manufactures such as Volvo and Man. Watch a video of their reactions after the jump!
Click to continue reading Mecedes-Benz Actros used as a taxicab
Read More

| Autoblog

© Gear Live Inc. – User-posted content, unless source is quoted, is licensed under a Creative Commons Public Domain License. Gear Live graphics, logos, designs, page headers, button icons, videos, articles, blogs, forums, scripts and other service names are the trademarks of Gear Live Inc.