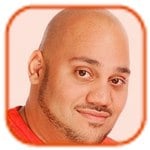 Posted by Andru Edwards Categories: Entertainment, iPad Apps, New Apps, Free Apps,
TiVo on Tuesday unveiled an iPad app that will allow TiVo Premiere owners to use their Apple tablet as a remote and TV guide.
The TiVo Premiere App for the iPad provides access to all the content available on the set-top box - from TV listings and your DVR queue to show information and social-networking link-ups.
The app will provide access to live TV and DVR recordings; to watch, just swipe and the show will start playing on the TV. When you're away, use the app to set up a TiVo recording.
The bottom menu includes several options, including Info, Guide, My Shows, Browse, and Manage. For more info about a show or celebrity, the TiVo app lets you explore biographical information without interuppting the show on the TV. To discuss what you're watching, the app provides a link to Twitter and Facebook.
There is also an advanced remote icon, which brings up a traditional remote interface. Slide your finger along the bottom of the screen to fast forward or rewind TV content.
To access, download the free app from the App Store and enter the key from your TiVo box. Users must have a TiVo Premiere or TiVo Premiere XL box and an active, paid TiVo subscription.
Read More

| TiVo App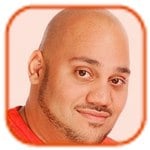 Posted by Andru Edwards Categories: Accessories, Home Entertainment, Storage, Men, Techies, Under $250,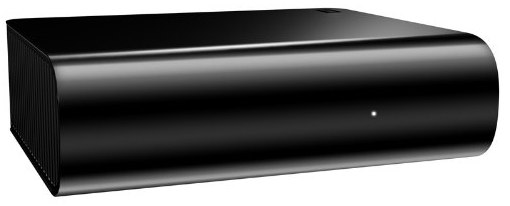 Okay, let's keep it real for a moment with this next entry in our 2010 Holiday Gift Guide. We know more and more people are using DVRs these days, whether it's something like a TiVo, or one of the ones leased from a cable company. The one thing that we hear time and time again is that the hard drives inside these things are simply too small to hold any substantial amount of programming, especially when dealing with HD programming. That's where the My Book AV DVR Expander comes in. You simply connect this bad boy to your DVR (it supports a ton of them from TiVo, DirecTV, Dish, Scientific Atlanta, Motorola, and the list goes on) and give it a few minutes to get calibrated, and you've instantly added 150 hours of high definition storage to your setup. If you know any TV buffs, we'd recommend something like this for the holidays.
The Western Digital My Book AV DVR Expander usually sells for $127.60, but Amazon's got it for $119 right now, a savings of 7%.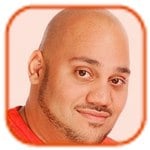 Posted by Andru Edwards Categories: Home Entertainment, Internet,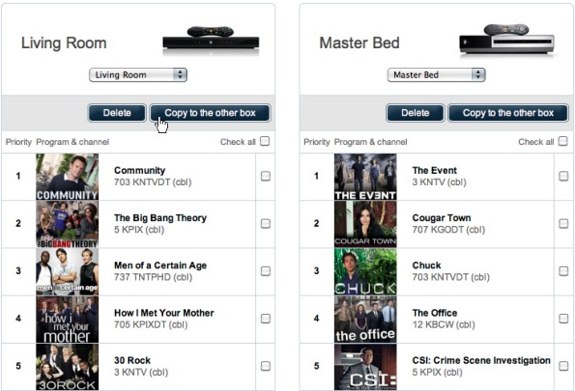 We don't know what took them so long, but TiVo just announced the availability of their new online Season Pass Manager tool, which allows you to manage your season pass subscriptions right from your browser. Even better, if you have multiple TiVos, you can transfer subscriptions between the two. This feature is long overdue, and should have launched alongside the release of the TiVo Premiere—but hey, that thing has enough problems on its own, and maybe that's what TiVo has been spending their time on, because it sure could use a bunch of optimizations so it isn't seen as a half-baked product anymore.
Read More

| TiVo Season Pass Manager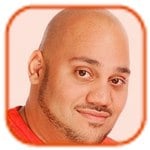 Posted by Andru Edwards Categories: Home Entertainment, Internet,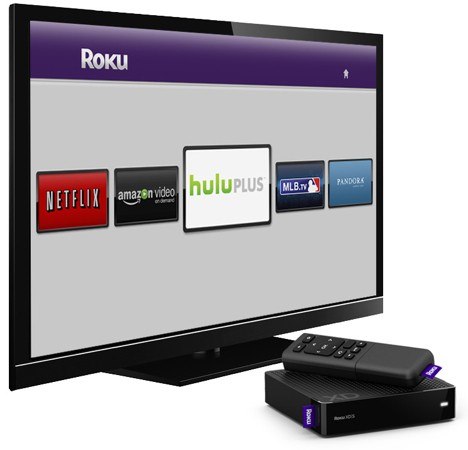 If you're ready to cut the cable cord, it looks like Hulu Plus may be just the thing to facilitate that. Already available in beta on the PS3, as well as on the iPad and iOS devices, it was just announced that the service is coming to Roku's line of set top boxes, and that it'll also be added to the TiVo Premiere as a service. Hulu Plus will also be made available to the general public on the Xbox 360 in 2011 as well. Depending on which shows you watch, the $10 Hulu Plus monthly fee may very well allow you to ditch your cable TV package, especially if paired with Netflix. Get ready for a shift in the way television gets consumed.
The only thing we are wondering now is if the new Apple TV will also be picking up Hulu Plus at some point, or if Apple plans on just going with Netflix plus $.99 TV rentals.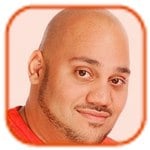 Posted by Andru Edwards Categories: Home Entertainment, Internet, Music,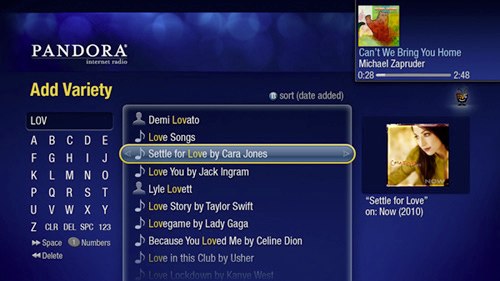 When the TiVo Premiere launched, the company made it known that with the new Flash architecture, that it would be much easier to add new apps to the TiVo interface since it was more modular. Well, it took them long enough, but the first real new app feature has arrived in Pandora. You can now log in to your Pandora account and start streaming your favorite channels right from your TiVo. It may take a connection or two to the TiVo service before the feature shows up, but TiVo is saying it's available now.
Read More

| TiVo Blog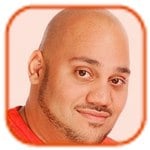 Posted by Andru Edwards Categories: Features, HDTV, Home Entertainment, Product Reviews,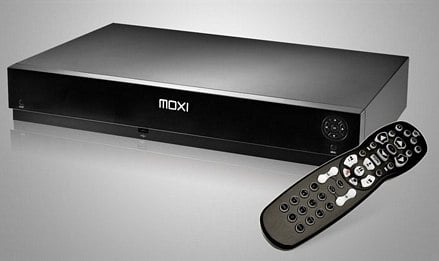 Moxi DVRs have been around for almost a decade, but chances are good that you've likely not heard of them. Moxi was originally developed by a company called Digeo, founded in 1999 and bought the rights to Moxi Digital in 2002. The company put out some cable boxes that cable companies distributed to their customers, and those that lived in those limited areas that were lucky enough to have access to Moxi HD DVRs from their cable providers generally said that they were fantastic. In December of 2008, the Moxi HD DVR was released, and it was the companies first retail product, available to anyone who had the cash to buy one. In September 2009, Digeo was purchased by ARRIS Group, which took over development of the Moxi products, from both a software and hardware perspective, and five months later, they released the product that we are reviewing today, the Moxi 3-Tuner HD DVR.
In an era where TiVo rules the mass market DVR space years after ReplayTV fizzled away, Moxi is looking to claim a piece of that pie with a box that they feel offers an experience that you can't get anywhere else, TiVo box, cable DVR, or otherwise. So, did they pull it off with the 3-Tuner HD DVR? Let's find out.
Click to continue reading Moxi 3-Tuner HD DVR review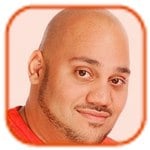 Posted by Andru Edwards Categories: Features, HDTV, Home Entertainment, Videocasts,
TiVo recently launched their TiVo Premiere Series4 DVR with much hype, only to reveal a box that, at least for now, is crippled and underpowered. Sure, there's a new Flash-based TiVo interface, but the box couldn't be any more plain, and the dual core processor is currently being held back from its full potential, as TiVo tries to get both cores working with its new interface. In the meantime, only one core is enabled, and that makes from some painfully slow TiVo menu browsing. We got our hands on the TiVo Premiere, and wanted to give you a look at the packaging, and the device itself, as well as the included accessories in the box. At least here, we can see that TiVo did something right.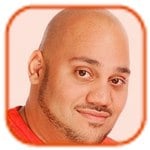 Posted by Andru Edwards Categories: Accessories, USB, Home Entertainment, Internet, Wireless / WiFi,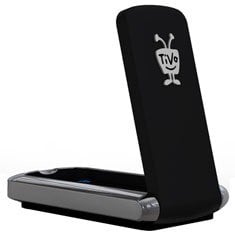 We're not sure what type of games TiVo thinks they are trying to play here, but the company has finally gotten around to getting their AN0100 802.11n wireless adapter to retail, and they've decided it best to charge more than just about any other wireless device of this kind on the market. That's right, the TiVo Wireless N Network Adapter can be yours for a shocking $89.99. yeah, you get better range and throughput than you would on the Wireless G model, but, man, that price has us seriously considering the costs of just running an ethernet cable across the house.
Read More

| TiVo Wireless N Adapter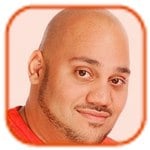 Posted by Andru Edwards Categories: Corporate News, HDTV, Home Entertainment, Rumors,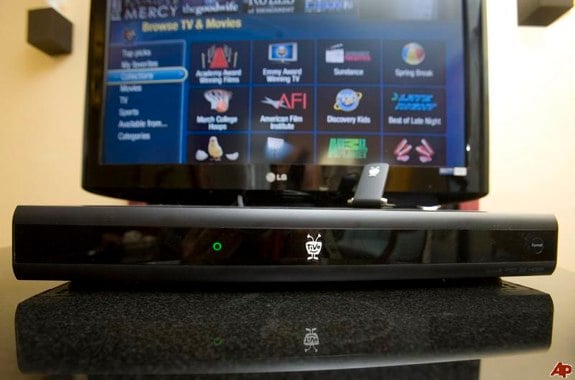 Alright, we just hit you with the image of the new TiVo Premiere interface, and now the AP has come through again, letting an image of the actual TiVo Premiere box hit their site a bit early, alongside an image of the TiVo Wireless-N adapter. With the image, they also give the following details:
A TiVo Premiere box, foreground, is displayed with an HD television, Monday, March 1, 2010, in New York. TiVo Premiere combines access to cable programming, movies, web videos, and music all in one box.
TiVo already does all that with the Series3 and TiVo HD, but we are guessing that they are gonna be a bit more app-centric now, kind of like what we see with Boxee.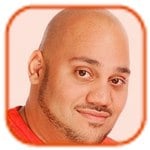 Posted by Andru Edwards Categories: HDTV, Home Entertainment, Rumors,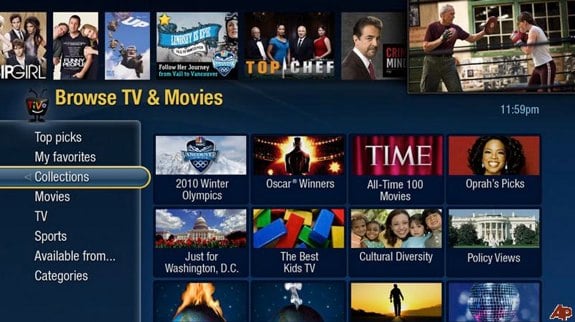 TiVo is currently conducting a press event, and we should be hearing some news coming out of it in under an hour. However, you can leave it up to the Associated Press to leak whatever is going down, since they think they are pretty much untouchable. Case in point, the leaked image above of the new TiVo interface. Basically, it looks like a revamped and retuned Swivel Search. Now, we aren't sure if this will be exclusive to the TiVo Premiere, or if it will be deployed to the TiVo HD and/or Series3. Either way, there you have it. We should have more details within the hour!
© Gear Live Inc. – User-posted content, unless source is quoted, is licensed under a Creative Commons Public Domain License. Gear Live graphics, logos, designs, page headers, button icons, videos, articles, blogs, forums, scripts and other service names are the trademarks of Gear Live Inc.