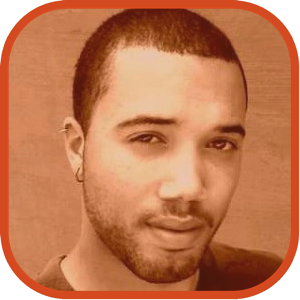 Posted by John Kilhefner Categories: Culture, Internet, Puzzle,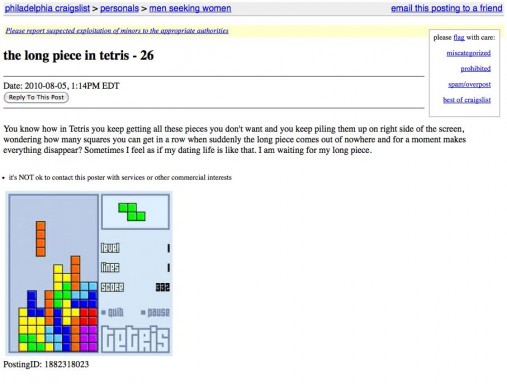 Who says gamers don't need love? A Philadelphia Craigslist ad has surfaced likening the squishy feeling of romantic entanglement with the cold hard random shapes of Tetris. "The long piece" - the piece that Tetris fans long for in all of their games is what this Craigslist seeking gamer longs for in his love life.
"You know how in Tetris you keep getting all these pieces you don't want and you keep piling them up on right side of the screen, wondering how many squares you can get in a row when suddenly the long piece comes out of nowhere and for a moment makes everything disappear? Sometimes I feel as if my dating life is like that. I am waiting for my long piece."
If that isn't poetic than I don't know what is! C'mon, there has to be some gamer girl out there for this guy. You don't even have to be a gamer to appreciate this level of wittiness. Someone just give this guy a long piece… ahem, you know what I mean.
Read More

| Craigslist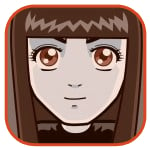 Posted by Sheila Franklin Categories: Nintendo, Puzzle, Retro,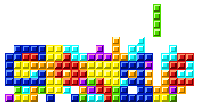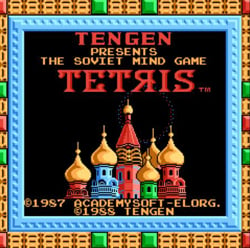 We wondered why we kept seeing the almost intelligible Google logo of late, until we realized it was in honor of 25 years of the puzzle game. If you were one of those who saw it in your head after playing for hours, shame on you. If you weren't, have your own marathon with the David de Niese's unlicensed NES Cafe Tengen Tetris. We bet you will get hooked enough to have your own nightmares.
Read More

| Every Video Game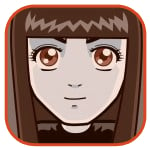 Posted by Sheila Franklin Categories: Action, Portable/Mobile, Puzzle, Retro,
Remember how much coinage you lost at the arcades? Now you can play a couple of those old games and save some cash at the same time. Every time you feed the Arcade Gaming Bank a penny, it will let you play either Tetris or Breakout. You can get a lot of practice in for a dollar if you can get used to the smaller screen. The retro mini-game is available for ¥3850 ($39.50.)
Read More

| Strapya World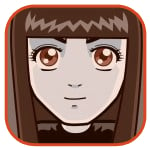 Posted by Sheila Franklin Categories: Design, Household, Misc. Tech, Video Games,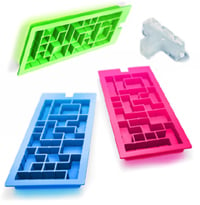 Isn't it ironic that the Icetris cube trays were created by a Russian design shop? Designer Dima Komissarov of Mystake came up with the idea and we expect that you could play a round or two before they completely melted. Then again, if you played the game until you saw Tetris shapes in your dreams, you might want to pass. There is no date set to make the prototype into a reality as yet, but you might want to encourage Dima all the same.
Read More

| technabob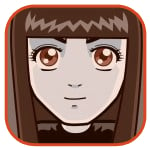 Posted by Sheila Franklin Categories: Design, Household, Video Games,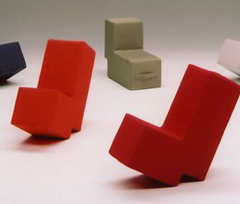 Once a Tetris fan, always a Tetris fan. If you still play it or see pictures of it in your head, you can now sit on the Milan Design award winner. The TT chair is made with a polyester cover and internal PVC coating and comes in your choice of blue, khaki, grey, orange, lead, or black. Lightweight, it can be used indoors or out with its water, oil, and soil-resistant teflon coating. At a size of 30 x 52 × 68cm, each is available for ¥23,000 (~$23.00.)
Read More

| Rakuten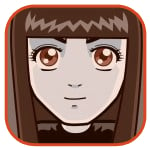 Posted by Sheila Franklin Categories: Internet, Video Games,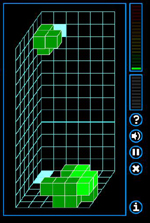 You really knew you were hooked on Tetris when you would see those awful shapes in your head hours after finishing your last marathon. Prepare to do that again in 3D with Tetrical. Developed by Digital Machina, the flash game works pretty much like the original once you get the hang of the shift, control, and arrow keys. You also need the <, >
, +, and - keys for angles and adjustments. Ready for the challenge? Don't say we didn't warn you about its addiction.
Read More

| Tetrical


Posted by Chris Pereira Categories: Accessories, Action, Activision, Adventure, Bungie, CAPCOM, Casual, Corporate News, Driving, E3, Electronic Arts, First Person Shooters, Hardware, Microsoft, Party Games, PC, Puzzle, Release Dates, Retro, Role Playing Games, SEGA, Simulation, Special Editions, Sports, Strategy, Survival Horror, Take2, Third Person Shooters, Trailers, Ubisoft, Xbox 360, Xbox Live, Xbox Live Arcade, Xbox Live Marketplace,
Unfortunately, I wasn't able to attend E3 this year – instead, I'm on vacation in Cape Cod, using awful hotel Wi-Fi to watch streamed press conferences. Not the most glamorous way to take it all in, but exciting announcements, great games and new details are welcome no matter how you hear about them.
Here's my personal transcription (in very brief form) of all the announcements and showings, along with some reflection on what Microsoft had to show.
Click to continue reading E3 2007: Microsoft's Press Conference Recap And Impressions

Posted by Chris Pereira Categories: Activision, First Person Shooters, Internet, Microsoft, PC, Xbox 360, Xbox Live,
I hate Games for Windows Live. I love the potential, but currently I think it's a horrible, horrible excuse for an online system. It's completely gimped in comparison with Xbox Live, and ultimately worthless right now; I could go on and on, but frankly it's just not ready for mainstream use, and doesn't warrant any sort of subscription fee. And as far as cross-platform play goes… so far, not the greatest thing in the world. And I'm not the only who thinks so – in an interview with IGN, Infinity Ward's Grant Collier stated:
Our rep left us a message saying 'hey, want to talk about this, Live Anywhere, it's big, it's cool', and I thought, well yeah, if you're playing online poker, but who wants to be playing an RTS on a console and have some guy on a PC clicking and dragging all his troops, attacking your base while you're sitting there with your thumb sticks. So I think for FPSs and RTSs, no way, but for, y'know, card games or Tetris or something like that. There are games that I think it's cool for, but there are other games where I don't think there's any point. So they just didn't respond.
So if you're looking for a safe bet to make with an uninformed friend, gambling that Call of Duty 4 won't be featuring cross-platform play is about as safe as you can get.
Read More

| IGN Australia via Kotaku
Posted by Michael Cardiff Categories: Action, Portable/Mobile, Puzzle, Reviews,
Yesterday, we reported on Apple's move to bring several popular casual games to the iPod - and for those that are fans of instant gratification, you're in luck… today we're going to review them! The iGames now currently available for Apples 5G and 5.5G iPods include 9 titles: Bejeweled, Cubis 2, Mah-Jong, Mini-Golf, Pac-Man, Tetris, Texas Holdem, Vortex and Zuma. To really test how well Apple's done, we picked four of the titles that we thought would be more challenging to port for the click-wheel interface: Bejeweled, Pac-Man, Zuma and Tetris. And for all you out there wondering whether the new iGames are worth your $4.99, you can find our full review of these 4 titles (along with tasty videos) and our thoughts on the iGames functionality in general after the jump!
Click to continue reading EXCLUSIVE Reviews: Zuma, Pac-Man, Bejeweled, and Tetris on iPod
Posted by Michael Cardiff Categories: Corporate News, Hardware, Portable/Mobile, Retro,
Well, it looks as though all of those rumors of Apple trying to hire games industry professionals may not have been all that far off. Today, during the "It's Showtime" keynote at the Yerba Buena center in San Francisco, Apple announced that they will be releasing iPod-compatible versions of Tetris, Zuma, Mah-Jong, Texas Holdem, Cubis 2, and other games on the iTunes store for $4.99 a piece.
It's not clear whether these games will only be compatible with the iPod phat yet, or if they'll also work with the nano. However, Steve J did mention that all of the games should be compatible with the 5G video iPods y'all already have. This is good news, since Apple also announced during their presentation that they're updating the whole iPod product line - including a "5.5G" video iPod with 60% brighter screen, iPod nanos in colored aluminum enclosures, and a re-designed iPod Shuffle. We'll update this story with more information as it becomes available on the Apple website.
UPDATE 1: Apple's website has been updated, indicating that the iGames are compatible only with the 5G iPod or the newly-released 60% brighter 5.5G iPods. iPod nanos are not supported. We've downloaded some of these games from the iTunes Store (went very smoothly - this is Apple after all) and will have full reviews up shortly. It's looking like at least some of these are worth the $5.00 download.
Read More

| AppleInsider

© Gear Live Inc. – User-posted content, unless source is quoted, is licensed under a Creative Commons Public Domain License. Gear Live graphics, logos, designs, page headers, button icons, videos, articles, blogs, forums, scripts and other service names are the trademarks of Gear Live Inc.