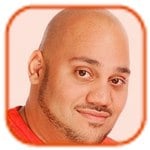 Posted by Andru Edwards Categories: Handhelds, Rumors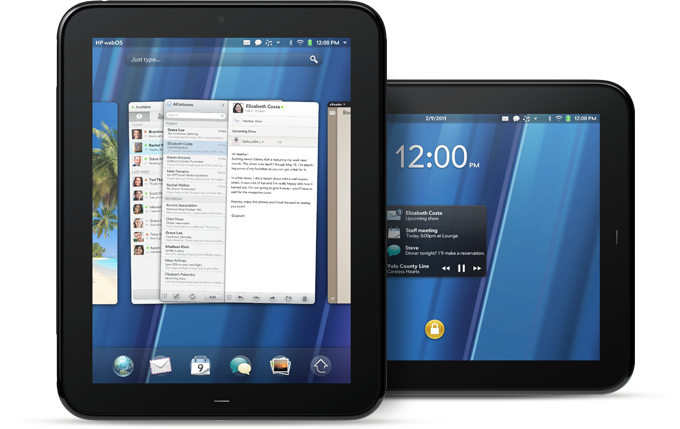 We still don't know when the HP TouchPad media tablet will arrive this summer, but a little bird has given PreCentral.net an inkling of what the pricing will be like.
A source tells the site that Wal-Mart will be carrying a 32GB version of the 9.5-inch tablet running HP's own in-house webOS, for the Apple iPad-like price of $599.
A Wal-Mart listing presumably passed along by the tipster doesn't contain a lot of detail, though it does list the $599 TouchPad as Wi-Fi-enabled. Other connectivity options weren't indicated.
The source must have passed on other details, because PreCentral.net reports that the TouchPad will be 9.5x10x1.78 inches, weigh in at 3 pounds, and that a number of TouchPad accessories will also be available from Wal-Mart.
Click to continue reading 32 GB HP TouchPad to cost $599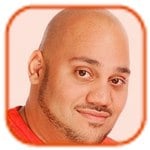 Posted by Andru Edwards Categories: Corporate News, Handhelds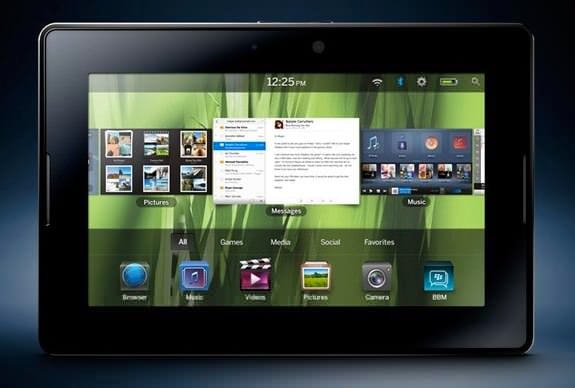 It hasn't exactly been smooth sailing for the BlackBerry PlayBook since its April debut, but according to financial analysts, the tablet might not be a complete disaster for Research in Motion.
RBC Capital Markets analyst Mike Abramsky estimates that RIM has sold about 250,000 PlayBooks to date, and could sell about 500,000 in the quarter. Abramsky and his team checked out PlayBook stock at 180 Best Buy stores and found that 14 percent of the 16GB versions were sold out, 71 percent of the 32GB PlayBooks were gone, and 84 percent of the 64GB tablets had been purchased. He cautioned, however, that the sell-outs on the 32GB and 64GB "appear allocation related."
Abramsky found that returns for the PlayBook are "nominal," despite setbacks that include a recall of 1,000 tablets and the lack of a native email client.
This comes about a month after Peter Misek, an equity analyst with Jefferies, speculated that RIM possibly sold 45,000 PlayBooks in the first few days.
Click to continue reading BlackBerry PlayBook selling moderately well, so who is buying them?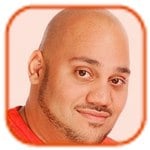 Posted by Andru Edwards Categories: Handhelds, Rumors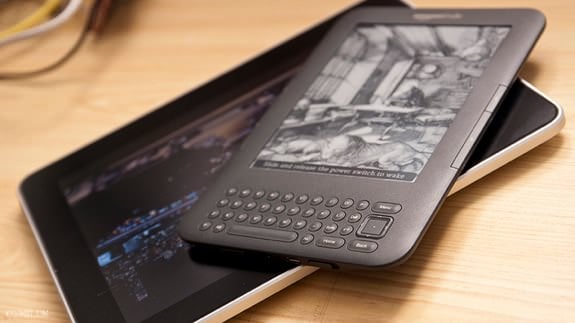 Rumors that Amazon well be releasing a Kindle tablet are looking a bit more clear, with a report saying that the company is actually working on two different tablets, according to Boy Genius Report.
An entry-level tablet codenamed Coyote will be powered by Nvidia's dual-core Tegra 2 mobile platform, while a more powerful device codenamed Hollywood will sport Nvidia's upcoming quad-core "Kal-El" chip, the website reported Monday, citing a "tipster."
The source did not provide screen-size details, according to BGR.
The processor details put the theoretical release of the rumored Hollywood tablet at no earlier than the second half of 2011. Nvidia's Kal-El upgrade to its Tegra lineup isn't expected to be released until then.
Kal-El promises a significant boost to Tegra. The System-on-a-Chip (SoC) for mobile devices like tablets and smartphones boasts a 1.5GHz, quad-core ARM Cortex-A9 central processor and a 12-core Nvidia graphics processor that's purported to deliver five times the performance of the GeForce GPUs in the Tegra 2 SoC.
Click to continue reading Amazon working on two Android tablets, codenamed "Coyote" and "Hollywood"?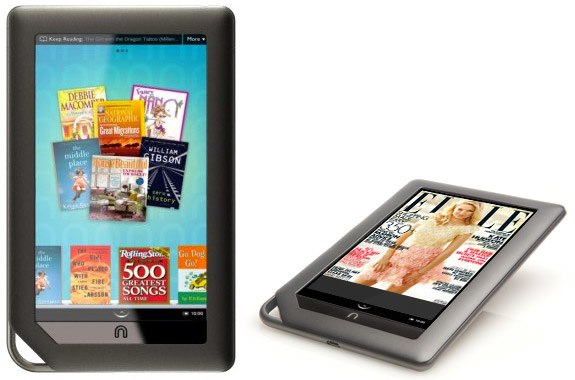 Barnes & Noble has sent out invitations to a May 24 event in New York City to announce a new e-reader device, most likely a new Nook.
Barnes & Noble has not indicated what the event will cover, with PR firm Fleishman refusing to take a page from Apple's playbook and tease audiences with what the announcement could include.
However, in a May 4 10K filing, Barnes & Noble disclosed that the May 24 announcement would indeed be an e-reader. "In a meeting with investor analysts on May 4, 2011, Barnes & Noble, Inc. (the "Company") indicated it expects to make an announcement on May 24, 2011 regarding the launch of a new eReader device," the company said, without elaborating.
Barnes & Noble now represents more than 25 percent of all of the U.S. market for e-books, more than the company's share of physical books, and it sells twice the number of e-books as physical books, at least online. The company exceeded its sales plans for e-book sales during the company's most recent quarter.It is the fourth straight quarter of topline growth exceeding 50 percent since selling the Nook in 2009.
As an e-reader with tablet functionality, the Nook wouldn't seem to have many features that it lacks compares to other e-readers. The Nook is available in color, and in both Wi-Fi, and in 3G, although speculation is that version is dying.
"It remains early in the development of the digital reading market," said William Lynch, the chief executive of Barnes & Noble, in a conference call on Feb. 22.
What could Barnes & Noble offer, perhaps in a Nook 2?
Click to continue reading Confirmed: Barnes & Noble will launch new Nook e-reader on May 24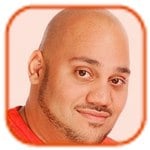 Posted by Andru Edwards Categories: Features, Galleries, Handhelds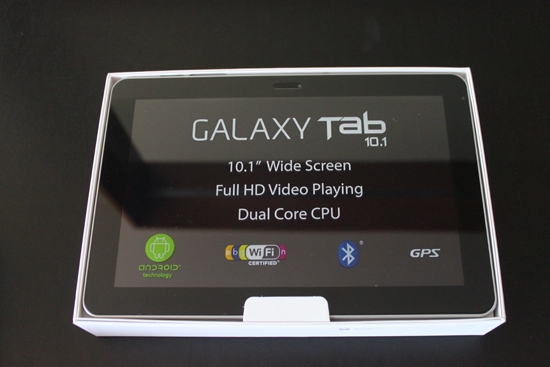 At the Google I/O 2011 conference, Android product management director Hugo Barra held up a Samsung Galaxy Tab 10.1 as an example of new exciting form factors using Google's mobile OS, adding, "it's not available to anyone yet ... with one exception: conference attendees."
You can guess the cry of elation that erupted in the auditorium. And it wasn't unjustified, based on our first impressions of the device. Most laymen could easily mistake it for an iPad 2, but it's a tad lighter at 589 grams (1.3 pounds), and has a larger, higher-resolution 10.1-inch display, at 1,280-by-800, compared with the iPad's 1,024-by-768. This means it can play full 1080p HD video, at a maximum of 30 frames per second.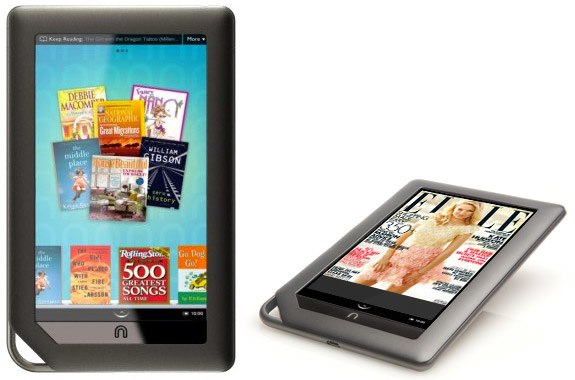 Barnes & Noble is readying an updated e-reader, the company revealed in a recent Securities and Exchange Commission filing.
"In a meeting with investor analysts on May 4, 2011, Barnes & Noble ... indicated it expects to make an announcement on May 24, 2011 regarding the launch of a new eReader device," the notice said.
The company provided no other details about what the updated e-reader might entail. The last major Nook upgrade was the Nook Color (pictured above,) which started shipping in November. The Android-based device includes a 7-inch touch screen and access to more than 2 million titles, as well as an extra-wide viewing angle intended for sharing. The screen boasts 1,024-by-600 resolution and 169 pixels per inch. It comes with 8GB of storage, expandable up to 32GB with a microSD card.
In late April, Barnes & Noble pushed out a major software update to the Nook Color, which included its own app store, an email client, the ability to play Flash video, and enhanced books. It also added support for Android 2.2 "Froyo" and Adobe Flash video.
Click to continue reading Barnes & Noble to introduce updated Nook e-reader on May 24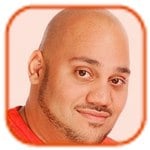 Posted by Andru Edwards Categories: Cell Phones, Editorial, Features, Microsoft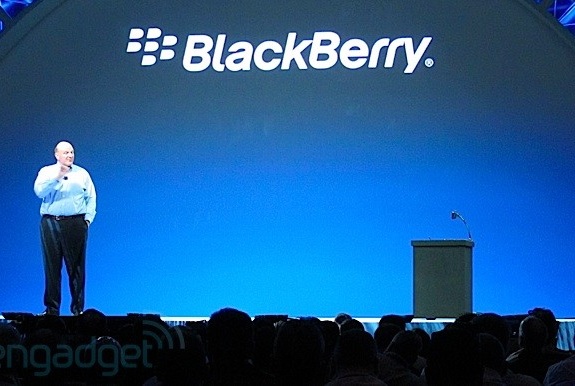 At this week's BlackBerry World trade show, everyone expected the top headliner to be the company's just-released PlayBook tablet and its new software offerings. As it turned out, the gadget ended up taking second spot to a surprise guest: Microsoft boss Steve Ballmer.
Ballmer came out during RIM co-CEO Mike Lazaridis' keynote yesterday morning to announce a partnership that would bring Microsoft's Bing search engine to BlackBerries. Search is a big deal in mobile devices, so it's fitting that a heavy hitter from Microsoft came to give its blessing, but many took the appearance of the CEO as a clear sign of bigger things to come.
Does RIM know what it's in for, though? There's considerable doubt over whether the company's strategy and platforms can be successful over the next couple of years. If they're not, Microsoft could end up owning RIM.
"Will Microsoft buy RIM? That is a possibility and a fast track for Microsoft to gain a foothold in the mobile hardware business," says Harry Wang, director of mobile research at Parks Associates. "RIM's market capitalization is only $25 billion and Microsoft has $48 billion in cash. If RIM's value drops to $15 billion, it will become an attractive target for Microsoft. Maybe Steve Ballmer was planting that seed during his keynote appearance at Blackberry World."
Click to continue reading Microsoft should buy RIM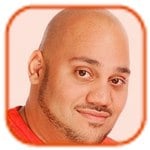 Posted by Andru Edwards Categories: Corporate News, Google, Handhelds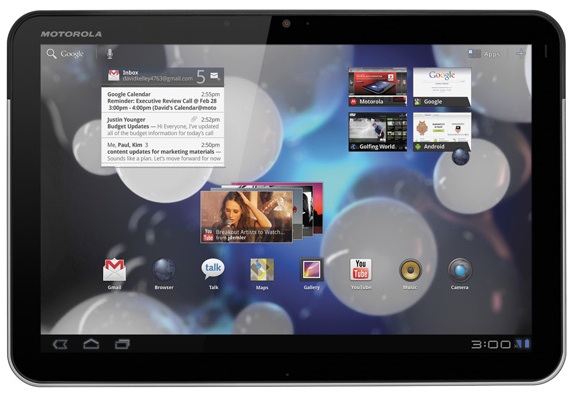 Motorola Mobility shipped 250,000 Xoom media tablets in the first quarter while improving year-over-year revenue to $3 billion but taking an $81 million loss in the three months ending April 2.
Motorola Mobility, recently split off from Motorola Solutions, also shipped 4.1 million smartphones in the first quarter of 2011, the company said Thursday. In all, Motorola Mobility said it shipped 9.3 million mobile devices in the quarter, beating analyst expectations.
Motorola split into two independent public companies in January with Motorola Mobility generally considered a spin-off. Motorola Solutions—which makes bar code scanners, police radios and other products—also reported earnings Thursday and had net income of $497 million, up from $69 million in the first quarter of 2010.
Click to continue reading Motorola says they've shipped (not sold!) 250,000 Xoom tabelts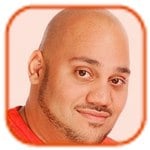 Posted by Andru Edwards Categories: Editorial, Handhelds, Rumors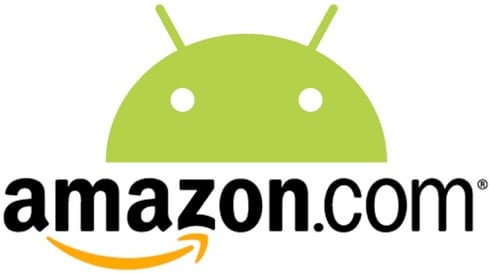 Is Amazon preparing to launch an Android tablet? Peter Rojas of gdgt thinks so, and the time does seem right for a refresh to the company's Kindle e-reader; the last time the product got a major upgrade was two years ago. And, as Rojas points out, there's a wealth of circumstantial evidence that points toward Amazon readying a tablet.
Apple has thoroughly dominated the tablet market since the iPad first went on sale about a year ago. The company sold more than 14 million iPads last year, and analysts project that Apple will move as many as 60 million iPad 2s in 2011 (though first-quarter sales were down). Although there was buzz that the Motorola Xoom, the Samsung Galaxy Tab, or the BlackBerry PlayBook might present some competition for Apple's wildly popular tablet, no company has yet been able to produce a tablet worthy of taking on the mighty iPad. Amazon might be the most likely candidate.
Click to continue reading Is Amazon preparing to launch an Android-powered Kindle tablet?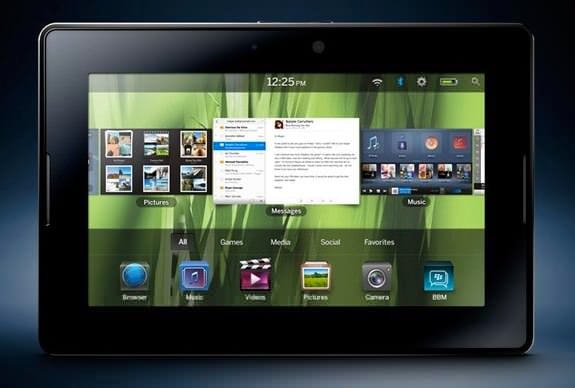 The 7-inch BlackBerry PlayBook tablet goes on sale today in the U.S. and Canada. The PlayBook has a 1024x600 touchscreen display, and a dual-core, 1-GHz Cortex A9 microprocessor backed by a full gigabyte of RAM. It's offered in 16GB for $499, 32GB for $599, and 64GB for $699 - for even better prices check out the PlayBook on eBay.
While reviews for the new tablet have been generally positive (see our BlackBerry Playbook review,) the PlayBook had a tough time actually getting off the ground. It's been criticized for its lack of native email, calendar, and organizing apps. Furthermore, the tablet was delayed, which could be attributed to high demand for Apple's iPad. The release date, originally slated for the first quarter of 2011, was reportedly pushed back due to a shortage of touch screen panels, which Apple had already allegedly obtained for the iPad 2.
When the iPad 2 went on sale in the U.S. March 11, eager Apple fanboys were camped out in long lines in hope of snagging one of the popular tablets. In the first sales weekend, analysts estimate Apple sold nearly half a million iPad 2s. The tablet sold out within a matter of days, and the wait time went up to five weeks.
Click to continue reading BlackBerry PlayBook goes on sale, iPad 2 not worried
© Gear Live Inc. – User-posted content, unless source is quoted, is licensed under a Creative Commons Public Domain License. Gear Live graphics, logos, designs, page headers, button icons, videos, articles, blogs, forums, scripts and other service names are the trademarks of Gear Live Inc.