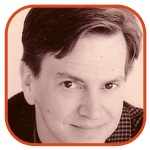 Posted by Tom Mason Categories: Editorials, DC Comics,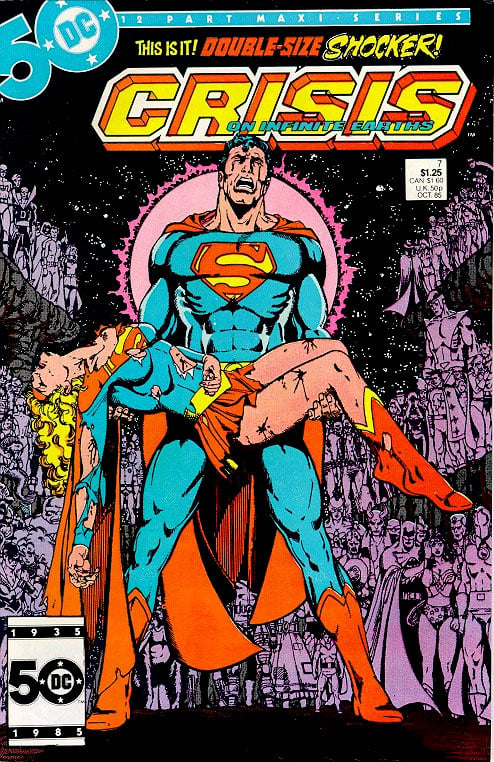 I think George Perez has had an amazing run in comics, and I think his run on Teen Titans with Marv Wolfman will long be considered a career highlight.
I find it interesting that he's back doing one of DC Comics' headline titles.
He recently posted this on Facebook, and since that's read by countless millions and retweeted and linked to my millions of others, I'm stealing it for here.
Here's what George wrote about his new gig as part of the DC Comics reboot of Superman:
"Since I'm not going to be doing any interviews regarding the Superman reboot (not wishing to inadvertently spill any plot beans) I just want to give you all the skinny on what exactly I'm doing on the book. As was recently revealed is that I will be writing the new series Superman: The Man Of Tomorrow.
"What wasn't explained is that I'm also doing the thumbnail layouts for the book, something I did for artist Kerry Gammill years ago when I worked on Action Comics. This way, I'd be providing my storytelling style, body language and suggestions for facial expression, but the final look of the book and characters will be handled by Jesus Merino, and from what I've seen of his work so far, we're going to work quite well together.
Click to continue reading George Perez On Superman: The Man Of Tomorrow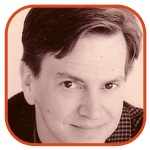 Posted by Tom Mason Categories: Editorials, Movies, DC Comics,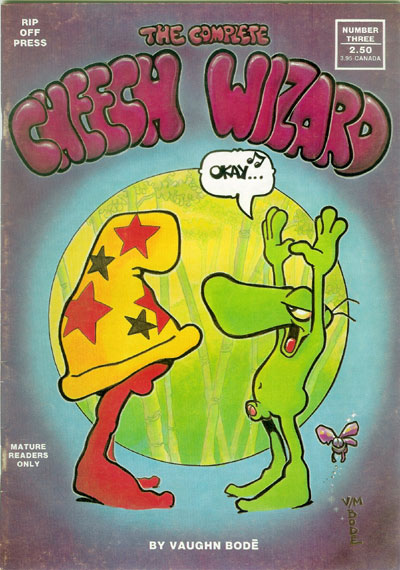 With all the talk of DC's big reboot, I thought it would be interesting to take a look at something Grant Morrison, Mark Waid, Mark Millar, and Tom Peyer put together for DC back in 1998: Superman 2000. And it was. I would totally read these comics.
Now let's see what else can be read:
Euro: I always get a kick out of it when someone reads their first graphic novel. Karen at the Euro Crime blog (a terrific blog for crime fiction) read a Doctor Who graphic novel. Her verdict: "looks beautiful but doesn't take long to read!"
Halloween: It's never too early to talk about The Halloween Legion, a new project from Martin Powell.
Bambi: It wasn't always a classic of children's literature as some might suspect. The Storyboard blog at the Walt Disney Family Museum breaks it down. Bonus: rabbit death.
Click to continue reading Weekend Reading: Reboots, Disney, Superman and Cheech Wizard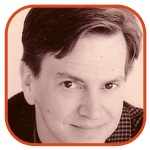 Posted by Tom Mason Categories: Collecting, Editorials, Reviews, DC Comics, Independent,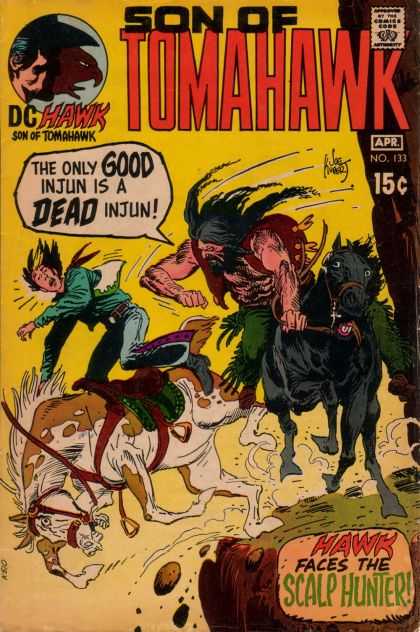 I hope you enjoyed your free comics on Free Comic Book Day!
I don't know how successful the event is at growing the industry, but I do like getting a lot of free comics to sample - it's like opening up a birthday present and finding Christmas inside.
Let's see what else is free:
Comics: Lance Mannion visits the local comic book shop, on the streets of New York City.
Cowboys: At Western Fictioneers, Troy Smith lays out his favorite Western comic books of all time. Bonus: Son of Tomahawk!
Mickey: Mark Evanier got himself an advance copy of Walt Disney's Mickey Mouse: "Race to Death Valley" (Vol. 1) by Floyd Gottfredson, published by Fantagraphics Books. And there was much rejoicing.
West: I love this poster by Thomas Perkins.
Bongo: Over at Bongo's blog, Comic Book Guy runs down a list of comic book places where he'd like to live.
Click to continue reading Weekend Reading: Gottfredson, Satan, Starlin and Comic Book Guy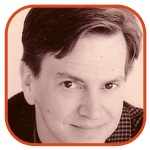 Posted by Tom Mason Categories: Editorials, Movies, DC Comics, Marvel Comics,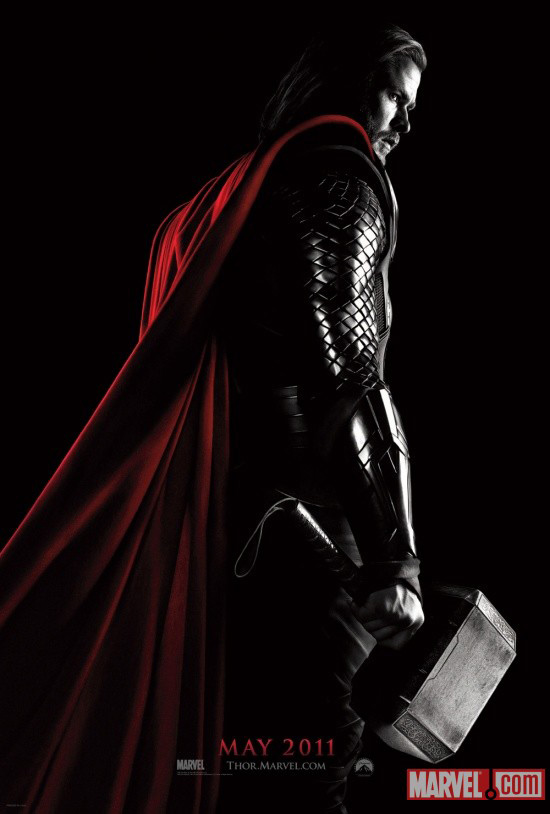 So, is there some kind of comic book movie out this weekend or what?
Yes, that's right. Mighty Marvel Comics has unleashed one of its least-likely-to-star-in-a-hit-movie characters into his own hit movie: Thor. Word of mouth seems strong, box office seems stronger than Vin Diesel and by Odin's beard we'll probably be looking at Thor II and Son Of Thor before too long.
(In Son Of Thor, Thor's misunderstood teenaged son swings his mighty, but lesser, hammer in Manhattan around a cast of 90210/Gossip Girl lookalikes while trying to find love with that year's Kristen Stewart.)
Can Edgar Wright's long-awaited Ant-Man movie be far behind?
Marvel does a great job with their movies - they have a similar look and style, they churn them out with the punctuality of a European train, and they're either profitable or wildly profitable.
Click to continue reading The Mighty Thor Scores!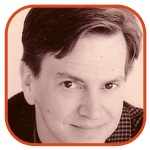 Posted by Tom Mason Categories: Editorials, Movies, Reviews, Television, DC Comics, IDW Publishing, Marvel Comics,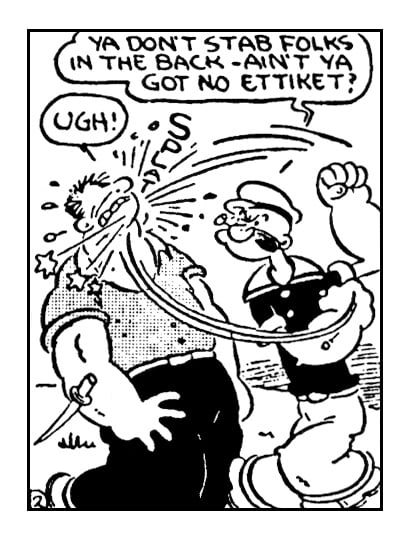 I was saddened to hear about the recent death of comics historian Bill Blackbeard. Tom Spurgeon had recently written about him and how he deserved a spot in the Eisner's Hall of Fame this year. That prompted me to (1) agree immediately with Tom and then (2) write about my own dealings with Mr. Blackbeard.
I didn't know that by then he had already passed. Tom has the best obituary, if such things can be defined by that term.
Fantagraphics' Gary Groth shares some personal memories plus tributes from others.
Sparkplug has an interview with him from a while ago that's first rate.
What a heartbreaker. The guy literally and single-handedly saved newspaper comics from the shredder of history.
Let's see what else is out there:
Click to continue reading Weekend Reading: Blackbeard, Superman, Toth & Guindon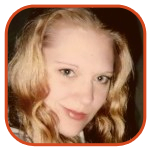 Posted by K.C. Morgan Categories: Warner Bros, Action, Adaptation, Adventure, Remakes, Casting, Upcoming Releases,
The Superman reboot officially has a name and a villain. Michael Shannon (of Boardwalk Empire fame) has signed on to play General Zod in Man of Steel.

General Zod appeared in Superman: The Movie (1978) and Superman II (1980). He's been a part of the DC Comic world since 1961. In the comics, Zod is also from Krypton and has many of Superman's powers and abilities.

As Zod, Michael Shannon will square off against Henry Cavill as Superman. Amy Adams will play Lois Lane, Kevin Costner Jonathan Kent and Diane Lane will portray Martha Kent.
Read More

| E! Online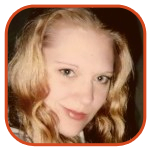 Posted by K.C. Morgan Categories: Warner Bros, Action, Adaptation, Adventure, Remakes, Science Fiction, Thrillers, Casting, Celeb News, Upcoming Releases,
Amy Adams is going to make a super-cute Lois Lane in the Superman reboot, even if she has to dye her trademark red locks. Director Zack Snyder says the actress is "perfect" for the role (the Golden Globe nomination sure didn't hurt her in the audition room). He picked Adams after a lengthy search, because every superhero needs a leading lady.
Adams will be playing the career-minded love interest to Clark Kent/Superman Henry Cavill. Supporting cast includes Kevin Costner, who will play dad Jonathan Kent and Diana Lane as mom Martha Kent.
Read More

| Perez Hilton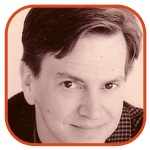 Posted by Tom Mason Categories: Editorials, Interviews, Movies, Reviews, Television, DC Comics, Marvel Comics,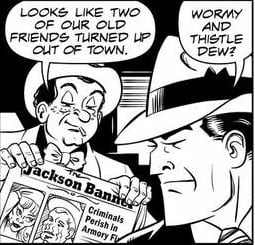 Can you believe another weekend is already here? I can't, so I'd better post a few links and then hit the liquor store!
Let's see what's out there on the interwebs for those of us not already enjoying C2E2:
Borders: The bookstore chain just didn't drop into bankruptcy overnight. Here's a list of a half-dozen balls they dropped that you'd think they wouldn't have.
[Link: Making Light]
Bruce: Comic book writer (remember his run on Hulk?) and novelist Bruce Jones ponders the future of fiction.
Return: John Zipperer at Weimar World Service reports that editorial cartoonist Lyle Lahey is back from his sabbatical, and in top form as he makes fun of Gov. Scott Walker of Wisconsin.
Dick: For those of you who don't already know, there's a new creative team on the venerable comic strip, Dick Tracy. It's writer Mike Curtis and artist Joe Staton, and the whole thing is 3 daily panels of awesome. Hogan's Alley interviews Staton about his new job.
Click to continue reading Weekend Reading: Borders, Bruce Jones, Dick Tracy And Alan Moore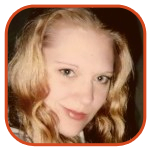 Posted by K.C. Morgan Categories: Warner Bros, Action, Adaptation, Adventure, Casting, Rumors, Upcoming Releases,
Kevin Costner is talking with producers about taking on a "key role" in the upcoming Superman movie. Henry Cavill (The Tudors) has already been cast as the main man in blue and red, and now he'll need a supporting cast.
But, which role will Kevin Costner play? Will the new reboot feature a considerably older Lex Luthor character, as did the last reboot? Or will Costner play a good guy, maybe Daily Planet editor Perry White or Clark Kent's dad Jonathon Kent? Perhaps this reboot features newer Superman characters, like police commissioner Henderson maybe?
When we know, you'll know. Follow Film Crunch on Twitter to get the latest gossip as soon as we've got it.
Read More

| Perez Hilton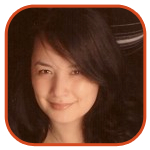 Posted by Veronica Santiago Categories: Warner Bros, Action, Adaptation, Adventure, Remakes, Casting, Upcoming Releases,
Henry Cavill, best known for his work as Charles Brandon on The Tudors, has just been named Warner Bros.' new Man of Steel.
The 27-year-old British actor will be the latest person to play Clark Kent and his alter ego, Superman, on the big screen following Brandon Routh and Christopher Reeves.
Director Zack Snyder (Watchmen) said he is "honored" to help bring the iconic character back to life. "I also join Warner Bros. and the producers in saying how excited we are about the casting of Henry. He is the perfect choice to don the cape and S shield," Snyder offered in a statement.
Christopher Nolan is a producer on the film that was written by Batman Begins' David S. Goyer.
Superman: Man of Steel will fly into theaters on December 17, 2012.
Read More

| People

© Gear Live Inc. – User-posted content, unless source is quoted, is licensed under a Creative Commons Public Domain License. Gear Live graphics, logos, designs, page headers, button icons, videos, articles, blogs, forums, scripts and other service names are the trademarks of Gear Live Inc.