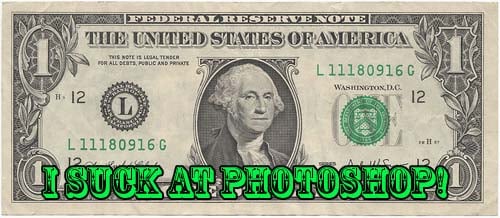 Now that we're over the holiday hump (i.e. every game imaginable being released at the same time, oh god, why do you do this to me), a lot of sites and publications have been putting together lists of games to look forward to in the new year. Me? Nuh-uh. I don't have the cash for that. Fallout and Dead Space alone have depleted my gaming funds for a while (not to mention a certain 360 dying enough times for me to wish ill on its relatives), and if you're like me, you want a cheap alternative until your funds recover. Hell, even if you don't need it, you can't pass up a quality gaming experience on the cheap, but being a penny-pinching bastard like myself tends to help heal those imaginary wounds. So, I've decided to put together a list of a few old-but-still-awesome games that you can get for slightly less than the cost of a night with your mom, though they'll probably last far longer.
You may want to note that some of these games are older and may stutter and wobble and spurt blood if you're running more than Windows XP, so you may want to check your compatibility before you plunk down the green to have them downloaded to your inferior operating system, muahaha. Hit the jump for the rundown.
Click to continue reading Five Awesome Games You Can Play on the Cheap

Posted by Steve Van Neil Categories: Action, First Person Shooters, PC, PlayStation 3, Puzzle, Trailers, Xbox 360,
At the Games Conference in Leipzig, developer Valve walked the audience through the latest chapter of Half Life 2, due to arrive on Steam and as part of The Orange Box this fall. This video shows off Episode Two's soft lighting effect, "cinematic physics," and new enemies. Interestingly, the updated physics and lighting systems will make an appearance in the console versions of Episode One as well, so if you are first experiencing Episode One on your PS3 or Xbox 360 through The Orange Box, you get to bask in the more up-to-date technology.
And since I don't see people dancing in the streets on a daily basis, I figure there must be some confusion out there about what this mysterious Orange Box really is. It's quite simple, really. The Orange Box is the gaming deal of the millennium. On October 10th of this year, gamers will be able to buy one box which contains Half Life 2, Half Life 2: Episode One, Half Life 2: Episode Two, the multiplayer-based Team Fortress 2, and the puzzle game Portal…all for the price of one game. It's scheduled to hit the PS3. Xbox 360, and PC, not to mention the global economy, all on the same day,
Read More

| Valve


Posted by Chris Pereira Categories: Action, First Person Shooters, Hot Deals, PC, Retro,
It's great enough to see the rumors come true of id's games getting up on Steam – after all, id is the company that was behind Doom, Quake, Wolfenstein and Commander Keen(!), among others. Many of these classic games (from Doom and Wolfenstein on up to Doom 3 and Quake III) are now available for purchase on Steam. Or, if you're into super-awesome-sweet deals, you can buy the id Super Pack and get all of the id games on Steam for $62.95 (for a limited time, then the price will bump up to $69.95). That includes a ton of content, to say the least, which would otherwise cost $213.90 to pick it all up on Steam individually.
The list of id content on Steam and in the Super Deal includes:
Commander Keen
DOOM 3
DOOM 3 Resurrection of Evil
DOOM II
Final DOOM
Heretic: Shadow of the Serpent Riders
HeXen
HeXen II
HeXen: Deathkings of the Dark Citadel
Master Levels for Doom II
QUAKE
QUAKE II
QUAKE II Mission Pack: Ground Zero
QUAKE II Mission Pack: The Reckoning
Quake III Arena
QUAKE III: Team Arena
QUAKE Mission Pack 1: Scourge of Armagon
QUAKE Mission Pack 2: Dissolution of Eternity
Return to Castle Wolfenstein
Spear of Destiny
Ultimate DOOM
Wolfenstein 3D

Posted by Chris Pereira Categories: First Person Shooters, PC, PlayStation 3, Xbox 360,
Black Box, the PC-only package which included Episode 2, Team Fortress 2 and Portal has been canned by Valve. The reasoning behind this was not revealed, but it's likely a move to help promote Steam.
"The Black Box has been cancelled," said Doug Lombardi, Valve's director of marketing. "We're going to have one package, The Orange Box, available on the PC (US$49.99) as well as the 360 and PS3 (US$ 59.99). In addition to the three new products—Portal, Team Fortress 2, and Half-Life: Episode Two—The Orange Box will also contain the full version of Half-Life 2 and Half-Life 2: Episode One. Those who purchase the PC version of The Orange Box will get three separate Steam product codes: One for the three new games, one for HL2, and one for Episode One. This way a PC Orange Box owner can give away their Half-Life 2 or Episode One unused Steam product codes if they don't need a copy of those games. We are excited to deliver the highest value of new gaming content ever offered in one box."
It sounds like a fair bargain to me – that's a lot of content for $50 (or $60 if you're on consoles). Those who wish to save money will be able to download all of the new content directly from Steam – a route which many gamers are likely to take, meaning Steam will see a nice boost in traffic. With more and more games looking to Steam as a viable means of distribution, this increase in download numbers will likely help to coax some naysayers into jumping on the bandwagon.
Read More

| IGN UK

© Gear Live Inc. – User-posted content, unless source is quoted, is licensed under a Creative Commons Public Domain License. Gear Live graphics, logos, designs, page headers, button icons, videos, articles, blogs, forums, scripts and other service names are the trademarks of Gear Live Inc.