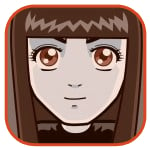 Posted by Sheila Franklin Categories: Editorial, Science, Transportation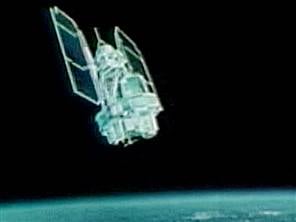 Prez. G.W. Bush has allowed the Pentagon permission to use a Navy Standard Missile 3 to "intercept" the broken 5,000 lb. U.S. spy Satellite 193 and save us from its bulk as well as its toxic hydrazine fuel. Expected to otherwise arrive on Earth during the first week in March, there was no specific time given, but the "window" should open in the next week or so. This is the first time an attempt of this kind has been made and the missile's software has been updated to give it a better chance of reaching its target. We wonder if another satellite will be on hand to film the event. George Lucas could certainly use it in his next Star Wars Episode.
Read More

| msnbc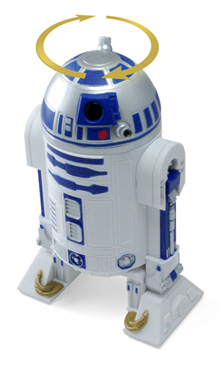 We never get tired of digging up the latest in Star Wars functional toys. This time it is the R2-D2 Pepper Mill that grabbed our attention. At a height of 4.75-inches, you simply twist the licensed gadget's head and freshly ground pepper comes out his, um, bottom (peppercorns not included.) Made in Japan and available for $19.99, we can't wait until they come up with a C-3PO salt shaker and Yoda sugar dispenser.
Read More

| Think Geek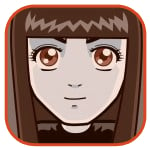 Posted by Sheila Franklin Categories: Internet, Misc. Tech, Music, Science, Videos
Since most robots are made to serve, it's nice to discover one that solely entertains. Engineered Arts' RoboThespians speak, sing, tell stories, and do a dance step or two. You can watch it perform Robert Shaw in "Jaws," something very "Alien," "C3PO," "Singin' in the Rain," and our fave of Darth Vader and Luke Skywalker. If you are fortunate enough to live in the UK, you can see them perform at The Eden Project in Cornwall. If not, there is always YouTube. It ain't Shakespeare, but it is amusing.
Read More

| technabob


Star Wars never really dies. George Lucas just hands out more licensed products. These 16-inch tall lightsabers are mini-lamps that come in Darth Vader red or Luke Skywalker green models. Manufactured in Japan, each light requires 2 AAA batteries (not included) and will show the rest of your co-workers just which side of the Dark Side you are truly on. May the light force be with you. Each of them are priced at $19.99.
Read More

| ThinkGeek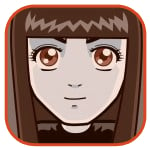 Posted by Sheila Franklin Categories: Misc. Tech, Movies, Toys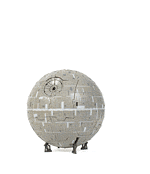 What do you get when you cross Star Wars and one of our fave toys? It's the Darth Vader Transformer, of course. At a height of 11-inches, he will wield his lightsaber and blaster with sounds and lighting. When you want him to change tactics, turn him into a Death Star. Although he will be smaller (about 6 3/4-inches,) he will launch projectiles at anything not belonging to the Dark Side. This baddie/battle station needs 3 AA batteries (included) and is available with 3 Storm Troopers and TIE Fighter mini-vehicles for $49.95.
(Thanks, Jennifer)
Read More

| Firebox


Posted by Lolita Beckwith Categories: Announcements, Movies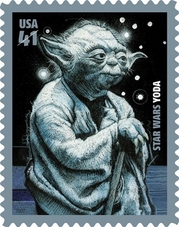 So last spring we told you about the Star Wars postage stamps, which could only be purchased as a multi-stamp set. However, you could vote for your favorite character to receive a stamp of his/her/its own. The winner? Yoda! The sage, semi-cuddly Jedi Master's stamp has been released. Although his pose suggests complete disdain for the honor, we bet deep down he's quite humbled.
Read More

| Yahoo! News


Posted by Lolita Beckwith Categories: Hot Deals, Movies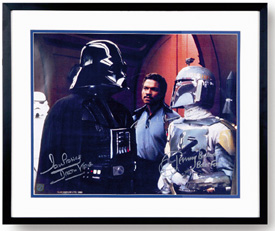 So you thought your Star Wars collection was complete after buying those Star Wars stamps the moment they were released. Well it's time to break the bank again, amigo. Truly for the obsessed fan—and we mean that in a nice way—Wireless Catalog is offering a wood-framed still from "The Empire Strikes Back" signed by Billy Dee Williams, David Prowse (Darth Vader), and Jeremy Bulloch (the enigmatic Boba Fett). The collector's item comes with a certificate of authenticity, measures 21x25" wide, and is currently available for $300 USD. Limited quantities available.
Read More

| The Wireless Catalog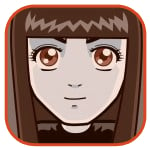 Posted by Sheila Franklin Categories: Misc. Tech, Movies, Science, Transportation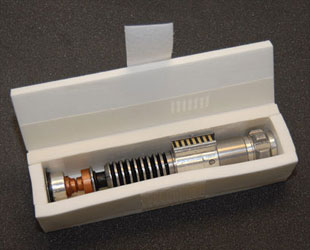 Who says that astronauts are all work and no play? Luke Skywalker's actual lightsaber from "Return of the Jedi" was bundled up and taken on the latest trip to the Discovery. Before being packed away in its flight kit and stowed away in an area in the space shuttle, it was personally given a sendoff from George Lucas, Chewbacca, and some Jedi Knights. Ever since Gus Grissom carried a few dimes on his spaceflight in 1961, many items have been taken along for the ride. Although astronauts are not allowed to bring anything personal for profit, sometimes memorabilia will find its way to sites such as CollectSPACE. We prefer to think they they brought the weapon along just in case they need the Force to be with them.
Read More

| USA Today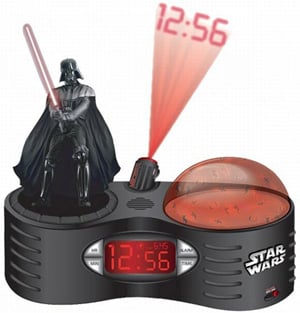 Let the force be with you, even at night. The Darth Vader Alarm Clock projects the time onto the ceiling, with a red snooze alarm button that doubles as a nightlight. Of course Darth's lightsaber also lights up, just in case you can't sleep and want a middle of the night challenge to the evil dude. Available next month, $29.99 is a small price to pay to contribute to your Star Wars collection of useless, yet beloved memorabilia.
Read More

| Star Wars Shop


Posted by Paul Hamilton Categories: Culture, Editorial, Retro
Gamers of a certain age, if given half a chance, will gladly recount grand tales of smoky rooms, dimly lit by a few dozen cathode rays where the only sounds are the white noise of competing digitized soundtracks, crude speech sythesizers, blips and bells, pings and whistles and artificial arpeggios rolling down an electronic scale.
The misty sincerity of those gamers who cut their teeth on the quarter-munching cabinets of Space Invaders, Asteroids, Missile Command and Sinistar is almost enough to make one forget what a mess the modern arcade equivalent has become. The gargantuan interface machines with their elaborate weapon approximations and physical demands juxtapose over a likewise spectacular price per play resulting in a hollow shell of what the old guard knew so well. These are not arcades as exist in those guarded memories, they are interactive entertainment experiences: The kind of branded, marginalized speciality device that has been focus tested and trade-show marketed to get the premium floor space right out front in view of the mall concourse is showpiece here.
Even those arcade machines which can still accurately be described as video games compete for the higher-yield ticket-generating skill games (which ironically involve very little skill). Most of those who recall the days when 3D graphics referred to the vector lines of Tempest pass by these modern emporiums. Perhaps they shake their heads a little or make a disparaging comment. Kids these days. Get off my lawn. They don't enter; inside is only heartbreak.
Perhaps what hurts the most is that it is a heartbreak we chose. We have no one to blame but ourselves, for while the arcade as it was may be dead, ultimately it is us who killed it.
We wanted the more valuable entertainment experience. We asked for and then demanded a perfect replica of our arcade favorites that we could play at home from the comfort of our couches. We pressed for more arcade-quality graphics on our home consoles until our set top boxes had visuals that outpaced anything showcased on a standalone machine. We asked for, and received, greater narrative depth in our games and as a casualty for our insistence we killed the arcade—the very entity we now mourn.
© Gear Live Inc. – User-posted content, unless source is quoted, is licensed under a Creative Commons Public Domain License. Gear Live graphics, logos, designs, page headers, button icons, videos, articles, blogs, forums, scripts and other service names are the trademarks of Gear Live Inc.