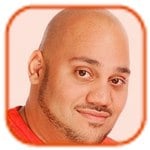 Posted by Andru Edwards Categories: PC / Laptop, Storage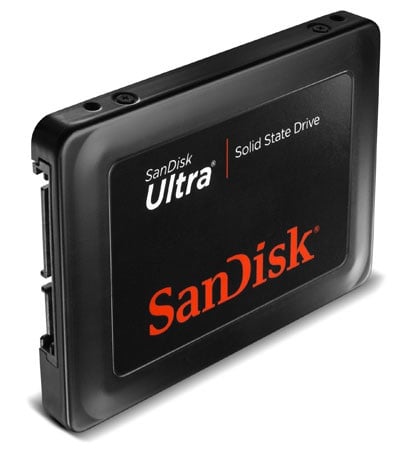 When SSD drives first hit the scene, they were obscenely expensive, making just about everyone wait for prices to come down. Now, it seems, we are at a point where SSD manufacturers are hoping to convince you that a simple swap of the old HDD for a new SSD will be a much better financial decision than replacing the entire computer, and in many situations, we think that's a valid argument. SanDisk is one such company, and its new Ultra SSD is now shipping to retailers. You get 280 MB per second read speeds and 270 MB per second write speeds, and the drives are available in three size capacities. You can grab a 60 GB model for $129, a 120 GB version for $219, and lastly, you can score a full 240 GB for $449. You can grab e'm now over at Newegg.
Read More

| SanDisk Ultra SSD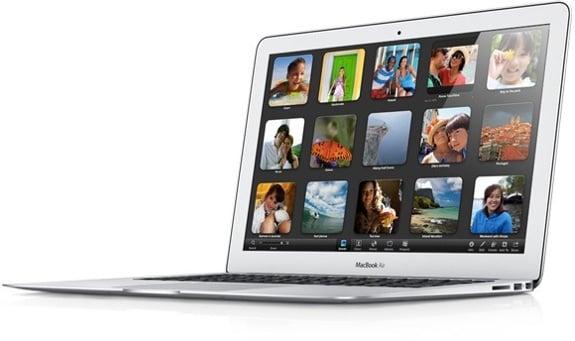 Yes, we know that the big excitement of the day is the release of Mac OS X Lion, but if you're more of a hardware person, you should know that Apple has released a refreshed MacBook Air this morning. The 13- and 11-inch notebooks now sport Intel Sandy Bridge Core i5 and i7 processors, backlit keyboards, Thunderbolt ports (replacing the old Mini DisplayPort,) and ship with Mac OS X Lion installed.
Pricing starts at $999 for the 11.6-inch model, which gives you 64 GB SSD, 2 GB RAM, and a Core i5 1.6 GHz processor. For $1199, you get the 11.6-incher with 4 GB RAM and 128 GB SSD. Both models offer five hours of battery life. Moving on to the 13-inch model, that starts at $1,299 and hits you with a 128 GB SSD, 4 GB RAM, and a 1.7 GHz Intel Core i5 processor. Step it up to $1,599, and you get a 256 GB SSD instead, and the 13-inchers give you 7 hours of battery life. Everything else remains the same (which means the FaceTime cameras haven't been upgraded to HD) here, and they're available now on the Apple Store.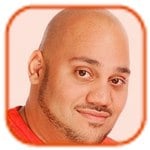 Posted by Andru Edwards Categories: Apple, PC / Laptop, Rumors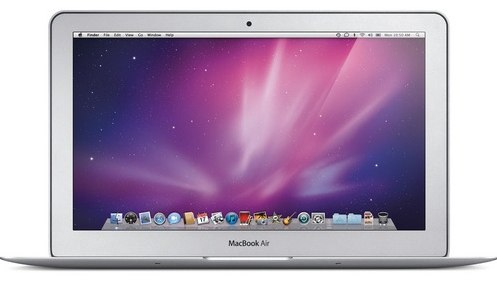 If you're thinking about buying an Apple MacBook Air, you may wanna wait, as an updated model will likely be released shortly.
Apple has reportedly placed an order with its Asian manufacturers for 380,000 next-generation MacBook Airs, equipped with Intel's newest Sandy Bridge processors, Concord Securities analyst Ming-Chi Kuo said in a note obtained by AppleInsider.
Kuo said 55 percent of these new models will be 11.6-inch versions, and the rest will be 13.3-inch models. In addition, Kuo said Apple has scaled back production of current models, announced back in October 2010, to 80,000.
Kuo has been saying since April that Apple will launch its next MacBook Air in June or July. At the same time, he said he expected the popular notebook would be equipped with Sandy Bridge processors and high-speed Thunderbolt transfer technology. In early May, Taiwanese newspaper DigiTimes cited sources who said the same thing. By late May, a Japanese blog reported that Apple was testing MacBook Airs with an A5 chip inside, the same chip used in the iPad 2 (though Steve Jobs has said once that Apple has no interest in building a netbook).
Click to continue reading New MacBook Air now in production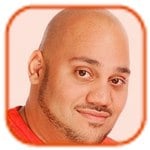 Posted by Andru Edwards Categories: Google, Internet, PC / Laptop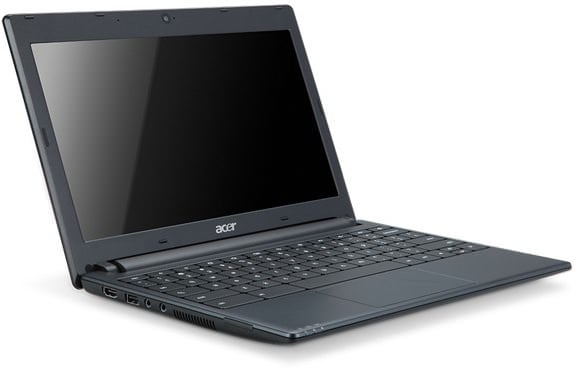 We've got another Chromebook to cover today, as the Acer Chromebook was announced this morning at Google I/O 2011, in addition to the Samsung Series 5 model. This one is smaller, with an 11.6-inch display, Intel Atom N570 processor, 16 GB SSD, two USB ports, HDMI, and a battery that lasts for 6.5 hours. Google promises an 8-second boot time on these as well. The Acer model seems to be the budget line, as these are going to sell for $349 for the Wi-Fi model (if you want worldwide 3G, those cost a bit more.) Look for these on June 15th at Amazon and Best Buy.
Read More

| Acer Chromebook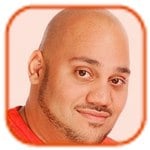 Posted by Andru Edwards Categories: PC / Laptop, Peripherals, Storage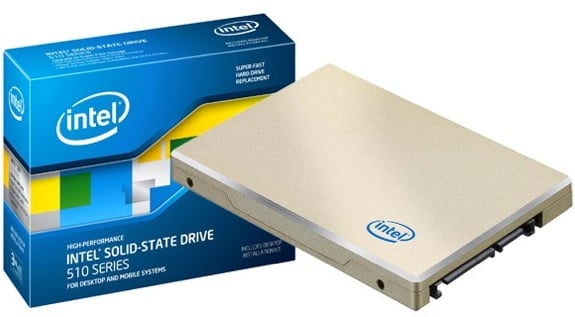 Intel today announced the latest solid-state drive (SSD) family in its product line: the Intel SSD 510 Series, which is also the company's first to use the 6-Gbps SATA III interface.
According to Intel, the drives in the 510 Series offer "the fastest sequential read and write speeds of any consumer SATA SSD available today," and feature read speeds of up to 500 Mbps and write speeds of up to 315 Mbps—respectively more than twice and more than three times the rates of Intel's current 3-Gbps SSDs. (OCZ announced its own 6-Gbps SSD series, the Vertex 3, last week, and made similar performance claims.)
The 510 Series SSDs are constructed using Intel's 34nm NAND Flash memory, and are targeted at gamers, enthusiasts, and professionals (particularly media creators) who need fast transfer rates. Intel claims the 510 Series is just one of a number of major SSD products it plans to introduce in 2011.
Click to continue reading Intel's 510 Series SSD sports500 MBps transfer over 6 Gbps SATA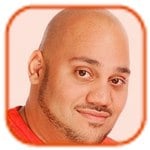 Posted by Andru Edwards Categories: Apple, PC / Laptop, Rumors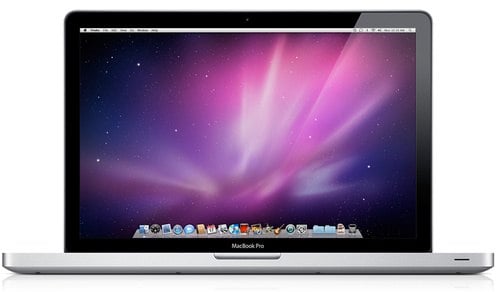 Our pals over at BGR are reporting that sources have told them that the new Sandy Bridge MacBook Pro models, which should be available sometime in the next two weeks, will be sporting a the following new features:
Even larger surface area for the glass trackpad
A 8 or 16GB SSD specifically dedicated to running OS X
They'll be about a half-pound lighter on average than the current models
The bit about the SSD dedicated to the operating system is the most suspect of the bunch, but that would certainly be one way to speed things up. I use an SSD in my Mac Pro that dedicated to running OS X and holding my applications folder, with separate hard drives for data storage. These rumors are added to the one that says that Light Peak may make its debut on the new MacBook Pro as well.
Read More

| BGR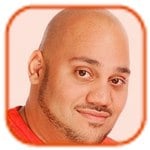 Posted by Andru Edwards Categories: Apple, PC / Laptop, Videos
When Apple announced the new MacBook Air, they touted the speed of the internal SSD drive, which is connected directly to the motherboard. We figured we'd check and see how true this was--after all, we use an SSD inside of a Mac Pro that's much better specced than the MacBook Air. The results were definitely surprising though, as you see in the video. Shutdown to booting up to a usable desktop took less than 14 seconds, which is something I've never gotten on my Mac Pro. That's the benefit of soldering SSD directly to the motherboard. This thing is speedy.
You can get the MacBook Air at a discount from Amazon, as they sell it for about $38 less than Apple, and ship it for free.

Apple wondered what would happen if the MacBook and the iPad "hooked up," and the answer is the new MacBook Air. The new MacBook Air is thinner and lighter than its predecessor, weighing just 2.9 pounds, it's 0.68 inches thick at its thickest area, and 0.11 inches at the thinnest. It's an all unibody enclosure, and it picks up that single-button glass trackpad that the MacBooks and MacBook Pros have been sporting for a while now. You've got a 13.3-inch model with a 1440 x 900 LED backlit display, and a smaller 11.6-inch model with a 1366 x 768 display. You get a couple of USB ports, a mini DisplayPort, stereo speakers, 802.11n WiFi, and an Intel Core 2 Duo processor. The 13-inch model also gets an SD card slot. They all used fast SSD chips, with instant-on support and 30-days of standby battery life.
The new MacBook Air starts at $999, and is on sale starting today.
Read More

| MacBook Air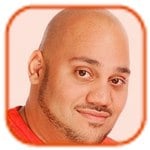 Posted by Andru Edwards Categories: Hot Deals, PC / Laptop, Storage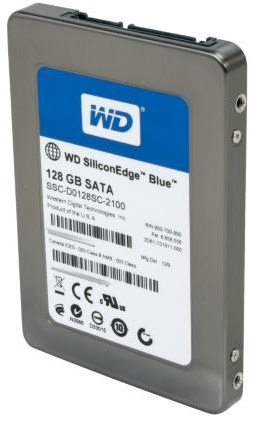 Newegg has got a great deal on the Wd SiliconEdge 128GB SSD drive. We are all used to SSDs being fairly expensive, so when we find a deal that gives you an instant $40 savings on one, it's something we think we should pass along. You can pick up the Wd SiliconEdge Blue SSD from Newegg for $269.99 now, which includes the $40 instant savings. As regular users of SSD drives, we can say that it's definitely a very nice speed upgrade for your system. To get the deal, just use promo code "WD128GBSSD" during checkout.
As always, you can find all sorts of Newegg promo code and deals on our forums.
Read More

| Wd SiliconEdge Blue SSD 128GB Newegg promo code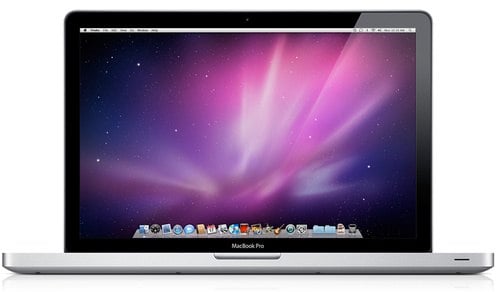 It's been a long time coming, but Apple has finally released the refreshed line of MacBook Pro notebooks that are powered by the Intel Core i5 and Core i7 processors. The 13-inch MacBook Pro line is actually sticking with the Core 2 Duo chips, but they do bring faster 2.4GHz and 2.66GHz options, alongside a 10-hour battery. The real news here, though, is in the 15- and 17-inch MacBook Pros. The 15-inch models start at $1,799 with a 2.4GHz Core i5 (520M), 320GB hard drive, 8-9 hour battery, and the 256MB NVIDIA GeForce GT 330M graphics chip which features Optimus switching. That allows the graphics chip to automatically switch from performance mode to a low power mode on the fly, rather than having to log out and back in. The next step up in the 15-inch line nabs you a 2.53GHz Core i5 (540M) and 500GB hard drive for $1,999, while the top of the line model features the 2.66 GHz Core i7 (620M) and the NVIDIA GeForce GT 330M with 512MB RAM.
If the 17-incher is more your thing, it starts out at $2,299 with a 2.53GHz Core i5, 500GB hard drive, ExpressCard slot, and the 512MB 330M. Options for all include more RAM (they all come with 4GB by default,) and 128, 256, and 512GB SSD drives. The 15-inch models also have new display options. By default, they ship with a 1440x900 glossy display, but for an extra $100 you can get a high resolution 1680x1050 display. For another $50 on top of that, you can get the 1680x1050 with antiglare. Lastly, the new machines are capable of "inertial scrolling" on the trackpads. If you have an iPhone, it's similar to flicking up and down to scroll.
You can pick up any of the new MacBook Pros now in the Apple Store.
Read More

| MacBook Pro Core i5 and i7

© Gear Live Inc. – User-posted content, unless source is quoted, is licensed under a Creative Commons Public Domain License. Gear Live graphics, logos, designs, page headers, button icons, videos, articles, blogs, forums, scripts and other service names are the trademarks of Gear Live Inc.