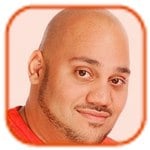 Posted by Andru Edwards Categories: Corporate News, Music, Portable Audio / Video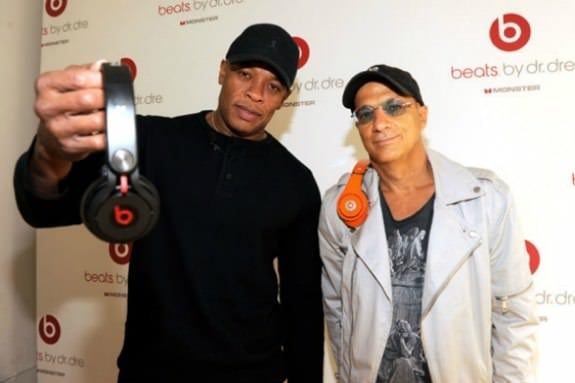 The rumors have been swirling for months, and now it's official--Beats Electronics has acquired MOG. Beats Electronics is the force behind the Beats by Dr. Dre headphone line and the Beats Audio profile, while MOG is a fledgling streaming music service that, while popular, has been in an uphill battle against services like Spotify, Rdio, and Rhapsody. The purchase means that Beats Electronics now has an end-to-end solution, controling both the hardware for listening to music, and the service to consume it as well.
Click to continue reading Beats Electronics acquires MOG music service
Read More

| USA Today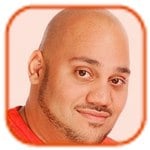 Posted by Andru Edwards Categories: Music, PC / Laptop, Software

Spotify has released a new update to its Mac and PC desktop clients, version 0.8.3, that brings with it some hotly anticipated features. Finally, you can now create a radio station on the fly based on playlists and albums simply by clicking on Start Playlist Radio or Start Artist Radio. Embedding is now easier, as the software is happy to give you the HTML needed to let you integrate content into your blog posts, as well as direct Tumblr support. Last, search has been given an overhaul, bringing your results into the main view with the hover of a mouse. The update is rolling out as we speak.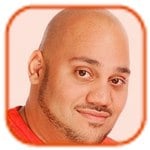 Posted by Andru Edwards Categories: Corporate News, Music, Software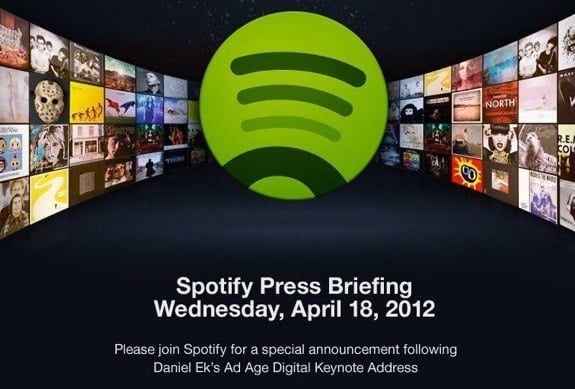 Spotify is set to reveal a special announcement in just five days. The CEO of the music streaming service, Daniel Ek, will be giving a keynote address at Ad Age Digital, and immediately after, Spotify will hit us with the news. Of course, as soon as the announcement is made, we'll give you the scoop on what's up. In the meantime, what do you think it'll be? Sound off in the comments!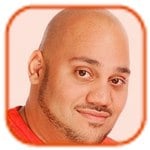 Posted by Andru Edwards Categories: Features, Internet, Music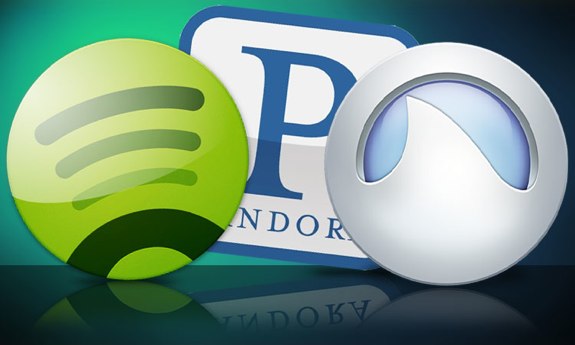 We sat in on a panel where Pandora's Jackson Gates, Daren Tsui of mSpot, and Kevin Wortis were interviewed by Gartner's Mike McGuire about the future of cloud music services at SXSW. It was an interesting discussion, focusing on what the benefit of the cloud brings to music, and the problems associated with expecting users to pay for something that they've been used to getting for free for at least a generation. It's an interesting time, and obviously the models differ substantially for companies like Pandora and Spotify, for example. Click on through for the highlights of the discussion!
Click to continue reading Are cloud music services like Rdio and Spotify the same song and dance?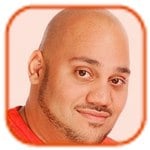 Posted by Andru Edwards Categories: Apple, Features, Music, Software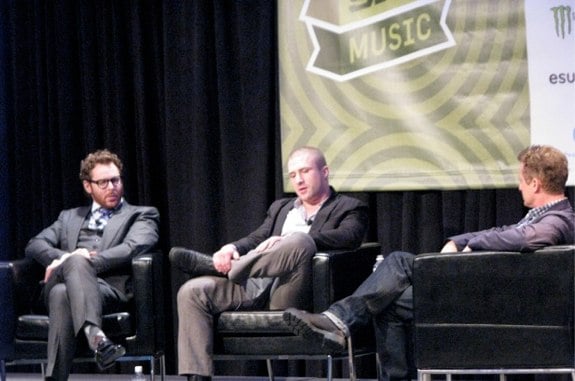 The revolutionary promise of digital music became reality with the rise of Napster. The file sharing network pioneered a functional and comprehensive catalog of music with its enthusiastic users. Developed by then-teenaged Shawn Fanning in 1998, Napster became a worldwide phenomenon in less than a year. Co-founder Sean Parker helped develop Napster into a company. Mass acceptance came quickly, but legal challenges ultimately doomed the original service. Despite the controversy and lawsuits, Napster changed the music business and paved the way for iTunes, Rhapsody, Spotify, and other music services. The divide between the cultural establishment and technology innovators was defined by the disputes raised by Napster. After more than a decade of declining sales of recorded music and imperfect attempts to present a licensed alternative, the influence of Napster continues to be felt.
At SXSW, I listened in on a discussion with Sean Parker and Shawn Fanning where they discussed these issues in an effort to promote their film Downloaded. The panel opened with a montage of clips from the VH1 rockDocs Downloaded film. The trailer touched on the start of Napster, the revelation of how easy it was to get music based on a search term, how quick the results were in the age of dial-up, and the growth of Napster as a company. There are a couple of gems there as well, such as when Fanning said back in 1999 that he believed the future was instant music access from multiple devices, including stereos and smartphones (well, he said "cell phones," but still.) this is a movie about kids revolutionizing an industry they knew nothing about.
Click to continue reading Napster founders Sean Parker and Shawn Fanning talk digital music at SXSW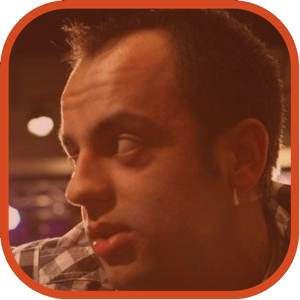 Posted by Andrey Malskiy Categories: Corporate News, Music, Software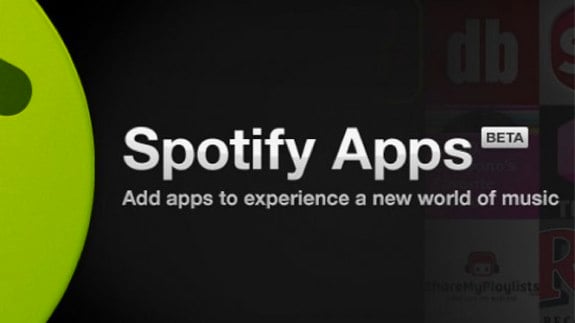 When Spotify launched in Europe, social music sharing officially arrived, and many services soon folllowed. However, the company soon realized that releasing an API that allowed third-parties to tap into the spotify catalog would mean new features and new ways for its users to interact and enjoy music, and with that came the release of Spotify Apps.
Spotify has shared info on the success of four of these apps. Truth be told, some of them are a runaway success. Each app is unique in its own way in changing the way we do music.
Soundrop, "let's you discover, listen to, and share music with friends in 'rooms' created by genre or theme," Spotify says. According to the company, Soundrop users in Feburary listened to 15 million songs or the equivalent of 100 years' of music.
The second app, Tunewiki, lets you sing along to the lyrics of the song you're listening too. Though we can't guarantee this will make you a better singer, it's certainly cool to be able to see the lyrics in real-time while playing a track.
Moodagent, plays music according to how you're feeling, which is fantastic time saver. No longer are you a slave to searching your library for the music you wanna listen too when you're 'Angry' or 'Happy', as you can now have Moodagent handle that for you.
The final app, SpotOn Radio, which was built into the mobile version of the app, hit number six on the Swedish iPhone app store.
The success of Spotify and the widespread use and development of its apps should continue to result in new, refreshing ways to both listen to and share music, with Spotify living on the back end. All Spotify apps are free to use, but require a Spotify account (also free!)
Read More

| Spotify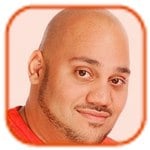 Posted by Andru Edwards Categories: Editorial, Features, Internet, Music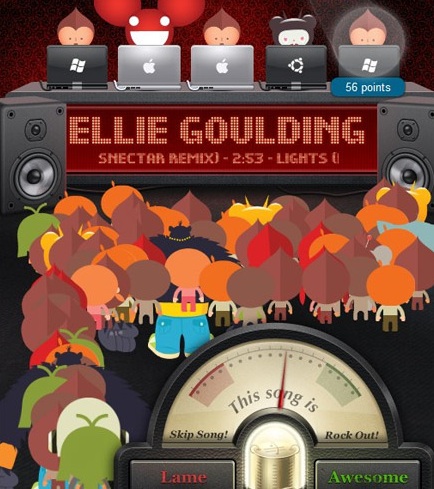 Right now I'm at SXSW, sitting in on the Turntable.fm DJ Battle that's taking place over the next two hours. There are a few DJs on stage playing their best tracks in an attempt to rock the crowd, and as things are unfolding, I can see some real potential for Turntable.fm to bring something to the table that the Spotifys, Rdios, and Rhapsodys of the world just aren't able to deliver at the moment, especially now that Turntable has secured licensing rights from all four of the major record labels here in the U.S.
Click to continue reading Why Turntable.fm matters, and how it enhances music discovery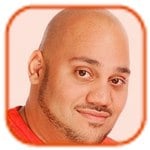 Posted by Andru Edwards Categories: Internet, Music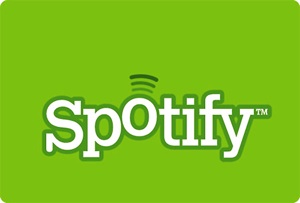 The Internet radio market got another shot of disruption today as Spotify announced its new Spotify Radio, a music-streaming app that will function just like a normal radio station, with the added ability to skip songs you don't like.
During this week's LeWeb tech conference in Paris, which was live-streamed online, Spotify CEO Daniel Ek took to the stage to announce the launch of the new app. Outlining the merits of Spotify Radio, Ek said, "It's kind of like Pandora, but with unlimited skipping and unlimited stations... We think people will love playing around it and we'd love to see what developers will do on top of that."
To get started, users simply click the new "Start Artist Radio" at the top of an artist page and the app will automatically create a radio station and continue to insert new music based on its "intelligent recommendation engine."
Click to continue reading Spotify Radio set to take on Pandora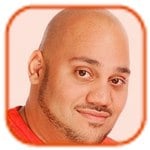 Posted by Andru Edwards Categories: Corporate News, Internet, Music, Software
Spotify has opened its network up to developers, turning the music service into a music platform.
"We're launching truly integrated apps inside Spotify from the best and brightest," Spotify chief executive Daniel Ek said during a New York press event. "We really believe they'll deliver unique experiences tailored to you and your music tastes."
Third-party developers will be able to build HTML5 apps that access Spotify's music library via a JavaScript API. Spotify is "opening our platform in a way that lets you curate the apps you want and make Spotify yours," Ek said.
All app developers are invited to submit apps to Spotify "but we will approve the apps because we think the core here is the user experience," Ek said.
At this point, there are also no monetization possibilities; all apps will be free.
Click to continue reading Spotify launches its own app ecosystem in attempt to become a music platform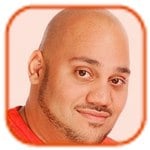 Posted by Andru Edwards Categories: Internet, Music
Facebook is good for discovering the latest news about your friends and family, but what about music? As part of its f8 developer conference yesterday, the site teamed up with a number of online music entities to bring music discovery to Facebook.
Music companies like Spotify, Rdio, Rhapsody, and Slacker will be offering their own apps, which will allow you to share what you're listening to with friends on Facebook. Their music choices will also show up on your news feed, and you can listen to the songs right inside Facebook.
"You'll now start seeing new music posts and play buttons all over your newsfeeds. Hit a play button and the music starts. Right there," Spotify said in a blog post. "Spotify fires up to give you a new soundtrack to your social life. Check out your new Music Dashboard and your real-time ticker to discover the music that's trending with your friends."
Click to continue reading Listen to music with friends on Facebook with Spotify, MOG, Rhapsody, Slacker, and more
© Gear Live Inc. – User-posted content, unless source is quoted, is licensed under a Creative Commons Public Domain License. Gear Live graphics, logos, designs, page headers, button icons, videos, articles, blogs, forums, scripts and other service names are the trademarks of Gear Live Inc.