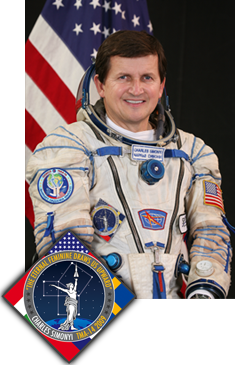 Lucky Charles Simonyi is going back into space March 26, the first private citizen to make a return trip. He will conduct a series of experiments as well as communicate with students via HAM radio on the ISS (ARISS) during the 12 day trek. We first mentioned him back in 2007 and now, like then, he will continue to blog from his website and feature live video and audio content from NASA TV in his "Follow the Updates" section. Although the second flight is undoubtedly still costing him a fortune, we expect he will reuse his suit.
Read More

| Charles in Space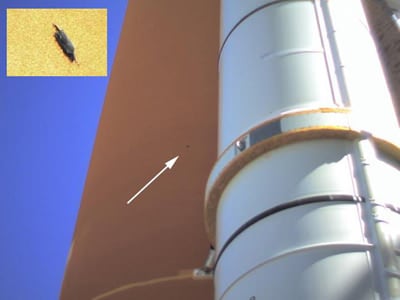 A tiny bat was spotted on the space shuttle when it was launched Sunday. After studying the photo taken by collectSpace.com (shown in close up in the upper left,) NASA officials said that it may have had a broken wing and was holding on to Discovery's external fuel tank. The Final Inspection Team even named him 'Interim Problem Report 119V-0080.' They were hoping that he would let go before liftoff, but that does not appear to be the case. Vaya con Dios, little bat.
Read More

| Space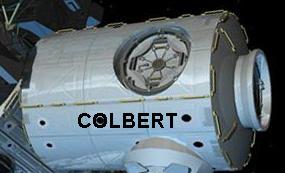 We told you last week about NASA looking for help naming their new Node 3 module, and if you are into "The Colbert Report" you undoubtedly heard that he dissed the names that they came up with, Earthrise, Legacy, Serenity and Venture.
"Those aren't space modules, those are organic teas," Colbert said. "But you know what name would look fantastic on the side of that module? Colbert!"
Since the airing of that episode, the comic has gotten over 30,000 votes, second to the top name "Serenity" and beating out "Xenu," Scientology's galactic ruler. But you have to love the idea that perhaps if we all vote enough, we may see the name "Colbert" painted on the side. You have until March 20 to contribute to the count.
Read More

| Live Science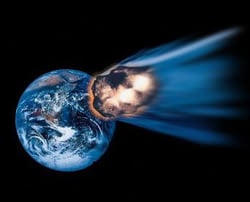 It seems that an asteroid flew by our planet Monday and very few knew about it at the time. It was about 115 feet wide (about the size of a 10 story building) and came within about 45,000 miles, twice the distance of the highest satellites. Astronomers knew that DD45 was coming but figured there was no collision risk and didn't make a big deal about it. We suppose that is so that those of us who watch sci-fi movies wouldn't panic, but experts say that should one that size strike, it would have the impact of 1,000 bombs like the one that hit Hiroshima.
Read More

| MSNBC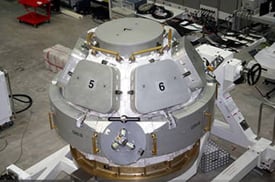 NASA would like you to come up with a name for their new Node 3 and cupola, which houses a robotic workstation to control that giant arm. They prefer something along the lines of Unity or Harmony and, by the same token, would prefer you not name it something too common. Vote for your choice in their poll or suggest your own before March 20. The name will be announced in April and Endeavor will delivering "Fred" this December.
Read More

| Nasa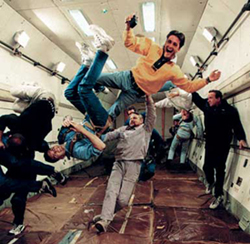 Listen up, space freaks. NASA will give you a free flight in zero-gravity at the Johnson Space Center in Houston if you can come up with technology that may have potential use in their FAST (Facilitated Access to the Space Environment for Technology) projects. Individuals, schools, government agencies and U.S. companies are welcome to apply. Get your proposal in by March 20 and you could be one of the 20 selected. Oh, and remember to bring a barf bag.
Read More

| NASA FAST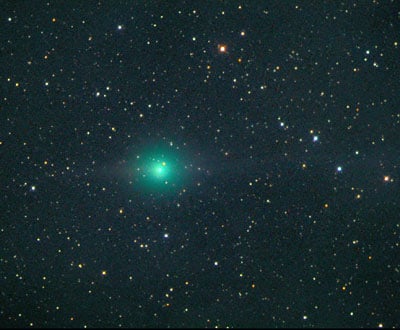 The Comet C/2007 N3, also known as Lulin, was discovered in July of 2007. If you would like to take a peek at it, now is the time. It can be seen with binoculars if the sky is clear and there are reports that some have seen it without them. If you have a telescope you might get to see its tail and antitail. Lumin will be closest to the earth February 24. Hit the link if you want more details, like where it can be spotted in your area. And after reading that, go outside and look for it!
Read More

| Sky & Telescope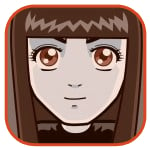 Posted by Sheila Franklin Categories: Cameras, Misc. Tech, Science,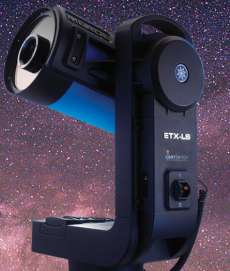 Checking out the sky is fun, but you could be frozen by the time you find what you were looking for. Meade's EXT-LS telescope, with Advanced Coma-Free (ACF) optics for a better picture, has a computerized scope that will automatically locate the star, moon, planet or star you are seeking. Once it is locked in with LightSwitch technology, you can take photos with its built-in camera or check out audio and video clips. The EXT-LS can find over 500 objects and is available for $1,299.00.
Read More

| Meade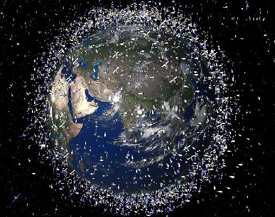 After last week's collision of two satellites in space, experts estimate tens of thousands of pieces of space junk that they will now have to monitor. They already track over 17,000 pieces larger than 2 to 4 inches in diameter. The incident occurred between a U.S. Iridium commercial satellite and a derelict Russian military one about 500 miles above the planet. The FAA has received reports of falling debris over Texas, which could be related to the crash but was not confirmed. Either way, it may be 10,000 years before the floating stuff, seen in this artist's rendering, will not be a threat to other satellites.
Read More

| MSNBC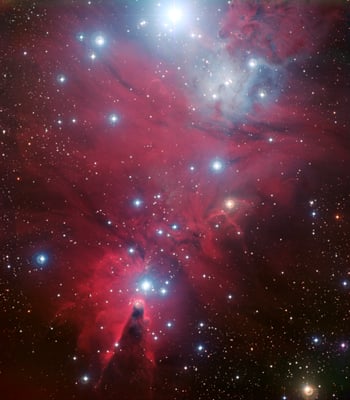 While you are enjoying your Christmas, Kwanzaa, or Chanukah, look up and think about how some of our greatest gifts are free. The Christmas Tree Cluster is composed of bright blue stars in front of a red gas background. It was first discovered in the 18th century, but was captured again from the European Southern Observatory in Chile. The cluster is in the constellation of Monoceros, the unicorn, about 2,600 light years from Earth.
Read More

| Wired

© Gear Live Inc. – User-posted content, unless source is quoted, is licensed under a Creative Commons Public Domain License. Gear Live graphics, logos, designs, page headers, button icons, videos, articles, blogs, forums, scripts and other service names are the trademarks of Gear Live Inc.