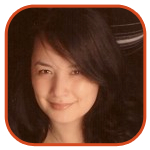 Posted by Veronica Santiago Categories: Comedy, Late Night, Cable, Video,
Okay - so it didn't go exactly like he had hoped. But Stephen Colbert's efforts weren't entirely in vain.
On last night's episode of The Colbert Report, astronaut Sunita Williams crushed Stephen's dreams when she announced the official name of NASA's new space module. Instead of calling the node "Colbert," the administration instead opted for "Tranquility."
But to appease the disappointed host and all his voters, the administration made sure to name something after him. Now astronauts at the space station will "jump on" a "C.O.L.B.E.R.T." every day. To find out exactly what that is, cue the video to the 3:41 mark.
Read More

| Colbert Nation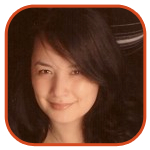 Posted by Veronica Santiago Categories: Comedy, Late Night, Cable,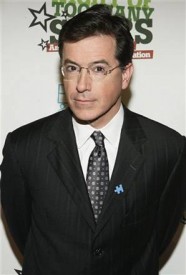 After weeks of waiting, the time has finally come. On tonight's episode of The Colbert Report, NASA will officially reveal what the new international space station module will be named.
This announcement is of particular interest to fans of the Comedy Central program because they played a role in the final decision. After comparing the adminstration's previous four suggestions - Serenity, Legacy, Earthrise and Venture - to organic teas, host Stephen Colbert encouraged his viewers to submit write-in votes. When the naming contest ended, 'Colbert' had bested the 2nd place finisher by 40,000 votes.
Unfortunately, Stephen's personal victory won't guarantee him bragging rights in outer space. Although opinions were solicited, NASA reserved the right to pick the final name. So how does Colbert feel about the matter? "I certainly hope NASA does the right thing. Just kidding. I hope they name it after me," he said in a statement.
Astronaut Sunita Williams will be the guest on this evening's show.
Read More

| Associated Press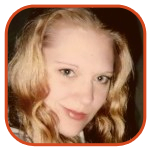 Posted by K.C. Morgan Categories: Television,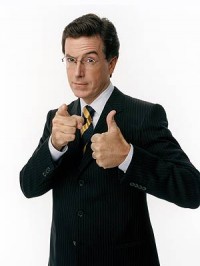 NASA wasn't prepared for the power of the Colbert Nation. The National Aeronautics and Space Administration recently held a naming contest for the new room of the international space station. Apparently, the government agency never heard about the late night host's influence over his fans.
When Stephen Colbert caught wind of the write-in invitation that NASA instigated to get ideas, the host urged his viewers into action. NASA picked the name Serenity for the new room - but votes for Colbert outnumbered the choice by 230,539 votes.
NASA, of course, has the final vote on naming the room…but a quarter million fans isn't exactly the set you want to anger. John Yembrick, spokesman for NASA, says the room will be named in April and that the name winning the most votes will also get "the most consideration."
Read More

| Perez Hilton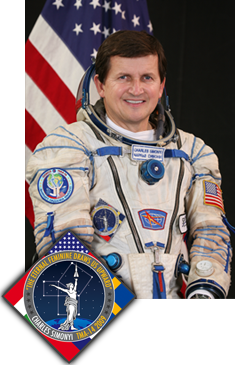 Lucky Charles Simonyi is going back into space March 26, the first private citizen to make a return trip. He will conduct a series of experiments as well as communicate with students via HAM radio on the ISS (ARISS) during the 12 day trek. We first mentioned him back in 2007 and now, like then, he will continue to blog from his website and feature live video and audio content from NASA TV in his "Follow the Updates" section. Although the second flight is undoubtedly still costing him a fortune, we expect he will reuse his suit.
Read More

| Charles in Space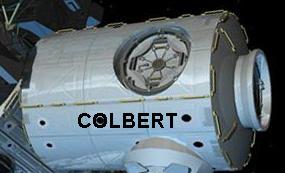 We told you last week about NASA looking for help naming their new Node 3 module, and if you are into "The Colbert Report" you undoubtedly heard that he dissed the names that they came up with, Earthrise, Legacy, Serenity and Venture.
"Those aren't space modules, those are organic teas," Colbert said. "But you know what name would look fantastic on the side of that module? Colbert!"
Since the airing of that episode, the comic has gotten over 30,000 votes, second to the top name "Serenity" and beating out "Xenu," Scientology's galactic ruler. But you have to love the idea that perhaps if we all vote enough, we may see the name "Colbert" painted on the side. You have until March 20 to contribute to the count.
Read More

| Live Science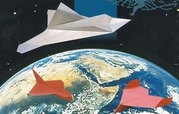 Sometimes we wonder about too much time on scientists' hands when we hear that some of them from the University of Tokyo have been working in conjunction with the Origami Airplane Association to create a paper airplane that can survive a flight from the ISS into Earth's atmosphere. Having begun testing a 3.1-inch prototype in a wind tunnel, the glider, which is shaped like the Space Shuttle, has been exposed to wind speeds of Mach 7 (5,300 mph.)
Although no launch date has been set, Professor Sinji Suzuki says he hopes a message of peace will be written on it before launch, since they don't know exactly where it will land. We think that should be if, considering it may burn up before it reaches home.
Read More

| Pink Tentacle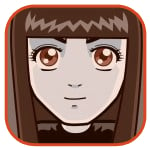 Posted by Sheila Franklin Categories: Misc. Tech, Science, Transportation,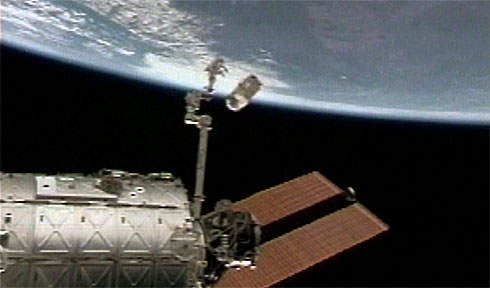 Clayton Anderson has become an official litterer in space by tossing a 200 lb. camera mounting and 1,400 pound ammonia tank off the Space Station yesterday. NASA officials believe that the container will circle Earth for almost a year before it goes back into the atmosphere and burns itself up. Anderson's comment about the task was, "I'll be sending my bill in the mail for trash disposal."
There are at present over 9,000 pieces of debris out in space that are trackable, leaving us to believe that some of those UFOs or meteors that get reported might possibly be space rubbish that they have just tossed out for lack of room. What is junk to one might be treasure to another, so it seems to us that they could just put up an orbital shed to house the stuff, bring it down later, and have a heck of a garage sale.
Read More

| USA Today

© Gear Live Inc. – User-posted content, unless source is quoted, is licensed under a Creative Commons Public Domain License. Gear Live graphics, logos, designs, page headers, button icons, videos, articles, blogs, forums, scripts and other service names are the trademarks of Gear Live Inc.