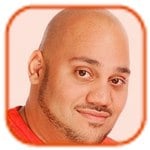 Posted by Andru Edwards Categories: Misc. Tech, Science, Videos,
The space shuttle Discovery undocked from the International Space Station for the last time this morning and started its two-day journey back to the Kennedy Space Center.
The shuttle fired its jets to separate from the ISS at 8:37am Eastern, NASA said. Discovery is scheduled to land at 11:58am on Wednesday; at this point, weather conditions are favorable.
Overall, the astronauts engaged in seven days, 23 hours, and 55 minutes worth of joint activities with the ISS crew. This is Discovery's 39th and final mission.
The crew received a special wake-up call at 3:23am this morning: the theme from "Star Trek" and a recorded message from actor William Shatner. "Space, the final frontier. These have been the voyages of the Space Shuttle Discovery. Her 30 year mission: To seek out new science. To build new outposts. To bring nations together on the final frontier. To boldly go, and do, what no spacecraft has done before," Shatner said.
Click to continue reading Discovery leaves International Space Station for the last time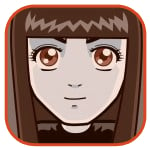 Posted by Sheila Franklin Categories: Science,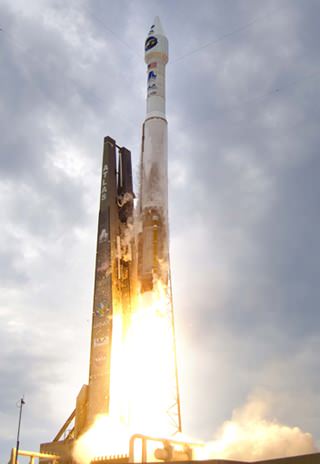 Although a space shuttle mission was canceled because of a hydrogen gas leak, NASA successfully launched its Lunar Reconnaissance Orbiter on an Atlas V rocket along with a Lunar Crater Observation and Sensing Satellite yesterday. Sent off at 5:32 p.m. ET, the LRO, scheduled to reach its destination June 23, has a mission is to look for potential landing sites for astronauts while the LCROSS will be looking for evidence of water on the moon's poles.
Read More

| NASA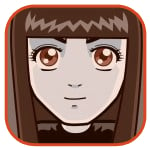 Posted by Sheila Franklin Categories: Household, Misc. Tech, Toys,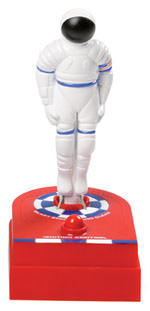 This is no ordinary Bic. You can show everyone of your desire to either go into space or that you are horrifically bored at work with the Astronaut Rocket Pen. Push the ignition control button and it takes off up to a height of a whopping 36 inches. Space Shuttle and Titan Rocket pens are also available, each with a price of $8.94. We hope that helmet keeps the landing from becoming an inky mess.
Read More

| Give Me Toys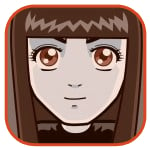 Posted by Sheila Franklin Categories: Science,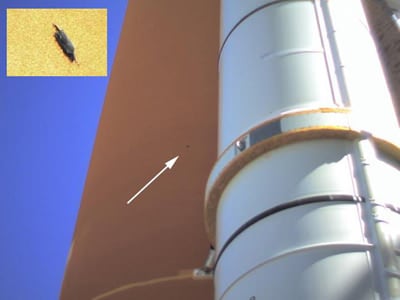 A tiny bat was spotted on the space shuttle when it was launched Sunday. After studying the photo taken by collectSpace.com (shown in close up in the upper left,) NASA officials said that it may have had a broken wing and was holding on to Discovery's external fuel tank. The Final Inspection Team even named him 'Interim Problem Report 119V-0080.' They were hoping that he would let go before liftoff, but that does not appear to be the case. Vaya con Dios, little bat.
Read More

| Space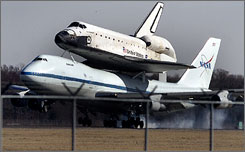 The Endeavor finally made it back home to NASA's spaceport Friday. Forced to take a detour when coming home Nov. 30 because of a nasty storm at Kennedy Space Center, it ended up at California's Edwards Air Force Base where it met up with more bad weather. The space shuttle was finally attached to the top of a modified jumbo jet to make the flight back. The trek cost a whopping $1.8 million. For that amount of money, we think it should have retired in (mostly) sunny California.
Read More

| USA Today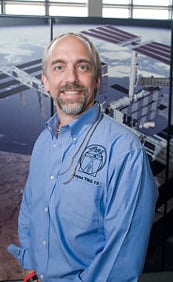 Richard Garriott landed in a Soyuz capsule in Kazastan Friday with 2 cosmonauts after a fun 10 day trip to the ISS. Garriott, who followed in his father Owen's footsteps, deemed the trip a success. "What a great ride that was," said Garriott "This is obviously a pinnacle experience."
The space tourist earned part of the $30 million ticket by testing a watch in microgravity (we wonder if it was a Timex) and conducting an experiment for a biotech company.
Read More

| CNN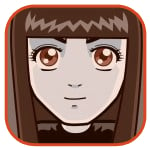 Posted by Sheila Franklin Categories: Misc. Tech, Science, Transportation,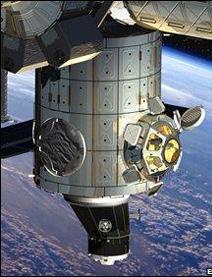 NASA has announced that the final flight of their shuttles will be May 31, 2010. It will be carrying spare parts for the ISS. One of the flights before that time will be taking up the 1.8 ton Cupola, a European-built structure that gives astronauts a 360º view of space. Going up December 10, 2009, the space agency believes that this will be an incredible outlet for pictures. Once the shuttle has been retired, European and Japanese ATVs and Russian Progress crafts will be doing all the flying. And there will always be the commercial vehicles for taking billionaires into the final frontier.
Read More

| BBC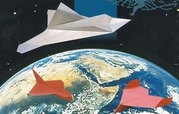 Sometimes we wonder about too much time on scientists' hands when we hear that some of them from the University of Tokyo have been working in conjunction with the Origami Airplane Association to create a paper airplane that can survive a flight from the ISS into Earth's atmosphere. Having begun testing a 3.1-inch prototype in a wind tunnel, the glider, which is shaped like the Space Shuttle, has been exposed to wind speeds of Mach 7 (5,300 mph.)
Although no launch date has been set, Professor Sinji Suzuki says he hopes a message of peace will be written on it before launch, since they don't know exactly where it will land. We think that should be if, considering it may burn up before it reaches home.
Read More

| Pink Tentacle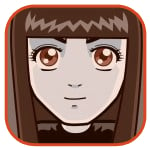 Posted by Sheila Franklin Categories: Cameras, Corporate News, Science,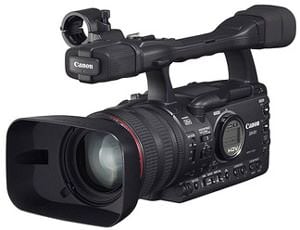 This has to be worth megabucks in advertising. First introduced in November of 2006, the HX G1 camcorder was launched October 23 from NASA's Kennedy Space Center in Cape Canaveral, Florida. The cam for professionals features a DIGIC DV II HD image processor, a 20x zoom lens, and a Super-Range Optical Image Stabilizer, at shoots at 24 fps. After performing a number of tests, the XH was given the "a-ok." Just as the Timex watch will be remembered as the watch that could go underwater, "take a licking, and keep on ticking," the XH may be remembered as the cam that not only has been to space and keeps on filming, it carries a price tag of around $6,000.00.
Read More

| Canon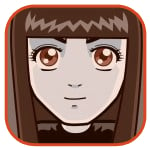 Posted by Sheila Franklin Categories: Misc. Tech, Movies, Science, Transportation,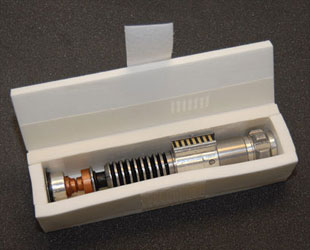 Who says that astronauts are all work and no play? Luke Skywalker's actual lightsaber from "Return of the Jedi" was bundled up and taken on the latest trip to the Discovery. Before being packed away in its flight kit and stowed away in an area in the space shuttle, it was personally given a sendoff from George Lucas, Chewbacca, and some Jedi Knights. Ever since Gus Grissom carried a few dimes on his spaceflight in 1961, many items have been taken along for the ride. Although astronauts are not allowed to bring anything personal for profit, sometimes memorabilia will find its way to sites such as CollectSPACE. We prefer to think they they brought the weapon along just in case they need the Force to be with them.
Read More

| USA Today

© Gear Live Inc. – User-posted content, unless source is quoted, is licensed under a Creative Commons Public Domain License. Gear Live graphics, logos, designs, page headers, button icons, videos, articles, blogs, forums, scripts and other service names are the trademarks of Gear Live Inc.