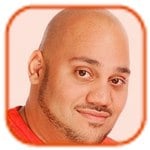 Posted by Andru Edwards Categories: Apple, Handhelds, PC / Laptop, Rumors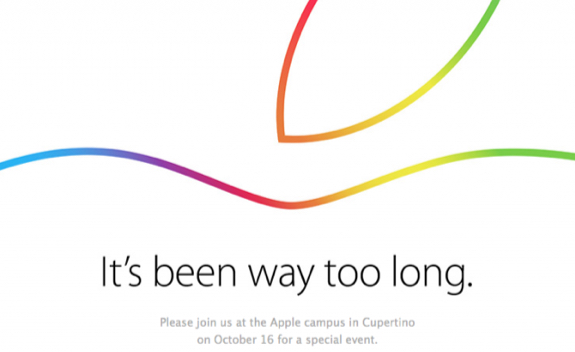 About a month ago, Apple took the stage at the Flint Center to unveil the iPhone 6 and iPhone 6 Plus. Later this week, the company will hold another special event, then time to reveal this years iPad lineup, and if reports are correct, updated iMacs (including one with a Retina display.) We've heard conflicting reports as to whether the iPad mini will see an update at the event, or if that'll come early next year, but we do know that the iPad Air will get an update that will make it lighter, slimmer, and more powerful.
Vietnamese leak site Tinhte.vn has already showed what's purported to be the iPad Air 2 frame, which is thinner and sees the volume buttons recessed into the frame, and the inclusion of a Touch ID sensor, bringing the iPhone feature over to the Apple tablet family.
Meanwhile, fans of Apple's desktop hardware have been waiting for a couple of years for the Retina display technology to make the jump from iOS devices and Apple notebooks over to the iMac. It appears that a 27-inch model that sports a 5K resolution may be prepped for Thursday as well, alongside a possible Mac mini refresh. OS X Yosemite may also launch on Thursday, as Apple has released three Golden Master candidates to developers so far.
We'll have all the news here on Gear Live as it happens, and Apple will also have a live stream of the event as well.
Read More

| Tinhte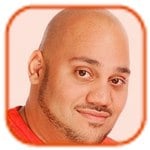 Posted by Andru Edwards Categories: Apple, Corporate News, PC / Laptop, Software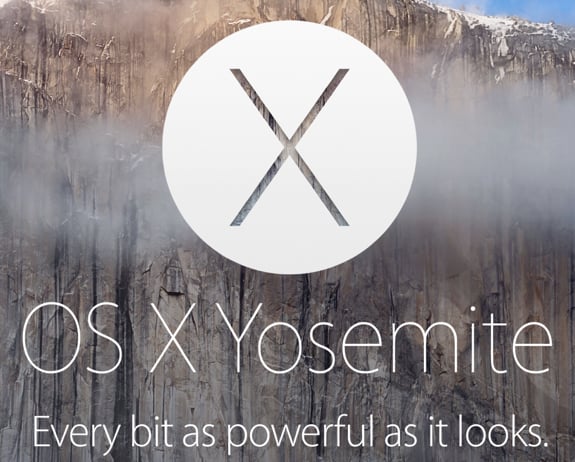 While Microsoft was busy introducing Windows 10 to the world, Apple released the first OS X Yosemite golden master candidate. Developers and beta testers were seeded with the update today through the Mac App Store, and the golden master designation means that the company is confident that this could be the exact same version that it ships to the general public when Yosemite is released later this fall, barring any last-minute bugs (hence the word "candidate.") OS X Yosemite was originally introduced back in June during the 2014 Worldwide Developers Conference, where it was shown to have a radical redesign from the current OS X Mavericks, along with much tighter optional integration with iOS 8.
It's rumored that Apple will ship OS X 10.10 Yosemite next month, alongside an update to the Mac lineup that would include the first iMac with Retina display at 5K resolution.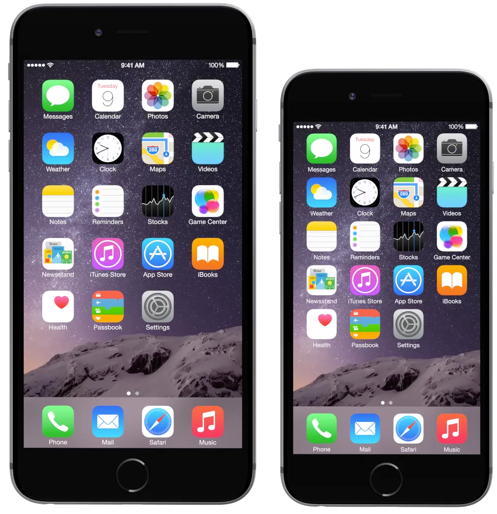 After releasing iOS 8.0.1 yesterday, and then subsequently pulling it due to critical bugs it introduced on the iPhone 6 and iPhone 6 Plus, Apple has released iOS 8.0.2 today. This release does everything that yesterday's iOS 8.0.1 update was supposed to do, while also eliminating a bug that caused both Touch ID and cellular connections to stop working on the iPhone 6 and 6 Plus. Here is the full rundown:
Fixes an issue in iOS 8.0.1 that impacted cellular network connectivity and Touch ID on iPhone 6 and iPhone 6 Plus
Fixes a bug so HealthKit apps can now be made available on the App Store
Addresses an issue where 3rd party keyboards could become deselected when a user enters their passcode
Fixes an issue that prevented some apps from accessing photos from the Photo Library
Improves the reliability of the Reachability feature on iPhone 6 and iPhone 6 Plus
Fixes an issue that could cause unexpected cellular data usage when receiving SMS/MMS messages
Better support of Ask To Buy for Family Sharing for In-App Purchases
Fixes an issue where ringtones were sometimes not restored from iCloud backups
Fixes a bug that prevented uploading photos and videos from Safari
In addition to the quick update, the company also issued an apology to the 40,000 iPhone 6 and iPhone 6 Plus users who were affected by the bug for the past day or so, saying "iOS 8.0.2 is now available for users, it fixes an issue that affected iPhone 6 and iPhone 6 Plus users who downloaded iOS 8.0.1, and includes improvements and bug fixes originally in iOS 8.0.1. We apologize for inconveniencing the iPhone 6 and iPhone 6 Plus users who were impacted by the bug in iOS 8.0.1."
We've downloaded the new update here on iPhone 6 and iPhone 6 Plus units, and everything is looking fine. The iOS 8.0.2 update is available now over the air, or through direct iTunes connection. Be sure to check out our full iOS 8 review.
You can order the iPhone 6 and iPhone 6 Plus from Apple.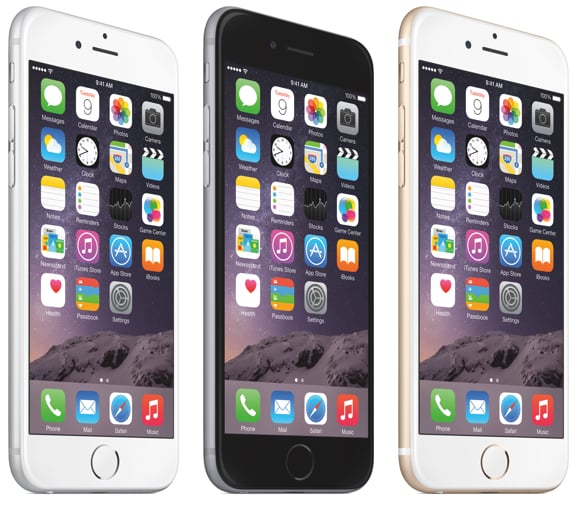 We just reported that Apple has released iOS 8.0.1, an update to the massive iOS 8 upgrade that arrived one week ago (see our iOS 8 review.) The update brings a handful of bug fixes and improvements, but has also introduced two new issues for those with an iPhone 6 or iPhone 6 Plus. After installing iOS 8.0.1, owners of the newest Apple smartphones are reporting that they can no longer connect to the cell provider, and that Touch ID fingerprint recognition no longer works. These are both fairly huge issues that you'd think would have been caught immediately before releasing iOS 8.0.1 into the wild, but that's neither here nor there. At this point, we recommend that everyone hold off on upgrading to iOS 8.0.1 while Apple gets this figured out.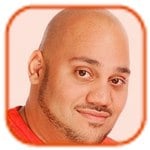 Posted by Andru Edwards Categories: Apple, Cell Phones, Features, Handhelds, Product Reviews, Software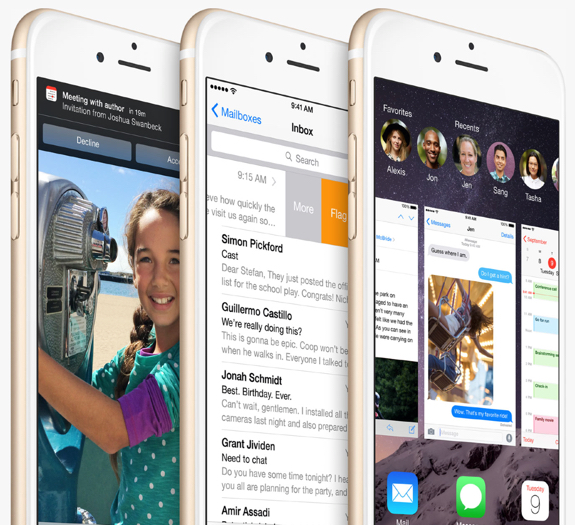 iOS 8 is the follow-up to last years radical redesign of Apple's mobile operating system. After the visual overhaul, the company went to work on adding a bunch of features that would make its devices more open with features like extensions and third-party keyboards, yet more secure with improved permissions and more widespread Touch ID integration. With iOS 8, Apple looks to refine the experience that was introduced last year, while allowing features for the power users of the world to shine.
It's been shown that Apple follows a two-step release process with its iOS device hardware and software. For example, one year the company will release a new design for the iPhone, and the following year it'll keep that design and refine the device, releasing it as an "S" class upgrade. iOS seems to follow a similar pattern, especially this year, which follows last year's big redesign. With iOS 8, Apple has introduced a layer of polish on top of its mobile operating system, bringing with it a bevy of new features. The question remains, do all the changes come together in a meaningful way? Join us for our full iOS 8 review as we explore the answer.
Click to continue reading iOS 8 review: A more powerful iPhone experience arrives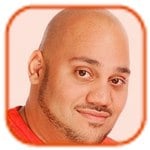 Posted by Andru Edwards Categories: Corporate News, Microsoft, PC / Laptop, Software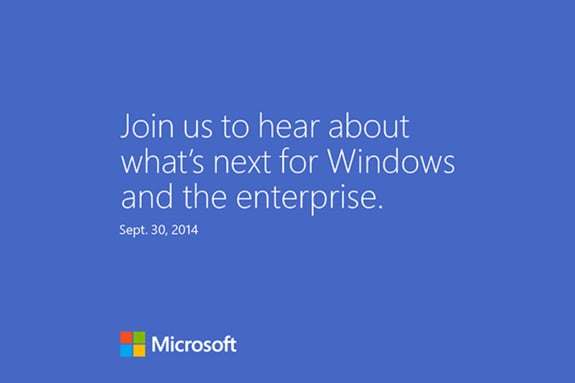 Microsoft has started sending out invitation to select press to its Windows 9 reveal event that will take place in San Francisco, California on September 30th. Microsoft execs Joe Belfiore and Terry Myerson will both be on hand to talk about "what's next for Windows and the enterprise." At the end of the event, we expect the company to release a Windows 9 Technical Preview that will allow developers and enterprise users to take the new software for a test drive to get apps updated and deployment scenarios tested. New features for Windows 9 include Cortana integration, virtual desktops, a new Start menu, Notification Center, and a refreshed UI that will see flatter icons (similar to Apple's OS X Yosemite.)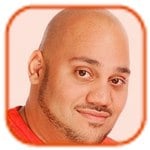 Posted by Andru Edwards Categories: Apple, Cell Phones, Software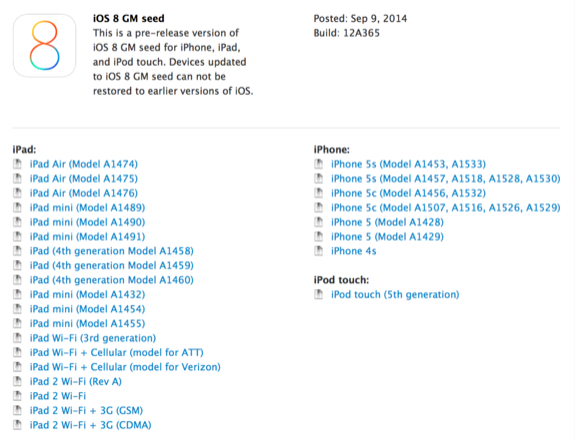 After all of the We Wish We Could Say More announcements from Apple today that saw the unveiling of the iPhone 6, iPhone 6 Plus, Apple Watch, and Apple Pay, the company released the Golden Master seed of iOS 8 to developers. Build 12A365 should be the same version that is pushed to the world when iOS 8 is released on September 17th via an over-the-air update. Registered iOS developers can grab the download in the iOS Developer Center now.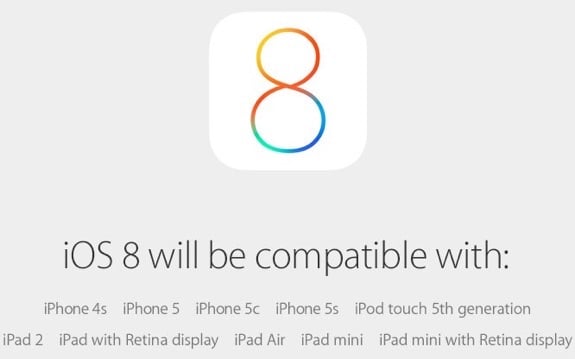 During today's We Wish We Could Say More event, Apple announced that iOS 8 would be released to consumers as a free update on September 17th. If you're curious if your device supports the next Apple mobile operating system, check out the image above which details all of the iOS device it will run on. iOS 8 brings with it a host of new features, including:
Photos: The new Photos app will allow you to access your entire photo collection with the iCloud Photo Library. New editing tools also make it easy to make your shots look even better, with all edits syncing back to the cloud and available on all your other devices.
Messages: In iOS 8, Messages will allow you to easily send voice messages, quick selfies, and videos to your contacts. Easily share your location and see the location of friends you've chosen to share that info with as well.
Keyboard: There are a few notable improvements to the keyboard in iOS 8. First, Apple now has a predictive typing system that learns the way you talk, offering up a quicker typing experience. Even more exciting, though, is that you will be able to download third-party keyboards from the App Store that will take the place of Apple's keyboard entirely. If you've been waiting for Swype on iPhone, it's almost here.
Interactive Notifications: Notifications are interactive in iOS 8. For example, you can reply to a message right from the notification without having to switch over to the Messages app, or accept/decline a calendar invite right from the dropdown. Notifications are also interactive on the Lock screen as well.
Family Sharing: Family Sharing makes it easy for up to six people in your family to share each other's iTunes, iBooks, and App Store purchases. Whenever one person buys a new song, movie, or app, everybody gets access to that content. Accounts must all share the same credit card number to be added to a family account. Members of a Family Sharing account also get access to a family Photo Stream, calendar, Reminders list, and can share location.
iCloud Drive: Apple is finally allowing access to data stored on iCloud with the iCloud Drive feature. You can use iCloud as a storage folder for anything you'd like to put there, and can add storage space by upgrading to a higher tier.
Health: Fitness tracking is one of the pillar features in iOS 8
Continuity: Continuity will allow your Apple devices to talk to each other over Bluetooth. Start an email on your Mac, and continue it on your iPhone. Start messaging someone on your Apple Watch, and continue on your iPhone 6 Plus.
Apple also released the iOS 8 GM seed today.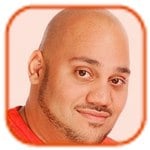 Posted by Andru Edwards Categories: Apple, Cell Phones, Handhelds, Microsoft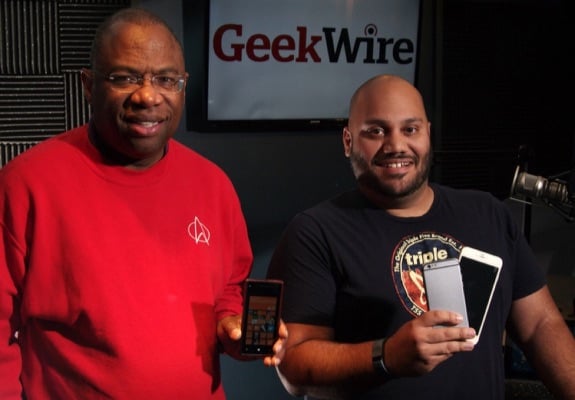 I made another appearance on this weeks episode of GeekWire Radio here in Seattle, Washington, keeping my streak alive as the person with the most guest appearances in GeekWire Radio history! In this episode, which also features Eyewitness News reporter Essex Porter (pictured with me above, and a huge Windows Phone advocate), we talk about a couple of recent Gear Live stories, including:
I brought in the two iPhone 6 mockups in both 4.7- and 5.5-inch varieties, which made for some good conversation. We also chat about the news of the week, which included the release of the Amazon Fire Phone, and we also had a discussion about what Microsoft needs to do to make Windows Phone more accepted by the general consumer. You can listen to the show now by grabbing the MP3 below, or hitting play in the widget.
Click to continue reading Andru Edwards on GeekWire Radio: iPhone 6, Surface Watch, Fire Phone, and more
Read More

| GeekWire Radio (MP3)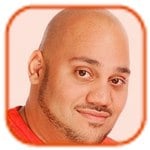 Posted by Andru Edwards Categories: Apple, Editorial, Features, PC / Laptop, Software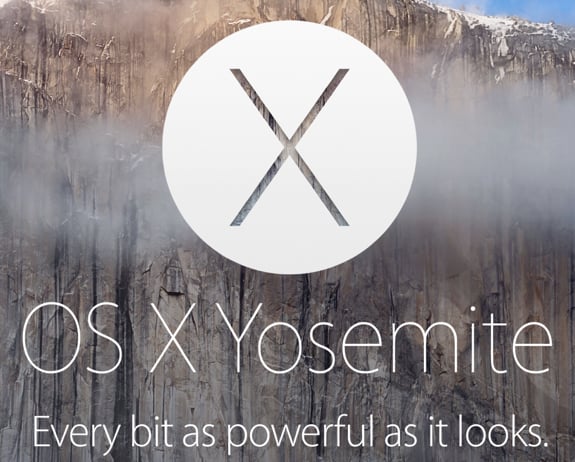 OS X 10.10, better known as Yosemite, represents the next-generation in Apple's desktop operating system. Yosemite brings a new look to the desktop experience, and also ties OS X and iOS together through a feature called Continuity that I bet will make work a lot easier for Apple users. With any big change, customers will wonder if their older hardware will be supported. We recently received this question from a reader named Steve:
Q: I'm excited to check out OS X Yosemite once it launches, the redesigned interface looks great! My MacBook Air is from 2010, and I was curious if you knew if it would run Yosemite without any issues, or if I have to upgrade my computer?
A: I agree--I think the look and feel of OS X Yosemite is a breath of fresh air. I've been using the Developer Preview since it was made available at WWDC 2014, and when I use a Mac that is running Mavericks or earlier, it already feels like a big step backwards from a design perspective. Now, on to system requirements! The nice thing about Yosemite is that Apple hasn't changed any of the system requirements from what was required to run Mavericks. In other words, all Macintosh products capable of running OS X Mavericks will be supported by Yosemite; as with Mavericks, 2 GB of RAM, 8 GB of available storage, and OS X 10.6.8 (Snow Leopard) or later are required to upgrade. To make it easier to figure out if you're specific Mac is compatible, here is a listing of all the Apple hardware that is Yosemite-capable:
iMac Mid-2007 or newer
MacBook (13-inch Aluminum, Late 2008), (13-inch, Early 2009 or later)
MacBook Pro (13-inch, Mid-2009 or later), (15-inch, Mid/Late 2007 or later), (17-inch, Late 2007 or later)
MacBook Air (Late 2008 or later)
Mac Mini (Early 2009 or later)
Mac Pro (Early 2008 or later)
Xserve (Early 2009)
As you can see, anyone who has bought a Mac within the past five years is covered and will be able to run OS X Yosemite. Mac Pro, MacBook Air, and MacBook aluminum buyers as far back as 2008 are also good. In fact, some MacBook Pro and iMac buyers from back in 2007 can even get in on the Yosemite action, and those computers are now 7 years old! This is a pretty large blanket of Mac users that will be able to enjoy the next generation of OS X, and I comment Apple for including as many Macs as it did.
OS X 10.10 Yosemite is set to launch later this fall, and will be available exclusively on the Mac App Store. At WWDC, Apple announced that it will be made available completely free to its users. Can't beat that!
© Gear Live Inc. – User-posted content, unless source is quoted, is licensed under a Creative Commons Public Domain License. Gear Live graphics, logos, designs, page headers, button icons, videos, articles, blogs, forums, scripts and other service names are the trademarks of Gear Live Inc.